Art Review: 'Hum-Kalaam' at Studio Seven Gallery
Written by: Nageen Shaikh
Posted on: March 17, 2017 |

Comments | 中文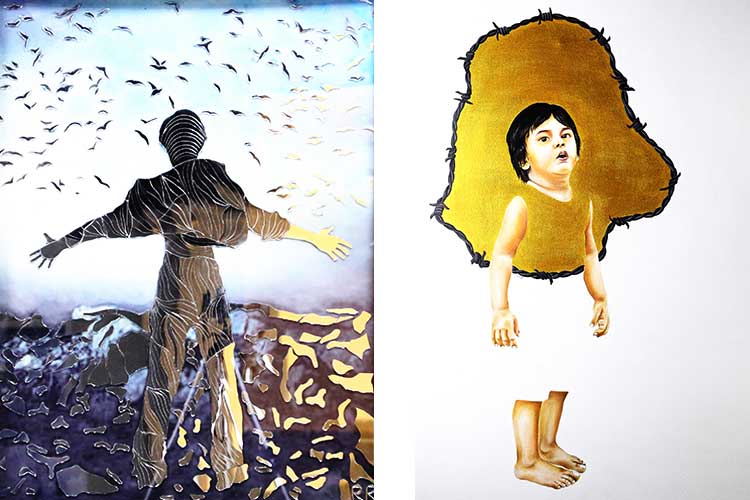 (L) 'Azzad-e-Izhaar' by Rameez, (R) 'Gosh-e-Aafiat' by Hureen Akram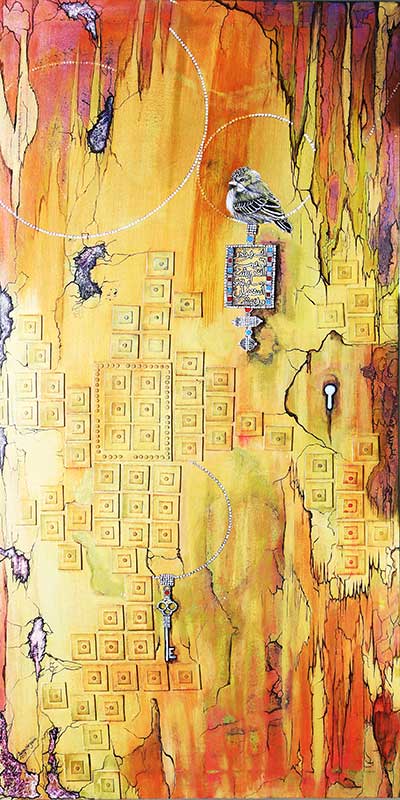 'Masnavi' by Sana Nezam
"These artworks are the artists' way of conversing with the visitors. They are open to interpretation", says Zayyana Kamran, curator of Hum-Kalaam at Studio Seven Gallery in Karachi. The show opened on March 14, and displays a range of impressive artworks by 11 artists. Hum-Kaalam (Urdu for 'In Conversation') attempts to bring together the creative energies of the participating artists, who have used their artworks as a tool to communicate with their audience.
Works done in painting, sculpture, furniture and mixed media come together for a diverse yet harmonious exploration of ideas, while providing a visual language for visitors to interpret the art as per their understanding. In this regard, some of the best work comes from Sana Nezam, an alumna of the Visual Studies department at the University of Karachi, who recited a verse from Rumi's Masnavi to me when I inquired about her work. Light-brown wooden textures fill the canvas with painted keyholes, which, according to Sana, represent instances where one can learn. The key is to open one's eyes, so that one is released from anguish and taken towards the path of learning. With birds painted as a sign of tranquility, Sana's two pieces exude wisdom and offer a pleasant and peaceful aesthetic.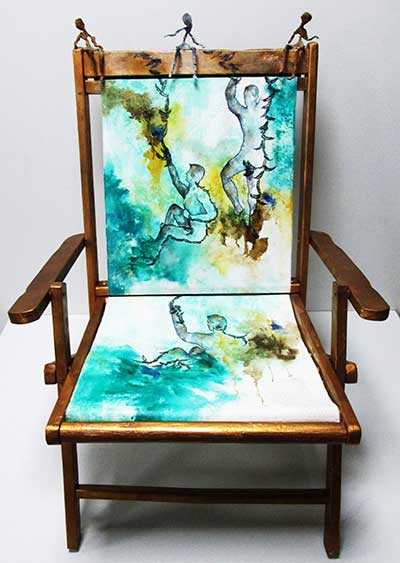 'Between the Beliefs' by Zehra Fatima
Ayesha Naveed showcases the theme from her thesis show in 2016. Her work features intricately layered blue canvases intermingled with lines that appear like couches, inducing feelings of comfort and nostalgia in the viewer. Zehra Fatima has painted on three chairs, which are titled Between the Beliefs, Deep Anguish and Acceptance. Her pieces show images of human forms and ropes, reaching out to something invisible. The artworks seem to depict pent-up aggression, with flashes of hope that arises from amongst dark clouds of angst.
Towards the corner of the gallery is a head sculpture of a horse made with fiberglass, by Dubai-based artist Mariam Mushtaq. "Mariam loves horses, and has chosen to communicate with the audience as one through this piece", explains Gallery Manager Ahsan Mohiuddin.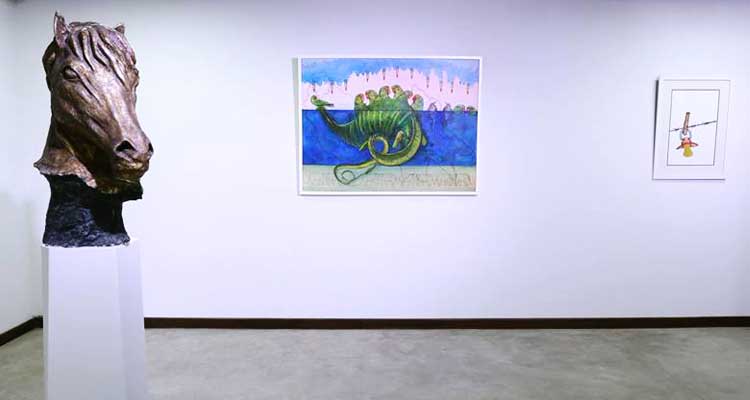 (L-R) Works by Mariam Mushtaq, Amir Raza and Hureen Akram
Hureen Akram uses striking shades of golden in all of her art pieces. She portrays the significance of different growing stages of children in their parents' lives. Bisma Raffat uses charcoal drawings of cages, which were also part of her thesis work.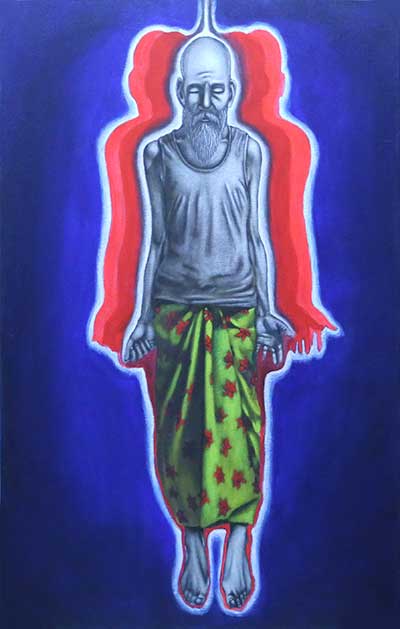 'Divine' by Syed Abdullah Ali
Syed Abdullah Ali uses neon blue paints in his canvases with a figure of an old man, which can be understood in many ways. To me, it communicates the power of wisdom and inner peace that we all yearn for; however, it also signifies a sense of deception that arises from people who falsely claim to be "divine" in this regard.
Other participating artists include Batool Zehra, Amir Raza, Tariq Luni and Rameez. The show will continue at Studio Seven till March 24, and is truly worth a visit.
You may also like: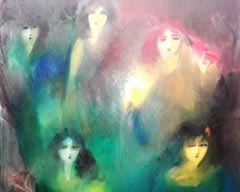 Art Review: Raja Changez Sultan at Tanzara Gallery
(January 19, 2018)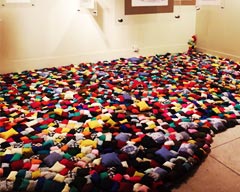 NCA Rawalpindi Degree Show 2017
(January 17, 2018)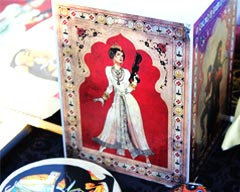 Winter Fete, Islamabad
(January 09, 2018)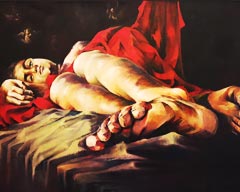 Review: 9th National Exhibition at PNCA
(January 02, 2018)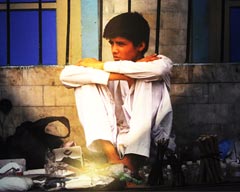 Yeh Hai Karachi 2: Photography and Film Exhibition
(December 20, 2017)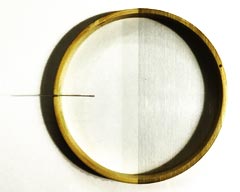 Art Review: Reading Between the Lines at Sanat Initiative, Karachi
(December 05, 2017)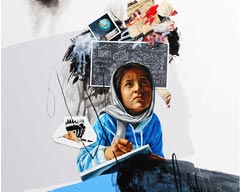 Art Review: The Onrushing 2 at Gallery 6, Islamabad
(December 04, 2017)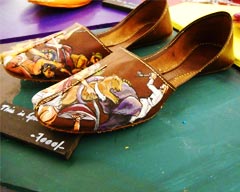 Daachi Arts and Crafts Exhibition 2017
(November 13, 2017)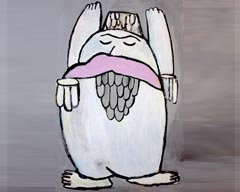 Art Review: 'Loompaland' at Studio Seven, Karachi
(November 09, 2017)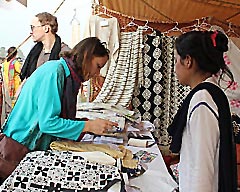 The Behbud Bazaar, Islamabad
(November 07, 2017)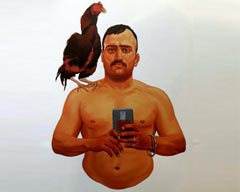 The Karachi Biennale 2017 (KB17)
(October 27, 2017)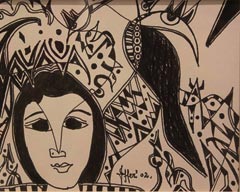 Wahab Jaffer Exhibition Opens at Tanzara Gallery, Islamabad
(October 20, 2017)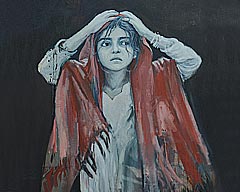 Art Review: Socio-Domestic at O Art Space, Lahore
(October 11, 2017)