Karachi City of Lights Festival
Written by: Sadeem Shaikh
Posted on: June 09, 2015 |

Comments | 中文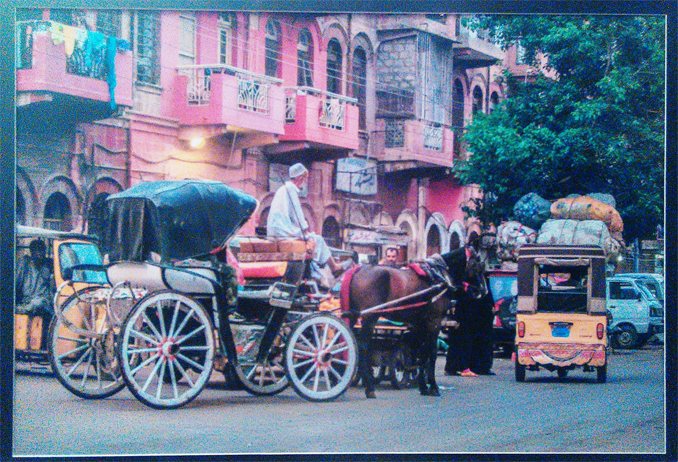 Part of Maliha Hassan's Happy Buggy Ride Exhibition
The Karachi City of Lights Festival brought together a sizeable crowd to Zamzama Park's DHA Art Theater for a weekend of theatrical performances and art exhibitions. A concerted effort by I Am Karachi and The Citizens Archive of Pakistan (CAP), the three-day event provided a platform for the audience to get acquainted with the city's rich and longstanding heritage in the visual and performing arts. Through classical music workshops, oral history booths, improvised comedy acts and miniature art exhibitions, the City of Lights Festival made for an exciting weekend, attended by Karachiites of all ages.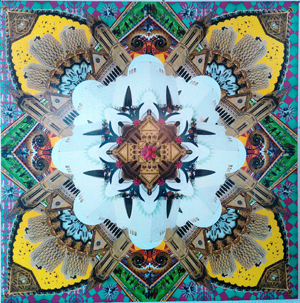 Tapu Javeri's 'Karachakra'
Apart from the various theatrical and musical performances on stage, there was a permanent set of exhibitions around the venue, featuring pictures of Old Karachi, several oral history booths, and even a live painting session by Faiz Rahi. What stood out from other exhibits was Tapu Javeri's Karachakra, a mesmerizing collage of colorfully painted monuments in Karachi, swiftly decorated with a string of flowery motifs in the center. The idea behind Maliha Hassan's Happy Buggy Ride was similarly inquisitive in nature. Given the sudden disappearance of buggy rides from the roads of Karachi, Hassan's work shed light on the lives of old buggy drivers, recording their accounts on the forgotten importance of this age-old means of transportation. Another distinctive setup was that of Aziza Ahmad's Karachi Dance-athon, a brightly embellished mini-music stage which aimed to transport viewers to the rich dance traditions of the 1970s. Outside the theater, other art installations such as oral history booths and mobile museums of places such as the Mohatta Palace and Frere Hall provided insights into the life of a completely different Pakistani generation from several decades ago.
The Festival was lined up with a series of dramatic and musical performances. Students from the National Academy of Performing Arts (NAPA) initiated the event with an engaging storytelling session directed towards the children in the crowd. Through catchy songs and intriguing riddles, the 4-member group praised the unique culture of not just Karachi, but also the different provinces of Pakistan. The session sparked the intellectual curiosity of the audience; both children and adults not only sang along but also actively competed with each other in answering the riddles.
(l-r) Yousaf Kerai and Shehroze Hussain during their Tabla and Sitaar Performance
Two members of the classical ensemble, Tarz group, next took the stage to deliver a captivating workshop on South Asian music. 17-year-old student and Sitaar player, Shehroze Hussain, together with Tabla player and Mathematics teacher, Yousaf Kerai, interacted with a fascinated audience that was eager to learn about the foundational roots of classical music in Pakistan. Hussain, son of legendary Sitar maestro Ustad Sajid Hussain, reinterpreted contemporary Bollywood tunes as well as local hits by bands such as Fuzon. Kerai pointed out the distinctive nature of South Asian music, while Hussain provided note-by-note demonstrations of major and minor sounds with his enchanting Tabla beats. Together, their skills had the audience bemused by the intricacies of South Asian music. Kerai went on to point out that differences between East Asian, Middle Eastern and South Asian music are minute at best, and music in and of itself knows no boundaries. While one must devote a large amount of time and dedication in learning instruments such as the Tabla and Sitaar, nothing is ever planned in music – performers simply make eye contact with each other and play in the moment.
During the latter part of the event, a local underground rock band named Zabardast also gave a passionate performance on stage, singing songs such as Junoon's Saeen to cherish the Sufi spirit in music.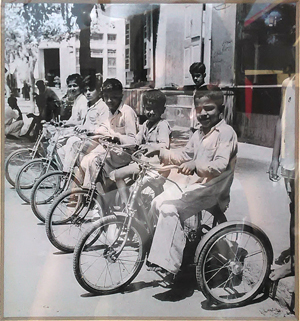 Kids lined up before a bike ride in Karachi, late 1950s
Contemporary developments in improvisational comedy were yet another highlight of the show, with Pakistan's first ever long-form improvisation troupe, The Platoon throwing out some on-the-spot casual humor. Inspired by legendary improvisational comedians such as Remy Bertrand and Susan Messing, The Platoon humorously took some of Karachi's most troubling problems, and made comedic songs and short acting games out of them. Other groups such as Spoken Stage brought ideas of freedom of expression on stage, encouraging storytelling and arts through poetry and writing. Mariam Paracha and Zehra Nawab acted out an awe-inspiring twenty-minute dramatic play on how Karachi has transformed over the decades. Highlighting the changed roads, buildings and urban landscape of the city, Paracha and Zehra left the audience in a wondering daze as they exchanged dialogues and drew comparisons between Old and New Karachi.
The final session was a panel discussion on popular Pakistani culture, and how it relates to our sense of pride and identity. The panelists included renowned ghazal singer Tina Sani, artist and founder of Canvas Art Gallery, Sameera Raja, and a respected management consultant and certified football coach, Imran Ali. They tackled the fundamental questions concerning pop culture, pride and identity, engaging in an hour-long dialogue with each other. Despite constant repression of fine arts and sports in Pakistan, all three panelists agreed that there is much to be proud of when it comes to the country's glorious past. Unanimously accepting the importance of media in promulgating a transparent and value neutral pop culture, the three panelists attempted to explain its significance through their respective fields of expertise. While Sani expanded on the relationship between music and pop culture in the various regions of Pakistan, Raja elaborated on truck art and the I Am Karachi sponsored wall painting project as crucial forms of expression and identity. With the added intention of tackling problems of crime and poverty, Ali similarly stressed on developing and institutionalizing community-based football at the grassroots level.
With a well-rounded set of workshops, exhibitions and performances, the City of Lights Festival provided a thriving platform for the residents of Karachi to remember and glorify the days past. A major step towards reimagining the city in a positive light, the event has laid the groundwork for similar initiatives in the future.
You may also like: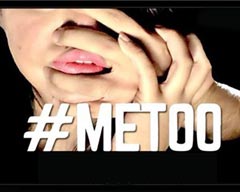 Theatre Review: #MeToo by BlankPage Productions
(January 12, 2018)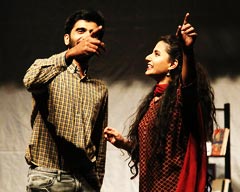 Theatre Review: Bol Kay Lubb Azad Hain Teray
(December 21, 2017)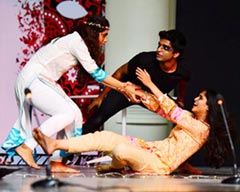 The Fringe 2017 – Intra-IBA Theatre Competition
(December 15, 2017)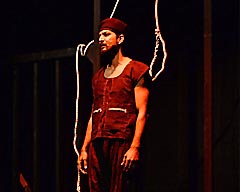 Theatre Review: Ajoka Theatre's 'Intezaar'
(November 30, 2017)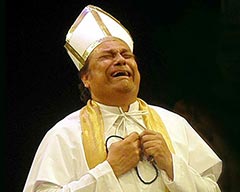 Theatre Review: 'Yahudi ki Larki' by NAPA at National Theatre Festival 2017
(November 02, 2017)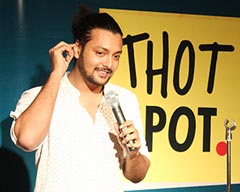 Bachay Panch Hi Achay (5 Kids are Enough) - A Saturday Night Comedy Show
(October 17, 2017)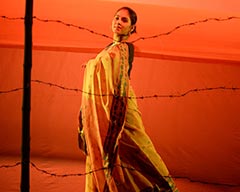 Ajoka Theatre's 'Shehr-e-Afsos - A City of Sorrow'
(October 13, 2017)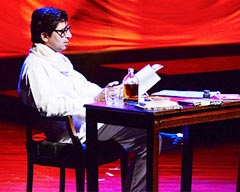 Theatre Review: 'Kaun Hai Yeh Gustakh' - Ajoka's Play about Manto
(October 12, 2017)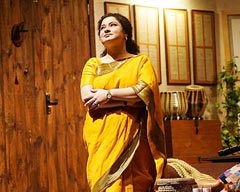 Theatre Review: 'Mushk - Fragrance' in Lahore
(October 10, 2017)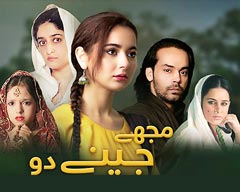 Drama Review: 'Mujhay Jeenay Doh'
(September 22, 2017)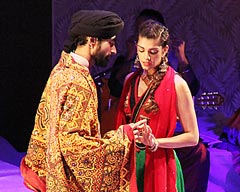 Heer Ranjha – Retelling Kaifi Azmi's Script in an Urdu Musical
(September 11, 2017)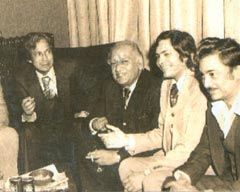 70 Years of Theatre: A Flashback Through the Ages
(August 30, 2017)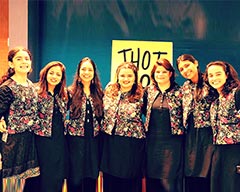 'The Khawatoons' Celebrate their First Anniversary!
(August 02, 2017)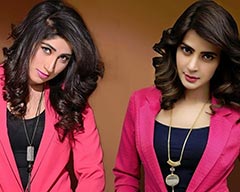 'Baaghi', a serial inspired by Qandeel Baloch
(July 31, 2017)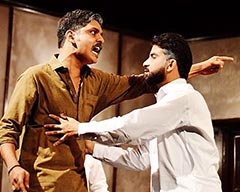 'Mulzim Ya Mujrim' – A Theatrical Production
(July 25, 2017)