LMM 2017: More Than Just Music!
Written by: Momina Mindeel
Posted on: March 13, 2017 |

Comments | 中文

Lahore Music Meet 2017 (source: LMM Facebook page)
Adorned with vibrant jhandiyan, the Alhamra Arts Council exuberantly hosted the third edition of the Lahore Music Meet (LMM) this past weekend. Given the vulnerable security situation in the country, getting inside the complex was a challenge. We had to stand in a long line for no less than thirty minutes before being allowed to enter Alhamra's premises. However, once inside, the lively atmosphere filled with musicians and large groups of music enthusiasts made us forget all our troubles.
Throughout the two days of the event, Hall 2 reverberated with the fusion of musical instruments. Initially, these performances were supposed to be held in the central lawn. However, due to security concerns, they had to be shifted indoors. Unlike last year, food stalls were unfortunately very limited, and the only stall that survived in the face of security threats was set up inside the entrance of Hall 1.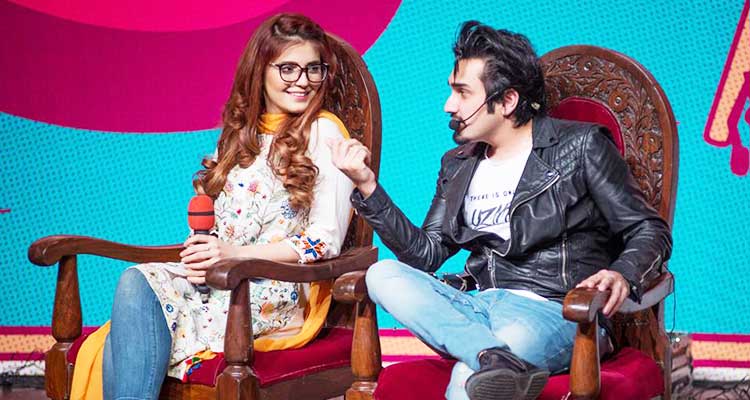 Momina Mustehsan and Uzair Jaswal (photo by Shahbaz Aslam)
The highlights of day one included Momina Mustehsan and Uzair Jawal's session, 'Growing Pains', Omran Shafique's 'When Not to Play the Guitar' and 'Ali Azmat de naal Gallan'. Momina and Uzair talked about the downsides of being in the industry, and touched upon topics such as cyber bullying and other challenges that come with stardom. Omran Shafique's light-hearted talk made the audience fall in love with him all over again. It almost felt like Coke Studio was back with a more personalized version where we, the listeners, had a chance to freely interact with the artists. At the end of his talk, Omran played guitar for his audience, and every soul in the hall swayed to his wonderful symphonies. Ali Azmat talked in his quintessentially Lahori yet adorably relatable accent, and elaborated on how there's no driving force behind his musical compositions. He told the audience that he simply loves making music, and even today, at the age of 47, keeps learning new things about the process. Ali Azmat is currently running a guitar school that is one of its kind in the country. Fariha Ali shed some light on this topic as well, as part of her session 'Talking TV' with the vivacious Neini Rafi. Fariha expressed her view that it was about time we reconnected with the actual roots of music, and the guitar school aimed at doing exactly that.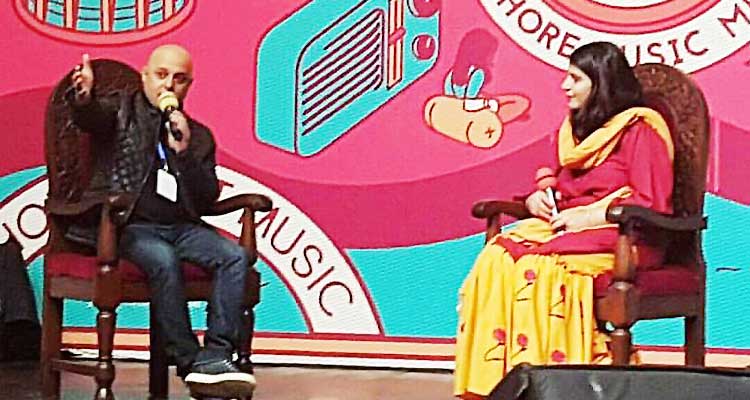 Ali Azmat with LMM Co-Founder Natasha Noorani (source: Dawn Images)
The outdoor performances on both days – which were later shifted to Hall 2 – featured a number of budding musicians from all over Pakistan, selected through a rigorous process. The performers included Wooly and The Uke, Ehl-e-Rock, Wisdom Salad, Keeray Makoray, Janoobi Khargosh, TMPST, Shorbanoor, Patari Tabeer, Hathi, Sakin and Noah's Heark, among others. One could enter Hall 2 in between talks, and would always find it filled to the brim with performers keeping the audience hooked to their seats.
The Patari Tabeer artists formed the highlight of day 2. The talk by Ahmer Naqvi featuring Lyari Underground and Abid Brohi, coupled with their energetic performance in Hall 2, made the day all the more eventful. Meesha Shafi's talk, simple titled 'MADE', elaborated on the struggles that she had to overcome in the Pakistani music industry. It was a delightful conversation that served as a motivator for aspiring musical artists. A number of sessions had to be reshuffled on day 2, causing inconvenience for incoming people. Nevertheless, this was compensated by Ali Suhail and Javed Bashir's enlivening performances at the end of both days.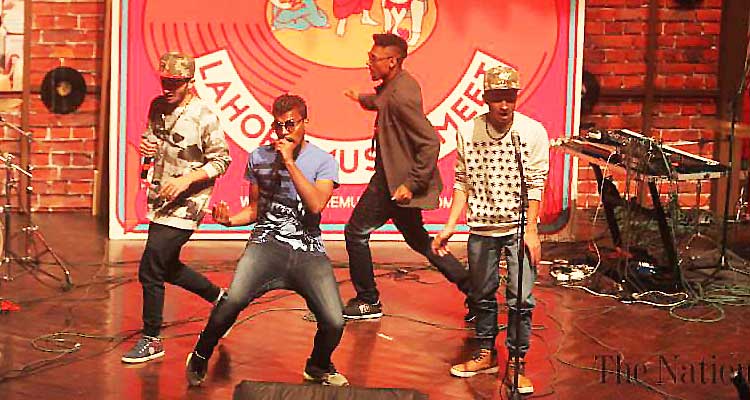 Patari Tabir's uplifting performance (source: The Nation)
In addition to the performances and panel discussions, the festival also hosted an audiovisual exhibition called Rang Sazi, which displayed remarkable work by a number of contemporary visual artists. Most of the contributing artists explored and interpreted music not only as a subject, but as a crucial element of our existence and our collective identities.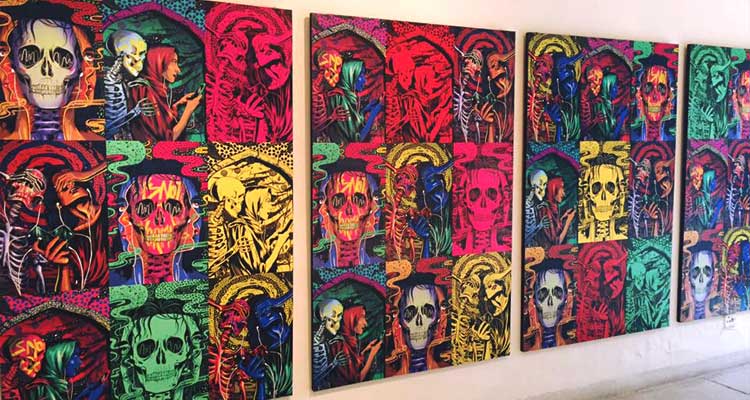 'Rang Sazi', an audiovisual exhibition
All in all, this year's Lahore Music Meet saw many improvements over the last two editions, despite the absence of food stalls and the delay in starting some of the sessions. LMM is a brilliant initiative that needs to be encouraged as much as possible, so that it flourishes in the years to come and achieves its goal of reviving the remarkably talented music industry of Pakistan.
You may also like: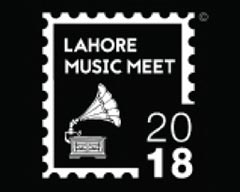 Lahore Music Meet - 4th Edition
(January 10, 2018)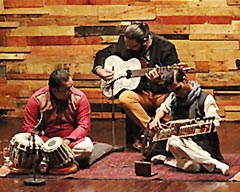 'Likhay Jo Khatt Tujhay' - An Olomopolo Media & Qissa Khwaan Production
(November 21, 2017)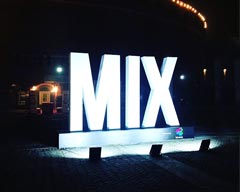 The MIX – Pakistan's First Tech Centered Festival
(November 15, 2017)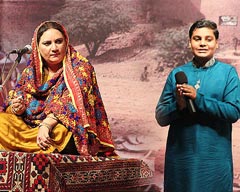 Bali Jatti Rooftop Theatre Opens in Lok Virsa, Islamabad
(October 16, 2017)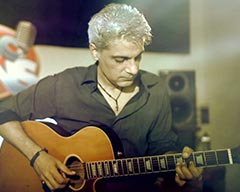 Tribute: Aamir Zaki
(June 03, 2017)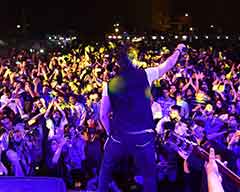 FACE Music Mela 2017: Promoting Diversity and Harmony through Music
(April 24, 2017)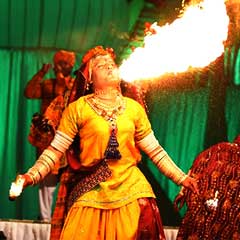 The Mystic Music Sufi Festival 2017
(February 14, 2017)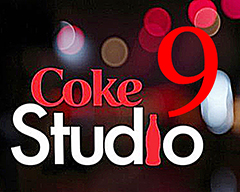 Coke Studio: A New Season of Melodies
(August 18, 2016)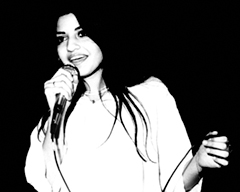 The Unforgettable Nightingale: Nazia Hassan
(August 12, 2016)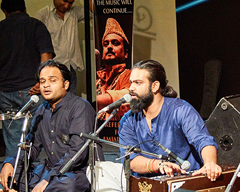 The Music Will Live On: Reference for Amjad Sabri at Lok Virsa
(July 01, 2016)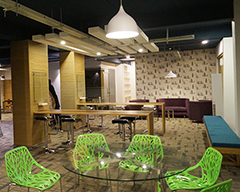 The Hive: Blending Work with Entertainment
(May 30, 2016)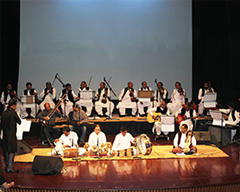 'Sachal Studios Orchestra' Performs at PNCA, Islamabad
(May 09, 2016)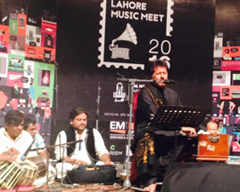 Lahore Music Meet - Pakistan's First Ever Music Symposium
(April 04, 2016)