NCA Rawalpindi Thesis Display
Written by: Shameen Arshad
Posted on: January 17, 2017 |

Comments | 中文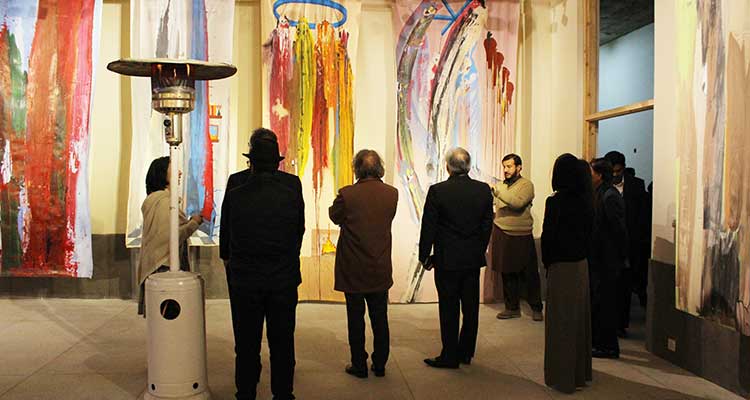 Maheerah Ali with Prof. Dr. Murtaza Jafri and guests at the NCA Rawalpindi Thesis Display
"I am here to live out loud" – Émile Zola
Every work of art is autobiographical, or so it seems. The artwork tells us a lot about the artist; their opinions or views, their preferences, idiosyncrasies, fugitive thoughts, vulnerabilities, or even strengths.
The NCA Rawalpindi degree show opened to the public on the 16th of January, 2017, revealing a collection by 27 artists that are valiantly themselves. Thus, their courageous approach to art-making provided the spectator with quite a show. The lines traditionally drawn between different principles, namely printmaking, painting, sculpture and miniature were highly elusive as each artist conveyed their ideas in a myriad of ways. Various mediums were ingeniously implemented in the artists' collections, from digital media and animations for the more contemporary audience to the time-honored traditional techniques of drawing and painting for the more orthodox amongst us.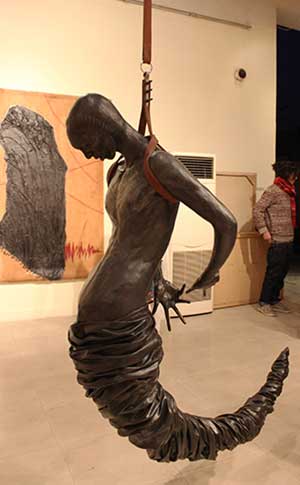 Being a painter myself, I have more of an affinity for illustrations on two-dimensional surfaces. However, I believe that in this show the sculptures surpassed the 2D images. Habib Hussain's work occupied most of the first gallery. Hussain is not only worthy of praise for his arduous and time-taking practice, resulting in a large body of work, but also his meticulous craftsmanship. The artist's dexterity seems to be unhindered by choice of medium or even size. Hence, he constructs sculptures with the same adroitness as he does large-scale paintings. Speaking as someone who does not generally appreciate hybrid figures and depictions of unearthly creatures, Hussain's works can compel you to change your mind. The mammoth figures inspire strong emotions such as fear, awe or even reverence for the majestic creatures, making an individual feel insignificant in their presence.
A sense of vulnerability is also felt when viewing Neeli Ahmed's Untitled installation. Her sedulous attention to detail is instrumental in instigating disgust and apprehension amongst the viewers, as she depicts an individual's struggles and suffering at different stages in life. With her gruesome yet fascinating structures, Ahmed leaves viewers uneasy, reminding them of their own mortality.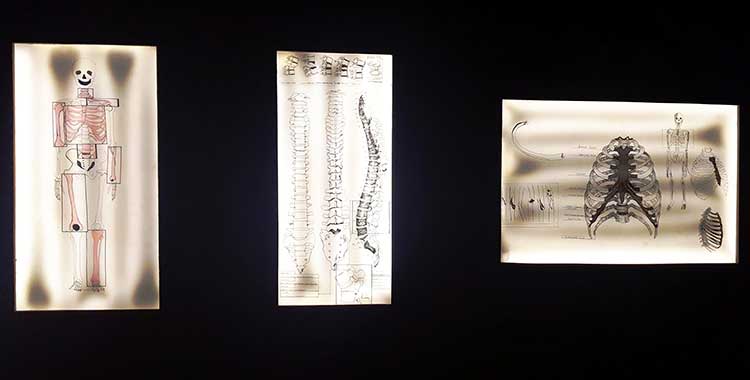 Influences from science fiction novels and ethereal settings are further seen in Mahnoor Asad's The Seed of Sin. This ingenious curation is in the form of a private room, away from the hustle and bustle of the world, where certain arcane activities are likely to take place. Asad's pen and ink drawings imitate cork boards commonly seen in Hollywood movies; inside a private detective's office or Police Headquarters, essentially used to nail down culprits. The visual, though highly derivative, holds interest as the suspect in this case is not an individual but one of their instincts – to sin. Furthermore, Asad's stop motion animations, using simple stick figure illustrations, greatly aid in creating an ominous aura.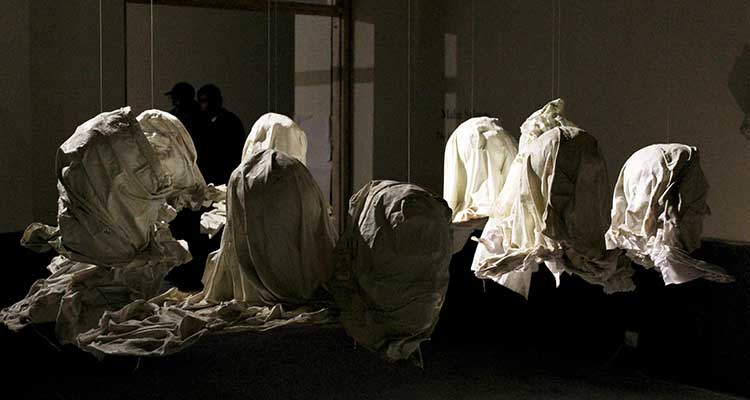 Saleha Kamran's Secrets Hidden in Ice is a figment of her imagination – an idea that is so thoroughly explored that it is almost palpable. The collection is a coherent visualization of the fictitious world that she has created, filled with mythical characters and their arduous journeys.
Whereas some artists have used histrionics and enchanting settings to make their point, others have taken a more subtle approach, yet are equally effective. Instead of gaining inspiration from fantasy and mythology, Ammara Mairaj draws on references from real-life structures to create artificial spaces. From a distance, Mairaj's wax and ink work on paper looks like organic forms or growths, but on further inspection, architectural elements reveal themselves in the grooves and valleys created by the material. The abstract forms hold within them calm and serene settings – a world that is unperturbed by turmoil. Uswa Ahmed Malik's Immaculate Intrusion is also a depiction of an uncanny space, essentially "a world infected by virus". The artist's work includes visually stimulating video installations and large-scale canvases that explain her idea explicitly. Unlike Mairaj's monochrome forms, Ahmed uses an array of bright colours with tones that have a slightly menacing quality, indicating that there is something amiss.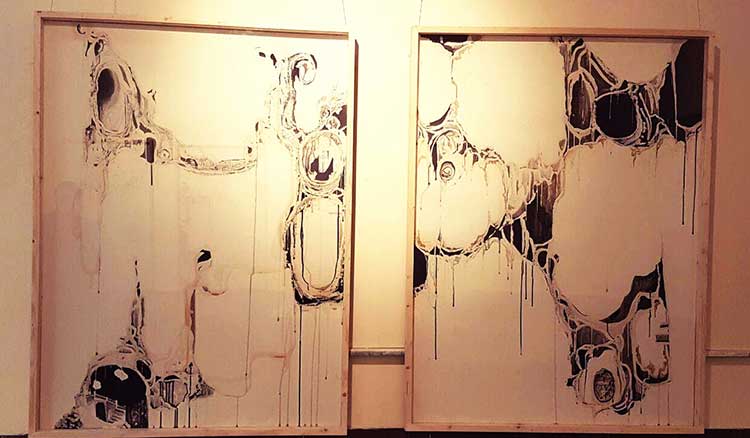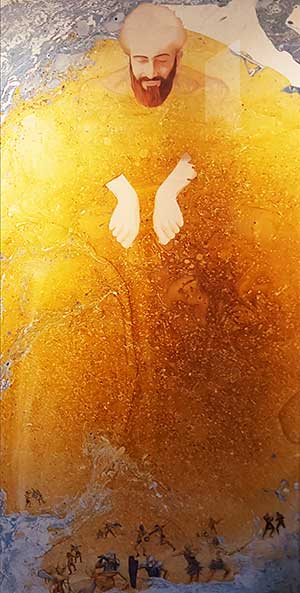 Umair Kamran focuses on the "re-enactment of memories" through a bright and vivid palette. The thick, rough strokes bring to life the artist's inner thoughts. There is vitality, revealed through wild strokes pulled across the canvas. The bold colour palette contributes to the perplexing sense of urgency and excitement.
Ali Asghar's technique, though traditional, narrates a slightly unconventional idea. His large-scale miniatures reveal a dialogue between Man and his Creator. One gets lost in the fluid motion within the layers of paint as the eye moves along the swirling lines. The artist aptly juxtaposes conflict and harmony, where a set of colours depicts a serene figure while serving as the backdrop for a battle scene.
On the far end of the college, one can witness Manal Kafeel's paintings. Kafeel's illustrations are effortlessly beautiful. The simple, less-than-precise female nudes do not exude a sensual energy – they merely depict an everyday activity or relationship of Man and his apparel. The nudes, stripped of extraneous details and embellishments, are posed in a rather astute manner that captures their movement. The slightly distorted and less-than-perfect nature of the figures also make them more relatable.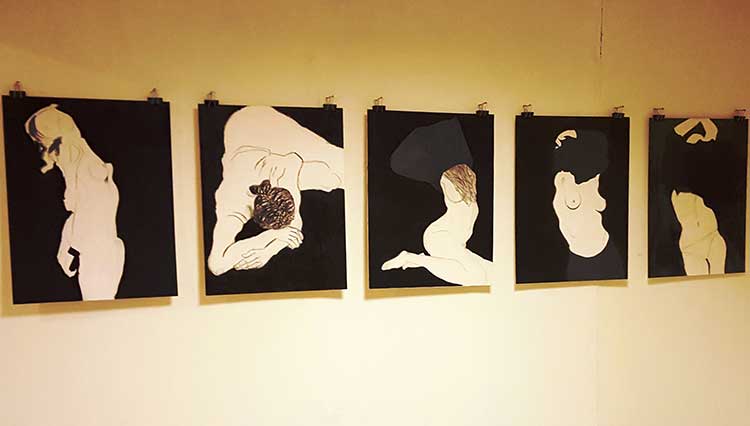 Bodily imperfections are further seen in Rohama Anwaar's relief sculptures that show unusual growths on the human figure, emphasizing the absurdity of the Greek portrayal of the perfect man. Anwaar talks about embracing one's idiosyncrasies and that which is not traditionally beautiful. By converting such figures into breathtaking works of art, she promotes the idea of finding beauty in the strangest of things.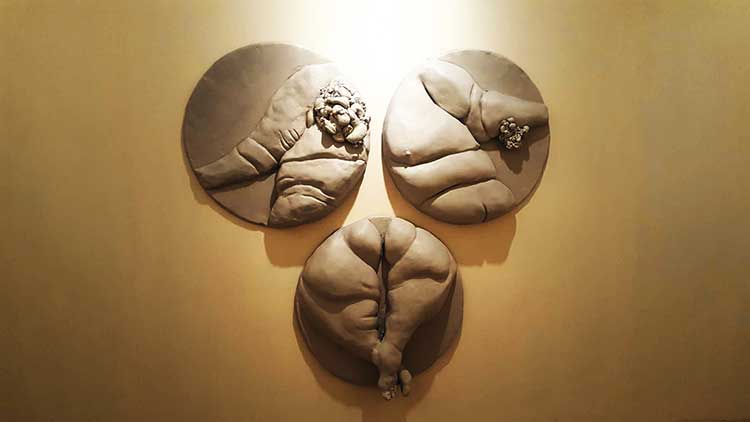 The sense of curiosity and fascination of exploring an idea to the fullest is evident in numerous artworks. The exhibit is driven by concurrent personal journeys rather than the compulsion to put up a number of works by the end of the year. It is the kind of work that one makes for themselves rather than for accolades – work that is devoid of pretension, presenting a purely unadulterated thought process.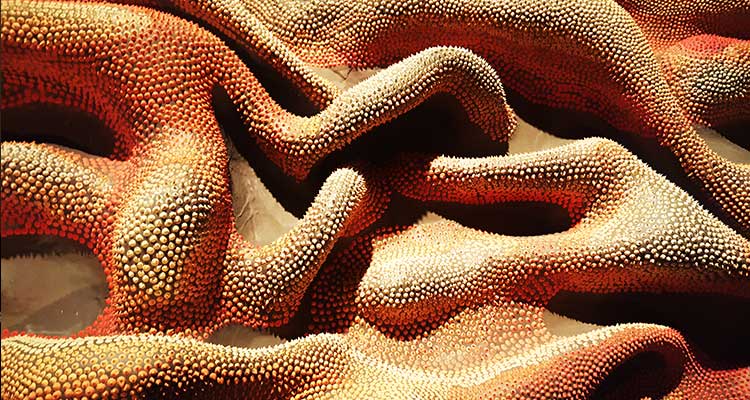 You may also like: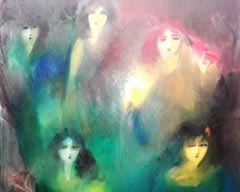 Art Review: Raja Changez Sultan at Tanzara Gallery
(January 19, 2018)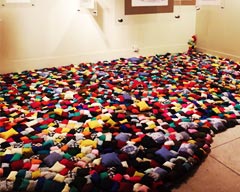 NCA Rawalpindi Degree Show 2017
(January 17, 2018)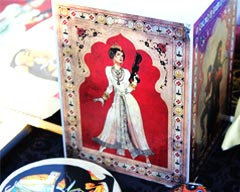 Winter Fete, Islamabad
(January 09, 2018)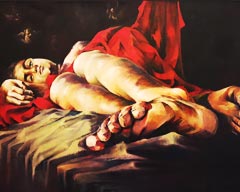 Review: 9th National Exhibition at PNCA
(January 02, 2018)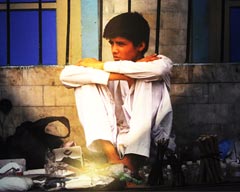 Yeh Hai Karachi 2: Photography and Film Exhibition
(December 20, 2017)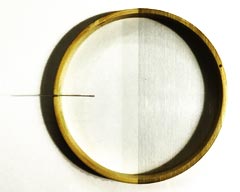 Art Review: Reading Between the Lines at Sanat Initiative, Karachi
(December 05, 2017)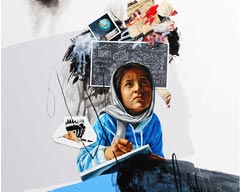 Art Review: The Onrushing 2 at Gallery 6, Islamabad
(December 04, 2017)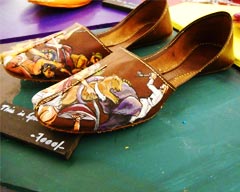 Daachi Arts and Crafts Exhibition 2017
(November 13, 2017)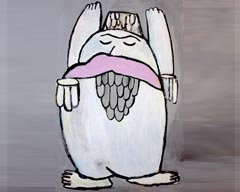 Art Review: 'Loompaland' at Studio Seven, Karachi
(November 09, 2017)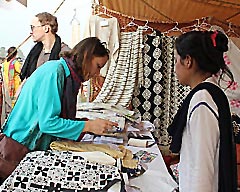 The Behbud Bazaar, Islamabad
(November 07, 2017)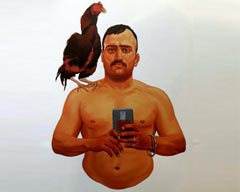 The Karachi Biennale 2017 (KB17)
(October 27, 2017)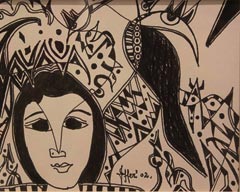 Wahab Jaffer Exhibition Opens at Tanzara Gallery, Islamabad
(October 20, 2017)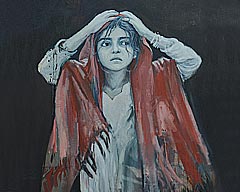 Art Review: Socio-Domestic at O Art Space, Lahore
(October 11, 2017)