Lorilei: A Study In Grace
Written by: Aiza Azam
Posted on: December 17, 2015 |

Comments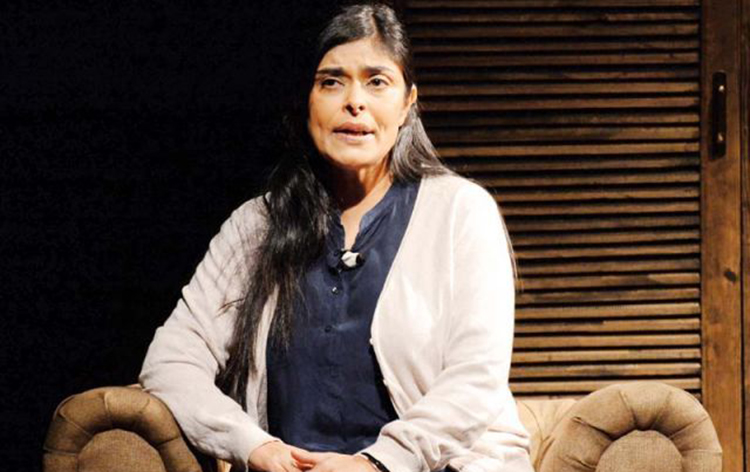 Nimra Bucha as Lorilei
"Do you know what Lorilei means? I've been told it's the name of a river spirit in Germany who draws men to their deaths with her beauty and charms."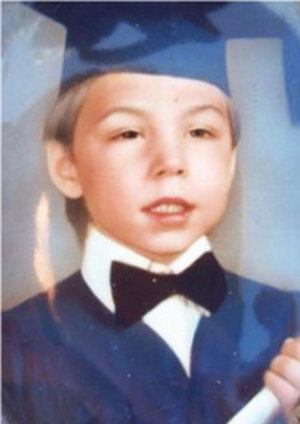 Jeremy James Guillory
Thus begins the heartbreaking re-telling of a true story. In 1992, Lorilei Guillory's 6 year old son Jeremy disappeared from the tiny community they lived in on the outskirts of Louisiana. Three days later, his strangled body was found in the closet of Ricky Langley, a convicted pedophile in violation of his parole. Lorilei would go on to fight against Ricky's execution by the state for the murder of her son.
Put together by Olomopolo Media in collaboration with Justice Project Pakistan, the play is a one woman act scripted by Thomas Wright, who based his work on verbatim transcripts of interviews with Lorilei herself. Having been staged in Pakistan a couple of years ago with Nadia Jamil and Sania Saeed alternatively playing the roles of Lorilei and Ricky, this time around it consisted of a performance in English by Nimra Bucha and in Urdu by Sania Saeed.
A minimalist set and the alternating use of shadow and light centers your entire attention on Lorilei's description of her harrowing ordeal, heightening the narration of a tragedy. Beginning with the day of Jeremy's disappearance, she describes the events surrounding it. A single mother pregnant at the time with her second son Brock, Lorilei shares some brief details of the trial and Langley's quick conviction for murder. In the years that followed, she succumbed to alcoholism and drugs, sinking further and deeper. "I was in hell. It's not just a phrase; I really was in hell." One day, a decade later, she stood thinking about the details of Langley's life revealed at trial: subjected to radiation from X-rays and the effects of countless medicinal drugs, while still in the womb; a distraught mother who wanted him to be the first son she had lost before his birth; a childhood of repeated sexual abuse; the constant failed attempts at suicide because he didn't want to be the pedophile he was. Lorilei realized she didn't want him to die, but she did need to understand the reasons for what he had done. Ten years after her son had been taken, Lorilei visited Langley in jail and faced him to ask why. She left him with the promise that she would fight to have his sentence commuted to life in prison or a psychiatric institution. Little did she know, she would soon face the beginning of an uphill battle against the vested interests of people who wanted Langley executed, and even the censure of her own family.
In Islamabad the play was staged for two nights at PNCA; Nimra Bucha and Sania Saeed, who also directed the play, gave two very different performances. Bucha's Lorilei was quieter, more reflective and conveyed a deeper inner strength. Her depiction of a woman broken by a loss she never fully recovered from, was an intimate re-living of pain already suffered. Sania Saeed is known for her powerhouse performances. Her insistent Lorilei, in contrast to Bucha's, was emotionally overwrought, swinging between anger and anxiety, grief and hatred. Her masterful inflections of voice and tone effectively matched a Lorilei swearing revenge one minute and crumbling into helplessness the next.
The difference between the two performances was marked. Bucha managed to effectively take the audience back over the years, creating the sense that they were following closely on Lorilei's heels as she remembered each moment, enabling them to visualize every scene and absorb the ambience of each memory. Sania Saeed's delivery, however, was not able to transport the audience beyond the momentary. Her depiction felt like a narrative Lorilei had repeated many times before, almost conveying a sense that the emotions she was bringing out were meant solely to emphasize that her ordeal was still fresh inside her but without being very convincing.
Clive Stafford Smith, the lawyer who represented Ricky and with whose efforts Lorilei eventually allied herself, had come to Pakistan for the play (Lorilei has been staged multiple times in the West as well). When the lights came on, he engaged in an interactive discussion with the audience, giving his views on a number of pertinent issues and relating Lorilei's present circumstances. This was a clever inclusion by the organizers, because it made the entire experience about Lorilei's story and not about a particular actor or director.
The play opens in Karachi tonight. Go see it! Proceeds from ticket sales go to Lorilei Guillory.
Clips from the play
You may also like: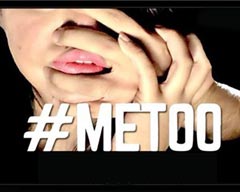 Theatre Review: #MeToo by BlankPage Productions
(January 12, 2018)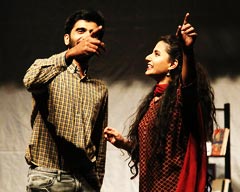 Theatre Review: Bol Kay Lubb Azad Hain Teray
(December 21, 2017)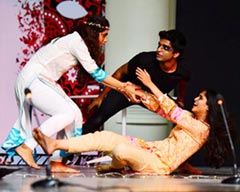 The Fringe 2017 – Intra-IBA Theatre Competition
(December 15, 2017)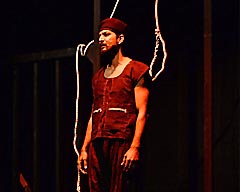 Theatre Review: Ajoka Theatre's 'Intezaar'
(November 30, 2017)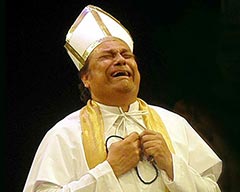 Theatre Review: 'Yahudi ki Larki' by NAPA at National Theatre Festival 2017
(November 02, 2017)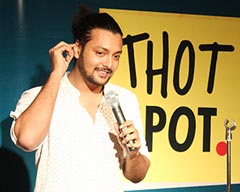 Bachay Panch Hi Achay (5 Kids are Enough) - A Saturday Night Comedy Show
(October 17, 2017)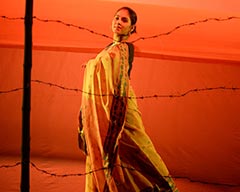 Ajoka Theatre's 'Shehr-e-Afsos - A City of Sorrow'
(October 13, 2017)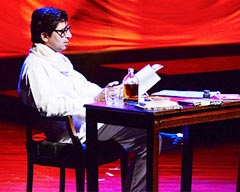 Theatre Review: 'Kaun Hai Yeh Gustakh' - Ajoka's Play about Manto
(October 12, 2017)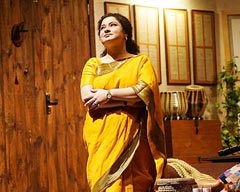 Theatre Review: 'Mushk - Fragrance' in Lahore
(October 10, 2017)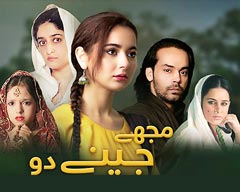 Drama Review: 'Mujhay Jeenay Doh'
(September 22, 2017)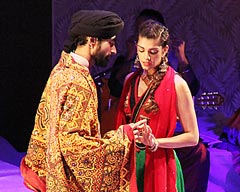 Heer Ranjha – Retelling Kaifi Azmi's Script in an Urdu Musical
(September 11, 2017)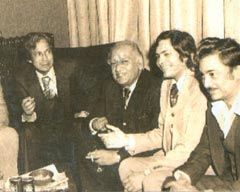 70 Years of Theatre: A Flashback Through the Ages
(August 30, 2017)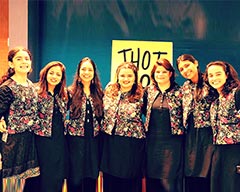 'The Khawatoons' Celebrate their First Anniversary!
(August 02, 2017)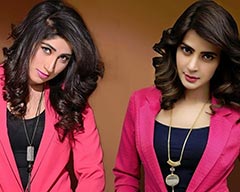 'Baaghi', a serial inspired by Qandeel Baloch
(July 31, 2017)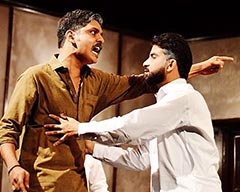 'Mulzim Ya Mujrim' – A Theatrical Production
(July 25, 2017)