Promoting Art with Satrang

Posted on: February 18, 2014 |

Comments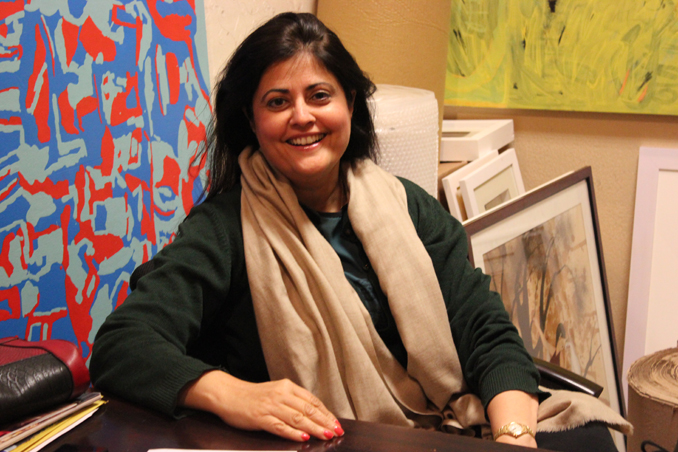 Director Satrang Gallery Asma Rashid Khan
Pakistani art and culture are in dire need of being projected to the world. Aziz Boolani, the CEO of Serena Hotel in Islamabad has responded on his part to this by having dedicated a small section in the of the hotel to serve as a gallery, Satrang (Seven Colors).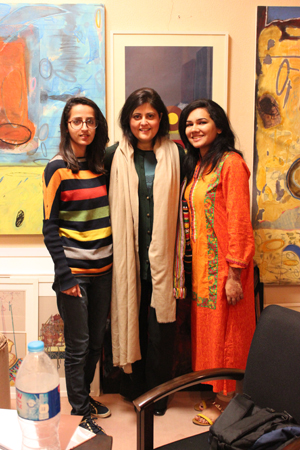 Satrang Gallery Team (Schezre Syed, Asma Rashid, Dhoufishan Raza)
While the open space the gallery is located in may have its disadvantages, it has the benefit of attracting the attention of passersby who might not have bothered to especially visit an art gallery. Placing the work in a prominent location that is difficult to ignore is a clever way of showcasing budding artists without a special invitation.
The gallery's curator is Zahrah Khan, an artist in her own right. Having done her BA in International Relations and Fine Arts from the University of Pennsylvania, it was her minor that went on to define her career. Her work experience as an intern at the Philadelphia Museum of Art must have played a role in her striking that chord with the Serena personnel who wanted to have a Gallery established on the hotel premises. Zahra, however, is currently working in the US as a Gallery Assistant for Ronald Feldman Fine Arts New York. In the physical absence of the curator, it is Zahra's mother, Asma Rashid Khan, the founding Director of Satrang Gallery, who handles arrangements for art displays at the gallery.
"We all brainstorm together. Zahrah remains totally engaged with each exhibition. It is our collective wisdom which eventually translates in to putting up an exhibition. In this digital age it has all become quite easy," says the director.
Satrang Gallery also provides an opportunity to two young, budding artists to work with the Gallery for a year-long internship. "It is a great platform for these young graduates from Art Schools to learn from their senior counterparts, who have already established themselves", says Asma. The talented duo working with Satrang at present is Dhoufishan Raza and Schezre Syed. Dhoufishan has already done her MPhil from the College of Arts and Design, University of the Punjab and is currently working towards her PhD; Schezre Syed is a graduate from NCA (Rawalpindi).Both of them recently got theopportunity to have their works displayed along some recognized names, including Mughees Raza, for the exhibition called, "As We Roll Along From Morning Till Night".
"It is very generous on the part of the senior artists to have their works put on with the junior ones", says Asma. "The seniors draw in the clientele and other visitors, and this gives exposure to the younger ones who would otherwise have had a hard time getting space in a gallery".
When the Gallery opened first, it had been somewhat difficult to attract big names in art for putting their works on display. But things have changed now, with artists now more than eager to get the space, and stalwarts in the field reaching out to Satrang themselves. The Gallery boasts of back to back exhibitions, currently displaying the works of renowned sculptor Imran Hunzai, who has come with a highly original concept, using electronic gadgets as a medium to explain his concept of gadgets and electronic devices becoming larger than life. His exhibition is called "Body Extensions".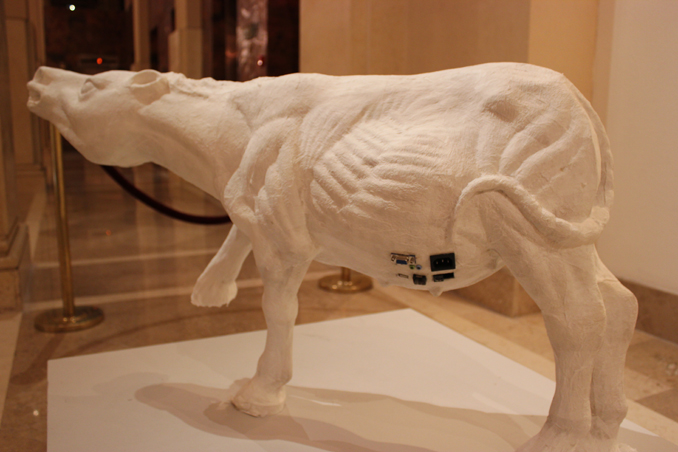 Artwork 'Body Extensions' by Imran Hunzai
Satarang Gallery also arranged an art competition last year, and plans to have another one this year. "When students are motivated to unleash their creativity, great works pour forth" says Asma. "And our purpose is to celebrate our heritage through promoting art and craft. Art can change perceptions and we need to use our young artists to change people's perceptions about Pakistan and its rich cultural heritage".
Satrang Gallery is a thorough believer in having art documented. "This is one of our main objectives" says Asma. "We take great pains to have all art catalogued; we keep track of the artwork, and we provide every buyer a letter of authenticity to nurture genuine art."
Pakistan may have its ills; every country has its own. But it would be remiss to not recognize the deep appreciation Pakistanis hold for art.
You may also like: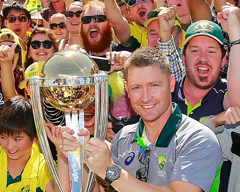 Australia Pulverizes New Zealand to Bag World Cup 2015 Trophy
(March 30, 2015)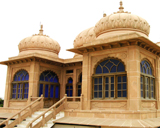 The Undying Grandeur of the Mohatta Palace Museum
(March 29, 2015)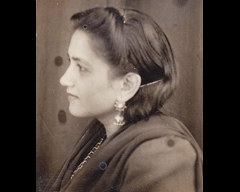 Ada Jafarey: A Tribute
(March 27, 2015)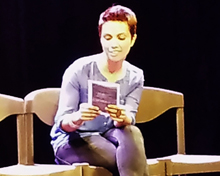 Me, My Mom & Sharmila: Fawzia Mirza and the Brown Woman
(March 26, 2015)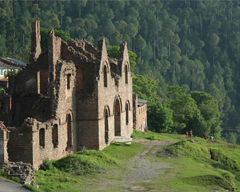 Silk Road: The Picturesque Mansehra and Abbottabad-VI
(March 25, 2015)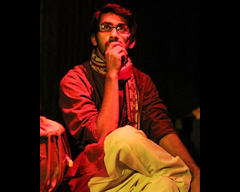 Azeem Hamid and the Independent Theatre Company
(March 25, 2015)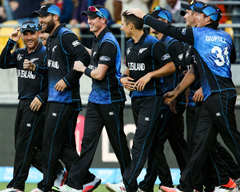 New Zealand to Choke South Africa and India to Overpower Australia?
(March 24, 2015)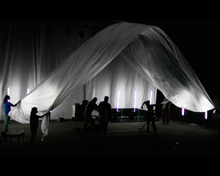 NAPA International Theatre Festival 2015: 'Among Fog'
(March 20, 2015)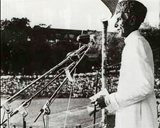 Pakistan Resolution Revisited
(March 20, 2015)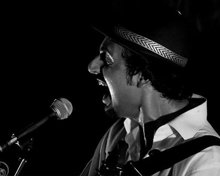 Faizan Tirmizi - The Ideology of an Aspiring Musician
(March 12, 2015)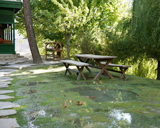 Hunza Valley: A Fine Balance between Tradition and Modernity
(March 10, 2015)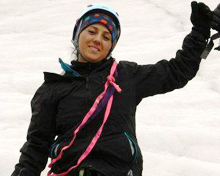 Samina, we are proud of you!
(March 06, 2015)