Pakistani cricket emerges from exile, but are the Shaheens headed for glory?
Written by: Mirza Salam Ahmed
Posted on: May 26, 2015 |

Comments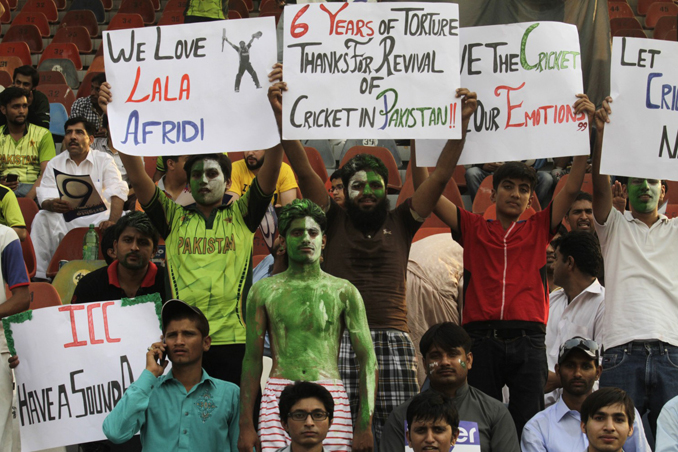 The exuberance of the Gaddafi crowd was at an all-time high
It has been a long, bumpy road to recovery for Pakistani cricket, but it is finally on its way. After a six-year long isolation period in which Test-playing nations disregarded the idea of playing cricket in Pakistan, it was not surprising to witness the exuberance of the crowd when the first T20 match between Pakistan and Zimbabwe kicked off on Friday. The exile of Pakistani cricket is finally nearing its end.
The conspiracy that ended cricket in Pakistan was the attack on the Sri Lankan team in 2009, which left seven Sri Lankan players injured and six policemen dead. But this was nothing new to a country that has been war-ridden for years due to terrorism. 2002 saw a bombing at a hotel in Karachi where the New Zealand team was staying. The following year, all series scheduled for Pakistan were relocated to Sharjah, UAE. However, with Bangladesh and South Africa returning to play and India arriving at the scene in 2004, Pakistani cricket bounced back.
A similar, less critical stance could have been taken by the ICC and other cricketing bodies in 2009. However, at that time, the 'Big Three' were breaking and the BCCI (Board of Control for Cricket in India), leading the cause, had major reservations against Pakistan being included in the upper tier of cricketing nations. The Shaheens managed to rally support for their cause, but their attempts remained futile.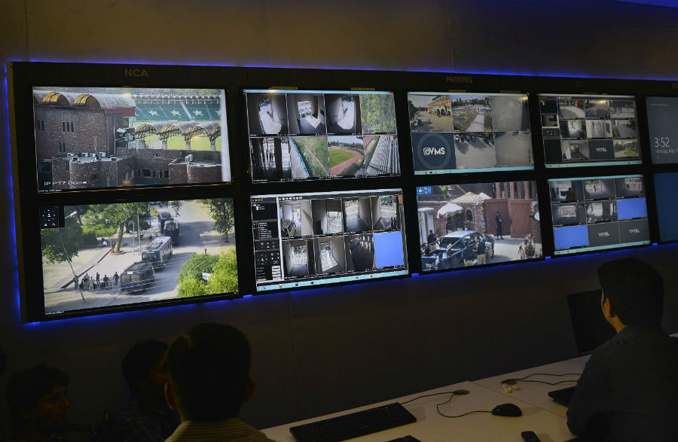 Security officials monitoring the teams
Now, the winds are changing. The green sea is returning to cricketing coliseums, and a fire has been reignited to boost the confidence of the Shaheens. An electrifying atmosphere was witnessed at the Gaddafi Stadium on the two T20 games (with both thrillers ending in Pakistan's favour). Each victory saw the stadium erupt with a roar of jubilance. However, that ear-splitting thunder was not a rumble to celebrate victory, but rather a plea to the heavens to see more cricketing action in a country whose second biggest religion is cricket itself.
Security remains a key concern at this stage, and upon entering the vicinity of the Gaddafi Stadium, it became clear that it is not being taken lightly. Police patrols were observed miles away from the Stadium, and rangers were strategically positioned on the routes of the players. The security inside the stadium was taken over by the PCB administration as well as the rangers. It was this commitment to bringing a risk-free environment that convinced fans to flock in support of the Shaheens.
Wilson Manase, the Zimbabwe Cricket chairman, explained that the decision to play in Pakistan came after the Departments of Defense of both nations expressed their satisfaction with the security situation. Manase praised the strenuous effort made by the Pakistani government in providing top quality services and a secure place to stay for the players.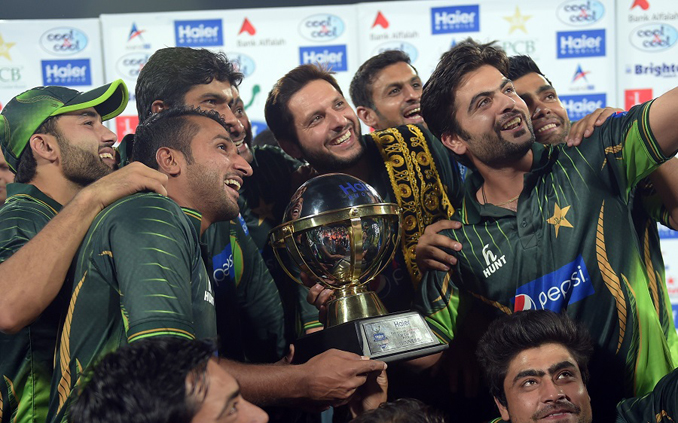 The Pakistan players celebrate after taking the series 2-0
Now, it's up to Pakistan to maintain their repute, both on and off the field. The latter seems to be doing well, but when it comes to the game itself, sharp criticism has been laid upon Coach Waqar Younis and the recent performance of his men. Although Pakistan has won both fixtures, it was their usual explosive nature that saved them from embarrassment at home. Their 11th hour Samaritans, Shahid Afridi and Bilawal Bhatti played their part, but with the current situation, a turbulent performance is predicted in the ODIs.
Veterans have been called back into the squad to bring stability and guidance to the fresh blood in the squad. The 16-man squad has been heavily revamped. Shoaib Malik and Mohammad Sami have been reintroduced. Meanwhile, Saeed Ajmal still hasn't made it to the ODI squad for the three matches in Lahore. Umar Gul has also been sidelined.
In: Shoaib Malik, Mohammad Sami, Hammad Azam, Imad Wasim, Ahmed Shehzad, Babar Azam, Anwar Ali
Out: Fawad Alam, Saad Nasim, Saeed Ajmal, Sami Aslam, Umar Gul, Zulfiqar Babar, Rahat Ali
Pakistan ODI squad: Azhar Ali (captain), Mohammad Hafeez, Ahmed Shehzad, Asad Shafiq, Haris Sohail, Shoaib Malik, Babar Azam, Mohammad Rizwan, Sarfraz Ahmed (wk), Anwar Ali, Hammad Azam, Imad Wasim, Yasir Shah, Wahab Riaz, Mohammad Sami, Junaid Khan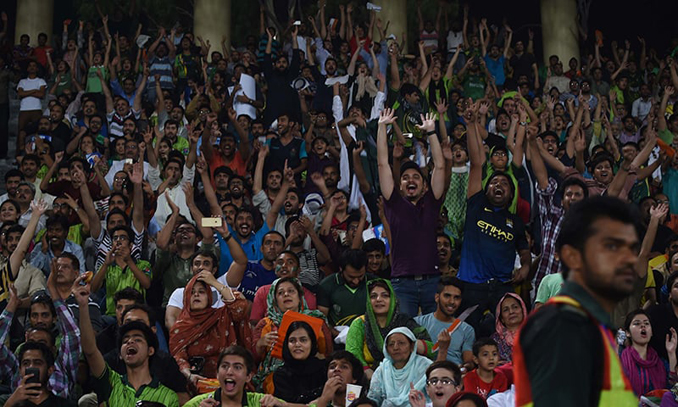 This line-up gives us a glimpse into where Pakistani cricket is headed. After an unbalanced performance in the ICC World Cup earlier this year, fans are seeking out new heroes, and the time is ripe for them to appear. The current campaign for rejuvenation is definitely an emotional one, for players and fans alike. Nerves will be tested, not just on the ground, but on the Pakistani streets as well; but that is easier said than done. In reality, it will be a while before we see bigger nations return to Pakistan and witness the Shaheens reclaim their lost glory.
All images have been taken from www.espncricinfo.com
You may also like: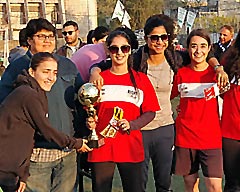 Right to Play & Total Football kickoff Girls Football Tournament 2017
(December 28, 2017)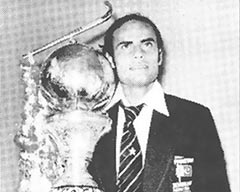 70 Years of Sports in Pakistan: Defying the Odds
(August 23, 2017)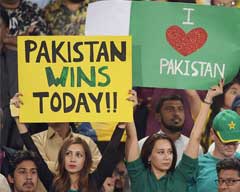 Lahore Rises Like a Phoenix to Hold a Memorable PSL Final
(March 06, 2017)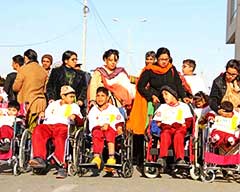 Running for a Cause: 2nd Unified Marathon by Special Olympics Pakistan
(February 06, 2017)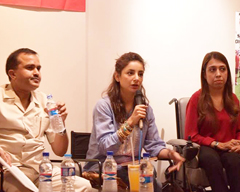 Special Olympics Pakistan at T2F: 'Inclusion Elevates All'
(July 26, 2016)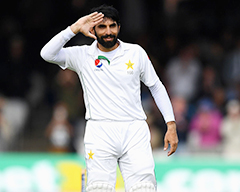 Pakistan Break 20-Year Curse to Become Lords against England
(July 18, 2016)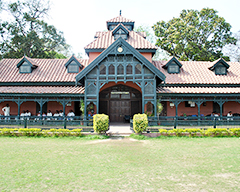 The Long Innings of Lahore Gymkhana Cricket Ground
(June 03, 2016)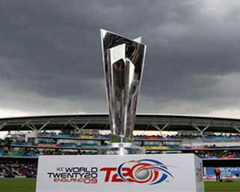 T20 World Cup 2016 – What To Expect?
(March 16, 2016)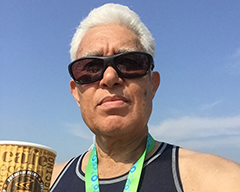 Achieving the Impossible: A Conversation with Saqeb Lone
(March 04, 2016)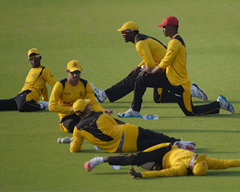 Zimbabwe Braces Itself for Controversy-Plagued Pakistan
(May 21, 2015)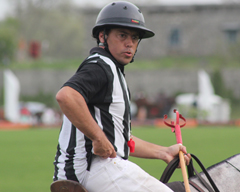 Matias de Olmos: The Life of an International Polo Coach
(April 03, 2015)

Interview With Javed Miandad - Part II
(September 19, 2012)