Shahid Afridi: Guts, Glory and Cricket with Swag
Written by: Jalal Hussain
Posted on: May 12, 2014 |

Comments | 中文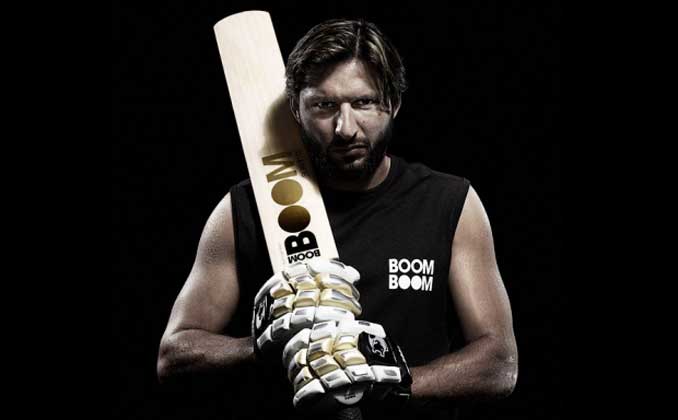 Shahid Afridi
The writer is a lawyer and researcher based in Lahore. Twitter handle @jalalhussain Email address: jalal.hussain@gmail.com
Youlin caught up with Pakistan's biggest superstar, Shahid Afridi for an in-depth interview. The swashbuckling all-rounder spoke about the need to overhaul Pakistan's domestic cricket structure, his captaincy philosophy, those last two sixes against India at the Asia Cup and much more.
Tell us about the Shahid Afridi foundation.
I had been working with different organizations, the UN, Islamic relief, BHR for quite a while, but the organization came into fruition out of the wish to build a hospital after my father's demise. The idea of building a foundation came to me after the construction work for the hospital was underway, when my friends' advised me to build a foundation. The 'Shahid Afridi Foundation' is already registered in Pakistan and it is in the process of being registered in the USA. Our main project has been setting up a hospital in Kohat, the building work for which is almost complete, and the hospital will be inaugurated soon. It's a huge project for me and it is aimed at providing relief to those in desperate need. One of Pakistan's biggest tragedies is that while politicians get votes from these downtrodden areas, when they become members of parliament and Ministers they fail to do much for the welfare of their own constituencies. I want the hospital to be able to provide basic health facilities to the people of Kohat--this is the first goal for my Foundation. The next step is to make education available to the people of Kohat, and then set up technical training institutes, a cricket academy, etc.
Did you think that last six against India in the Asia Cup would make it over the boundary line? What was going through your mind when the ball was in the air?
I had no other option but to hit that ball for six. I couldn't take a single because that would have meant giving the strike to the last man. I've never hit sixes in more difficult circumstances than those last two against India to win the match. They will rank as the most significant sixes I've ever hit. Whenever I see that video clip, I still can't believe it went for six.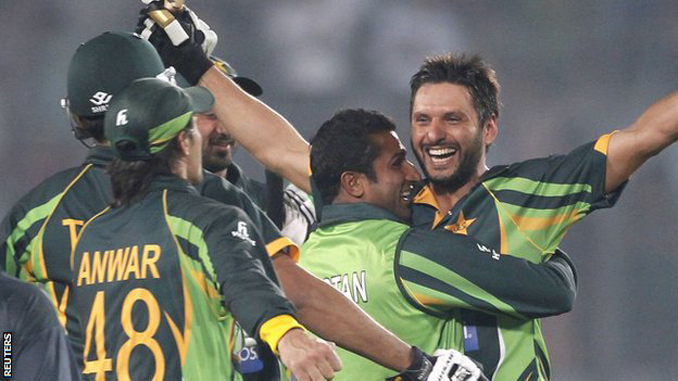 Afridi and teammates celebrate the win against India in the Asia Cup 2014
There are phases when you can do no wrong and play quite consistently, e.g. in the 2009 World T20, the 2011 World Cup, the Asia Cup 2014, etc. Do you think that's a case of your stars aligning or your mental state being different?
I'm more focused then, and I take things up as a challenge; also the atmosphere around me is more conducive for me to perform to the best of my ability. It all boils down to the atmosphere around you; if there is positivity around you, you feel like playing your best. When due respect is given and there is adequate consultation, you then want to perform well. With the amount of cricket I've played, around 17 – 18 years, if the atmosphere around me is good, I enjoy playing cricket. So long as you're enjoying your cricket you will tend to play well and if you're not enjoying your game your performance will be lackluster.
After Muhammad Hafeez's resignation, you are being touted as one of the favourites to be appointed the T20 captain. What is your captaincy philosophy? Who have you learnt the most from? Would you do anything differently as captain this time around?
My captaincy philosophy is pretty straightforward. I employ a carrot and stick approach. I have captained the team before and the results are for all to see. Under extremely arduous circumstances and against all expectations, I led the team to the semi finals of the 2011 World Cup. Then after the World Cup we toured the West Indies and won that tournament under my captaincy. I'm probably the only captain who was removed from captaincy after such a successful run. All the boys were happy with me and I made sure we gelled well as a team. Every cricketer is unique and needs to be dealt with in a particular manner. For those cricketers who understand things with a soft approach I gave them my love and attention, and those who had to be dealt with sternly, I called to my room and lovingly pulled their ears sometimes to get my point across!
You've made 9 comebacks in the Pakistan team. 7 out of those 9 have seen you perform outstandingly. Before your latest comeback against the West Indies you had gone wicketless in six ODIs and 57 overs. What makes you tick in these comeback games?
After being dropped, you sit back and self reflect, go back to the drawing board and analyse the mistakes you've made and try to correct them in the nets. If you work hard you will definitely be rewarded. I get motivated by criticism from television pundits and take their critique as a challenge. I feel quite satisfied when I perform well and silence my critics.
You've said quite a few times that you don't need a coach and you are better off coaching yourself. How do you see the role of a coach in the modern game? Who has been the best coach to work with?
After playing cricket for 18 years if I come out and say that coaches haven't taught me anything, it will be quite unfair. The Pakistani team is the only team where players genuinely need to be coached. The standard of our domestic cricket is not really up to the mark. The things a player should learn at the domestic level or the Under 19 level, he is forced to learn upon joining the national team. Whether it is the way you eat or drink, whether it is your training or anything else, a young player will learn everything after joining the national team. I've played under some of the most renowned coaches in the world, and I've learnt all I could, though one is always learning. But after playing for 18 odd years, you need people who can back you up and motivate you to perform.
Unfortunately our younger players come from a background where they haven't learnt anything and need to be taught from scratch. The supporting staff is necessary to groom these players. If I start blaming coaches at this level it will be quite unfair on my part.
You came into the team purely as a bowler. Everyone forgot about Shahid Afridi the bowler after your batting heroics. But you have reinvented your bowling and brought quite a lot of variations. When did you start working on your drift and slide?
I started paying more attention towards my bowling when it dawned on me that my batting clicks once in a blue moon. I came into the team as a bowler and so I thought I should strengthen my bowling so I could contribute to the team even when I could not bat well. In the last four or five years I've given top performances as a bowler. So I thought I would make bowling my main weapon and the batting could be an added bonus. People, however, have different demands of me. They prefer to see me bat, so I try my best to balance things out. I want to make sure I end my career on a high.
Given your current fitness levels how long do you think you can continue playing professionally?
If you compare my fitness levels to the younger lot who have just joined the team, I'd say there is not much of a difference. I don't feel any different from those boys who are 19 or 20 years old. For the time being the World Cup 2015 is of utmost importance to my team and I. Let's see what happens after that. As far as fitness is concerned, I can play for another three or four years.
What are your plans after the 2015 World Cup? Do you see yourself joining politics?
I have no plans to join politics. I have gained recognition because of cricket and cricket is my love, so I will continue playing cricket. I will see how long I enjoy the game and for how long people appreciate my game.
How has the ban on Pakistan hosting cricket matches impacted the team? Have the dynamics changed since some people in the team haven't even played international cricket in Pakistan? Do you think kids are losing interest in the game?
Financially it's a huge setback, not being able to host international games in one's home country. Grounds are being wasted. International cricket should and can come back to Pakistan; I don't think it's such a big problem, bringing cricket back to Pakistan; we need to have the will to do so.
All the top playing teams have their own domestic T20 leagues where foreign players are playing. How big of a loss is it for Pakistani youngsters that they are not able to experience the same?
I'm just stunned at the fact that even Bangladeshis now have their own Premier league and Pakistan is unable to host such a tournament. The senior officials in the PCB will be better placed to answer why Pakistan has failed to initiate its own domestic T20 premier league.
Who from the current lot has, in your opinion, the brightest future?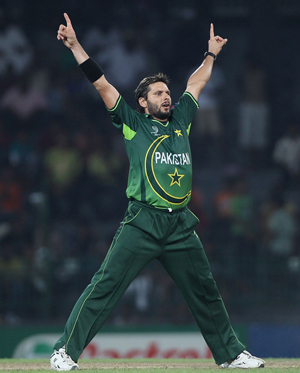 The signature 'X' pose
I haven't been able to spot any new talent. Whatever new talent we had, got chances and they did not make the most of them. I feel Umar Akmal, Ahmed Shahzad and Asad Shafiq are quite talented. Asad Shafiq has a bright future if he plays bravely and his natural game; he shouldn't let people get to him. I've been saying for a long time that Fawad Alam should be given a sustained run in the team. However, in domestic cricket I can't think of anyone who has caught my attention.
Do you think raw fast bowling talent in Pakistan is fading?
We do have some up and coming fast bowlers. Muhammad Akram and Wasim Akram held a fast bowling camp recently. Our bowling coach Muhammad Akram informed me that there is good fast bowling talent in Pakistan; he must've seen some spark in the youngsters.
I can't stress on how much we need to focus on our domestic cricket, it is in serious need of overhauling. Our current crop of players can carry the team for another three years or so; beyond that, I fear for our team as the players coming out from domestic cricket aren't good enough to compete at an international standard.
How do you feel about the Big 3 situation?
Look, you can only eyeball someone if you yourself have accomplished something and can walk the talk. You can only talk about taking on the big guns if you have the strength to back up your talk. You have to strengthen yourself before you can eyeball the big guns. Establish premier leagues or whatever else to be in a position to bargain. The PCB chairman Najam Sethi has taken some good decisions since taking over and I am hopeful that his tenure will be for the betterment of Pakistan cricket.
How has cricket changed since you joined it?
Cricket has changed quite a lot since when I first started out. Test match cricket is more result oriented now and most matches are determined within four days as compared to the old days when matches were more often than not drawn. T20 cricket has changed the face of the game. One-day internationals have gone through a lot of changes as well. The ICC has changed rules and regulations, now you can't have more than four fielders outside the 30 yard circle in ODI's. With times a lot of things have changed and for the better. There is no harm if the game is becoming more spectator-friendly and the players are enjoying their game.
You joined the Tableeghi Jamaat in 2005. How has that changed you as a human being and a cricketer?
Tableeghi Jamaat is not a group or organization that one joins. It's meant for everyone and is not at all exclusive. The whole point is to reach out to people. You need an atmosphere to find your calling. They don't force you to conform to their viewpoint. One should sit in the company of good human beings and elders; it is beneficial for your spiritual development.
Which bowler do you dread facing the most?
With a new ball I am yet to face a more challenging bowler than Glen McGrath. Courtney Walsh, Curtly Ambrose and Ian Bishop were all top-notch bowlers apart from Wasim bhai and Waqar bhai. As a bowler the most difficult batsman to bowl to was Brian Lara. There was no one greater than Brian Lara.
Which bowler is the easiest to face?
There are no easy bowlers to face in international cricket. On some days you will find a particular bowler easy to face and you would fancy your chances against him.
Who are your best friends in the team currently?
When I started out I was quite close to Saqlain Mushtaq, Shoaib Akhtar etc. Over the years I spent a lot of time with Abdul Razzaq as he was my roommate. These days Umar Gul and Ahmed Shehzad come into my room and we go out for meals together. I get along with everyone, I never point to any particular teammate and say he is my boy and I don't believe in favouritism.
Tell us some interesting sledging incidents.
If I tell you, you won't be able to print them or show them on video.
An old interview clip of yours resurfaced on social media, which has irked a lot of your female fans. What are your views about women working?
The media needs to improve their practices. They stoop to such low levels to create headlines. On a dry news day they will make sensational stories out of nothing. You are ruining the image of your country; what are you trying to show the world? I said this in a lighter vein in an interview I gave 6 months ago. It was shown out of context. I'm sorry to have to say this but our media is playing a terrible role.
How do you want to be remembered?
My father (may God grant him Jannat) said something very wise once; he said even if you don't become a good cricketer, try to become a good human being. These words are quite significant to me. In these times it's really a big deal for a person to be remembered fondly after they pass away. My father's words portray how I'd like to be remembered; as a good human being.
Special thanks to Muhammad
Iftikhar and Javed Afridi
for arranging the interview, Muhammad Ali and Sheikh Muhammad Ali of Visual Prophecy for providing technical support and
Zohaib
Hussain for penning the introduction to the audio.
Related articles:
You may also like: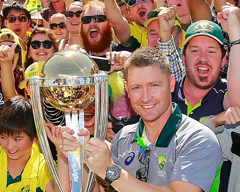 Australia Pulverizes New Zealand to Bag World Cup 2015 Trophy
(March 30, 2015)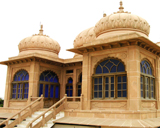 The Undying Grandeur of the Mohatta Palace Museum
(March 29, 2015)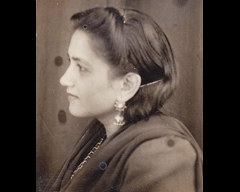 Ada Jafarey: A Tribute
(March 27, 2015)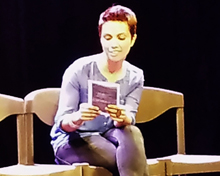 Me, My Mom & Sharmila: Fawzia Mirza and the Brown Woman
(March 26, 2015)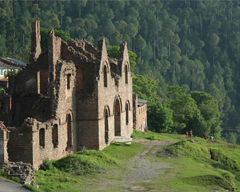 Silk Road: The Picturesque Mansehra and Abbottabad-VI
(March 25, 2015)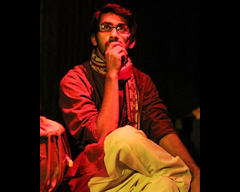 Azeem Hamid and the Independent Theatre Company
(March 25, 2015)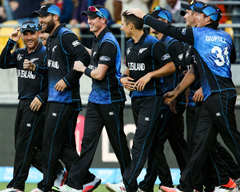 New Zealand to Choke South Africa and India to Overpower Australia?
(March 24, 2015)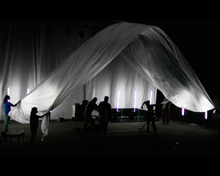 NAPA International Theatre Festival 2015: 'Among Fog'
(March 20, 2015)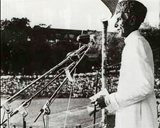 Pakistan Resolution Revisited
(March 20, 2015)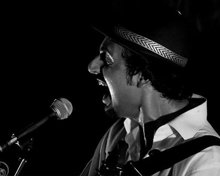 Faizan Tirmizi - The Ideology of an Aspiring Musician
(March 12, 2015)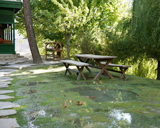 Hunza Valley: A Fine Balance between Tradition and Modernity
(March 10, 2015)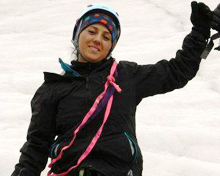 Samina, we are proud of you!
(March 06, 2015)