Theatre Review: 'Bananistan' by KopyKats Productions
Written by: Mirza Salam Ahmed
Posted on: November 18, 2016 |

Comments | 中文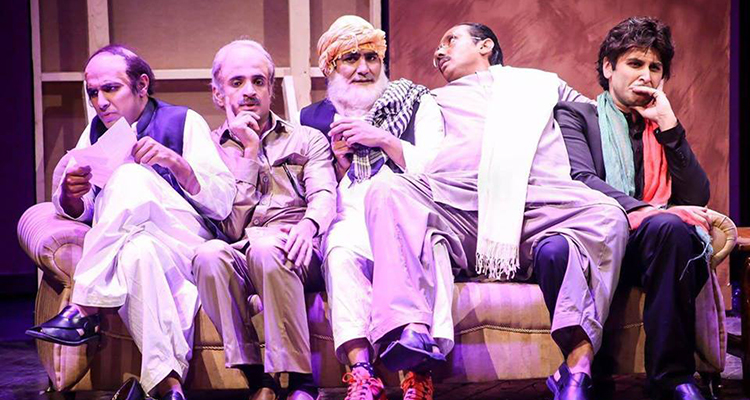 (L-R) Nawaz and Shehbaz Sharif, Maulana Fazal-ur-Rehman, Asif Ali Zardari and Imran Khan
Sometime in the near future, in a land not so far away, there exists a country named Bananistan, uncannily similar to our own nation, Pakistan.
The KopyKats Productions have an impressive list of successes under their belt, with the likes of Siachen, Pawnay 14 August and Sawa 14 August among their recent creations. Their hot streak of producing crowd favourites continued with the launch of Bananistan, which depicts a dystopian society rife with political and communal problems. Following the KopyKats team's tour of the country, Islamabad folk were eagerly anticipating the play, so when the stage was lit at the National Library on November 16, people were left standing on every edge and hanging from every ledge the auditorium could accommodate.
The play features comic dead-ringers from Pakistan's political stage, who have nothing left to do in their lives but fight for the chance to star in theatrical shows. Bananistan is a play-in-a-play called Mere Sultan Ka Fatima Gul Se Ishq-e-Mamnoon. As the name suggests, this is indeed a love story, but one filled with relatable national and political jokes that will make you laugh out loud.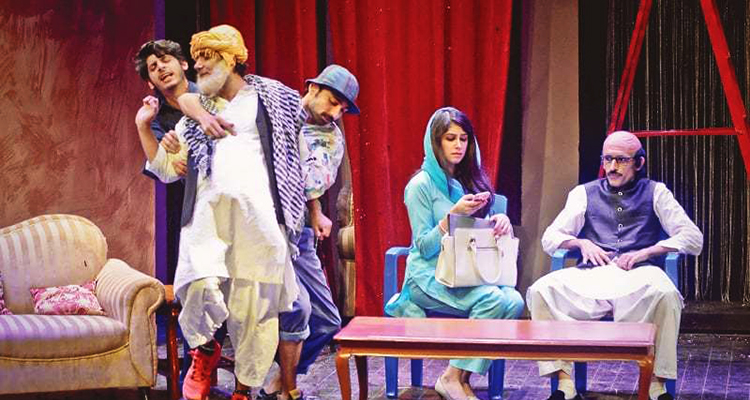 The clichéd love story starts off giving vibes of a knock-off, but one couldn't be more wrong. It soon grasps its status of being "highly recommended" when the actors break barriers through constant interaction with the audience without losing the spark of their on-stage performance.
At the two-hour mark, the play did start to drag on, but perhaps the writers and directors didn't want to omit those extra bits of laughs we had during extended scenes. Credit must be given where it is due, and in this case the cast more than deservers it. The audience stood up and gave thunderous applause to the brilliant acting from the entire cast, who delivered one punch line after another with increasing flair and power.
KopyKats' leader Dawar Mehmood plays Imran Khan, Shafqat Khan plays Qaim Ali Shah and Talha Malik plays Nawaz Sharif; and does so brilliantly. However, what really stole the show was the brilliant impersonation of Maulana Fazal-ur-Rehman by Mustafa Chaudhry. From the traditional yellow pagri to knicker-length shalwar and pink Nike joggers, Mustafa left no stone unturned in creatively exploring his character. Critics might cry over mimicry being a lowly form of entertainment, but after watching Mustafa perform they would surely eat their words.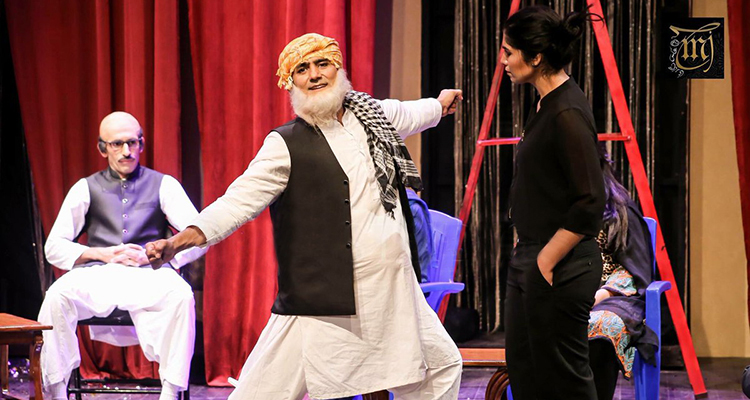 Mustafa Chaudhry's brilliant impersonation of Maulana Fazal-ur-Rehman
Producer Mohsin Ejaz plays Altaf Hussain and Hammad Siddiq plays Asif Ali Zardari; and they do so in a manner that puts Geoffrey Baratheon to shame by acquiring more loveable hate then they ever could. Tulin Khalid Azim, who donned the director's hat, did a fantastic job in every aspect. The play was written by Mustafa, who did a marvellous job in cracking one joke after another without compromising the flow of the play.
The play eventually loses track of what is going on, but for those who didn't understand it – that was meant to happen. This was not an Umar Sharif knock-off! It was better! It lacked a moral towards the end, because the moral was right in the middle of the play. The entire point was to give good kicks and laughter from the political drama (off the stage of the National Library) that has been in the spotlight for the best of half of the last decade – and that is exactly why it was so good, because it was relatable.
There was this one special interval in the play where all political leaders fight for a place on the couch. However, the scene where they sing along to Mumkin Hai, Mumkin Hai dawned over it, sending chills down our spines; seeing all of our political leaders co-exist and work together for the bigger picture, the betterment of our nation. Ha Ha, but that did not last long…by the end of the play reality had returned to the stage. Well, even if you can't derive a positive ending from play, it is still guaranteed to make you "roll on the floor" whilst "laughing your face off".
You may also like: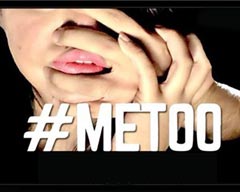 Theatre Review: #MeToo by BlankPage Productions
(January 12, 2018)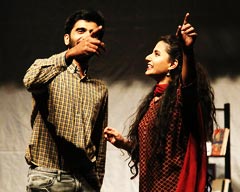 Theatre Review: Bol Kay Lubb Azad Hain Teray
(December 21, 2017)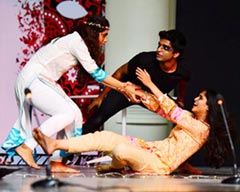 The Fringe 2017 – Intra-IBA Theatre Competition
(December 15, 2017)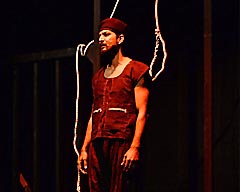 Theatre Review: Ajoka Theatre's 'Intezaar'
(November 30, 2017)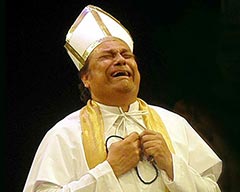 Theatre Review: 'Yahudi ki Larki' by NAPA at National Theatre Festival 2017
(November 02, 2017)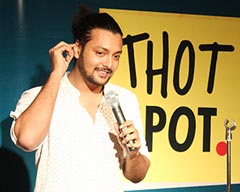 Bachay Panch Hi Achay (5 Kids are Enough) - A Saturday Night Comedy Show
(October 17, 2017)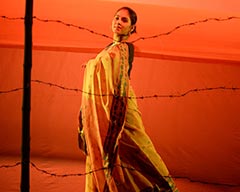 Ajoka Theatre's 'Shehr-e-Afsos - A City of Sorrow'
(October 13, 2017)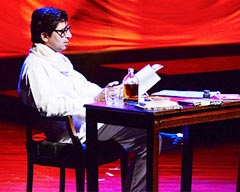 Theatre Review: 'Kaun Hai Yeh Gustakh' - Ajoka's Play about Manto
(October 12, 2017)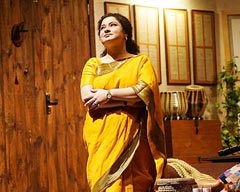 Theatre Review: 'Mushk - Fragrance' in Lahore
(October 10, 2017)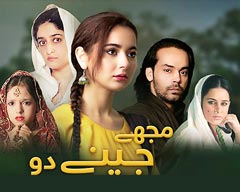 Drama Review: 'Mujhay Jeenay Doh'
(September 22, 2017)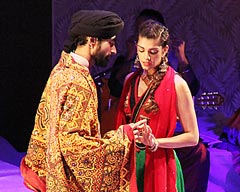 Heer Ranjha – Retelling Kaifi Azmi's Script in an Urdu Musical
(September 11, 2017)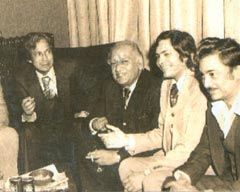 70 Years of Theatre: A Flashback Through the Ages
(August 30, 2017)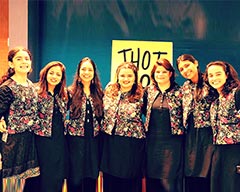 'The Khawatoons' Celebrate their First Anniversary!
(August 02, 2017)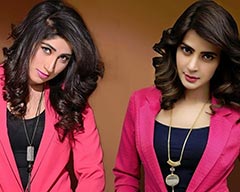 'Baaghi', a serial inspired by Qandeel Baloch
(July 31, 2017)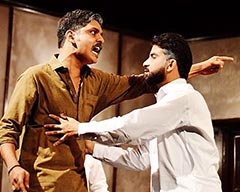 'Mulzim Ya Mujrim' – A Theatrical Production
(July 25, 2017)