In Conversation with Umair Anwar, Winner of the International Emerging Artist Award in Dubai
Written by: Fareeha Shah - Posted on: May 31, 2016 |

Comments | 中文 (Chinese)
Google Translation: اُردو | 中文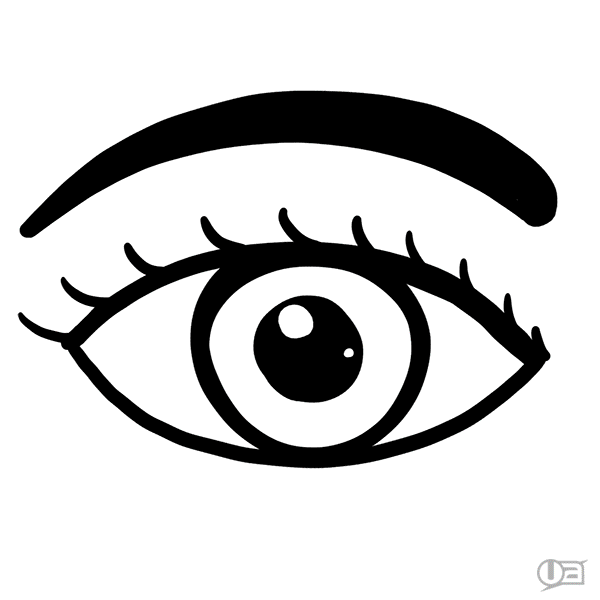 'Blink' won Umair Anwar the 4th International Emerging Artist Award at World Art Dubai
Idiosyncratic and instantly curious, Umair Anwar greets me warmly and settles into his seat. He is a multi-talented graphic designer and artist from Lahore, who very recently won the 4th International Emerging Artist Award under the category of 'New Media Artist' at World Art Dubai. One might expect an individual met with sudden recognition on an international platform to behave differently, but Anwar remains humble, keen and fully engaged in the conversation that takes place.
"Design needs to serve a purpose. It can't be based merely on your liking for something", says Anwar. "If it's a message, you need to know which audience you are talking to, and your design needs to connect with that audience."
Umair Anwar graduated valedictorian from the Indus Valley School of Art and Architecture in 2005 with a degree in Communication Design. "I've been drawing since I was a child," says Anwar, settling into his seat. "I used to take part in a lot of competitions in school and even in the Punjab Textbook Board, and I would end up winning most of them. How I got into design, though, is another story. My older brother studied at NCA; he's a graphic designer too. I used to observe him working on his assignments, which I found fascinating. When he wasn't there, I would open his files and mess around with his things. That was how I first discovered my passion for design."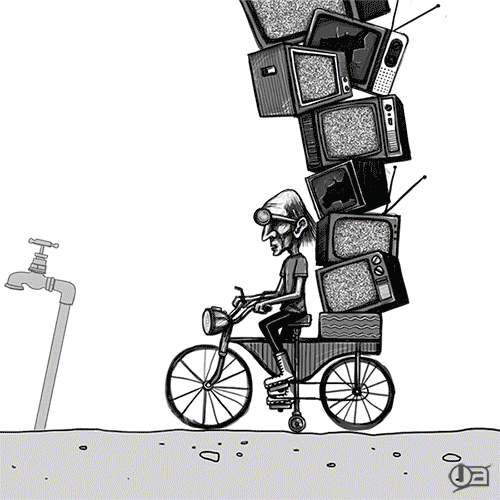 'Man on a Bike'
Before emerging as an independent artist, Anwar was met with commercial success, working as a Creative Director for Coca-Cola. His projects include working with renowned brands such as Coke Studio, Sprite and Minute Maid, and he is currently the Creative Director at Ogilvy & Mather, Pakistan. He hopes to expand his art through the rapidly developing medium of the GIF. But when did he first identify himself as an artist, and realise that he wished to take his work beyond the commercial realm? "There was this void that started building inside. We used to work day and night on brands, on very goal-oriented projects. That developed a void in me, which I needed to fill with something that I could truly express myself with."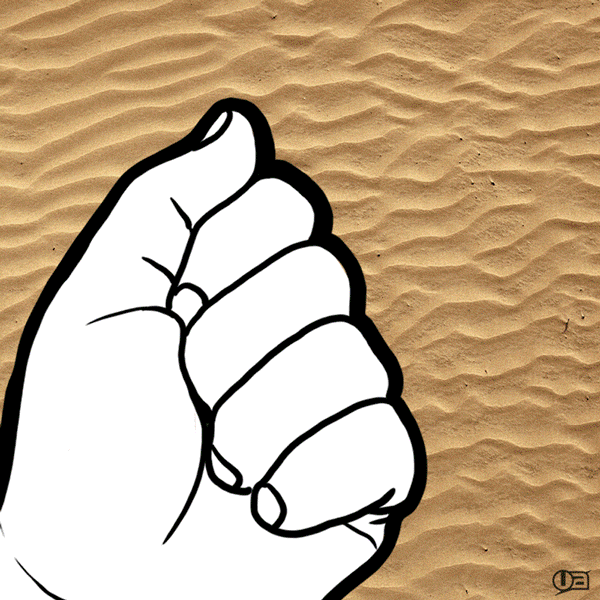 'Handful'
The Graphics Interchange Format (GIF) is a relatively new medium when it comes to expressing oneself as an artist. Some people believe that stories are told most effectively through movies; others think they can only be told through words. But a GIF is a kind of liminal medium. "I love the fact that they (GIFs) are infinite. I love that they are not defined by time. They keep on playing perpetually, and there is something magical about that. It's like throwing something in the universe – and letting it float. I've been illustrating for quite some time now, and my work has evolved into the GIF. One day I would love to create an animated movie – but at this point, GIFs are the most convenient because I can animate them on my own and create original content."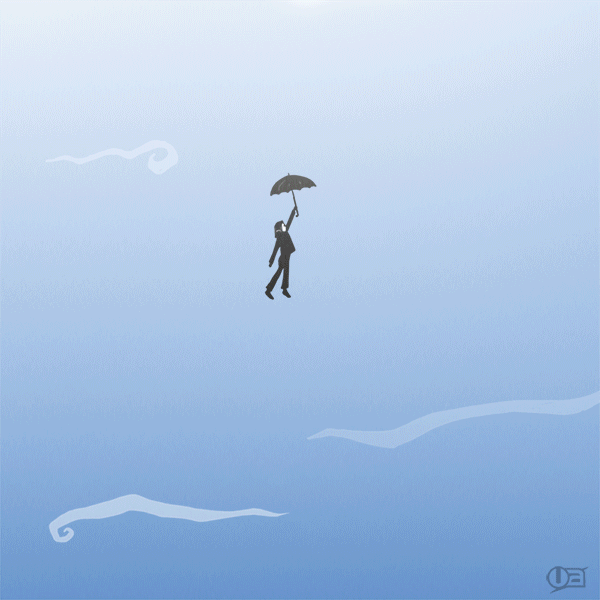 'Mindscapes'
Having won such a prestigious international award, one might assume that Anwar had been illustrating with the GIF for several years. Surprisingly, that is not the case. "It was actually quite funny because it was my first ever experience entering into the world of art, and I ended up winning this pretty huge competition. It was a big surprise. The director of this event called to inform me that I had won, and I was like, "Are you kidding me? This can't be happening!" I won under the 'New Media' category – and this is where my GIFs came in. We see them all around: on various websites, on Facebook; people are always sharing them. I felt that it's very current, and it's being used a lot on social media, so I decided to adopt it as a medium."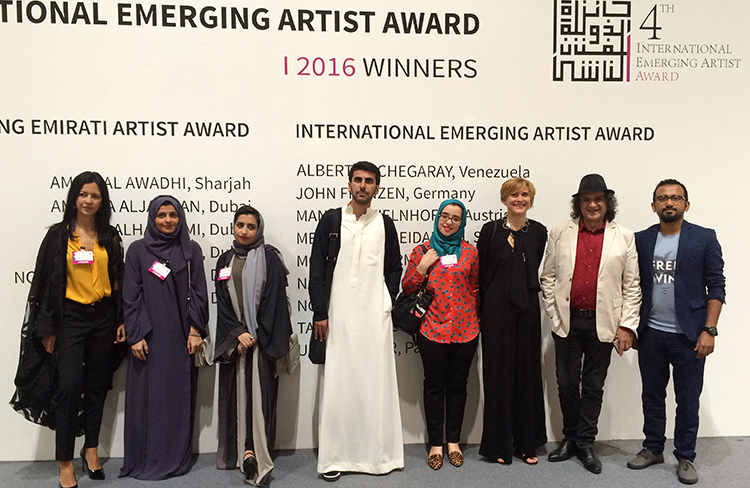 Umair Anwar (right) stands with the winners of the 4th International Emerging Artist Award
Anwar's website mentions that he has always "wanted to connect with the viewer without any barriers of social or political context, but rather on a rational level of every human being living in the glo-cal (global and local) world of today." When asked about his conception of the fundamental human nature that unites people across geographical borders, Anwar replies, "Having been a part of the commercial side where we make campaigns for everyone, I just feel that there is a fundamental thread that connects anyone and everyone across the globe, in the same way that numerous brands are in demand all over the world. For instance, people in every part of the world enjoy watching the sunset every day. Or certain jokes have universal appeal, in that people from all parts of the world can relate to them. That's how I feel my work ought to be – I try to create art that would resonate with everyone, no matter where they come from."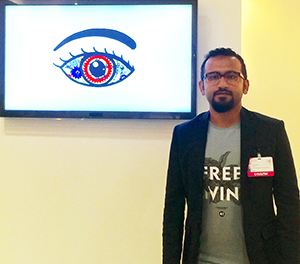 Umair Anwar with his artwork on display at World Art Dubai
Umair Anwar concludes the conversation by providing an insight into the kind of work that he wishes to produce. "I just want to create something that would make people feel good. I don't want to make anything morbid; there is enough morbidity in the world as it is. I want to create something whimsical and magical that can make people go, "How did I miss that?" or "Oh, that's interesting!" Many people at World Art Dubai ended up recording my GIF. It made them smile. I spotted a 3-year-old girl gazing at it, perhaps relating to it in her own way. So yeah, that's the kind of work that I want to produce."
You may also like: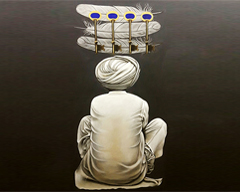 Kaleidoscope at Asia House London: A New Perspective on Contemporary Pakistani Art
(November 25, 2016)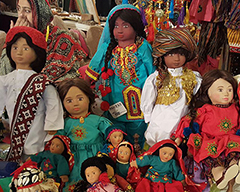 Daachi Arts and Crafts Exhibition 2016: Where Indigenous Craftsmen Meet Art Enthusiasts
(November 16, 2016)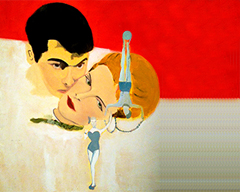 'Director's Cut': Argentine Artist Gonzalo Sojo at Satrang Gallery
(November 02, 2016)
Karachi Art Galleries: Giving a Voice to Budding Pakistani Artists
(October 26, 2016)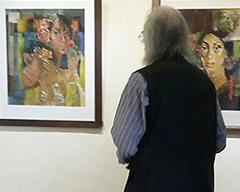 'Collective': Nomad Gallery Showcases the Work of Multiple Artists
(October 14, 2016)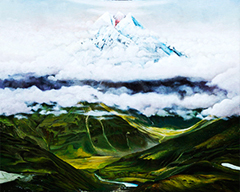 'Climate Change & Art' at Gallery 6: A Practitioners' Retreat
(October 10, 2016)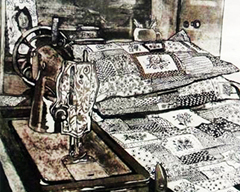 Entanglement: An Exhibition of Printmakers at Nomad Gallery
(September 26, 2016)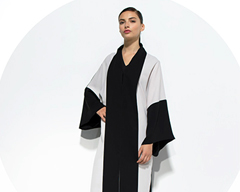 Feeling Like Royalty? Try Homa Qamar's Chic Abaya Collection!
(September 19, 2016)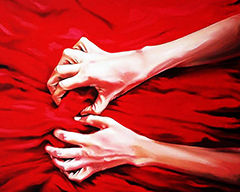 Facial Recognition: An Online Exhibition by My Art World
(September 16, 2016)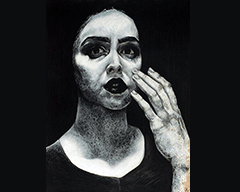 Young Talent: Nomad Gallery Showcases the Works of Miniaturists, Painters and a Printmaker
(September 02, 2016)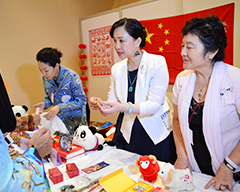 IFWA Charity Bazaar: Supporting the Pink Ribbon Cause
(August 29, 2016)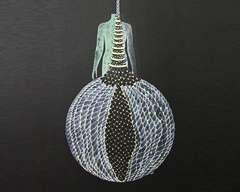 'Structural Intricacies' at My Art World
(August 26, 2016)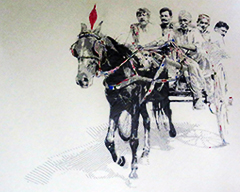 'The Future is Now' – A Cultural Narrative by 10 Artists
(August 22, 2016)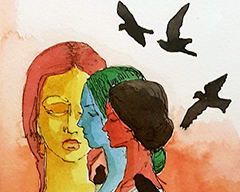 Summer Moods: Paintings, Prints & Calligraphy at Nomad Gallery
(June 17, 2016)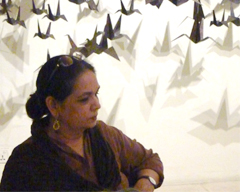 Noorjehan Bilgrami: Of Art, Colour and Sensation
(May 23, 2016)