Will the Real Sattar Buksh Please Stand up?
Written by: Zahrah Mazhar
Posted on: April 14, 2014 |

Comments | 中文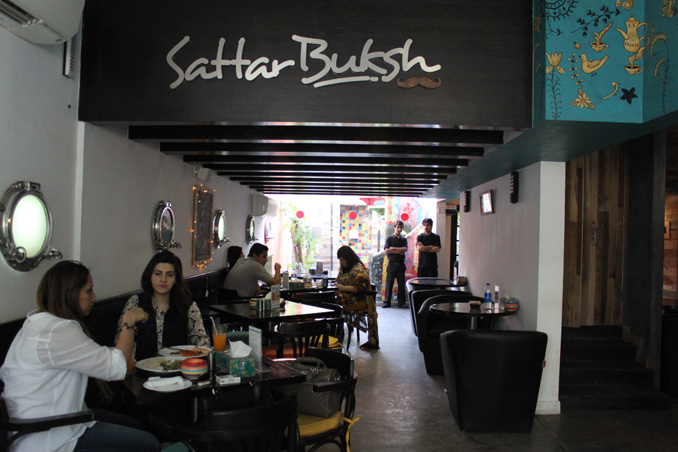 Sattar Buksh
Sattar Buksh is a loud, attention-seeking and cheeky man. The owners of the namesake cafe, however, are not. Rizwan Ahmad Malik and Adnan Yousuf could not be more different from the man with the moonch (moustache) who, at the time of his debut into Karachi society, was easily the most talked about person in the city.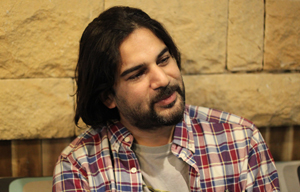 Rizwan Ahmad Malik
While Sattar Baksh has no reservations about being the talk of the town, Rizwan and Adnan prefer to stay out of the limelight. Camera shy, they let Sattar Buksh do the talking most of the time. Who actually puts those words in Sattar Buksh's mouth on Facebook and Twitter is a guarded cafe secret. "It's just Sattar Buksh talking," said Rizwan laughingly when asked about the real Sattar Buksh on social media. When prodded further, he simply said, "It's all of us." This one line sums up the entire journey of how Sattar Buksh popped up on the map of Karachi's most popular eateries as according to Rizwan and Adnan, the cafe would not have been possible without their family and friends.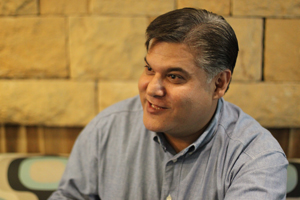 Adnan Yousuf
The other factor, perhaps even the biggest one, in making Sattar Buksh a hit in a city where eateries open and close on a regular basis was the owner's experience in advertising. Between the two of them, they have more than thirty years of experience. "We were both thinking of resigning for a while and after going back and forth multiple times, we finally did," said Adnan, who also went to Italy to learn how to make pizzas and panini. "When we left though, it wasn't to open Sattar Buksh. It just so happened that both of us wanted to do something apart from advertising and we got brainstorming."
While Adnan has some culinary skills, Rizwan, who graduated from the Indus Valley School in filmmaking, admits to having none. "I'm not a foodie," he said. "What I am good is at managing brands. The dream of any creative person in advertising is to make their own brand. Make it come alive and engage people."
Initially the duo decided to open a burger joint and began looking for franchises. "But it was a troublesome process with too many pre-requisites. During a random conversation, we joked how we don't need to open Starbucks or some other franchise when we could have Sattar Buksh. And just like that, the concept was right in front of us," told Rizwan.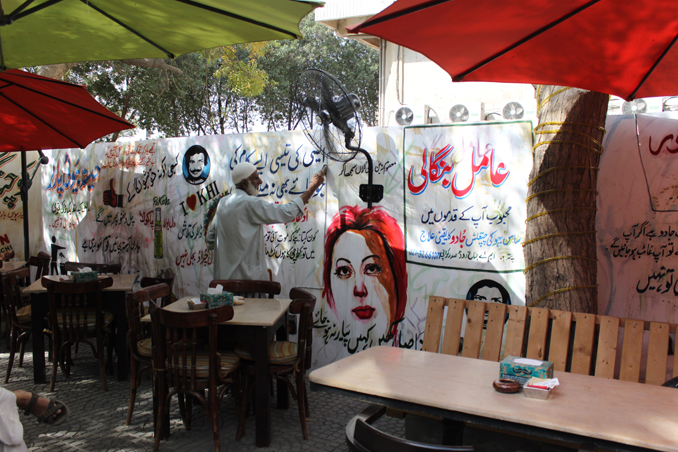 Decorating the exterior
What started as a joke soon became a business plan and started to take on the shape of a cafe – and a person. "From day 1 we talked about the persona of Sattar Buksh. There aren't many eateries which actually speak to their customers. We wanted the cafe to be represented by a man of the world – when something bad happens, he reaches out to you and when something good happens, he celebrates with you," explained Adnan.
Giving the example of the Kentucky Fried Chicken's Colonel Sanders, Rizwan said that theirs was not the first idea to use a face with food. "But we had no local character in Pakistan, especially one which spoke to people!" Sattar Buksh's face has been modelled after the owners' common acquaintance – Kamal Basit. "We've known him a long time and he's also a stand-up comedian. He randomly walks into the cafe at times and greets customers. They love it!"
Soon enough, the logo caught the attention of the international chain, Starbucks, and Sattar Buksh's moonch got the city's residents talking. The news of the upcoming cafe went viral. "We've been approached by people and institutions to explain how to make brands go viral – the trick is not to do it on purpose," revealed Rizwan.
The concept of the food they offer came along with the name – the menu ranges from besharam (topless) burger, dehshat gard (spicy) pizza and a drink named load shedding. "Our third partner, Assadullah Khan, is a desi foodie who likes chai while I like my coffee and panini," said Adnan. "The whole idea was to have a place where people could have daal chawal and pizza side by side. Even from a business point of view, the concept worked: there aren't many places which offer dhabba chai as well as espresso."
Agreeing with his partner, Rizwan said that they also wanted to provide a more comfortable and friendly space than other coffee shops in the city. "We wanted this cafe to have a sense of community. Where there was no stiffness, where all sorts of people would be welcome and a place where customers could strike up conversation with each other."
For the purpose of engaging people, the upstairs portion of the cafe has been turned into an activity area. A photography exhibition was held there earlier and now musical and comedy gigs are also being planned. "The idea isn't to make money from that space, it's to start a dialogue," said Rizwan.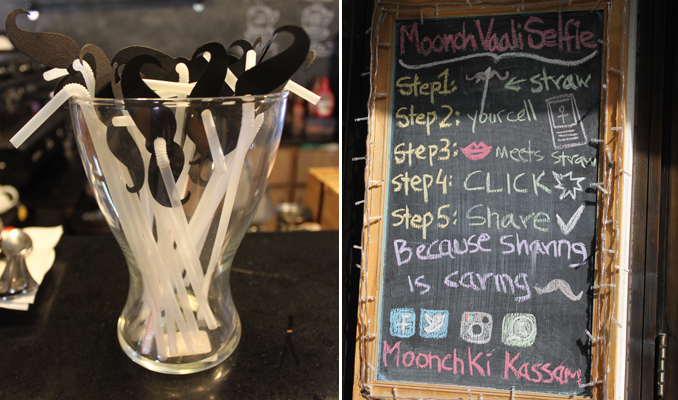 Moonch straws and how to take a Moonch Vali selfie!
Even with overnight success, Adnan and Rizwan find the cafe to be their toughest challenge yet. "We anticipated the initial hype but did not expect that we'd be bolting our doors to keep customers out because we were full. To this date, we're still getting the hang of it," said Adnan.
"We've come a long way – had many sleepless nights, washed dishes, served people and dealt with harsh critique. And even though the pressure is easing up, there is no doubt that this is a ruthless business," shared Rizwan. "Our idea was to start a brand that people could relate to and create a space where everyone belonged. We knew we'd almost achieved our target when we saw customers serving food during the initial weeks when we were swamped!"
For those venturing into new professions, the owners of Sattar Buksh had one simple advice: "You can't be in it for the love of money, it has to be the love of the idea. For that is the only way you'll retain customers."
Images provided by Tooba Masood
You may also like: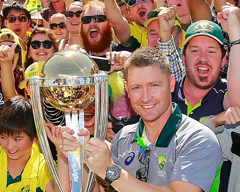 Australia Pulverizes New Zealand to Bag World Cup 2015 Trophy
(March 30, 2015)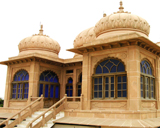 The Undying Grandeur of the Mohatta Palace Museum
(March 29, 2015)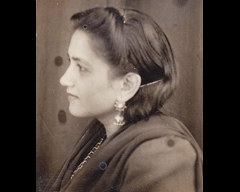 Ada Jafarey: A Tribute
(March 27, 2015)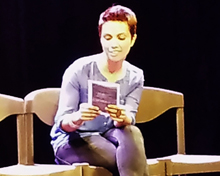 Me, My Mom & Sharmila: Fawzia Mirza and the Brown Woman
(March 26, 2015)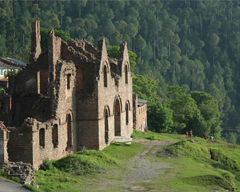 Silk Road: The Picturesque Mansehra and Abbottabad-VI
(March 25, 2015)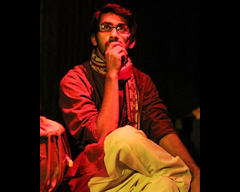 Azeem Hamid and the Independent Theatre Company
(March 25, 2015)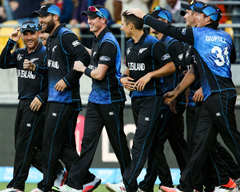 New Zealand to Choke South Africa and India to Overpower Australia?
(March 24, 2015)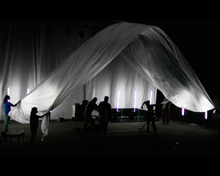 NAPA International Theatre Festival 2015: 'Among Fog'
(March 20, 2015)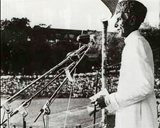 Pakistan Resolution Revisited
(March 20, 2015)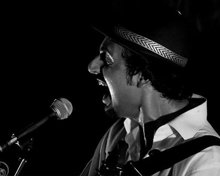 Faizan Tirmizi - The Ideology of an Aspiring Musician
(March 12, 2015)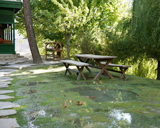 Hunza Valley: A Fine Balance between Tradition and Modernity
(March 10, 2015)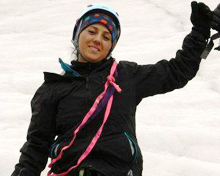 Samina, we are proud of you!
(March 06, 2015)