Yantai
Written by: Liu Qin
Posted on: August 05, 2014 |

Comments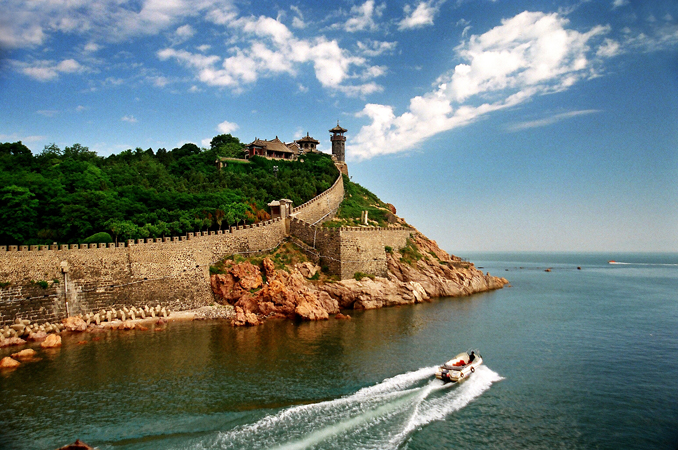 Penglai Pavilion
Located in the middle of the Shandong Peninsula, with the mountain and sea at the elbow, Yantai is one of the first coastal cities which opened up to the world in China in the 1980s. It is an international seaport, a commercial city and a tourist destination in the Bohai Economic Rim and East Asia. Its coastal line stretches for 909 kilometers, with the Bohai Sea and the Yellow Sea close by and about 63 isles dotting like pearls. The magnificent view and sights make Yantai a well-known retreat for the summer, for holidays and entertainment.
Endowed with rich natural resources, Yantai is one of the important fishing bases in China. More than 70 kinds of aquatic products are harvested, including sea cucumber, lobster, abalone and scallop. Yantai is also known as a fruit base in north China. Yantai apple, Laiyang pear and big cherry are famous at home and abroad. Yantai is home to more than 30 kinds of minerals and ranks first in natural reserves in China, with one fourth of total gold reserves in China.
Yantai opened its harbor for business in 1858 and was the first seaport in Shandong open to foreign countries in 1862. Seventeen countries, including Great Britain, the United States, Japan and Germany established their consulates in Yantai, followed by foreign schools, banks and hospitals as well as foreign products. Chinese specialties such as peanut, soybean, silk and minerals were exported. At the turn of the last century, Yantai became the earliest commercial seaport operating with underwater cable connecting Shanghai, Dagu and Dalian, along with others.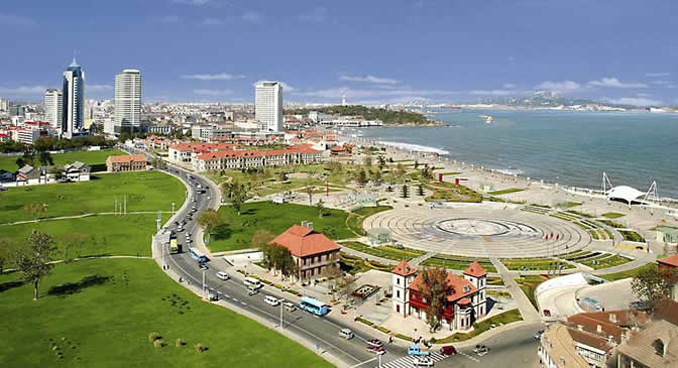 Yantai Port
Yantai, historically, is one of the places where the ancient Chinese culture originated since there are traces of human activities to be found here, dating back to about 10,000 to 20,000 years ago. About 7,000 years ago, the Baishi people who inhabited this region made a living by on fishing and farming, and created splendid prehistoric culture. The bone needle they made is similar to the iron needle we use today, proving that technologies in honing, textile and sewing were excellent. During the Xia, Shang and Zhou Dynasties (4,000 to 2,500 AD), the Dongyi people were living there. An unearthed fragment of pottery with seven suns shining shows that they worshipped the sun.
According to the Historical Records by Simaqian, after Qin Emperor Qinshihuang unified China, he inspected Zhifu Island in Yantai thrice and sent his men to three sacred mountains, namely Penglai, Yinzhou and Fangzhang, for the elixir of life. During the 2,000 years, dynasties ruling China paid much attention to their sovereignty over this place. Now Zhifu is still seen to represent Yantai on the sailing maps of a number of countries.
The history of Yantai city is more than 600 years. It is important in the sailing history of China. Zhifu Bay is a natural seaport. It has been an important harbor along the coast line in North China since the Spring and Autumn Period. In the Tang Dynasty, Dengzhou (now Penglai) was well-known along with Guangzhou, Jiaozhou and Yangzhou, and these four were, perhaps, the only established commercial seaports in North China. As silk and technologies including iron-making and paper making were brought to countries such as North Korea and Japan, Yantai came to be a starting point of the Silk Road on the sea. Dengzhou was one of the busiest seaports in North China in ancient times. Penglai Water City, built in 1376, is the most well-preserved ancient military seaport in the country.
Yantai is one of the places of origin of the modern postal service in China. In 1879, a pilot postal service was initiated in Beijing, Tianjin, Yantai, Yingkou and Shanghai. The big dragon postage stamp which was issued in Yantai on August 9, 1878 is the first stamp in modern Chinese post. It is said that there are only two stamps that remain, hence making it all the more invaluable and historic.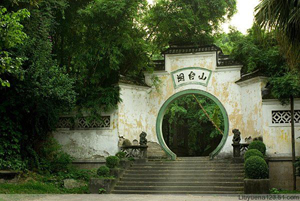 Entrance to Yantai Mountain
In 1996, Yantai was No.18 on the list of domestic production value among China's cities and No. 33 on the list of China's top 50 cities in comprehensive strength, according to State Statistics Bureau. In 2005, Yantai was granted the UN Habitat Scroll of Honor Award. It is also one of the first-class tourist destinations and has won the prize of the Most Charming City.
Thanks to the mountains and the sea close by and the favorable climate, Yantai is bestowed with rich tourist resources. There are several national forest parks and bird nature reserves in Yantai. It also boasts abundant cultural and historic resources, such as the relics of Baishi Village of the Neolithic Period, the site of earliest embassies in Yantaishan Mountain, Penglai Pavilion (nicknamed paradise on earth), Changdao the sacred hill, and Yunfeng Mountain in Laizhou. Some of the sights that are worth seeing include Mou's Manor, Yantaishan Park, Zhifu Island, Penglai Water City, Zhaoyuan Hot Spring and South Mountain.
Famous Yantai Cuisine includes such items as Fushan Noodles, Penglai Noodles, Fish dumplings, Flowery bun and Ninghai Tofu Jelly Meal.
You may also like: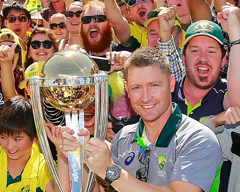 Australia Pulverizes New Zealand to Bag World Cup 2015 Trophy
(March 30, 2015)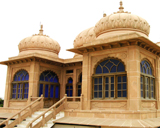 The Undying Grandeur of the Mohatta Palace Museum
(March 29, 2015)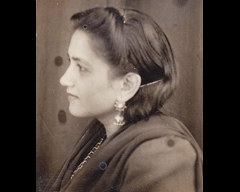 Ada Jafarey: A Tribute
(March 27, 2015)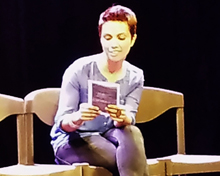 Me, My Mom & Sharmila: Fawzia Mirza and the Brown Woman
(March 26, 2015)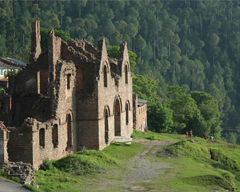 Silk Road: The Picturesque Mansehra and Abbottabad-VI
(March 25, 2015)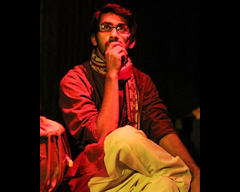 Azeem Hamid and the Independent Theatre Company
(March 25, 2015)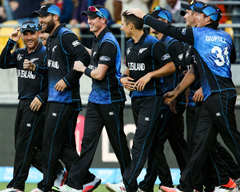 New Zealand to Choke South Africa and India to Overpower Australia?
(March 24, 2015)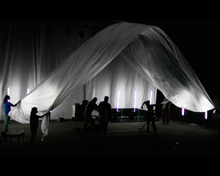 NAPA International Theatre Festival 2015: 'Among Fog'
(March 20, 2015)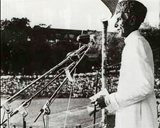 Pakistan Resolution Revisited
(March 20, 2015)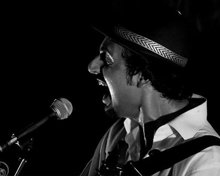 Faizan Tirmizi - The Ideology of an Aspiring Musician
(March 12, 2015)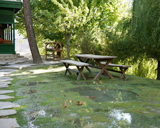 Hunza Valley: A Fine Balance between Tradition and Modernity
(March 10, 2015)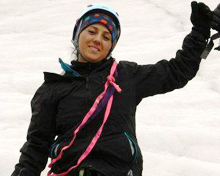 Samina, we are proud of you!
(March 06, 2015)