BRAZILIAN ODYSSEY PART IV - AMAZON AND OLINDA
Written by: Dr Dushka H Saiyid - Posted on: May 13, 2013 |

Comments | 中国 (Chinese)
Google Translation: اُردو | 中文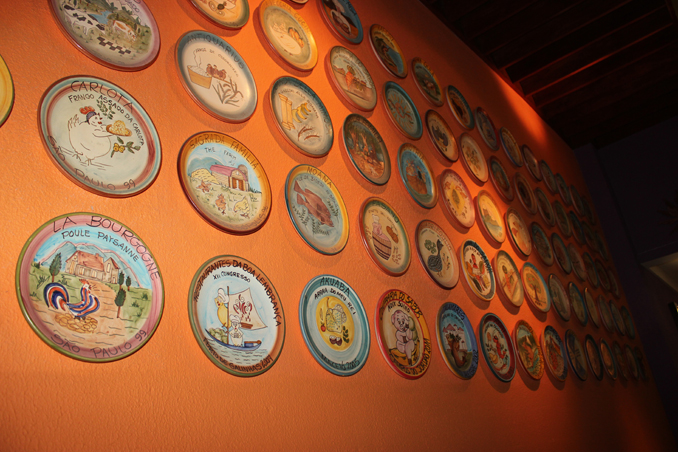 Ceramic plates as decoration
THE AMAZON
Our flight from Cuiaba made two stopovers before we reached Manaus, the access town for the Amazon in the north-west of Brazil. From Manaus it was another hour of drive and boat ride to our lodge, deep on the river.
The lodge consisted of a line of wooden huts built on stilts, to save it from the floods when the rainy season sets, with hammocks on their small decks with a full view of the mighty Amazon. The place was infested with mosquitoes and insects, especially as the rainy season was about to begin; without mosquito nets, sleep would have been impossible. Our trip to the forest, which was not half as dense as we expected, and for fishing, revealed stunning views but little or no wildlife. While no anaconda leapt out of the water at us, we successfully caught many piranhas. Our guide reminded us that if anybody fell into the water with a cut or wound, these little creatures would devour the unfortunate person in minutes.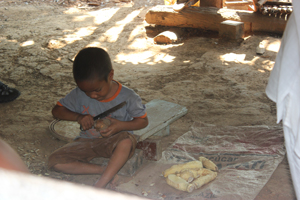 A four year old cutting tapioca
A visit to see a family of native Indians was instructive. Living in a simple hut, they were busy peeling tapiocas, a staple food for the locals. To our amazement, a kid not older than four years of age handled the knife deftly and helped with the peeling. The mother had about a dozen children and this was her latest husband. Our guide informed us that courtesy Lula, electricity had reached such remote corners of Brazil as this hut, and transformed the lives of the poor. The state was also responsible for ferrying children living in such remote areas to the nearest school.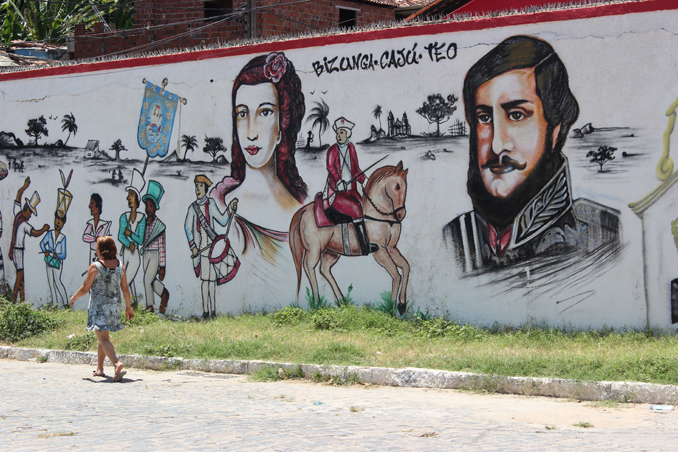 Bolivar in a wall painting
OLINDA
We flew into Recife, on the northeast coast, and then drove to its neighboring town, Olinda. It is one of the best-preserved colonial towns in Brazil, whose historic center was declared a UNESCO World Heritage Site in 1982. It is an artists' colony, brimming with artisans' workshops and artists' galleries. This small town is perched on a hill, with brightly painted small town houses tumbling onto its narrow cobbled streets. Since Olinda is on a hill, the views of the sea and Recife down below are stunning. Murals are painted on walls and houses; one wall had a mural of Bolivar, a pavement had a picture of Lula. Olinda is rich in handicrafts, especially figures of animals and birds carved in wood, their prices varying with the size of the piece. I lost my heart to a large wooden macaw, but unfortunately it was too heavy to carry back.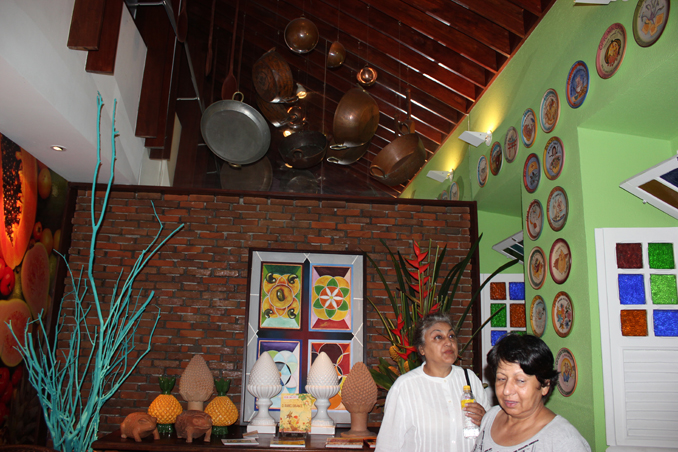 Interior of the restaurant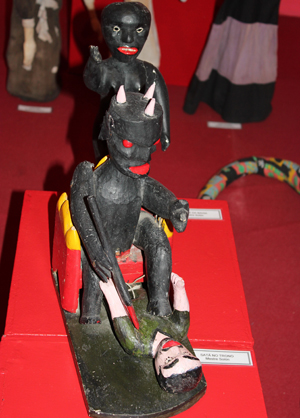 Mamulengos
The architecture and decoration of the buildings is unique, dating back to the sixteenth and seventeenth century: antique décor, rich colours, old woodwork combined with some modern architectural touches. A restaurant famed for its food, had turquoise painted twigs covering its ceiling, and another room had local ceramic plates covering its walls right up to the ceiling. Our Pousada do Amparo had a small glass square in the centre of the wooden floor with a flower growing under the glass, and the dining area was a deep verandah overlooking a garden full of tropical plants and a small pool.
We went exploring and discovered a music school in an amphitheater at the back of a building; people lounged and listened to the music as the students practiced supervised by a teacher. Museu do Mamulengo, with about a thousand puppets, was just a little further down the road. Mamulengos or puppet theater was an important form of popular entertainment in the northeast of Brazil; the puppets in the museum represented characters from Brazilian society, myths and religion: witch doctors, priests, slaves and slave owners, demons and the devil itself. This is said to be the largest puppet museum in Latin America.
Music in Olinda
In the evening we followed the crowds to a square where a concert was in session. The stage was set high, complete with lights and musical instruments. People stood in groups chatting, while a few found some chairs. Groups played some music and warmed up the crowd; an eighty year old, dressed in red, joined the audience and held the attention of the crowd as she danced with abandon. But the crowning glory of the evening was this wizened 90 year old, who took the audience by storm and celebrated her birthday by a virtuoso performance on the flute. While she sat on a chair, a younger group of musicians accompanied her; they circled around her, playing with zest and encouraging her every note, and finally crouched down as a final tribute to her. The crowd swayed and clapped, enthralled by the zest and virtuosity of this lady. We were lucky to have experienced this magical evening, our last in Olinda.
Click to view picture gallery
RELATED STORIES:
You may also like: