'SANKI' COLORS IT ALL: THE FIRST GRAFFITI ARTIST OF PAKISTAN
Written by: Talha Ahmed - Posted on: January 22, 2014 |

Comments
Google Translation: اُردو | 中文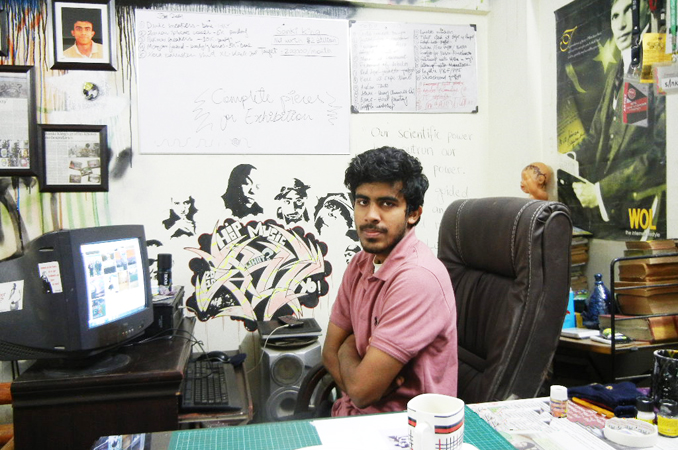 Abdullah Ahmed Khan aka 'Sanki' is a 23 year-old Pakistani graffiti artist or should I say "The Graffiti Artist" of Pakistan. To quote his own website, "Some would go as far as saying that Sanki is the pioneer of graffiti art in the country. Sanki is also the first and the only super hip hopper in Pakistan." He is also arguably the pioneer of b-boying (street break dancing )and parkour (free running) in Karachi, and maybe even the country.
I stand outside a supermarket in North Nazimabad waiting for Abdullah to come meet me for an interview. After I've wrongly suspected several passersby as Sankis, the real one finally shows up: around 5'10, lean and poised, I figure he does look the way one would picture the first b-boy of Pakistan to be.
We arrive inside his room/studio and I ask my host to supply a little biography by way of introduction. Abdullah exuberantly bursts forth with a desire to express many things at once.
"I was introduced to hip hop as early as at the age of 11. B-boying followed soon and then parkour, in 2006. I always intended to keep these activities going on the side along with studies."
As things turned out, though, he dropped out of college.
"I left off studies a while ago. It all began in school. I was a brilliant student and excelled in all areas. But in grade 9, some rich punks came along and paid the Board off to manipulate the official results. Back then, in 2005, I thought, one might as well do just enough to get passed and nothing more."
After dragging himself through the rest of the years, Abdullah found himself sabotaged again during his second year of Bachelors in Arts at Karachi University.
"At that point I thought, to hell with all this! I dropped out and decided I won't take any more of studies."
Fast forward three to four years and the college dropout has transformed himself into 'Sanki King', a household name when it comes to drawing graffiti, painting murals, performing live parkour and what not. Like most people who have let their passion lead the way, he looks back at his story as a combination of luck and persistence.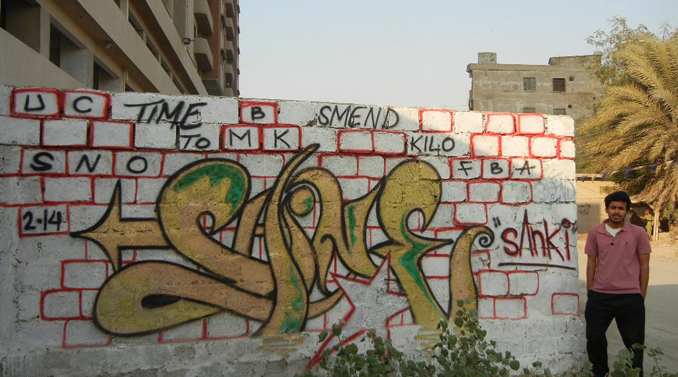 His work on a wall outside his apartment building
He tells me he was born in Jeddah before his family moved here. His mother passed away when he was 9 years old.
"Since I was the youngest sibling and the only son, I remained the golden boy no matter what I did. My father, an interpreter for 19 languages for the Islamic Development Bank, always laid more stress on real life, functional knowledge instead of just a degree."
All that, and the craze for his hobbies eventually took Abdullah off the traditional route altogether. As interest in formal schooling died away, the pursuit of extra-curricular full-time activities. In 2006, Abdullah started his career as a professional performing artist. Come 2011, he began selling artwork as a professional graffiti artist.
He had a foot in break dancing, another in painting and yet another in producing reality TV shows.
I keep waiting for him to finally speak of his 'big break', his work or performance he cherishes the most, but he cannot recall any single event as such. From the first professional drawing in the basement of the owner of 'Scentsation' to a photo shoot with Tapu Javeri and numerous TV appearances (b-boying, performing parkour or live graffiti), Sanki simply never ceased to be relevant and soon built up tremendous fan following with the youth.
Adding to the things already mentioned, he also dabbled in BMX cycling, boxing, floor gymnastics and what not. Besides the art projects around in his room, there are two guitars lying in a corner under a shelf burgeoning with literary classics, all of which he claims to have read.
I probe him over the themes of street art and what's in the mind of the street artist. "I usually write simple stuff like 'Time to Shine', or 'Every Country Should Have A Karachi' so all types of people can easily relate to it. My idea is, there should be a message so that all these downtrodden masses can look up to it and think that here's something for them or something they could do."
He bemoans the existing graffiti and pollution around the city, "So that's why, my prime purpose is to have, at the very least, something of aesthetic value out there, that's pretty in look."
"My real art is yet to come out. I've only just started becoming stable enough to allow my creativity the freedom it needs."
I ask him about current and future work scenarios and how much of his work these days is on order or on sale in shops. He replies saying money is not on his mind.

Sanki graffiti on a bus
"Some time ago, I painted this bus, a 7-C," Abdullah says, showing me a picture of a public transport bus on his computer with 'Love Karachi' painted over it. He says it took three hours to complete the job and cost Rs 3 to 4K, but that's not bad investment at all considering the live and viral web exposure it received.
For 2014, Abdullah has big plans: more wall painting than anything else (he recently introduced the innovation 'CalliGraffiti') and b-boying and graffiti workshops for those interested (and a lot of us are).
You may also like: