Sentinel of the Sky: Pakistan's Ayesha Farooq
Written by: Salma Chaudhry and Aiza Azam - Posted on: July 25, 2013 |

Comments | 中国 (Chinese)
Google Translation: اُردو | 中文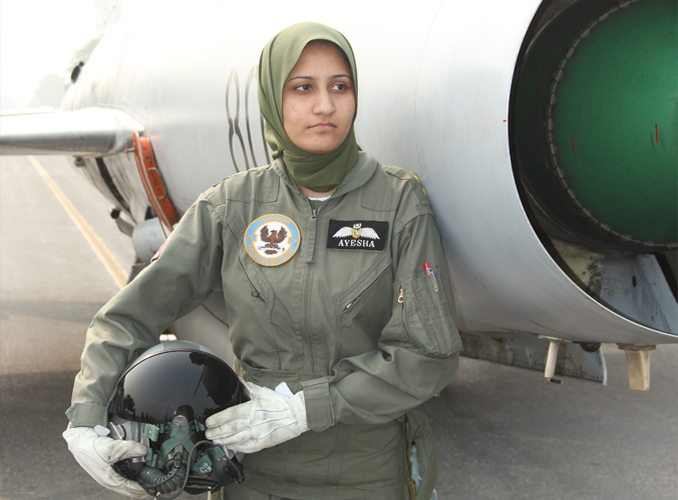 Ayesha Farooq: The first Pakistani and South Asian female fighter pilot
Ayesha Farooq is Pakistan's – and South Asia's - first war-ready female fighter pilot. Youlin was granted an exclusive interview with her at the PAF base at Shorkot.
The phrase 'first war-ready female fighter pilot' conjures up a certain image: a tall young lady of imposing personality, striding down a misty tarmac to her plane, ready to defend her country's skies and honour.
Ayesha Farooq was a revelation in many ways. A soft spoken and unassuming young lady, tall and lithe, confident and self-assured. She flies Chinese F-7PG combat planes for the Pakistan Air Force, the only woman in her league, but not a hint of self-importance at this incredible achievement is in evidence; she is warmly receptive and down-to-earth.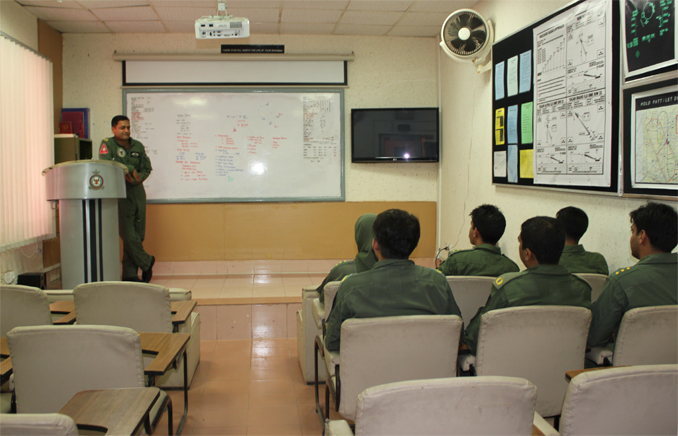 In the briefing room
How did the journey from her native Bahawalpur to the Air Force's elite, male-dominated, flying corps come about?
As a child, she wasn't interested in all the typical things most little girls hold in reverence. "I didn't know how to play with dolls. I was the girl who'd go out and play cricket and football. Outdoor sports were my forte, and where I was happiest."
She was three years old, and her younger sister was one and a half, when their father Dr. Farooq passed away, at a young 32 years of age. He was a man well-loved and respected in his community. "I still remember how I'd always meet people who were complete strangers to me but who had known my father. When they discovered I was his daughter, their eyes used to well up with tears; they would kiss my forehead and tell me what a good man he had been." These experiences played a large part in forming her mental attitude towards life. "It made me realize early on that it doesn't matter how people speak of you when you are alive; what matters is how you are remembered after you are gone." It was about living up to the standards her father had set. And in achieving them, she had the firm guiding hand and staunch support of her mother.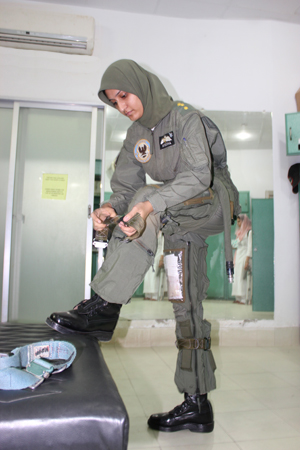 Putting on her G-Suit
"My mother has always been an inspiration to me. She was only 22 when our father passed on, and was left with the task of raising two small girls. She was determined that my sister and I grow up to be strong women, so that if we were ever left alone, we would be able to take care of ourselves."
The notion of choosing a pilot's career developed partly from her home environment and partly from the realization that it would be a challenging path. A cousin and her uncles are Air Force officers, the former being a pilot himself and her early inspiration to be one as well. Being the older daughter in the family was also a factor. "I felt that if I could prove myself in something considered to be out of reach for most women, I would establish myself as someone to be reckoned with. And I would be a woman in uniform, a symbol that is respected for dedication and excellence."
The response from her relatives was part skepticism, part concern. Her uncles tried to dissuade her, worried that it would be a demanding career path, difficult for men as it was and even more so for a woman. They genuinely believed that she would be unable to sustain it for more than some months and that she would be better off opting for another field. All this only served as encouragement and made her more determined than ever. Her mother never wavered in her support, firm in her belief that if her daughters weren't strong enough to deal with challenges they had to face, they would find difficulty at every turn. "I am not somebody big or important," says Ayesha. "My achievements and whatever I have made of myself, all of it is a consequence of what my mother has done for us."
After completing high school, Ayesha submitted her résumé to the Pakistan Air-Force Academy, Risalpur. A battery of tests ensued: medical, physical, IQ, and, once these were through, she gave a flying aptitude test. She cleared all of them and was finally able to join the academy for training. For those who might think that joining the academy is all about learning how to fly planes, there is a wakeup call lying in wait; it's a long way to even getting close to that first aircraft. The cadets enroll in a BS program in Aero Sciences, and the PAF is tough on grading. We were told that 89% is a failing grade; 90% and above is the only grade acceptable. Once the degree is completed, cadets received primary flying training. This is followed by basic training on a P-37, after which they graduate to the fighter conversion unit where they fly the K-8. It is not until after that, that they join the operational conversion unit where they are permitted to fly F-7s. The final stage is getting appointed to a squadron, at which point they become a complete operational pilot.
Surviving through a training program this rigorous and this relentless speaks volumes about the men and women who see it through to the end. To be designated part of an exclusive combat-ready breed on top of it, says that much more.
How was the training experience for her on a personal level? "We studied hard because that was what we needed to do. As far as the physical part was concerned, I never faced any issues at all." It is pertinent to mention that the training does not distinguish between men and women; both have to perform the same tasks. "Such a responsibility simply cannot be given on the basis of compromise. We were treated equally in every way."
She had expected the training to be tough and was prepared for it. The physical stamina she had built up over years of outdoor activity proved invaluable at this phase, but there were also mental stresses that needed to be negotiated. "They have to break your personality and remake you in a certain mould. When you are training, you are treated like any male member of the program. You are not pampered or protected or spoken for like you would expect in your home." She adds that there might be a hint of reluctance in acceptance in the very beginning, stemming from the general expectation that there are certain things or tasks in training that women will find more difficult to accomplish than men. "But once you prove yourself capable and deliver on quality, you are respected and welcomed into the fold. Besides, all of it helps in motivating you to work harder." Ayesha persevered. The program she was part of had begun in 2003. In 2007, she was a member of the first graduating batch and joined the 20th squadron, distinguished for its history and acknowledged air superiority.
What is it like to be the only woman in her squadron? "It's brilliant. To begin with, the Air Force is a great organization, where you are always ensured positive motivation and are never made to feel isolated or uncomfortable in any way. Your seniors will always give you their support and guidance, which is invaluable. They will always accommodate you, and when you do something well, you are encouraged." She believes that the collegial atmosphere they share helps to a great extent, and that her squadron in particular has the most comfortable and accepting ambience. "We are like family."
How does she feel about the fact that she is expected to perform in battle? Does she have any qualms? "There is no hesitation when it comes to that. This is what we are trained for, it is our duty. When we're up there facing the enemy, they don't care who is flying the machine, man or woman. All they will focus on is the plane. And the life of my colleagues, as well as my own, is of utmost value."
With 20th Squadron colleagues
When we ask what it was like to first fly solo after joining the squadron, she lights up. "It was incredible! I said a small prayer first. Then I gradually began to absorb the fact that I was alone in the cockpit for the first time, no supervisor. I rocked the plane a little and it responded to my command. That's when it really hit me: I was in charge. And the sensation was indescribable, to be in sole control of this massive air craft thousands of feet in the sky." It was even better when she landed back at the base and emerged from the cockpit to be greeted by her cheering colleagues.
"I'm at home in the air, flying my plane. I probably find going on a bombing run more comfortable than giving an interview!" she grins.
We discuss the fact that Ayesha is part of a growing number of women in Pakistan's armed forces who are moving beyond mainstream, behind-the-desk careers and steadily making their way into field positions. As they have begun exploring these avenues traditionally left to their male counterparts, there has been increasing acceptance of this phenomenon; not only are their colleagues in the forces welcoming the trend, but the men in their families have also begun to encourage careers along these lines. "This amazing change is taking place," she says, "where not only are we seeing more and more girls entering this field, but they are urged on by their fathers and brothers. And every girl that joins helps clear away more grey area and pave the path for others after her." In her experience, women who choose this career, or any career in fact, do work harder and achieve more. "They don't believe in availing shortcuts, they are more responsible, and their determination is admirable."
Has being in the Air Force changed her? "In some ways," she concedes. "Before all this, I may have had reservations or been hesitant about doing certain things. But since joining here, I am conscious of the fact that I have become a stronger person. Things that would previously have intimidated me in some way now don't seem difficult at all."
She reveals that what she has accomplished has also changed the way her family and relatives see her. "I may be a young girl in a room full of adults, but what I say, my opinions, is given weight." She is often approached by parents who call her asking for guidelines for their own young girls who want to join the Air Force. From her own family, her younger female cousins are all motivated to follow in her footsteps. As the base is not very far from her home city, her mother visits her often, and she also goes home when she can. "When I do go home, though, and I'm with my friends, conversation can be funny sometimes. Because they are used to discussing things that most young women talk about and I sort of go all quiet," she laughs. "But they take it in stride and it's never really awkward. In fact, they look forward to my coming home so they can help me with girly pursuits like shopping for clothes…which is useful, since I have a tendency to limit myself to comfortable, practical wear!"
What, we finally ask, is the ultimate goal for her? Without missing a beat, she says, "Flying F-16s. That is what I want to achieve."
In winding up our discussion, we ask about any advice she would want to offer, particularly to young women around the country. "When it comes to achieving something," she says, "it's only in your own mind that you limit yourself; don't let that happen. All too often, we women take our gender as a liability; it is our strength. If you persevere, you can achieve anything you want. And when that happens, no one can challenge you."
Click to view picture gallery
You may also like: