DANISH ALI: HE'S FUNNY AND HE KNOWS IT
Written by: Zahrah Mazhar - Posted on: January 29, 2014 |

Comments
Google Translation: اُردو | 中文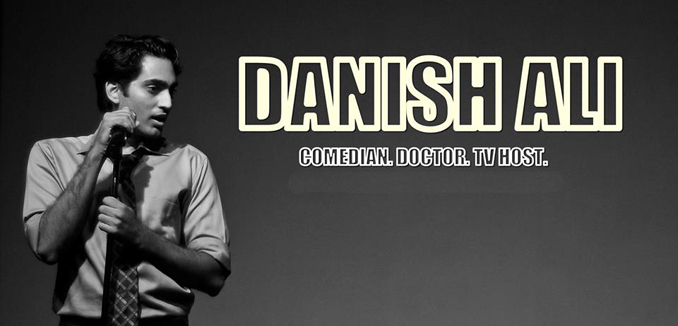 There are three things you should know about Danish Ali – he is hot, studies his jaw line in the mirror everyday and loves it when fans approach him. These are also the three things that Danish specifically asked me to mention. Which brings me to my own three observations about the comedian and producer – he's an unabashed narcissist, jumps from topic to topic and can make people nervous with his comedic skills, as he did Zoe Viccaji on the morning of our interview.
We met on a Wednesday, hours before Danish's latest video featuring Zoe was scheduled to go up. "I just got a text from Zoe, saying that her dad knows about my video and is worried about it," said an animated Danish, showing me the text message. He even offered to call and put her on speaker phone but soon enough, she called herself to check if the comedian was going to pull a trick on her in the video. "Don't worry Zoe, it is all family friendly," was one of the many assurances Danish had to give the singer before she ended the phone call.
That's the type of comedian Danish is – he's funny, but he's got boundaries. "I didn't want to be the insult comic with the foul mouth, I chose to go down the family route instead." Having a safe, clean comedic routine also makes it easy for Danish to associate himself with corporate events and brands. He isn't shy to admit that he wants his work to be commercial, so that "everyone can see it." And while everyone may be too big a term to describe his viewership, two of his videos have gotten more than two million hits while his page has crossed more than 44,400 likes - an impressive indication of how well he has connected with people.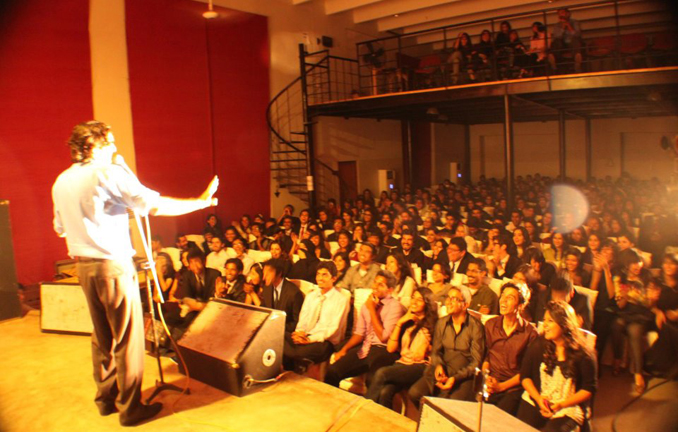 The 'hits', 'likes' and 'shares' of Facebook are not only useful in gauging his popularity but also provide him, as Danish puts it, instant gratification. Since he admits to being obsessed with the thoughts of whether he is liked or thought of as funny, Facebook has become his true love. "I love, love, love Facebook," he said, laughingly warning me, "I can spend hours and hours talking about it." And he did, not hours but a considerable time of the duration of the interview. "The Facebook page is definitely a big part of my future. It not only tells me how many people I've reached, but also who likes my videos and posts. I have a passion for comedic sketches and when I upload one, I am obsessed with refreshing the page to check how many times it has been viewed. "
After all the talk about his "true love", it came as no surprise when he said that his wife of six years was not a fan of his serial page refreshing. "She's a psychology student, a nerd and hardly laughs at my jokes!" Luckily for Danish, "getting girls" wasn't the only reason he became a comedian — he also likes being the centre of attention and making people laugh. "I remember watching the sitcom Friends and something just clicked when I saw how one show could make so many people laugh together. Others who inspired me include Robin Williams and Eddie Murphy." However, by the time Danish found his true calling, he was a second-year student in med school. Becoming a doctor, he clarified, was also completely his own choice. "It wasn't like my parents pushed me, saying 'Humara beta doctor banay ga'. I was the one who convinced them to spend money on my education." He decided to finish his degree but alongside cramming for exams, he was also googling 'how to make people laugh'. "My career in medicine has been on the back burner ever since I graduated. I was lucky to have met Saad Haroon, he was a very generous teacher. You can call him my second love!"
From stand-up comedy to corporate events to doing a radio show, Danish soon discovered his favourite claim to fame – television. "I loved working on The Real News. There's just something about television which attracts me," he told me, quickly adding, "Maybe it's because I'm really vain and like watching myself on television."
Having a conversation with a comedian can be tricky as there were moments when I wasn't completely sure if he was serious or goofing around, but when asked about his future plans, Danish was all business. "I'll be going to Canada soon for live shows, might also pitch to local channels there. I'm also working on a new act and trying to perfect it right now by trying it on groups of people. The thing with live shows is that when a joke goes well, there's no better feeling in the world. But if it bombs, then it's all your worst nightmares coming true at once – in that moment, you have shown up to work without pants, gotten fired and then got hit by a bus."
Danish Ali - Funny Olympic Training in Pakistan
Danish is also in talks with a media group to start a sketch show on television. "I've worked with Health TV before and I might do more of that."
Facebook, understandably, will continue to be an active part of his career. "I'm excited at the prospects of sharing more videos on the social media and reaching more people."
And reach he will for Danish doesn't plan on slowing down anytime soon. "There is no shortage of doctors in Pakistan but there is a need for humour and laughter. My goal in the long run is to become known all over the world as a Pakistani comedian."
You may also like: