INSOLENT KNIGHTS 'OVER CHIPS AND SOUP'
Written by: Adeel Wahid - Posted on: December 19, 2013 |

Comments | 中国 (Chinese)
Google Translation: اُردو | 中文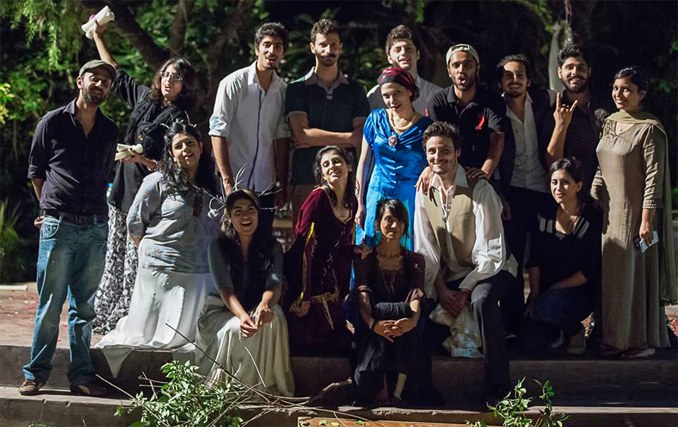 The Insolent Knights
"I am tired; I want to do theatre for fun." This one line from Natasha Ejaz to Tulin Khalid Azim after a performance they had taken part in, spurred the thought for the formation of Insolent Knights (previously known as Insolent Nights). "Over Chips and Soup and a three- hour meeting at Civil Junction, in which we talked our hearts out", recalls Tulin, "Insolent Knights gradually took shape." Tulin, who already had experience in theatre working for Phantoms Production and a teaching stint at NCA, and Natasha Ejaz, who had been cast in various shows and has subsequently made it big with her voice, were both distraught with the situation of theatre and artists in Islamabad. "There was, and still is too much red tape in theatre here", says Tulin, to which Natasha adds, "And the performers are treated as commodities, not as artists". This is what the highly talented duo wanted to change, and hence they went on to create a platform in which they could "flex their creativity" and provide other theatre-lovers, yearning to perform, the same opportunity as well.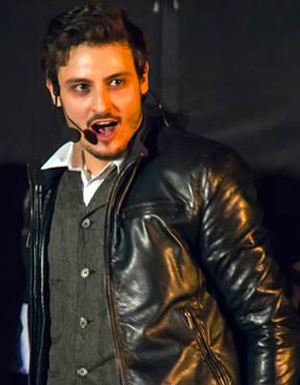 Osman Butt
The first performance of Insolent Knights took place on 11 January, 2008 at Civil Junction in Islamabad. An integral part of this outfit is Osman Khalid Butt, an icon in his respective field of acting. He has worked in both movies and mainstream commercial television plays; his most acclaimed performance was in "Taming of the Shrew," the play that took him to London."
A friend of Tulin's since 2004, OB (as he known to his friends) had the same longing to perform without any conventions which, in his opinion, fetter the creativity in people, chaining down their inner potential that, in essence, hinders their ability to freely express themselves. The "fun and tongue in cheek concept" of the Knights' monologues has attracted budding young performers from all walks of life and has drawn an appreciative audience who just cannot resist their humor and charm. They had performed at peoples' homes and myriad of galleries before Kuch Khaas became their permanent home in 2010.
"We have helped people find their voice; we have helped transform really shy people in to confident individuals," Tulin proudly relates, to which Natasha adds in jest, "And we provide a pathway for every crazy". At the core of Insolent Knights is the belief that people need to express themselves, otherwise the pent up emotions build up and people very often come to the verge of losing it. Natasha also highlighted her experience of working as an extracurricular coordinator at Head Start, where it would be a nightmare to convince parents to have their kids stay late for music or theatre. Natasha feels that society and particularly parents are intent on enforcing rigid career and life plans, that make a large number of the youth frustrated for not being able to do what they want to; this, as Natasha puts it, is "unfair on a very universal level". Therefore it is no surprise that a large number of people from the corporate world and professional backgrounds have approached Insolent Knights to be allowed to perform; to be allowed to do what they enjoy doing and what they have always wanted to do but have never been able to. Then there are people who are desirous of changing perceptions and highlighting a particular socio-political message, and Insolent Knights have nurtured such people as well. It is Insolent Knights' belief that the most effective way of getting a serious message across, is often to clad it in humor, without "banging it hard on the head" since it leads people to think. Therefore, the core teams' vision of having a "friendly platform" for all kinds of performers, who cannot dedicate themselves fully to the theatre, has helped train myriads of people and it has helped add joy in the lives of those tired of the mechanistic rut of everyday life.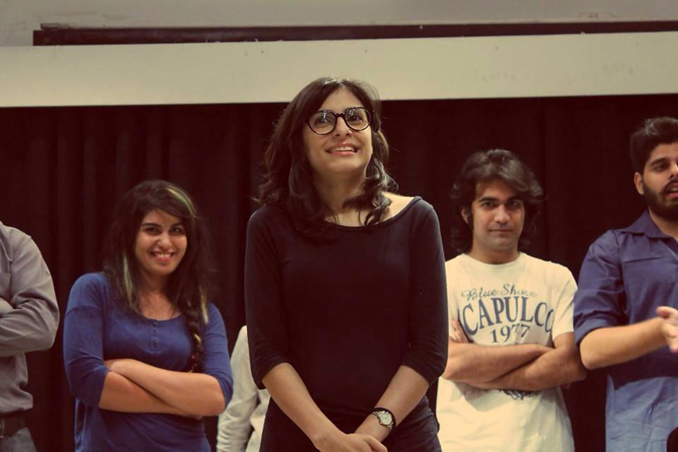 Tulin
Theatre, according to the Insolent Knights' team, is a marvelous teacher. It emphasizes the importance of team work - there is absolutely no room for egoism. By creating a work which crucially depends on each other's performances, it develops tolerance and respect for fellow colleagues. It develops, as the team mentioned, the skill of "thinking on your feet"; things can and do go wrong in front of audiences, so the artists need to develop the composure to adequately handle such a situation. Further, they believe, theatre stimulates intellect and if the performances include the works of giants such as Shakespeare, it helps understand the complexities of the characters and also the profundity of such themes in a fun and entertaining way. Handling criticism and believing in oneself are also some of the most valuable qualities they believe theatre can help harness in individuals. They hold that the arts in general help unhinge the imagination, something required at every turn and twist of life, and which helps in dealing with adverse situations. As Natasha sums it up, "Theatre keeps the child in you alive, and it is very important to keep that child alive".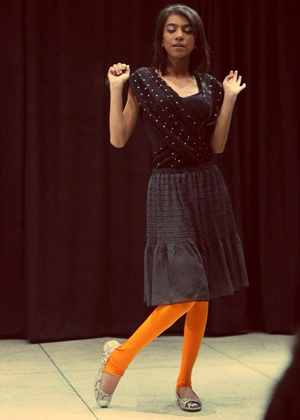 Natasha
Recently, Insolent Knights has undergone a metamorphosis; the short monologues have given way to short plays. The team performed "Snow, Glass, Apple", Neil Gaiman's adaptation, written by Osman Butt in September this year. Earlier this month they performed "Ode to Broadway, Bright Lights Big City", casting around sixteen actors, many of them performing for the Insolent Knights for the first time. Due to its success in Islamabad, Tulin and the team want to take the show to Lahore. Till now, the team has been covering its production costs through donations from their audiences and they have kept sponsorship at arm's length in order to keep its material free from all kinds of intervention. But now as the platform enlarges, the team requires large amounts of finances to be able to deliver at the standard that does not betray their level of creative potential. Also, the team wants to begin paying its actors, as the team feels that they might be "exploiting the younger performers" otherwise. There is a website in the pipeline along with the idea of IBook, which would allow people to download the Insolent Knight's original plays, to be performed by young theatre lovers in schools and colleges.
Insolent Knights also plans to have a play in which the neglected, street children perform; having been marginalized, they need to express themselves and have fun doing so more so than their privileged counterparts in society. It is the Insolent Knights' passion for theatre and their sensitivity towards society that makes us so proud of them; the aspiring, talented youth who dare to think and try for something different.
You may also like: