Mubariz Ahmad: Pakistan's Tiger Woods
Written by: Adeel Wahid - Posted on: February 19, 2014 |

Comments
Google Translation: اُردو | 中文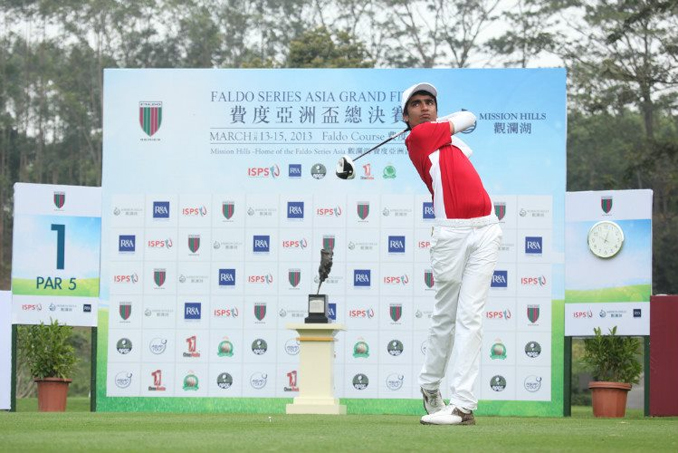 "On the tee from Pakistan, Mubariz Ahmad!" These words from the announcer at the start of each international golf championship make a chill run down Mubariz's spine as he gears to conquer the 18 holes to bring acclaim to his country.
"There is a lot of pressure representing Pakistan, but it has gotten better with time", says Mubariz, the three time winner of the Faldo Series Pakistan. He has also represented the nation in countries such as Thailand, Turkey, Bangladesh and China, more than once.
Just nineteen years old Mubariz, has much to boast of at this young age. Bagging the first trophy of his life in 2004 at a local club tournament at the age of 9, he tasted the "buzz" of winning early on, and has not looked back since. He recently won his third consecutive Faldo Series Pakistan this year in January and will be representing Pakistan in the Grand Asian Faldo Grand Final, which is being held in China this March.
"It is the education and exposure that matters, and which gives you the vision to reach new heights," says Mubariz. "There is no dearth of talent in our country; it is just that people are ready to settle for less here". Mubariz, however, would not settle for anything ordinary in his life as is evident from his commitment to outperform others.
Mubariz' first kit was bought in Kemari, Karachi, where old things from the first world land here in Pakistan. "It was a lady's set. My father bought it cheap and we had to cut it down to fit my size", remembers Mubariz. The kit he uses now, however, has been especially flown in from Singapore in order to do justice to his talent.
It was during Mubariz's trip to Iowa, U.S., that golf came to dominate his thinking, and perhaps his very existence. He went there with his father, who had to complete his Post Doctorate at Iowa State University. The six months spent in Ames, where he got himself enrolled in Ames High School and joined the varsity team, were a life changer. "I was the only international student in the varsity team, and the coaches were very impressed with my game. I began to see myself in a new light."
Mubariz took his O and A levels examinations privately, and he even missed his final exam when he was called on to represent Pakistan in Thailand for the World Junior Championship. Success requires compromises, something which Mubariz realized early on in his life.
"Golfers from Pakistan are great ambassadors for the country", says Mubariz. "We help promote a soft image of Pakistan, trying to break the stereotypical perceptions about the country". The Green Blazer, which Mubariz proudly adorns, is taken by him as an opportunity to tell the world at large that Pakistan is a country brimming with talented youth. It is a country which believes in peace and sports.
Mubariz, after having done well at high school, is currently studying at NUST Business School, majoring in Accounts and Finance. His parents are adamant on his performing well in academics as well, since the hard reality in Pakistan remains that a sportsman is not provided that cushion to sustain himself on the sport only. "My parents want me to have a solid back up", Mubariz says.
Mubariz's astute mind, however, sees the logic involved in golf to be almost as challenging as that involved in Accounts and Finance. "There are these different kinds of shots involved; one has to pay attention to the length of the grass; the swing one makes; the power one exerts; Golf is almost a rocket science."
And if it is, then Mubariz is a great rocket scientist. In 2012, he had an opportunity to showcase his skills in Turkey for the World Amateur Team Championship (Eisenhower Cup). "I was anxious to qualify for the Championship, and I did, which, perhaps, was the greatest high of my life". It was at this point in life that Mubariz thought that nothing really was unachievable.
Apart from the opportunity of performing at such a prestigious platform, Mubariz was looking to impress the myriads of visiting National College of Athletic Association (NCAA) coaches to get himself considered for a sports scholarship in the US. As luck would have it, the Turkish Airlines personnel at the airport lost Mubariz's kit, and hence went the chance to show his true class at the championship.
In 2010, while representing Pakistan in the British Junior Open, Saint Andrews, Scotland, Mubariz was lucky enough to meet Tiger Woods and get his autograph. With his best years of life ahead of him, Mubariz is Pakistan's very own Tiger Woods in the making.
You may also like: