Muzamil Hasan: Brewing up Ideas for Social Media
Written by: Adeel Wahid - Posted on: February 26, 2014 |

Comments | 中国 (Chinese)
Google Translation: اُردو | 中文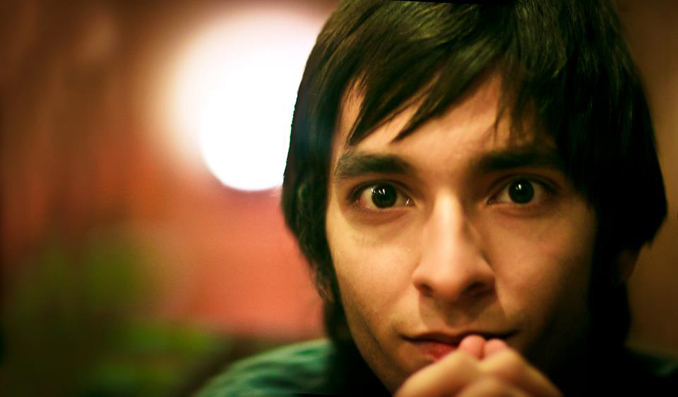 An idea is all it takes. An original idea can take the world by storm, can break the old ways of thinking and completely transform societies.
"The only thing that is constant is change" - Heraclitus. Muzamil Hasan Zaidi of Lolz Studios is one of those smart people who understand the tides of change and ride on them. But it all happened rather accidentally. "My friend was always pestering me about making a Facebook page," says Muzamil. "I wasn't up to it initially, but one night I just made it for the heck of it. In two months I was obsessed."
Life is about hit and trial. The ones who experiment, who take risks, are the ones who eventually end up doing something. The rest spend their time talking or writing about it, and that's where I come in.
Lolz Studios went viral in just a couple of years, without undergoing any trial whatsoever. It was all about hits and likes. "There have been people who have posted comments such as 'complete waste of time' on my videos, but there have been no outright haters," says Muzamil. The negative comments, however, are nowhere near the appreciation that Muzamil and his team have gotten from various quarters, including international mainstream media.
"500 days of Lolz" was the first venture of Lolz Studios. Every day, an original picture made its way to the Lolz Studios Facebook page and also on their website. This went on for 500 days. The overwhelming response, however, drove home a point that there was an untapped potential "market" of Facebook users, who were interested in random creativity, admiring original content which came in small snippets. The users who spent time on Facebook and the internet, in general, wanted to relax and enjoy a few minutes, before they turned to the usual humdrum of their lives. Those few minutes, however, have turned into hours for some.
Islamabad is categorized as a "dead city"; rightly or wrongly, but you don't debate on that with an Islamabadi. Muzamil's video "A day in Islamabad" was an attempt to show to the world that Islamabad is one of the most beautiful cities ever. "The videos that came when you searched Islamabad on Youtube were deplorable to say the least; and we made it a point to capture the beauty of our city", Muzamil says.
Then a video came out on the 13th of September 2012, on Muzammil's 22nd birthday, titled, "22 Random Acts of Kindness" which took the social media with storm. 22 random acts - simple acts of kindness, were caught on camera and made into a video; it touched people immensely. "There were over a million views of that video; there were write-ups on it in Huffington Post, MSN live, and Good Morning America; Coke picked up on it; I was offered a yearlong contractual job by World Bank," Muzamil says.
Somewhere in between on a trip to the U.S., Muzamil learned that politeness in everyday affairs makes life so much more comfortable. "Smiling is contagious", says Muzamil. On the basis of this concept came the project, "400 Smiles from Pakistan", a video of over just two minutes, which is an effort showing that Pakistan comprises of people who smile and who are happy despite the generalizations to the contrary by national and international mainstream media.
In 2013, in view of the upcoming elections, Muzamil, as a believer in the concept of democracy and law, made a series of videos in an attempt to convince youth that they needed to come out and vote. "I have understood the value of the adage 'Believe in law and let the law help you'," says Muzamil. "I have seen that following the law actually empowers you and, hence, people need to be aware of the lawful means available to them to channel their frustrations about the existing political quagmire."
Recently the room where many of Muzamil's videos were shot has been transformed in a studio for his "Social Media Show". His popularity has drawn in corporate sponsorships which give him financial independence to execute his ideas. The recently launched show, whose first episode came last week, has a celebrity guest invited over, and a short candid conversation follows in the presence of a limited audience. The guest for the first show was Abdullah Qureshi, a budding young artist already making waves in the local music scene.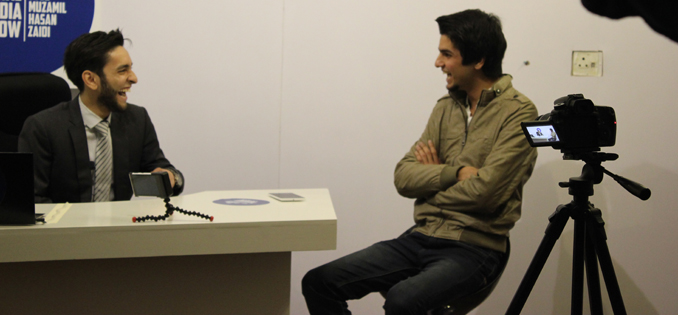 Creativity in any form needs to be appreciated. The mediums used are just different ways to have a message put across. Lolz Studios, a venture where, supposedly, "Art meets Lol", has capitalized on the rise of social media. There around 30 million internet users in Pakistan, a number that is expected to grow exponentially. It is a growing market of people looking for quicker ways of entertainment online. And it is this growing market that Muzamil's eyes are set on capturing.
Now that corporations have jumped in as well, wooing Lolz Studios, we hope that the ideas win rather than narrow corporate interests, and we hope to continue seeing original content coming out based on the genuine beliefs of the team behind the Studios.
You may also like: