THE BROWNIE MUST BURN
Written by: Aiza Azam - Posted on: December 27, 2013 |

Comments
Google Translation: اُردو | 中文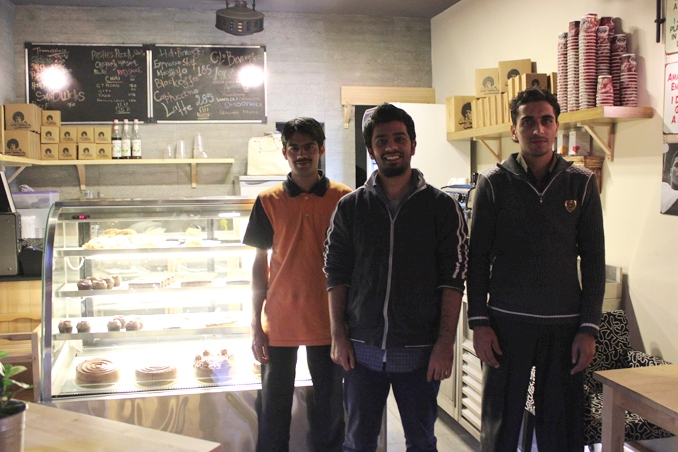 The first two things that hit you about Ammar Mumtaz are his passion for quality and his grip on technical knowledge. This we discover in the cozy confines of Burning Brownie as he brings us a perfect latte and cappuccino, both of which he has prepared himself. We watch as he demonstrates the difference in the frothy cups of mocha deliciousness.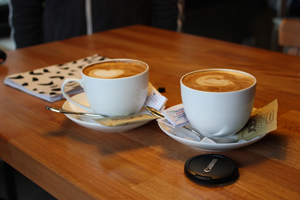 Mocha deliciousness
Ammar, a Business graduate from FAST, is the man behind a bakery and coffee shop that opened earlier this year at the Beverly Center in the capital city, and has quickly carved out a niche amongst Islamabadis. Their offerings include a selection of savory items, cakes and cookies, pastries and brownies, and an ample number of hot and cold beverages; chocolate is arguably the hero of the menu. While the place itself opened only a few months ago, Burning Brownie the entity has been around since 2009. We ask Ammar to tell us how history happened.
Back in 1999, before launching headfirst into the heady business of food, Ammar was drummer for a local band called Sarcasm; they were contemporaries of Islamabad's better known underground outfits such as Corduroy, Irtaash and Lahoo, all of whom were part of the regular beat of jam sessions at Civil Junction. Tragedy struck when one of their members, the lead guitarist, passed away in the Margalla Towers disaster of the 2005 earthquake. Some time elapsed before they resumed playing, but as the music began taking a backseat to the demands of study and careers, the band gradually dissipated.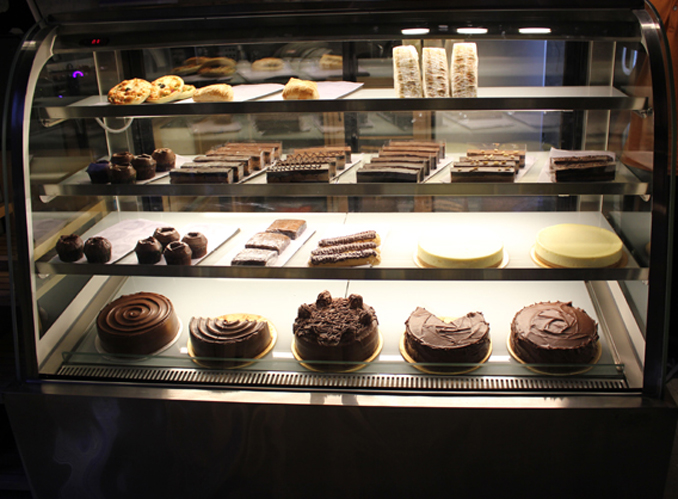 Burning Brownie temptations
At about this time, Ammar began considering the possibility of working in the food industry. Having always been interested in the dynamics of cooking, the idea appealed to him and it wasn't long before he began to realize was his calling. But his parents, concerned at the lack of career prospects in Pakistan, were not very supportive at first. His application to the Culinary Institute of America and an attempt to transfer mid study to the Cornell School of Hotel Administration, both had to be foregone as per his parents' wishes. But the desire persisted.
In 2008, he recalls, a relative happened to taste one of the cakes he'd made; she liked it so much, she began buying them to order on a regular basis. By word of mouth, Ammar soon amassed a small but faithful clientele, though the frequency of orders averaged once a week. Just before he graduated, Ammar made the decision to pursue the interest commercially.
It started small. Working from home, he and a colleague would bake a batch of goodies and stock them at a kiosk at the fuel station in F-7. With business being brisk and demand keeping steady, they eventually decided to open up at the Centaurus Mall in time for its inauguration. His parents were now on board, having realized this was their son's passion, and also persuaded by the success of his small business. Mid-way through the process of setting up at the Mall, however, it was discovered that architectural design constraints made the location inside they had chosen suddenly unavailable. Fortunately for them, they discovered an available lot in the Beverly Center, and on June 16, 2013, Burning Brownie opened its doors to the city.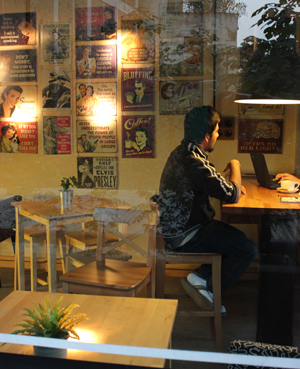 Art work on the wall
We ask him about running the cafe, his customers and recipes. Quality, the absolute best, is something he insists upon. "We are the only place in Islamabad that is using the same chocolate for our recipes that are found in Michelin star restaurants abroad." The chocolate comes from an international supplier. The coffee is roasted for them in England according to their specific needs. "Quality is the only way we can compete with the older, more established eateries that the people hold their loyalties to." If something doesn't taste right to him, he'll instruct the staff that not a single item from the batch is to be presented to the customer. This, he believes, is what has kept their customers loyal. Despite the fact that Burning Brownies' items are pricier than most other places in the city, they have not lost more than a small handful of customers since they began in 2009. And the relationship with customers is nourished. "Their trust in our ability to deliver a quality product," he emphasizes, "is as important for us as insistence on quality itself."

Happy customers and a cozy interior
In his creations, Ammar draws a lot of inspiration from American chef Alton Brown, being admiring of his traditional cooking style and the way he adapts seemingly complicated recipes to the lay cook's advantage. "What I'm really good at," he explains, "is research. I love research and combining it with the chemistry of cooking. How I work is that when I taste something, I can quickly break it down into the individual ingredients and what needs to change where – whether in proportion or in terms of addition and replacement – in order to improve the item." He demonstrates this by pointing to our coffees and explaining they are a blend of Indian, Brazilian and El Salvadorian beans. "The Indian bean is high on acidity. The body comes from the Brazilian beans and the flavor you're getting is the one from El Savador." He and his team constantly reevaluate their product, and do not believe in sticking to set in stone recipes or procedures. "I think it's important to never be complacent. If there's an improvement that can be made, we make it, and of course customer feedback is invaluable." He also recalls how it took him nearly three years to create a chocolate sponge that he was happy with, the perfect consistency being central to their cakes and pastries. He feels that one of the most pressing issues in this industry is that too many individuals end up working in it for the sake of earning, while only precious few get into it for the passion.
The competition is something Ammar enjoys and has sampled the offerings at countless other places in the city. He has high praise for Serena's Rakaposhi café, which he feels truly stands out in that its food does not taste "the same as everywhere else."

The bar
Burning Brownie as a brand is something Ammar feels very strongly about. "It's not just me, not one person, but the team as a whole; that's how I think of what we have." The team is a lean one, the crux formed by only four people. "I looked for people who have the skill and required technique to implement my recipes, and who can also work under pressure. All of them are top of their game." Other than retail and customized orders, the team is also working in supplies, with a long list of Islamabad restaurants forming part of their clientele.
We ask Ammar what he plans to do next. At present, he tells, he is working in collaboration with an American chain that is expected to open up shortly in Bahria Town. On the Burning Brownie end, multiple projects are underway. "We want to expand our savory menu, which I feel is holding us back a little. Also, we're working on introducing a breakfast menu, and our focus is on creating something different from the usual suspects on offer around the city. Then in mid-January we want to introduce something new in our coffees; basically the customer will be able to come in and create their own preferred blend from the single origin beans we have on offer."
And, something Burning Brownie fans will be happy to know, they are planning on expanding early next year, feasibility studies for which are currently underway. "We've been taking that bit easy till now, because we know the quality can drop when you expand, unless you have a fool-proof system in place. But with the massive – and unexpected - response we've had, we feel going bigger is a step in the right direction."
From one foodie to another, Burning Brownie is where you need to be if you're into comfort food and being taken care of.
You may also like: