THE LENS BEHIND MYRA IQBAL
Written by: Eeman Amjad - Posted on: September 11, 2013 |

Comments | 中国 (Chinese)
Google Translation: اُردو | 中文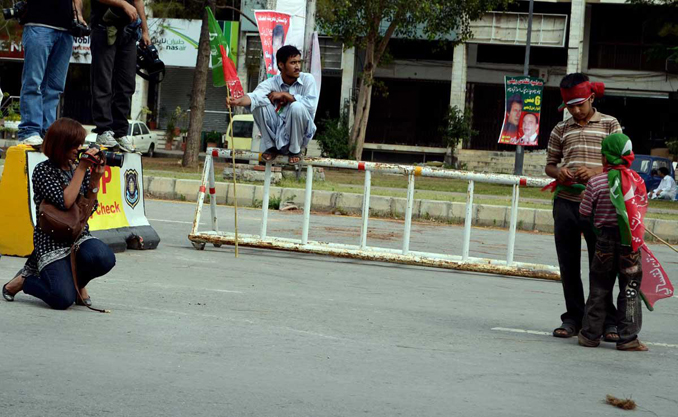 The art of moving an image with or without words, to tell a news story - one which is honest and impartial -, to see not only the truth but to engage with reality differently, is the ambition behind being a photojournalist. Myra Iqbal is one of the few female photojournalists in Pakistan striving for the great story in an image that reports those small details, which can educate and inspire.
The journey of Myra becoming a photojournalist is not a romantic one. She started her venture into photography when she was in A- Levels. "I wanted to push myself to be creative." Both her mother and brother were fine artists, but she wanted to find her own creative platform, one that would aid her ideals to change the world. She found the camera to be the best vehicle for social change and decided to pursue photography in her undergraduate studies at Savannah College of Art and Design in the United States. Having grown up and lived most of her life in Islamabad, she wanted to move away and experience a world that was unfamiliar to her. "It was important for me to get away, and get some new perspective." The opportunity to see outside her bubble allowed her to photograph the world differently. She learnt to pay attention to the small details that combine to form a whole narrative. It also allowed her to re-examine where she was from, question her identity and eventually see it afresh. After working at the Huffington Post for a while, Myra decided it was finally time to move back home to Islamabad.
Being a female photojournalist in Islamabad has its own frustrating moments. "I was very idealistic when I graduated; I thought great things will come to me. I wasn't patient, and didn't know much about journalism." Becoming part of the journalism industry in Pakistan was itself an undertaking. Myra related that not only are there very few girls in the profession, but it was difficult working with people from a different generation, who, over time, have become quite jaded and were only interested in taking photographs that sell in the papers.
Myra has been working at the Express Tribune since January 2012, which proved to be a good starting point for her in Pakistan. After a while, a love triangle grew between her, writing and photography. She would like to write more, especially fiction, but she doesn't want the two to marry. "My photo stories should not need words and my writing is visual, so it doesn't need photographs." She wants the two to remain separate forms of expression. Although at work Myra is not restricted to any particular topic, she realizes that one can't be good at everything. "My thing is people." The human identity and expression is what she is interested in uncovering. "For me, there has to be human interest. Photographing someone is an exchange between you and the subject; how they react to you is all part of the process." To her photography is like ethnography, it is about understanding peoples and cultures.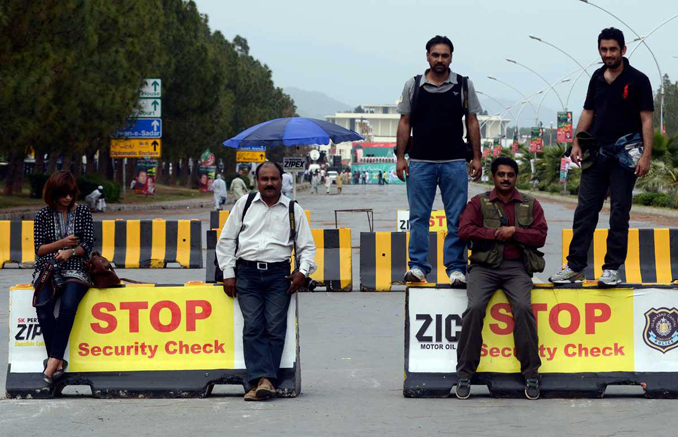 Myra standing with the rest of the photojournalists from Islamabad
There is not much understanding on a local level for this kind of photography, which makes it more frustrating for Myra. "There isn't enough appreciation for this; it is not considered an artistic thing." Most photojournalists in the country, she feels, are only interested in clicking as opposed to understanding photography as a tool; they all flock towards the same image that they know will appeal to the public.
The other problem she faces is the stagnant urban culture of Islamabad, whereas other cities such as Lahore still have the beat of urban life. Although, amongst her most challenging yet exciting assignments were the protests in Islamabad last year over the anti-Islam film on You Tube. "An initial demonstration of a few men swelled to more than 3,000, and it was three thousand men to a woman as there was no other female in sight," she recalls. "Every other guy would come up to advise me to move to a safer spot. It was exasperating, but I learnt that I just had to throw myself into the situation. No one will tell you how to react; just learn as you go." It became one of her greatest learning opportunities, especially being a woman. Going out there and reporting was a liberating experience.
Myra is a bit uncertain when it comes to the future. "I want to stick to my guns and do what I am doing." But at the same time, she doesn't want to plan anything for certain. She is not interested in pretty things, but is interested in the honest and hopeful, in the human interaction, which goes beyond the photograph, that is also able to enrich her intellectually. She hopes that she can spend more time studying her subjects. She wants to be part of stronger stories, published in better places, more long term projects and not give up. It is very easy to give up in difficult situations she admits, but despite the frustration with the social and geographical impediments, Myra wants to continue striving for the same ideals she had as a young teenager, balancing herself on the creative platform of the camera lens, to change and inspire.
"Myra's Photography"
Click to view picture gallery
You may also like: