Walk On for Change
Written by: Eeman Amjad - Posted on: March 12, 2014 |

Comments | 中国 (Chinese)
Google Translation: اُردو | 中文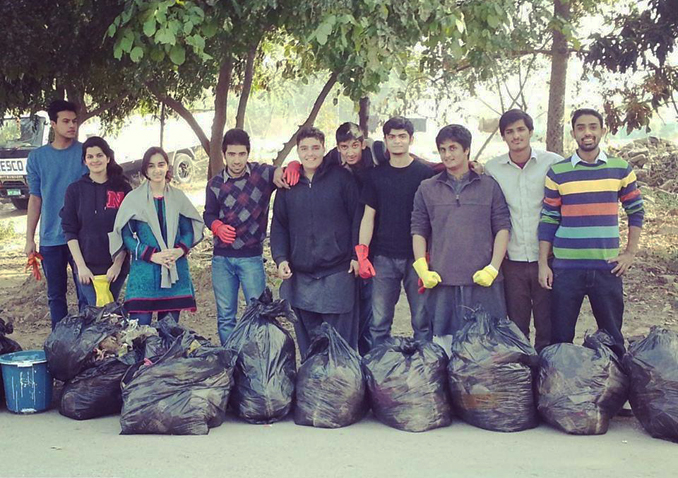 Clean Pakistan Initiative, Margalla Road
How many times, while we're driving down the blue silver streets of Islamabad, across a highline painted with green hills do we ever notice the less prettier picture, and just once when we glance out does that ever change our lives? On a hot summer's day, Asrala Bangash, an A-levels student at Roots, was on his way home; he turned up the air conditioning of his car to counter the aggravating summer heat. The stoplight turned from green to red and as the car halted, he looked out his window through the transparent glass separating him from the small flower girls on the road. As the air conditioning cooled his face, he could see their naked feet, pressed against the scorching summer heat pavement. "When I saw the soles of their feet baked, I thought why I couldn't just give them shoes to wear?"
Asrala began with the simple step of distributing shoes. "At first the idea was very daunting: How will I get the money? Where will I distribute?" He shared the idea with his friends at tuitions, albeit somewhat apprehensively. "You know, boys like to smash every idea so I never really told anyone fearing that my idea would be shot down, but I was wrong in every sense of the word." Each of the six boys contributed a thousand rupees, and thus they were able to distribute slippers and clothes to over 125 children. The shoes and clothing were to help young children set their feet firmly on the ground, to help them walk on for their future. Thus began the initiative of Walk On, a group with the simple motto of doing as much good as possible.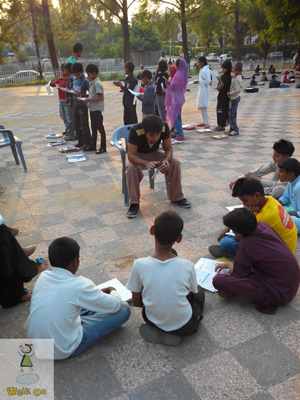 With Master Ayub's students
"I found Walk On on Facebook", says Nida Qasim, also an A-levels student at Roots. "I couldn't believe that someone in my class, in my school, had started this organization and I didn't even know about it. I was so surprised, but I knew I wanted to join this group." She proposed helping Master Ayub, the headmaster of a street school project. They began by volunteering to teach the kids, but then went on to buy for them a plethora of school supplies and eventually helped Master Ayub build a roof.
Their next step was the Clean Pakistan Initiative. "It was, once again, a daunting task," they relate. "We didn't only want to eradicate garbage, but the pessimistic mindset as well." They first started with Trail 3, a small group of seven set out to collect even the smallest Bubble Up wrapper. "What surprised us most was that there were Shams bags lying around. If you can afford to shop at Shams, then we're pretty sure you know the difference between right and wrong (littering is very wrong by the way)," Arsala asserted.
The organization of their group is quite informal. Someone makes a suggestion and they are off with their magic brooms to clean up. While cleaning a ground next to the Shalimar cricket ground, opposite Main Margallah road, they noticed how the area, for some reason, issued as a dumping site by the offices and homes across the road. The team stood appalled as they watched servants from the residences come with buckets full of garbage and deposit it conveniently in the ground, because that is what their employers had instructed them to do. The problem is, Arsala points out "One person thinks, I throw in only one tissue, and it seems insignificant, but even one piece of tissue makes that big a difference."
Walk On is out to make that difference, but in reverse. They hope that by doing one act of good, which may seem insignificant, someone else will mirror that act, causing a small ripple effect. "When we were cleaning Shalimar ground, one of the residents sent over trash bags and helped," they proudly tell. In addition to picking up garbage from the area, something had to be done to ensure the area would not be littered again. The team is constructing a long- term solution with the CDA, pinpointing locations. "We can clean them, but we don't have the funds for trash disposals." They are also planning a massive futsal competition in the summer to spread awareness about the organization and raise funds for future activities.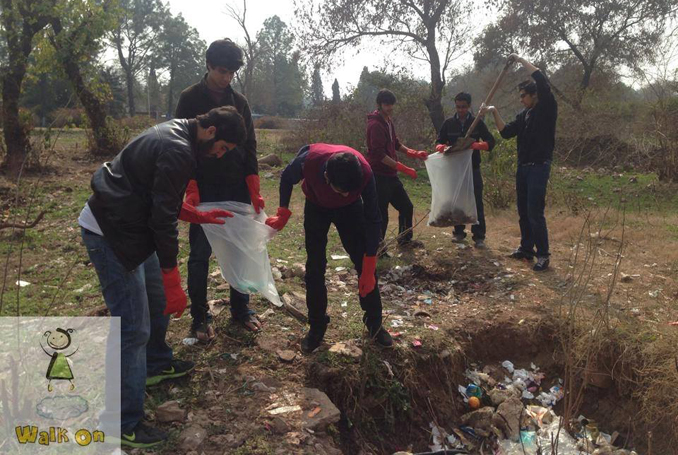 "Some people really appreciate the work we're doing. Others, especially older uncles give lectures, and some people stop to tell us what we're doing is pointless. I know I have the support of my peers. They share my vision and the enthusiasm to achieve that vision. We are all volunteers and get together under one cause. We hope that this small thing has that big effect," Asrala shares.
Most of these volunteers will graduate this year from school, off into the world to start their university degree, but wherever they go, they only plan to continue adhering to their motto, to do whatever good they can to start that small ripple that will end up creating a giant change. Countering all the pessimism and constant criticism leveled at them, this small band of teenagers is persistent in its mission.
And hopefully one day we all will join in their Walk On for change.
If you would like to help Walk On in their mission, you can visit the Facebook page https://www.facebook.com/Walk.On.Official for updates on the next Clean Pakistan location and details of the date and time.
You may also like: