XARB: Fine-Tuning Rock Music in Pakistan
Written by: Zahrah Mazhar - Posted on: June 25, 2014 |

Comments
Google Translation: اُردو | 中文

Mobeen Lala Qamar Sunny Saud
They grew up in different cities with varied musical influences but when the five members of the up-and-coming rock band, XarB, met in a tiny room in Lahore during a jam session, they realised they had one thing in common – they all took their music very seriously.
While bass guitarist Raheem Shahbaz (Sunny) and drummer Muhammad Ahsan (Lala) have lived in Lahore all their lives, the other three band members moved to the city for their graduate studies. Guitarist Saud Anver from Faisalabad, vocalist, guitarist and song-writer Mobeen Zahid from the United Arab Emirates, and vocalist and keyboardist Qamar Parvi from Rawalpindi were all studying at the University of Engineering and Technology in Lahore where they started playing music together. After graduation, all five boys were pursuing separate careers till one day in 2011 the love for music brought them together. "Our former bassist Zia introduced us to Sunny and Lala, who at that time were with a band called Draine," explains Mobeen. "We got to know each other pretty well later on and when Nasir Inam, our former drummer, and Zia had to leave the band due to other commitments, the five of us got together and have been playing ever since ."
All five have wide-ranging musical influences. "I grew up listening to Mehdi Hassan sahab, gradually moving on to Ghulam Ali, Fareeda Khanum, Abida Parveen and Nusrat Fateh Ali Khan," said Qamar, sharing his love for local talent. For Saud, the musical journey started with Vital Signs, Junoon and other Pakistani bands from the 90s. "Then I started listening to Pearl Jam, The Who, Led Zeppelin and AC/DC so in a way my musical influences kept changing." Sunny named Red Hot Chilli Peppers, Tool, Porcupine Tree and Victor Wooten while Lala mentioned John Bonham and Keith Moon as his biggest influences followed by Danny Carey, Chad Smith, Gumby, Allan Smith, David Abbruzzese and others. As for Mobeen, he had "always been drawn to musicians who let their emotions come through in their songs - whether its Stevie Ray Vaughan and Pete Townshend with an instrument, or BB King and Eddie Vedder through their singing," said Mobeen.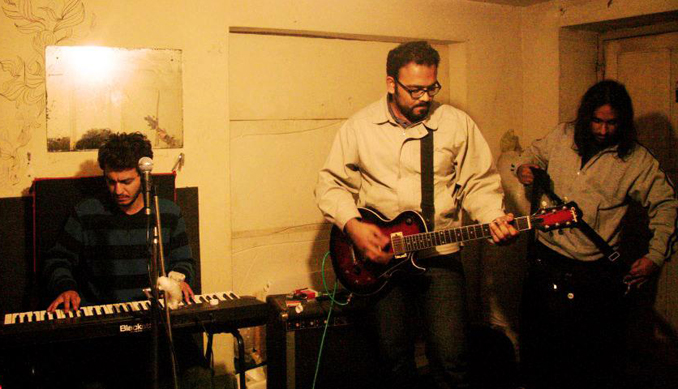 Almost all of them found their calling in rock music, apart from Qamar. "Classical music was abundant and easy to find when I was a kid. The radio was my best friend back then," he shared. For the others, it was the strum of the guitar that caught their attention. "I was fascinated by music from an early age. A friend of mine formed a band with my little brother and they needed a bassist so I jumped in, figured out some of the basic notes of a song by System of a Down and have been playing that instrument since," said Sunny.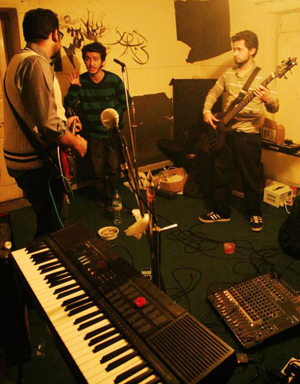 Where the magic happens!
For Lala, Pakistan's guitar maestro Salman Ahmed was the inspiration to not only make music but also an instrument. "I was in grade 7 when I made a guitar. I hammered nails on side of a wooden stick, tied rubber bands of different thickness around them and stood in front of the mirror for hours pretending to be Salman Ahmed," told Lala. Saud, he forced himself to play the guitar by borrowing one from his neighbour in Faisalabad. "I was curious about how it would sound. One thing led to another and after grade 12, I ended up owning my own guitar." Mobeen was the last to follow and started playing during his last year at university.
"For us, starting the band was all about wanting to make good music and hopefully that will always be our priority," said Mobeen when asked if XarB was a hobby or a profession. "Being professional comes through in how serious your approach is towards what you do and we have always taken music seriously, so it's a bit of both." According to the band, there is no one genre in their music. "We are a rock band but rock music is a broad term. It doesn't mean that we can't throw in bits of blues or jazz or eastern classical here and there," said Mobeen.
As with every newbie in the field, XarB took time in finding their footing. "Unfortunately, there are too many lobbies in the music industry. We started out purely for the music but now people everywhere just ask us to focus on building public relations and other things that have nothing to do with music!" said Sunny. Lala agreed, admitting that being a musician in Pakistan was not easy. "There are electricity problems, very few people are actually selling equipment worth buying and getting gigs is all about how many people you know and how many know you."
Shooting for Baysabro
After playing gigs on a number of platforms, XarB released their first music video, the song 'Baysabro' in April this year. Video directors Ali and Saad came up with the concept after listening to the song which immediately clicked with the band. "Their vision gave the song conceptual depth that was important to the actual thought behind the lyrics," explained Mobeen, adding that the band wanted a video that left room for the audience to use their imagination. "For most people videos are tools for marketing and advertising but that's not what we're thinking. The 'Baysabro' video is good because, like the song, it has its own identity; and the visual leaves plenty to the imagination." The feedback has been generally positive. "The content isn't really something that would instantly appeal to too many people. It is very serious and demands your focus," said Lala, adding that renowned director Jami and other musicians have also expressed appreciation for the effort.
At the moment, the band is focusing all their energy on their first album, due out sometime in fall. During the entire process of making an album, it is clear that they all have set one clear goal – to not sell packaged music. "We're musicians, not a soap factory. We're not making music to cater to a certain group of people. Our songs are an extension of ourselves and hopefully we can get across to a lot of people," said Mobeen. "Even if we don't, we'll continue to work hard and try to grow as much as we can. Hopefully we can wade through all the meaningless crap that's out there. Whatever happens, our music will always remain honest."
You may also like: