Grandma Goes Para Sailing in Turks and Caicos Islands!
Written by: Shahida JJ - Posted on: April 18, 2013 |

Comments | 中国 (Chinese)
Google Translation: اُردو | 中文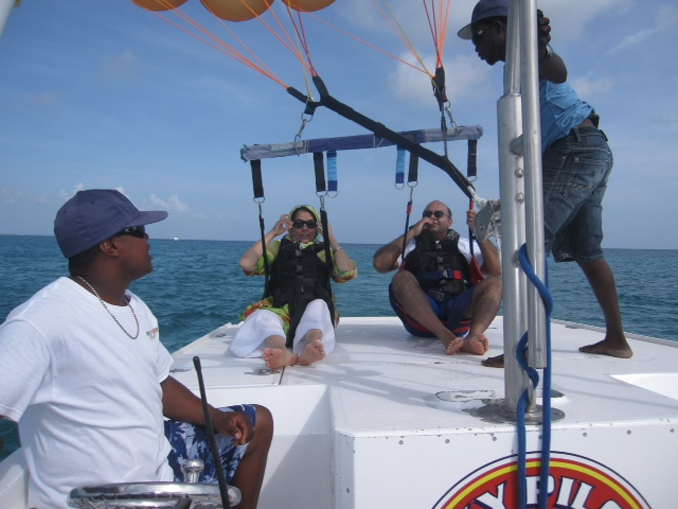 Strapped and ready to take off!
New York. Summer 2012
Son said, "Let's go to Turks and Caicos for a week during summer vacation." He and his family love vacationing in the warm waters and beautiful white sandy beaches of the Caribbean Islands.
What a strange and hard to pronounce name - Turks and Caicos.Had always seemed a tongue twister to me.Son and family love to vacation there and visit whenever are able to.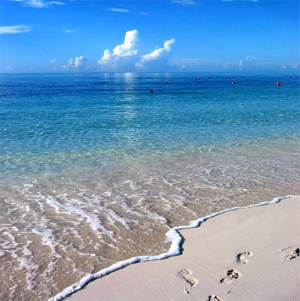 Beach and sky
"The most beautiful beach in the world: powdery, pure white sand; aquamarine water, knee deep for a mile into the ocean; world's greatest coral; spectacular sea life,with the most beautiful fish; and lots of sun," son describes the Turks and Caicos! The islands too are dead coral.
"Am game," happily giving my consent.
We head towards the TURKS AND CAICOS Islands in the Caribbean.
History of the Turks and Caicos Islands
"The Turks and Caicos Islands are named after the Turk's-cap cactus (Melocactuscommunis), and the Lucayan term "cayahico," meaning string of islands.
"The beautiful Turks and Caicos Islands are situated 575 miles southeast of Miami, Florida, USA, and 39 miles south east of Mayaguana in the Bahamas. Covering 193 square miles of the Atlantic ocean, Turks and Caicos Islands has one of the longest coral reefs in the world, making it a premier diving destination.
"One of the most valuable possessions of the islands are the white sandy beaches, which in total cover 230 miles and are complimented with crystal clear waters. The islands are relatively flat but depending on the island, the terrain can vary from sand dunes to lush green vegetation. There are eight major islands: Salt Cay, Grand Turk, South Caicos, East Caicos, Middle Caicos, North Caicos, Providenciales and West Caicos. The people on the islands are known for their friendliness. East Caicos and West Caicos are uninhabited.
"The Tourism industry gives Turks and Caicos its main revenue."
I didn't require a visa, as it is part of British Overseas Territory, and I was in possession of a UK visa!
We took a three hour flight to Turks and Caicos on Continental Air from New York, straight down, flying over Florida. Amazing and spectacular colours of the Atlantic Ocean on landing. Plane was loaded with American tourists.
Our destination was Provindenciales island, only 8 miles long. It is primarily a tourist resort, and a popular American family destination. Outstanding hotels and resorts catering to the needs of tourists.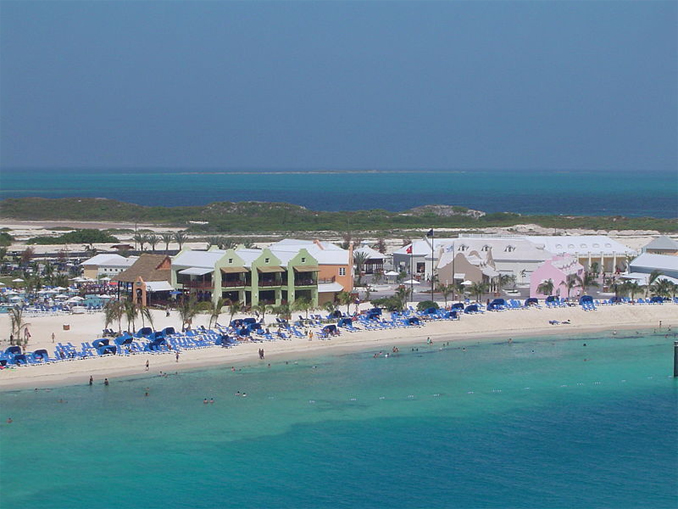 Turks & Caicos Islands beach resorts
All food comes from the US in a boat; if the "BOAT" arrives, food arrives!
Nothing like shopping plazas or a Mall, but huge American style air conditioned supermarkets that stock all American produce and food. Currency used is the American dollar. If too many tourists arrive, food items and essentials run out fast till the next "boat'" arrives!
I thought that only happened in Gilgit, when landslides block the Karakoram Highway, the KKH and all supplies stop!
Grandma goes parasailing
Adventure: son suggested, "Mother, we will go parasailing."
I resisted, saying, "I will drown. I cannot swim and am afraid of water. How can I go up on a parachute over the ocean?"
"You will wear a life jacket and it is pretty safe," he assured me.
"Dadi you must go, it will be fun," 9 year and 6 year old granddaughters excitedly assured encouragement. They are all swimmers and have parasailed - flown into the sky numerous times, are experienced!
Appointment was made with the parasailing crew, who brought their motor boat next to our hotel on the shallow water of the beach - sea water was shallow.
We boarded, and the boat went a few minutes into deeper part of the Atlantic Ocean.
Son and his 9 year old were the first; wore life jackets and were securely strapped onto seats. I watched them; appeared very simple and safe. The boat sped, gradually releasing strong ropes tied to a very large parachute that gradually opened, lifting the two very smoothly and they were flying in the sky over the blue water. I watched with apprehension and amazement. My family was flying - parachuting over blue ocean and against the blue sky. They were airborne for half hour.
My turn. Son said, he will go with me. There were three strap seats. We wore life jackets and were securely strapped into two seats. The Captain gave us instructions on "dos and don'ts" and other safety measures.
The motor boat sped on; pilot gradually released thick ropes attached to the parachute that we were strapped on to.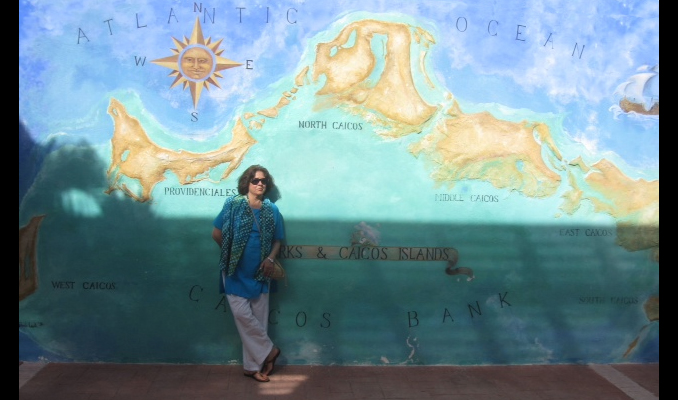 In front of wall mural depicting the Turks & Caicos map
We were flying, cheered on by my granddaughters. A 65-year old grandma, and that too a Paki one, was up in the sky on a parachute!! That certainly is living the high flying life!!
I was not nervous: son spoke gently keeping me calm, "Look into the water and you can see fish and life under water. There goes a baby shark, that is a big turtle, see the stingray - the big wide fish, and the coral is moving." He is an expert on under water life, a seasoned scuba diver.
We could see through the clear water, moving coral and fish. Water was very calm, and so was the weather. Marveled at God's creations: paradise.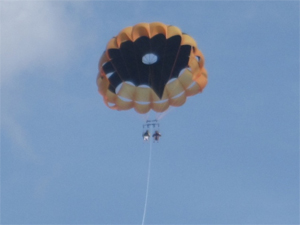 Grandma parasailing
We were in the sky on parachute for almost half an hour. The captain, when pulling us back, maneuvered such that we dipped our feet in the water and were then pulled back up again.
The pilot played loud Spanish music all the time. Grandma loved the experience!!
Grand daughters were very excited –GRANDMA WENT PARASAILING in TURKS and CAICOS!
When we flew in to land, the Continental pilot had announced and instructed:
"On return flight, please purchase your own food from the city as there is no catering service available on the island, and food will not be provided on flight back to New York.So we carried food for family for the flight.
Visit to Turks and Caicos was spectacular!
You may also like: