Dr. Anita Zaidi: Saving the Future, One Child at a Time
Written by: Shahzeb Ahmed - Posted on: May 07, 2014 |

Comments
Google Translation: اُردو | 中文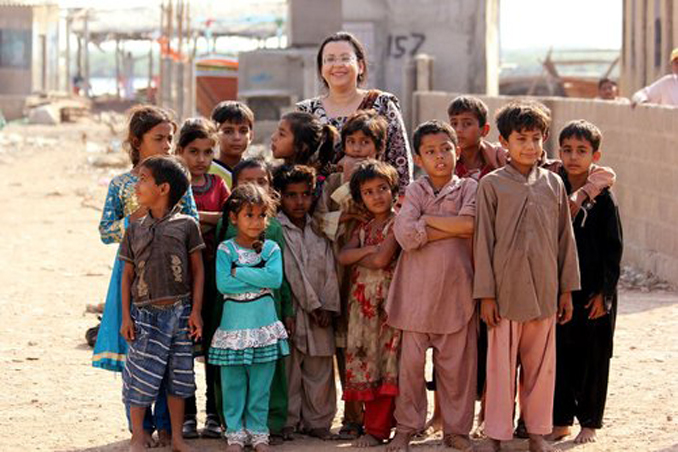 Dr. Anita Zaidi with children
Dr. Anita Zaidi loves challenges. That is just as well for she now shoulders the heavy burden of reducing child mortality rates across the globe.
The former head of pediatrics at the Aga Khan University Hospital (AKUH) resigned over a month ago to take up a position as director of enteric and diarrhoeal diseases at the Bill and Melinda Gates Foundation.
Back at her office at the AKUH, where she currently maintains a position as professor, Dr. Zaidi shares her experiences as someone who has been fighting what others have long dismissed as a lost cause. The one thing you immediately notice as you sit across her desk is her humility and the lack of self-importance she accords herself.
When asked why she chose to move to Pakistan after completing her studies in the US, she replies dismissively: "Why not?" For Dr. Zaidi, a person should be where they are needed and valued most. "Why not Pakistan," she repeats rhetorically. "You see, the educated live privileged lives here. We don't pay taxes, we tap the country's resources every chance we get."
Dr. Zaidi says matter-of-factly that she came back to repay Pakistan for what the country had given her. "When you have been given so much by your nation, you have the responsibility to give back." For her, it just made sense to work where she was needed most. And naturally, Pakistan was the perfect place to start.
It is no surprise that Dr. Zaidi has been able to achieve the success she set out for when she graduated from med-school at the AKUH, back in 1988. She did not always want to be a pediatrician, she claims, but somehow curing children of their ailments has always made her happy. She developed a sort of addiction for seeing children on the mend during her pediatrics rotations at the AKUH and decided to follow her mother's footsteps into the discipline.
When she returned from the US in 2002, the most sensible choice to her was to join her alma-mater as a research director in pediatrics. Eight years later, she was made the head of the department. During the course of her career, Dr. Zaidi travelled to far-off areas in search of communities who were in dire need of medical aid. She understood their problems, their inhibitions and their misplaced trust in doctors and medicine. Her work was primarily focused on improving child mortality rates in the coastal communities in Karachi's periphery – Ibrahim Hyderi and Rehri Goth, among other areas.
Her research work has focused on improving diagnostic methods for detection of infectious agents in children, on neonatal infections in hospital and home-born babies and the characterization of childhood pathogens.
What Dr. Zaidi realized over time was the fact that higher child mortality rates were a direct result of poor health facilities and the people's reluctance to visit them. "I decided I would bring the treatment closer to home in a clinical setting." Over the next few years, Dr Zaidi and her team worked in the coastal communities to provide facilities to expecting mothers at the time of delivery and also to provide healthcare to the child after birth. "We developed a concoction of 14 vaccines that were administered to children following their birth." These vaccines were meant to protect the children from a range of viral and infectious diseases that were endemic in the areas.
When Dr. Zaidi had started out back in 2002, the mortality rates were so high that one out of 19 children died within the first month. At least nine out every 100 children died before reaching the age of five.
Most of these areas showed a marked improvement in terms of child mortality rates over the subsequent years. The one area that showed no marked improvement was Rehri Goth. Despite attempting several forms of interventions, Dr. Zaidi could not affect a change on the child mortality rates in the area. The problems, she explains now, were far deep-rooted than what she had thought initially.
When she heard about the $1 million Caplow Prize, Dr. Zaidi knew she had the answer. Armed with the facts and statistics she had accumulated over the years, she presented her proposal to the engineer, Ted Caplow, which was exactly what he was looking for – a perfect methodical approach to improve the lives of under-privileged children.
Dr. Zaidi was awarded the prize and she is currently in the final stages of the project design, which will comprise a five-tier programme:
A delivery-related package, whereby a prior arrangement will be made with a charitable hospital to provide transport at the time of delivery.
All children of the area will be immunized against the most risky diseases.
The malnourished children and mothers will be given nutritional support.
Water and sanitation advice for the community.
Treatment of common illnesses.
The project itself will run for three years. Dr. Zaidi hopes to help at least 2,000 children rise out of poverty by the end of that time. "Around 1,100 children are born in Rehri Goth every year. Even if we manage to help 2,000 of these children in these three years, our efforts will be worth it."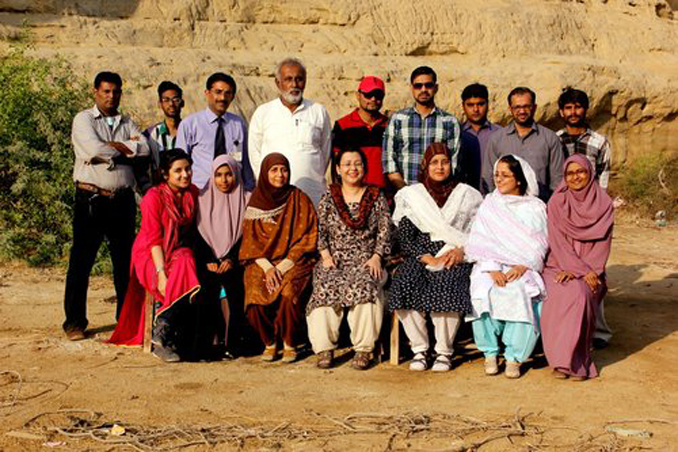 Dr. Anita Zaidi and her team
For Dr. Zaidi, there is no reason these children cannot grow up to achieve something for themselves. The problem, she explains, lies in giving them proper nutrition and protection against diseases. "It is the lack of proper food that makes them most vulnerable. The first 1,000 days after conception (first 2 years) are the most crucial. If the child does not receive proper nutrition, he is most likely to end up stunted both mentally and physically." She gave the example of a few cases where even charitable schools refused to admit these children because their mental capability was lacking.
Malnourishment, according to her, is a major reason why vaccines are ineffective in the case of these children. "These children's digestive systems are so underdeveloped that they cannot ingest the vaccines given to them."
Admittedly, she has a long way to go but Dr. Zaidi is not one to give up easily. She asserts that doctors must realize their duty towards society and work to help their patients first and foremost. She also has words of advice for the government: "After the 18th amendment, health is a provincial subject so all eyes will be on the provincial government for any health-related blunders." She requests them to build accountability and put the available resources to the right use.
"Stop playing with the lives of our children," she concludes.
You may also like: