HOUSE OF LIGHT - Part II
Written by: Aiza Azam - Posted on: October 15, 2012 |

Comments | 中国 (Chinese)
Google Translation: اُردو | 中文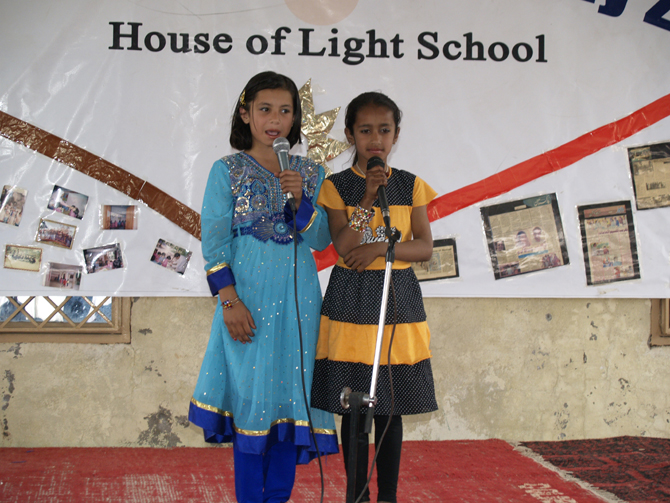 Initially, the school began with an intake of 25 children. Half of this number belonged to families from Kashmir who had been victims of the 2005 earthquake; the other half was constituted by children of local homes. The school provided complete educational material for the students as well as a transportation service. In addition, they were also provided food, with a different item being served daily, including chicken, lentils, vegetables, fruit and milk; it was to counter an inadequate and imbalanced diet. Fortnightly medical checkups were arranged for those who constituted the earthquake survivors.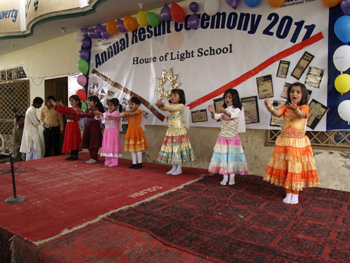 The Qaisers faced challenges from the very beginning. The main obstacle lay in convincing families to actually send their children to the school. Parents were highly suspicious of the agenda of a school willing to provide education and other amenities to underprivileged children, completely for free! They questioned why anyone would be willing to do this without expectations of a return. Local mullahs in particular expressed strong opposition to the school's education format, which involved co-education music classes, an annual function featuring tableaus performed by the children, and, a general platform for different forms of creative expression. The latter, in tandem with regular workshops conducted for parents and children together, feature content specifically aimed at inculcating tolerance, a critical objective for the school.

Gradually, however, people began to overcome their reservations. There was a tangible shift in their attitudes and they no longer gave thought to removing the kids from the school. This was due to the visible change in the children within months of enrolling. They had come in wary, quiet, and difficult to engage. But within a short time, the care and attention they received from their teachers, in addition to the provision of daily nourishment, began to show results. They were happier, more confident, and affectionate.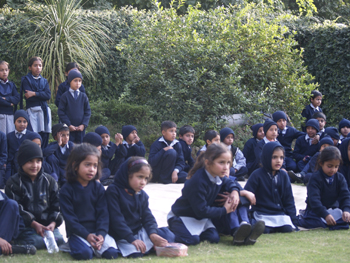 They were even bringing small changes to their homes, implementing the things they learned, such as basics about hygiene. The parents began to grow aware of the difference between their children and themselves. "Now," smiles Sadia, "the mullahs themselves send their children to our school."

The credit for this positive change in outlook goes to the school's administration and teaching staff. Teachers have to undergo a thorough training of two to three months before being given charge of a class. Training is done in collaboration with several institutions. New Century Education holds programs for them twice a year. The Bahria College in Islamabad sends their teachers to the House of Light for the same purpose, and the latter's teachers go to Bahria every December. In addition, HoL is a member of the All Pakistan Private Schools Management Association, which not only provides training but also issues a certificate of authority.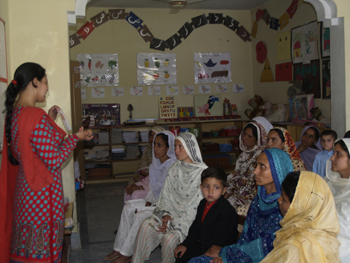 Saadia Qaiser herself oversees the teachers' work, and they are particularly cautious of how the children are disciplined. The teachers may, at most, scold them to keep them in check where necessary, but it is strictly forbidden to subject them to any form of physical discipline. "Children in other schools in the area that we checked are beaten by the teachers," said Sadia. "We believe this is a medieval practice; it is the wrong way of disciplining students and we have no room for it in our school." The school also collaborates with social service professionals to conduct regular workshops for the parents, for the mothers in particular, to guide them on bringing up their children.

Individuals applying to the school are required to have a BA degree as a minimum, but most of them hold MA degrees. The school also provides a good platform for these teachers to put their capabilities and talents to good use. All of them belong to the Pind Bhagwal village and its surrounding areas. They have a good understanding of the background and circumstances the children come from; this proves invaluable for their teaching.

RELATED STORIES:
You may also like: