KVTC: Taking the 'DIS' out of Disability
Written by: Zahrah Mazhar - Posted on: April 22, 2014 |

Comments | 中国 (Chinese)
Google Translation: اُردو | 中文

Jiddat exhibition at Ocean Mall
"Just because a person lacks a certain ability doesn't mean they are disabled. And just become someone is intellectually challenged doesn't mean they need to be appeased – they need to be empowered." It was these beliefs that led Robina Inam and her husband to open up the Karachi Vocational Training Centre (KVTC) more than 20 years ago.
Today, the centre serves not only as an educational institute for individuals with special needs but has also become their home. "Currently, we have 250 students in our day care and 40 are in-house. In total, at least 4,000 intellectually challenged persons have been rehabilitated since we opened," said Robina, who is a UK-trained vocational therapist with 42 years of experience.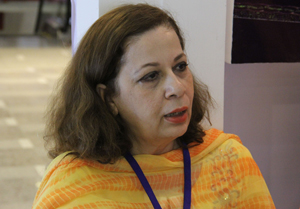 Robina Inam
The centre was established after Robina and her husband, Dr. Inam Ur Rahman Khan, realised that there were no vocational training centres for the intellectually challenged in Pakistan. "We started with a two-bedroom apartment and had young people as well as adults as students. The next year we moved into a bigger place and from there on, KVTC kept getting bigger and better."
Students from different areas of Karachi, such as Sohrab Goth, Korangi and Lyari, come to the centre's main office which is spread across an entire building, in the Defence Housing Authority. According to Robina, the centre grew over the years with help of friends, family and industrialists and through word of mouth. "KVTC's purpose is to remove the stigma attached with people with disabilities. We don't want them to be ridiculed or become a burden on their families – we want them to have skills and to become useful members of the society."
The co-founder, who is also the KVTC president, feels strongly that people should not pity individuals who are intellectually challenged. "Being disabled simply means that a person lacks the ability to do something particular. We all have shortcomings but we all have strengths too. God hasn't put anything or anyone on this earth without purpose," said Robina. "These students are more vigilant, hardworking and focused as compared to 'normal' people."
The KVTC operates like any other school with a morning assembly, classes and tests. The centre offers 72 skills, including carpentry, screen printing, embroidery and tailoring, which are matched according to each student's aptitude, according to Amir Shahab, the operations control manager. "There are around 160 teachers/trainers, some of whom have completed their masters in special education. They also receive training from our team of specialists, consultant psychiatrists and vocational therapists," said Amir.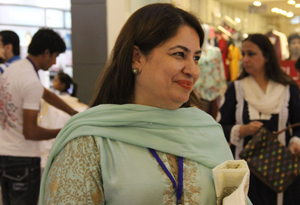 Bushra Mir
Once the students have learnt their skill, they are given paid internships at KVTC to prepare them for a working environment. Afterwards, some find jobs outside the centre while others continue to work with KVTC. Either way, the centre aims to make sure that the students put their skills to use and see the outcome of their hard work in the form of financial reward as well as appreciation. One such example of promoting the students' work is Jiddat­­- an exhibition of exclusive block prints. Having been held for three years in a row, the exhibition not only sells the work made by the students but also boosts their morale. "The exhibitions are usually sold out and the remaining few pieces are put on sale for the staff," told Bushra Mir, who is among the driving forces behind Jiddat. "I choose the schemes colours, the fabrics and the designing. It is a challenging task to supervise their work and there are times when I get cross or agitated, but we're like a family and the next day, we're fine!" She admits to having a soft spot for special children, saying, "I feel like I have learnt more from them than they have from me."
According to her, the exhibition, which was held at the Ocean Mall this year, has been a different experience each time. "People are getting to know our product. They've come to expect a good collection from us and it is also a good opportunity for them to meet the talented workers," she said, gesturing towards Mariam Roshan and Farrukh Sultan Khan.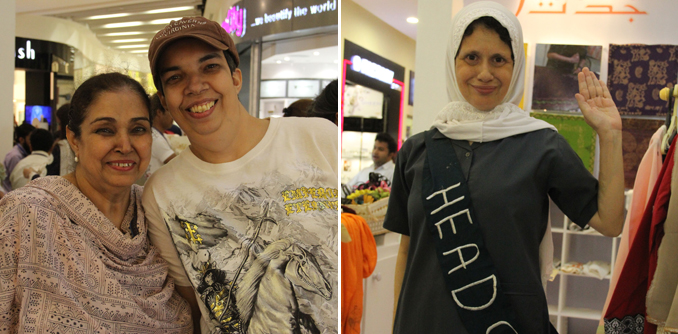 Farrukh Sultan Khan and his mother Mariam Roshan
Farrukh, who was accompanied by his mother, has been with the KVTC for 22 years. "They [the centre] were the one who taught me how to iron my clothes, wash my dishes and other basic tasks," he said, adding that he now assists in teaching and tries to make sure the students are focused and do good work.
The cheerful and talkative Mariam also spoke about disciplining other students, proudly saying, "I've been elected as the head girl because everyone liked my speech!"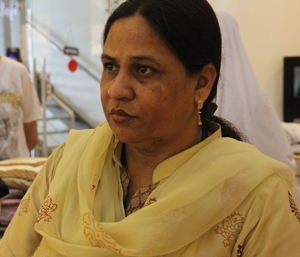 Shaheen Siddiq
According to one of the teachers, Shaheen Siddiq, each student is given work depending on their level of understanding. "We start them with something as simple as a straight line, moving on to a motif and then bigger tasks. Some of them get involved in the colour schemes and designing of clothes – they start taking an interest themselves," she told.
KVTC's students have gone on to work with large-scale corporations, such as Engro and Unilever, as well as local businesses, including Lal Qila and Mr Burger. "Our students dream big – someone may want to fly a jet and the other may want to be the queen of England," she said smilingly. "Our job is to ease these individuals into reality and encourage them to enjoy rewards of their hard work so that their skills become their dreams."
Photography: Ayesha Mir
You may also like: