Mussarat Misbah and the Smileagain Foundation: Hope for a 'Burning World'
Written by: Sadeem Shaikh - Posted on: September 12, 2014 |

Comments | 中国 (Chinese)
Google Translation: اُردو | 中文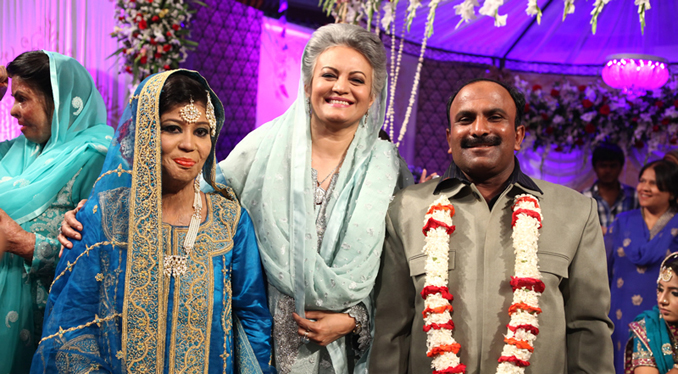 At the wedding ceremony of a DSF client
Every year in modern day Pakistan, hundreds of innocent women are intentionally burned by their husbands, brothers and other family members for reasons that might be considered as basic human rights in a saner world. Many even refuse to seek help, partly due to the existing societal fears and stereotypes, thereby often spending years with inflamed and deteriorating bodies. With all that goes wrong in certain areas of the country every day, these helpless women fortunately still find a shimmer of hope such as that offered by the Dupilex Smileagain Foundation.
On a routine day in 2003, veteran fashionmonger and media personality, Mussarat Misbah was struck by a gruesome realization regarding her ambitions in life. A strong-willed and confident woman with an open personality, Ms. Mussarat was approached by a fully-veiled woman right after she had locked up her office for the day. "I need your help", the woman uttered while slowly taking off her veil. "What I saw, then, was an image that still fails to escape my head – this woman's nose was nowhere to be seen, one of her eyes were missing and her entire facial structure was in shambles - I went home and simply wept for the next few days", expressed Ms. Mussarat. Recognizing the severity of this woman's burns, she gathered a small army of close friends, relatives, acquaintances and doctors, mustering any resource necessary to rid this frightened woman of her misery.
At the same time, she began seeking to draw upon the importance of the media in spreading awareness about the heinous crime of such attacks, and her friends in the television industry helped in carrying out this ultimately fruitful task. In the next few days, close to 42 young women and female adolescents showed up at her office doors, all in desperate need of treatment. The mere number of victims on the first few days exemplified the magnitude to which this abominable crime is committed in our society. Most of the victims are women and are intentionally burned, for reasons such as 'refusal to a marriage proposal, failure to provide dowry and a failure to provide male offspring'. Elaborating on this long and arduous journey to establishing the Depilex Smileagain Foundation (DSF), Ms. Mussarat mentioned how 'difficult it can be for a woman to lose her facial features to acid and kerosene burns, as our society rejects her.
DSF workshop on psycho social support for victims
Up until 2005, the services provided at the Depilex clinics were free of cost. Thats same year, Ms. Mussarat officially registered Depilex Foundation as a non-governmental, non-profitable and a charity organization, expanding operations to remote districts near places like Abbottabad in the north, and Hyderabad in the south. As of now, the Depilex headquarters are based in Lahore, monitoring 35 sub-branches, spread throughout Pakistan, in addition to a total of 562 patients. Embracing a unique approach to traditional organizational hierarchies, the Depilex headquarters only work with a total of 10 full-time employees, including Ms. Mussarat Misbah as the President, Ms. Yasmeen Zahoor as Director Public Relations, and Ms. Ayesha Taslim as Director Programs. As a subset, Ms. Mussarat also employs media and customer coordinators who aid the upper management with prospective clientele and advertisement. As far as the patient base is concerned, most of the cases arise from the belt connecting Southern Punjab and Northern Sindh; in places like Rahim Yar Khan, Bahawalpur and Tharparkar. With the tremendous amount of damage that is done to the face and any other affected area of the body, a typical patient is required to go through 35 operations on average, just so the layout of the afflicted regions can be restored.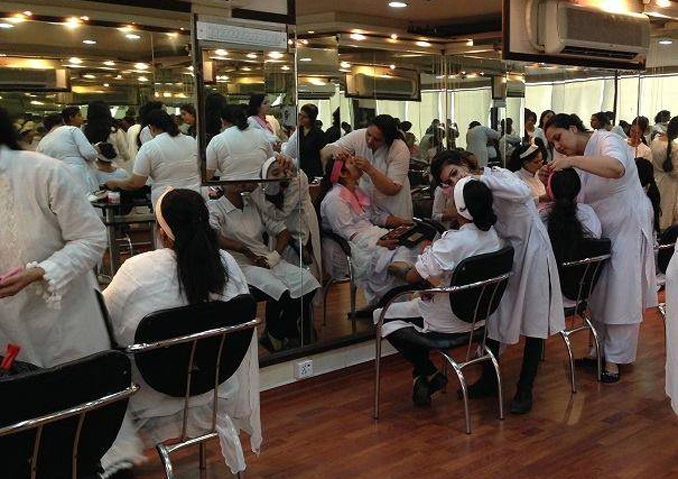 Conducting a makeup course for DSF patients
Delving into the severity of the problem, especially when "one cannot rely on the repressive and corrupt legal systems for justice", Ms. Mussarat believes there is much more that needs to be done for the victims. As part of the organization's objective, all of their past patients are now self-sufficient and productive human beings, thanks largely to the efforts of the foundation. Depilex shuns the idea of granting money as a form of support for the victims, and rather helps them in setting up small-scale beauty salons, accessory shops and even employing them at Depilex itself, with the overarching goal of transforming them into contributing members of society. Bushra, a woman who was tied up and soaked in acid by her abusive in-laws, is now working as a patient coordinator in the Depilex head offices. Another story that demonstrates the success Ms. Mussarat has had is of Sarah, a woman who was accidently burned in her early teenage years. Having recuperated after rigorous rehabilitative operations, she is now Depilex's main receptionist.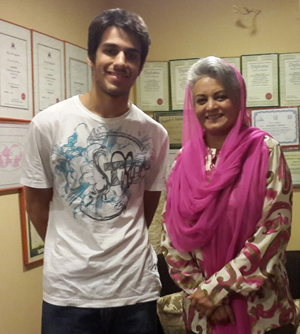 The author with Musarrat Misbah
Taking into account the rampant lack of awareness even amongst the literate population of Pakistan, Ms. Mussrat realizes that the Foundation has a lot of room to grow. One predominant shortcoming, according to her, is the lack of shelters for patients that have undergone operations. Providing these women shelter becomes necessary, as they cannot return to their families, who, in most cases, refuse to accept them in their fold. "The socio-psychological well-being of these victims falls on us, since they have no one willing to take care of them", says Ms. Mussarat. She believes these fully-equipped shelters will equip them to become fully integrated and useful members of the society.
For information on how to contribute to this worthy cause, please visit http://www.depilexsmileagain.com/
You may also like: