Thali: Wasted Food, No More
Written by: Eeman Amjad - Posted on: July 18, 2014 |

Comments | 中国 (Chinese)
Google Translation: اُردو | 中文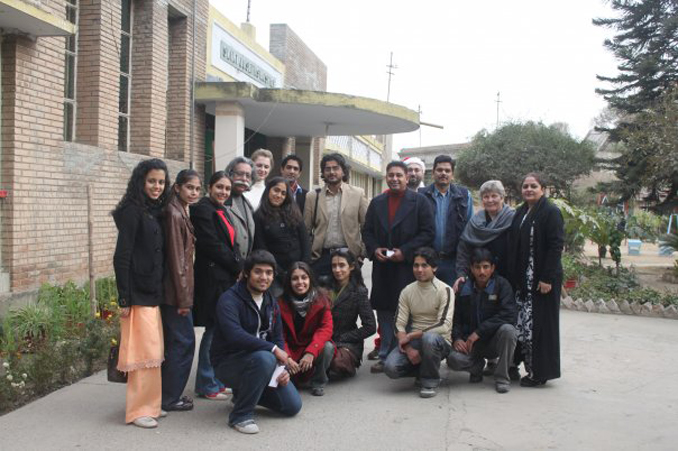 The Thaali Team
Fifty-eight percent of households in the country are food insecure; one in five parents lament that they do not have enough to feed their children. Despite the threat of food insecurity, we tend to forget the simple concept of food conservation; leaving food in our plates, forgetting produce in the fridge or till its expiry date and the large quantities of edible food from restaurants that are disposed off in the garbage. Thaali, a philanthropic venture, aims to overcome the problem of food insecurity by changing the way we treat the food in our plates and in our kitchen. This family trust, run by its CEO Zoone Abbas, is an effort "to feed the less fortunate with meals that the more fortunate take for granted."
CEO Zoone Abbas
The concept of Thaali was initially visualized during a family vacation in PC Bhurban. Sayyed Nazish Abbas Qazi, Zoone Abbas's father, noticing the amount of leftover food at the hotel's restaurant inquired regarding the disposal of the wasted food, which they realized was thrown away at the end of each day. The thought of all that perfectly edible food tossed in the waste stayed with Zoone and the moment she finished her MBA in 2007, she decided to start an organization, called Thaali, that collected edible food that would otherwise be discarded. She recruited her friend Ursula Jogezai and they started work on Thaali the next day.
There were initial set backs and impediments. Registration as a non-profit proved to be difficult, until they finally registered as a Trust in 2009. Another issue was the hesitancy of banks to open an account for them, after five years of active work they finally have an account with a local bank HBL. However, the most significant challenge was convincing big hotels and restaurants to donate their leftovers. Most hotels and restaurants were concerned of any liability from the food they would donate, and despite a letter from Thaali taking full legal responsibilities, hotels were still hesitant, citing that such activities were against their policy or that their workers would be unable to work overtime. Big supermarkets refused to donate canned food items or perishable goods close to their expiry, instead choosing to throw out whatever items are unsold passed their expiry dates.

Preparing food packages for distribution
Despite many negative responses, Thaali still managed to recruit certain restaurants and caterers. They started with buffet leftovers, especially from weddings and corporate events; after any event, Thaali volunteers would arrive as the event finished, pack all the food, check it for quality, and then compartmentalize it into individual boxes for delivery. Most of the Thaali deliveries take place at marked spots; during the nighttime deliveries, meal packs are distributed to those sleeping outside hospitals or on the roads. Zoone's father purchased a deep freezer to prevent any food items from decomposing. In the past, Thaali has collaborated with many big restaurants such as Savour, Khiva and China Town. Ufone would donate all their leftover lunch food, which was usually enough to create around 75 to 80 meal packs for donations. Although most of Zoone and her husband's earnings were utilized to financially sustain Thaali, the emphasis of the organization is not on monetary donations, but material goods such as food items that would otherwise be wasted, or clothes that would be simply thrown out. Currently, they are looking for donors to provide them with a food truck to help facilitate their donations.
Thaali has a systematic and organized system for their deposit routine. They target areas in Pindi and Islamabad where labourers congregate before or after work. "We make sure we don't give them free food everyday, we want to make sure that they don't become too reliant on our donations." Part of Thaali's other campaigns are Sponsor a Child; although it has been discontinued, they did sponsor more then fifty students from primary to university level. They initiated a Food for Thought campaign helping out schools in Islamabad and Rawat such as Pehli Kiran by distributing stationary, and organizing a range of activities. Currently they are working on aiding and providing relief to IDPs.
Reluctant food distributers encouraged Thaali to reach out to people on an individual level; instead of supermarkets and restaurants they would approach homes and schools. When visiting schools they taught children how to become Thaali Angels, learning to conserve food and urge their parents to efficiently consume food produce at home. "Thaali isn't just an organization" Zoone believes, "it is a concept. Food produced in the world is more than enough for nearly everyone; the problem is food is not properly utilized." The aim for Thaali is to not simply collect wasted food items, but an effort to prevent waste. "Khaali karo ya Thaali karo" (Empty it or Pack it", the slogan coined by Zoone's husband and the current Trust Secretary for Thaali, Mohammad Hasan Sultan, meaning that it is time for us to start saying no to food wastage.

Thaali Volunteers
Thaali started on a small scale with not many team members and no proper workspace. Even today, they have a small operating budget and most of their meetings take place in public parks. However, what Zoone would like to eventually see is more young kids involved and volunteering, such as Izzah and Humd, aged 15 and 13 respectively, who take out time from school to volunteer. The goal is simple, to one day teach enough people the concept of Thaali; that if enough food is properly utilized, redistributed and shared, then maybe half of Pakistan's population will not remain malnourished and each person will be able to have their own Thaali.
To learn more about Thaali and how to help them visit their Facebook page or website. https://www.facebook.com/Thali.an.effort
You may also like: