The Silent War for the Environment
Written by: Zahra Belal - Posted on: June 14, 2014 |

Comments
Google Translation: اُردو | 中文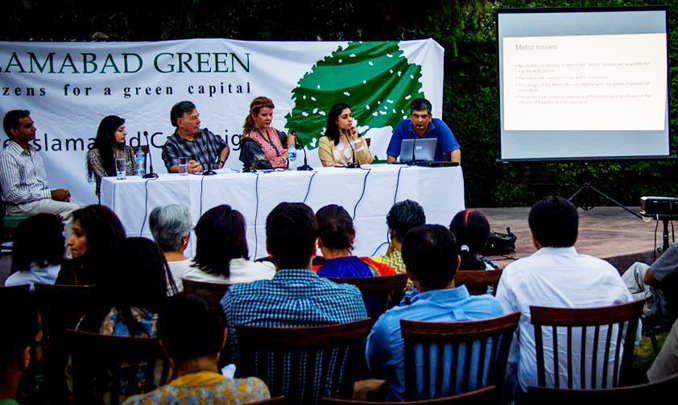 Bilal Haque (far right) gives a presentation on Islamabad Green's activities and how the environment in Islamabad is being affected
The overarching and all-encompassing problems of Pakistan are taken to be terrorism and underdevelopment. Yet there is a deeper and far more menacing issue that is seldom paid heed to even though the very survivability of our population and the country as we know it hinges on it. Consider this; how long can you live without oxygen? Without water? Without food? Without fuel?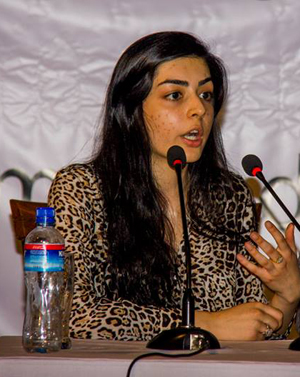 Imaan Mazari
Yet behind the roads, settlements, sky-scrapers and bridges that we see is another story to be told and understood. It is a tale of an irreparable price paid by the environment. Already, the impact of rampant, unchecked development is felt and suffered as the environment quails against these brazen threats. Globally, there have been rising temperatures, unpredictable rainfall patterns, sudden and frequent disasters and pandemic diseases; all taking innumerable lives and incurring incalculable damage, yet worse is still expected to come.
And the threat has come home - to Islamabad. The city was one of the most breathtakingly green capital cities of the world a little more than a decade ago, often called the "jungle" with its pristine forests, rainwater streams and lush green belts. All this is rapidly disappearing as the Capital Development Authority (CDA), despite a city master plan in place to safeguard its greenery, gives out large acres to developers who wipe out greenery to build houses, plazas and hotels; leases out hills to stone crushers for mining and quarrying; and approves mega construction projects without first conducting an Environmental Impact Assessment (EIA). This means that development in the city is not environment friendly. The recent Metro Bus project, for instance, has no plans for pedestrians or cyclists while the steel and concrete 'jangla' around it is expected to raise the internal temperature by 7°C!
This single-minded focus on profit making has brought to the city to the point that our lifelines are under threat. Islamabad's tap water in not drinkable which means that while the affluent can subscribe to mineral water, the underprivileged consume water rife with diseases like Hepatitis B and C. Is anyone even concerned?
In the face of this aggression and danger is a group waging a silent war for environmental protection and preservation. Confronted with environmental violations, rapacious socio-political interest groups and an indifferent public, the group is struggling to make a difference in the effort to keep Islamabad Green, which is what they aptly call themselves. Co-Founded by the dynamic Dr. Duskha Saiyid, the group is a platform for voluntary action and team work. Together they were able to stop the Margalla Hills Tunnel project, "janglas" and raised platforms from being constructed as part of the Metro bus project and are actively trying to stop stone crushing in the Margalla Hills.
Hailing from diverse back grounds and engaged in full-fledged professions, there are different personal motivations, but the basic reason for their activism is simply that they feel deeply and personally about this issue.
Christina Afridi, a Brazilian by birth and a citizen of Islamabad for years, cuts to the chase: "I am part of Islamabad Green because the environment is a vital issue that we should fight for; if you don't preserve the environment, then everything else is meaningless because there will be no terrorists and there will be no you." Having been ctive all her life in all capacities for this cause, she has been part of many protest walks and public hearings but she feels a deeper problem exists. "It's not just the government; the people are equally responsible. This is why we need to ingrain real values right where it strikes the most, that is, to the school children as part of our education". Not being a Pakistani by birth doesn't deter her for she feels that "environment is universal, above race and religion".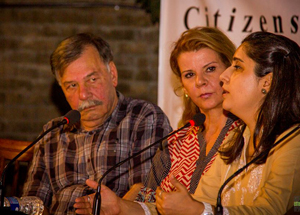 (l-r) Shafqat Kakakhel, Christina Afridi and Zehra Kamal
Other members echo similar sentiments. "To be at peace with myself" is why Bilal Haque has been at the forefront of the struggle by Margallah Hills Society and Islamabad Green for the past six months. What he finds to be the biggest barrier for greater outreach is an educational and mental hindrance. "The apathy that exists in all quarters is inexplicable". This has made Haque wary of verbalism and lip-service by people; he wants people to volunteer and take up initiatives.
Rafia Qasim, a mother and a hiker, feels acutely that "we need to preserve what we have to leave something for our children". Her hiking activity gives her a deep understanding of the value of nature, and of what it means to breathe sweet, fresh and clean air. "I take it personally when a tree is cut; it is absolutely painful that people do not understand the value of what we have in this city and want to make it into Dubai or Sharjah", she laments.
Jawad Chisti, another activist, who has been fighting for this cause since the last 16 years, takes it equally personally. "My mother was an environmentalist who sensitized me to this issue from an early age", he recalls. Chisti, now heading an NGO called "Subhe Nau", is a medical doctor by profession but turned away from it to focus on inducing a public policy that cares for the environment. "You see as a doctor, you can save a few lives in a lifetime," he explains. "But as an environmentalist, if you correct a policy, you can save millions of lives because it has direct health impacts".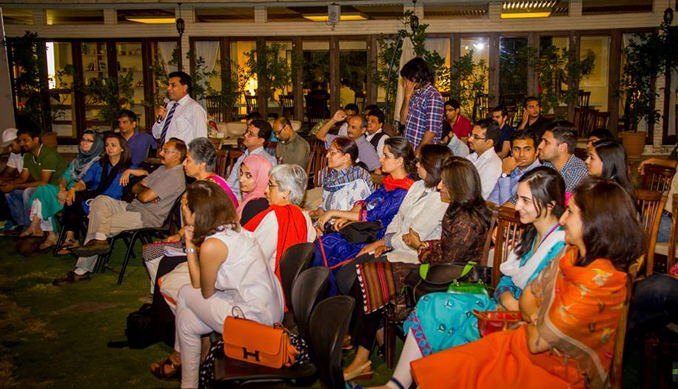 Zaidi of Kuch Khaas has been collaborating with Islamabad Green to hold public discussions at his institute that can raise public awareness and show support for the cause. A young professional, he shows a perceptiveness that is greater than his years. "We are not opposed to development but it must be done efficiently in an environment friendly manner". This is why he has been promoting the cause on social media to generate grassroots level activism. "It is disappointing that we have around 250,000 fans on facebook but they don't want to come out here for a cause." People, he says, slam this as simply an elitist group trying to act conscientious for the wrong causes.
The elite they may be but they are the thinking and sensitive elite who will continue to invest their time, energy and passion - to ensure that this cause gets the urgent attention that it's due. After all as the apt Green Peace slogan goes:
When the last tree is cut down, the last fish eaten, and the last stream poisoned, you will realize that you cannot eat money.
You may also like: