Zimmedar Shehri's IDP Relief Mission
Written by: Khadija Bano Malik - Posted on: July 28, 2014 |

Comments | 中国 (Chinese)
Google Translation: اُردو | 中文

Pakistan once again faces a national crisis. In the wake of increasing terrorism in the country, the Pakistan Army has bravely stepped into North Waziristan to face this threat.
The Zarb-e-Azb operation in North Waziristan has left almost a million citizens homeless. With barely any money and food, and no hopes of an early return to their homes, they require help, not just from the government, but from all Pakistanis. In response to this plea, several disaster management and relief organizations have stepped in. Amongst them is a group of young individuals who came together in 2009 to be the change they wanted to see in Pakistan.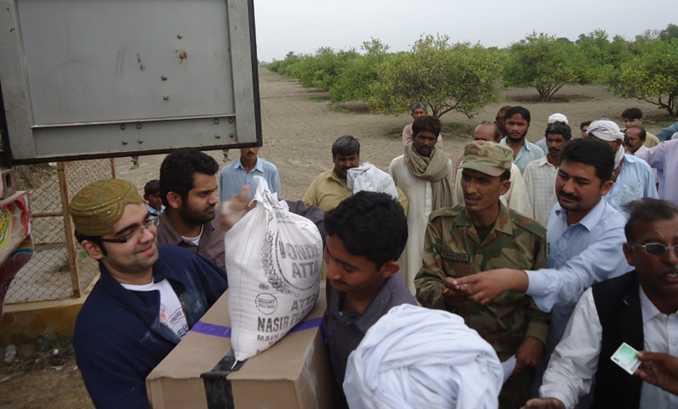 Jalal Hussain, Secretary General of Zimmedar Shehri, distributing relief packages in Sindh, 2012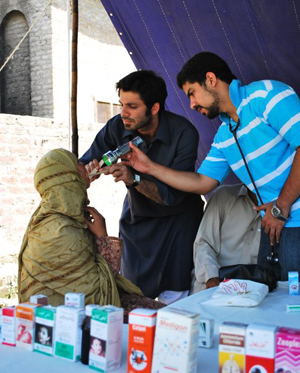 Medical camp set up by Zimmedar Shehri in Swat, 2010
Zimmedar Shehri is a youth organization that has grown from five individuals, all of whom are young professionals, to a network of 5000 youths. 'Zimmedar Shehri' means 'Responsible Citizen', which is also the motto of the organization. This was the first youth organization to start community trash clean up drives in Pakistan. The organization has since grown, including in their impressive feats: The Lahore Exchange, where they collected clothes and distributed them to the homeless and the poor; The 2010 Flood Relief Mission, where 2300 families were provided with relief goods and medical supplies in Swat, Kalam and Muzaffargarh District, and The 2011 Flood Relief Mission where 1500 families in Sanghar, Sindh were provided with relief goods. In 2012, Zimmedar Shehri undertook another project: they gathered funds to construct the very first primary and secondary school in Basti Ryndh, Muzaffargarh District. The organizatino has been lauded for their efforts by former U.S Secretary of State Hillary Clinton in her speech at Government College University. They were recently interviewed by Al Jazeera and were also featured in The New York Times.
Next Generation Pakistan is also a youth based organization in Lahore which is working towards social development in the country, composed of a network of young individuals from various schools in the city. It has been involved in various projects including donation drives, awareness campaigns and education initiatives in public schools, and most recently collaborated with Zimmedar Shehri in their campaign to assist the influx of Internally Displaced Persons (IDPs) that have resulted from the Zarb-e-Azb operation.
Zimmedar Shehri sent their representative to Bannu to gauge what goods were required by the IDPs there, and found that food supplies and clean water remain in short supply. In response to this national emergency, Zimmedar Shehri in collaboration with Next Generation Pakistan gathered funds within two weeks so that they were able to provide 500 families in Bannu with relief goods at the earliest possible. Where donation drives usually take longer than two weeks, due to the urgency of the matter, the two organizations collaborated and fast tracked the process. Donations have been given by private individuals, families of organization members and anonymous donors. Next Generation Pakistan has carried out door-to-door donation drives as well. Generous donations have also been made by various companies: Haider Toor arranged a for a donation of rice from Guard Rice which graciously donated 1.5 tonnes of rice; Umar Farooqe Chaudhry arranged for a donation of sugar from Hunza Sugar Mills; Mariam Tareen also arranged for donation of sugar supply from JDW Sugar Mills; donation of flour from Rajput Flour Mills was arranged by Rana Zain Tahir; packaging cartons were donated by Bulleh Shah Packaging; and Mustehsan Abbas arranged trucks for the transport of goods, free of cost.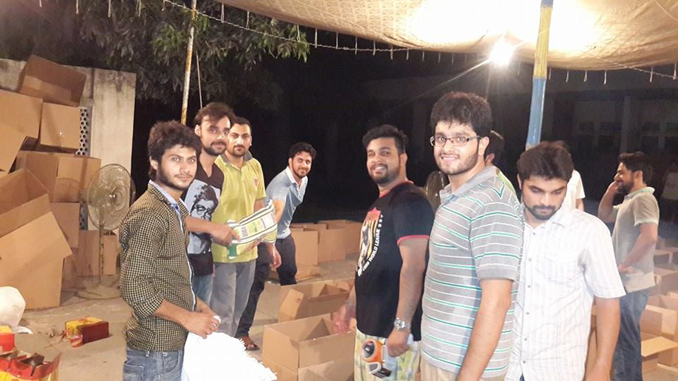 Zimmedar Shehri and Next Generation packing material for the IDPs
Zimmedar Shehri and Next Generation Pakistan posted regular updates of the drive on their Facebook page, which attracted people from all walks of life. Volunteers have participated from all over Lahore to help with the packing of the relief goods. Despite the hot weather and the month of Ramadan, these young individuals have remained resolute in their efforts. The two organizations worked together to have the relief goods packed and delivered before Eid-ul-Fitr.
Each relief package contains a 20 kg bag of flour, a 5 kg bag of rice, a 3 kg bag of Channa daal (lentils), a 2 kg pack of Kabuli channay (chickpeas), a 1 kg bag of tea, a 1 kg bag of Nido dried milk, a 1 kg bag of Everyday tea whitener, a 4 kg bag of sugar, a 1 kg bag of dates, a 1 kg bag of oil, a 1 kg bag of salt, a 500 grams bag of chili powder, four packets of ORS sachets and two Safeguard soaps.
Previously, the Pakistan Army has provided support in the distribution of goods by Zimmedar Shehri. Though institutional support will be provided by the Pakistan Army this time as well, Zimmedar Shehri is also relying on organizations such as the Imran Khan Foundation and the Sarhad Rural Support Programme to identify families which require relief goods.
Representatives of Zimmedar Shehri and Next Generation Pakistan left for Bannu on 23rd July, 2014 to distribute the relief packages to the families in need. Through the Sarhad Rural Support Programme (SRSP) and the Pakistan Army, they had identified 500 vulnerable IDP families based in Bannu who were in need of food rations.
On the day they arrived in Bannu to distribute the rations, a curfew had been imposed due to the prevailing law and order situation and the movement of weapons, army personnel, supplies etc. to the war zone a few kilometres away in North Waziristan. Since the city was in a state of lock down, the designated families could not come to the distribution point for Zimmedar Shehri and Next Generation to personally distribute the family packs to them. In light of the unforeseen circumstances, they adjusted as best as possible to the situation.
They handed over the family packs to the SRSP and the Pakistan Army, obtaining their word to ensure that the distribution would go smoothly and the family packs would be given to the deserving families.
The trip was a productive one; they had a meeting with Brigadier Aftab who is in charge of the IDP's in Bannu. He briefed them on the IDP situation, how the army, the government and various NGO's are facilitating the IDP's of North Waziristan and how organizations such as Zimmedar Shehri and Next Generation could play a role in helping them.
They were taken to visit the army run IDP camp in Batta Khel where they interacted with the IDP's of North Waziristan. The IDP's, they observed, were being very well looked after; the army had ensured that they were comfortable and their needs catered for.
Upon their return Zimmedar Shehri will begin work on collecting non-food items such as clothes, sleeping bags and medical supplies to deliver to the IDP's in Bannu. In addition, since clean water is essential for the displaced persons' health and remains unavailable, Zimmedar Shehri plans to install a solar powered water pump in Bannu in the coming months. To set these up, they will be coordinating closely with the Pakistan Army.
Related articles:
For information on how you can contribute to this effort, please visit https://www.facebook.com/events/480843658717074/?ref=notif&notif_t=plan_user_joined
You may also like: