Alif Ailaan: The Education Journey
- Posted on: February 06, 2014 |

Comments
Google Translation: اُردو | 中文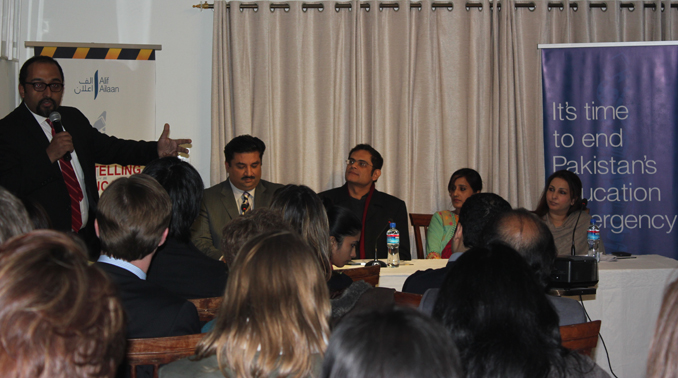 Mosharraf Zaidi of Alif Ailaan addressing the assembly
On the 4th of February 2014, Kuch Khaas hosted a panel discussion and a screening of documentaries, to commemorate the achievements of Alif Ailaan, 'a Pakistani alliance for education reforms', and also to create awareness about the work that is being done by the organization.
The room was brimming with people, where many of the attendees had to stand in order to be a part of the screenings. The panel included some notable names; Federal Minister of Commerce, Engr. Khurram Dastgir Khan, MPA from Mansehra, Maliha Tanveer, Raza Rumi and Nasreen Sheikh, Education Campaign Manager Rural Support Program Network (RSPN).
The event was conducted by the team leader of Alif Ailaan, Mosharraf Zaidi. The evening was nudged forward with the screening of a documentary, "…Thora sae beemar hai" (.. a little ill), in which Strings, a notable band from Karachi, visit a school and try to convince the children that they need to ask questions as to why they are getting education when those on the streets are not.
"Pakistan thora sa baemaar hai na? (Pakistan is a little sick, right?)" Bilal Maqsood, the lead guitarist of strings, innocently asks the innocent faces, staring up at him with admiration. The medicine for the "baemari" (illness), tells Bilal Maqsood, is education, and it is high time that it is duly provided to the patient. Following this documentary, the audiences got to hear from Sharmeen Obaid Chinnoy, Oscar winning documentary maker from Pakistan, in another documentary made by Alif Ailaan. The status quo structures, she mentions, exist as such that a few are advantaged by leaving the masses uneducated and illiterate.
The minister popped in a little late, just when the first documentary finished. He gave a brief talk, in which he mentioned the hatred and spite that public intellectuals have towards the elected representatives of people. He also mentioned that people come to him to get their cousin's friend's son transferred from school A to B, but they never come to demand for more or better schools. While answering a question, later in the evening, he elaborated that politicians by law are not allowed to monitor the performances of schools and if they do, out of goodwill, it is called "political interference" in the working of the state.
There was another documentary aired in which Alif Ailaan, showed that during elections, it compelled politicians to get a few out of school children from their constituencies enrolled; which, perhaps appeared more of a publicity stunt both on the part of Alif Ailaan and the politicians. More than just bare symbolic acts are, perhaps, required to deal with the "education emergency" existing in Pakistan.
MPA, from Mansehra, went on to talk about facts and figures and her party's resolve to tackle the education issue, in a manner, which bored many if not all. Seemingly mere old school rhetoric, there was little that this writer could focus on as she monotonously read out of a paper.
Raza Rumi, however, asked the audiences to pay attention to the Chinese model, which has its own flaws at many levels, but which has delivered to quite an extent. The civil servants are asked to be accountable for the deliverables, which kind of ensures that bureaucrats pay attention to eventually bettering the situation of their assigned locality. Raza Rumi also raised a contention about Alif Ailaan being British funded, and the need for transparency in projects with international money behind.
The most commendable of Ailaan's ventures is the creation of local support organizations (LSOs) with the help of RSPN, a group of volunteers who ensure that the indigenous populations understand that the presence of Article 25 A means that their children are entitled to free education. LSOs apparently also lobby for better schools and education standard by creating access of the locals to elected representatives and bureaucrats.
Collaborating with organizations such as Idar-e-Taleem-o-Aghahi (ITA) and RSPN, Alif Ailaan seems determined to educate the masses about education and their rights to it. But then as they say, "know the thing by its fruits rather than its roots", therefore we will have to wait and see whether any tangible results are achieved or the venture is just another one of those NGOs which are out there with their fancy presentations and luxurious spending on the employees, but little to no solid grounds attained.
You may also like: