Celebrating Valentine's with Dance
- Posted on: February 20, 2014 |

Comments
Google Translation: اُردو | 中文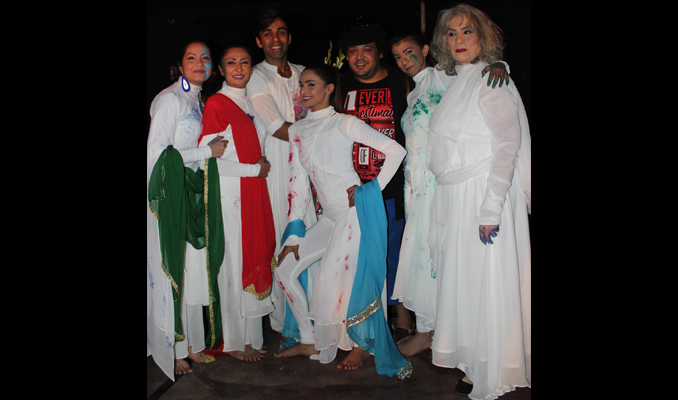 On 14th February, Kuch Khaas had organized an evening of entertainment, with one of the events being a performance by Kathak dancer Nighat Chaudhry and her team. The performance had also been organized in promotion of the global campaign One Billion Rising for Justice, in collaboration between Kuch Khaas and the Islamabad based AMAL Human Development Network.
With a theme of the repression and the eventual political, social and spiritual empowerment of women, Nighat Chaudhry and the accompanying female dancers led the audience through various stages in the life and evolution of 'womankind', beginning with figures enveloped in black shrouds struggling to break free; once they shed their cloaks, one dancer at a time expressed the emotion she felt in the wake of freedom through a series of classical or modern dance steps, while the remaining dancers remain motionless. Close to each dancer, individual easels and tiny pots of paint had been set up and as each went through the motions of her performance, Humaira Ghaznavi (an Islamabad based artist), painted beside her, giving each a unique image. Towards the end, Wahab, a Lahore based dancer, appeared on stage and his character imbued change to the motionless dancers, encouraging them, celebrating the unique strengths each woman possessed. Though the performers worked with gusto, it was something of a disappointment not to see more of the classical form. Wahab's dancing, however, was a pleasure to observe and at the end of the performance, it was revealed that he was also the choreographer behind it.
The event was broadcast live via online streaming around the world, as revealed by Nighat Rizvi of AMAL.
You may also like: