NGOAI O - The Outskirts of Hanoi (Vietnam)
Written by: Amna Javed - Posted on: March 19, 2014 |

Comments
Google Translation: اُردو | 中文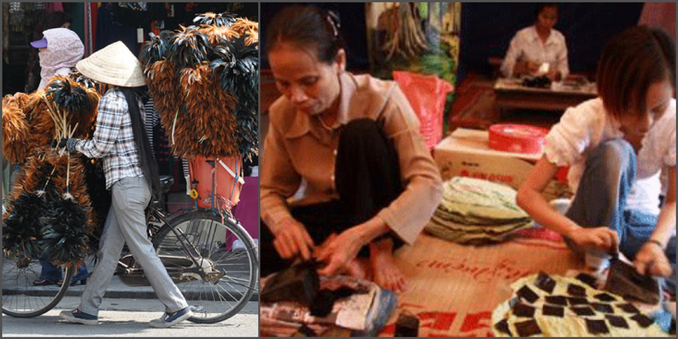 Traditional craft in Hanoi, Vietnam is declining due to rapid industrialisation
As the Francophonie Festival in Islamabad entered its third day, a film festival, showcasing films and documentaries from participating countries, was opened. The first documentary 'NGOAI O – The outskirts of Hanoi' was a short, twenty-four minute narration highlighting the lives of ordinary men and women living in Hanoi, Vietnam.
The city of Hanoi has a long history starting from 1010 when it first became the political center of Vietnam. However, the city's importance subsided from 1802 onwards when Hu? (the imperial capital) gained prominence. Nonetheless, the city regainedeminence and became the capital of French Indochina in 1902 and of North Vietnam in 1976. After the Vietnamese War in 1976 the city again became the capital of the unified Vietnam.
The documentary screened at the Festival aimed to highlight the stories and daily work routines of Vietnamese living on the outskirts of Hanoi. It focused on projecting their struggle to keep up with their traditional work and cultural identities in the face of modernization and urbanization. It also sheds light on the determination and resolve of the local people who prospered despite suffering from war.
Over the past few decades, the thousand-year-old city of Hanoi has expanded tremendously and as industrialization set in, old craft and workmanship lost significance. The documentary shows individuals who live in the outskirts of Hanoi and use skills passed down to them from their ancestors, to earn their livelihood. From food to craft and ceramics, the documentary takes the viewers on a remarkable journey through small villages on the outskirts of the main city. For example, in the village of Bat Trang, which is famous for its ceramics, locals are not only earning a livelihood by creating and painting porcelain, they are also preserving their cultural values that they inherited from their ancestors. Besides that, the film also gave an insight into local festivals that are celebrated. Edibles are an important part of these celebrations, and among them, 'com' (specially processed sticky rice) is a favorite. The men and women publicizedin the documentary epitomize the country's hardworking and resilient population. Their hard work and resilience is also reflected in their efforts to keep ancestral crafts alive.
The locals expressed their concerns regarding the fast pace of urbanization in Hanoi and the influx of cheap, manufactured goods that led to a decline of traditional craft villagesand an increase in environmental pollution. Most of Hanoi's sewage is released into the city outskirts, which is the main source of food for city dwellers.
The documentary raised pertinent questions in relation to maintaining a balance between expansion of urban areas and preserving the years old cultural heritage, while also pointing out that the determination of a few individuals, who are committed to protecting their past values, have kept old traditions alive despite the mushrooming growth of their cities.
You may also like: