THEATRE REVIEW: Anwar Maqsood ka Dharna
Written by: Dr Dushka H. Saiyid - Posted on: November 28, 2014 |

Comments
Google Translation: اُردو | 中文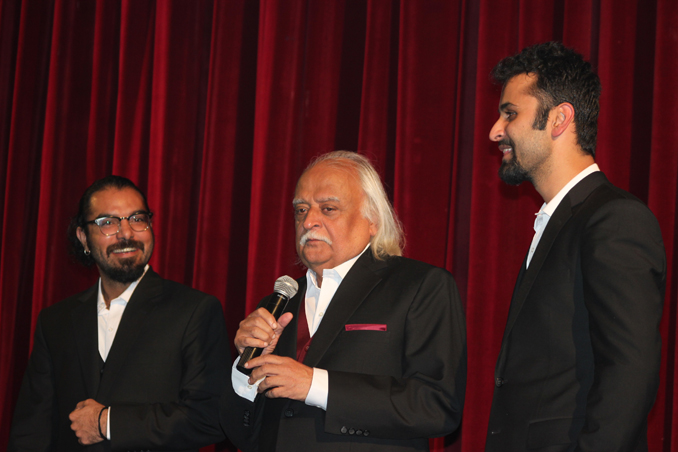 (l-r) Yasir Hussain, Anwar Maqsood and Dawar Mehmood
The runaway success of the August 14 series, a result of collaboration between Anwar Maqsood and the Kopykats continues with this latest offering of Anwar Maqsood ka Dharna. Given that a huge dharna (sit-in) is expected in Islamabad on the 30th of November, the timing couldn't have been better.
The strength of Anwar Maqsood's script is the sharpness of his political satire, but that was missing, and instead what we had was bland and lifeless. It is said that Voltaire's political satires for the theater contributed to creating a climate for the French Revolution, such was the power of his pen. Since the whole nation has been preoccupied with dharnas for the last few months, here was the opportunity to show the inanity of Pakistan's politics. However, Maqsood was happy at reducing the rivalry between the incumbent government and the Pakistan Tehreek-e-Insaaf (PTI) to the PML (N) politician running to the toilet when Imran Khan arrives on the scene, and then asking for bottles of water, as there is no tap in the toilet. Crass, to say the least!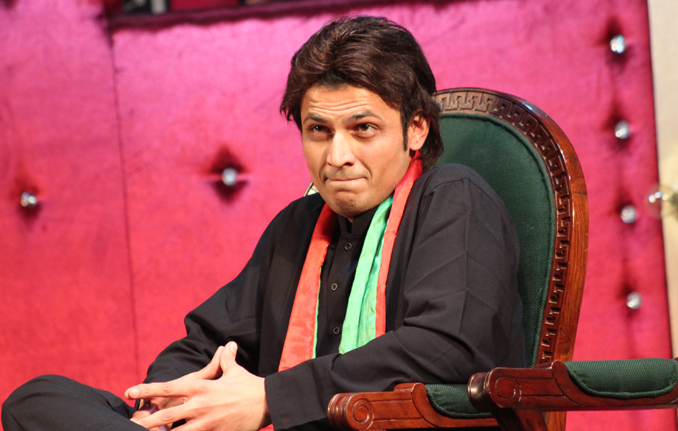 Usman Mukhtar as Imran Khan
The play picks up when Imran Khan makes an appearance. Maqsood's portrayal of him was more nuanced and Usman Mukhtar did a good job of imitating his elocution and mannerisms. The Man of Destiny syndrome of Imran Khan and his popularity with the fairer sex was nicely captured, as also his disdain for the unwashed. The lecherous JUI leader's acting was exaggerated, although the young Sindhi girl, the follower of Bilawal, added the much-needed spunk to the play. Altaf bhai's sonorous and grating speech is also played, and a shrill voiced young Bilawal makes a small appearance.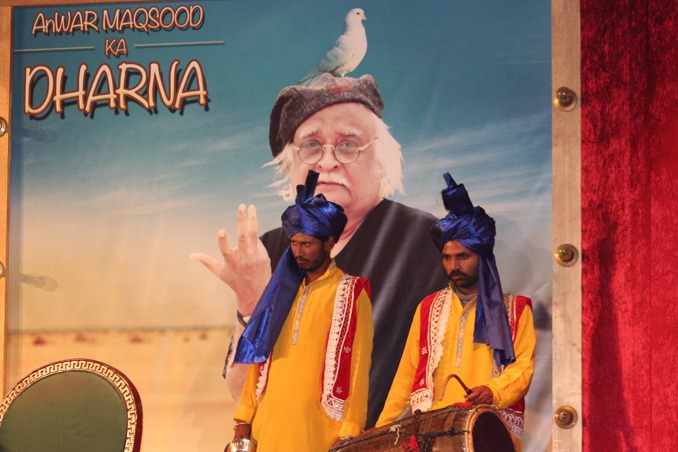 The dhol players
Yasir Hussain's arresting performance has been the piece de resistance of the past productions of the Kopykats; he had decided to join hands with Dawar Mahmood and direct the play, and not act this time. His absence was palpable!
Dharna was an opportunity lost, because Anwar Maqsood had abandoned political satire for farce, and acerbic wit for slapstick humour.

Saqib Sameer as Maulana Fazal-ur-Rehman Yasir Hussain and Dawar Mehmood, directors of Dharna
Related articles:
Click to view related video
You may also like: