Manto Resurrected at PNCA
Written by: Ismail Umar - Posted on: February 04, 2015 |

Comments
Google Translation: اُردو | 中文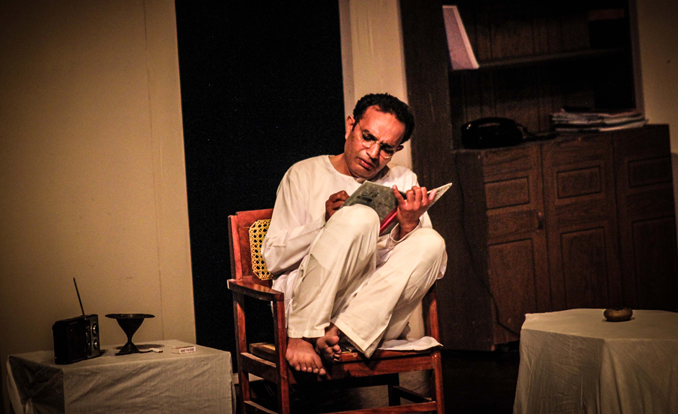 Manto (played by Afzaal Nabi)
A play based on Saadat Hasan Manto's life was staged here at Pakistan National Council of Arts (PNCA), on Tuesday 3rd February 2015. 'Manto se Miliye', written by Dr. Shaista Nuzhat, highlighted the legacy of the renowned Urdu Short Story writer and paid a befitting tribute to him.
Conceived and directed by Afzaal Nabi, the play depicts Manto's life, struggles and achievements. Although Manto is widely read, he is remarked as a controversial fiction writer who was at least half a century ahead of his contemporaries.
Afzaal Nabi plays the lead character and portrays the famous Manto on stage. The play depicts his life in Lahore, where he resided with his wife and children and wrote short stories to earn a living. The performances kept the audience engaged as they delved into the celebrated author's life. The play opens to a scene set in Manto's house in Lahore, where he resided after partition. It begins with a monologue where Manto is heard sharing his post-death experience. The mention of Mirza Ghalib and the subsequent conversation between them drew applause from the crowd.
As the play progresses, Manto (played by Afzaal Nabi) is shown seated in an awkward position while composing his short stories and listening to snatches of 'thumri'. The compulsion for writing, it could be ascertained, came from the worsening financial situation at home and to sustain the habit of smoking the best cigars and sipping on the finest whiskey.
His wife, a polite woman, found her husband's habits in bad taste, but despite her best efforts, could not convince him to get rid of them. She constantly worried about Manto's health, as well as the accusations of vulgarity made against him.
Manto, through his writings, explored all topics relating to human existence and did not adhere to societal taboos. He attempted to surface the stories of prostitutes and highlight the subversive sexual slavery of women from his times. While dealing with topics such as love, sex, incest and prostitution, Manto practiced no caution to conceal or hide facts. Using satirical references and a touch of humor, the performers also condemned allegations on Manto's bold writings.
Narmeen, a literature and theatre enthusiast, commented, "While other authors of that era were focusing on writing about love, Manto chose to highlight the vices of our society. He brought to light the truth and hypocrisy of our people and society at large. I think Manto's work is relevant to our society and country even today and perhaps that is why there is a lot of focus on rediscovering Manto these days."
As the curtains drew, Manto narrated the last few lines from his short story, "Khol do" and repeated his own words, "I am not the source of vulgarity, but instead what I write about is vulgar."
Who is Saadat Hasan Manto?
You may also like: