Figurative and Landscape Artwork at Tanzara Gallery
Written by: Ismail Umar - Posted on: November 28, 2014 |

Comments
Google Translation: اُردو | 中文
Ali Azmat masterfully uses figures and forms to convey his message to the viewer
An exhibition featuring recent works by two distinguished artists, Mughees Riaz and Ali Azmat, opened at the Tanzara Gallery on Thursday. Both artists are internationally renowned and their works are found in public as well as private collections worldwide.
Landscapes are the predominant theme in Mughees Riaz's works, which are based on the direct observation of nature. He has a knack for bringing to life any animate or inanimate object that he creates through his paintbrush. Buffalos, camels and horses are often the centerpiece of his paintings. The striking quality of his art is that it infuses a ruminative and introspective mood in the viewer through the use of captivating landscapes. "The strange dawns and sunsets, the water, changing colours, the sky spreading alone without support, the beginning of a new day, with light converting into darkness and the night transferring into daylight, there is a deep pathos, hidden in all this," Riaz comments on his work.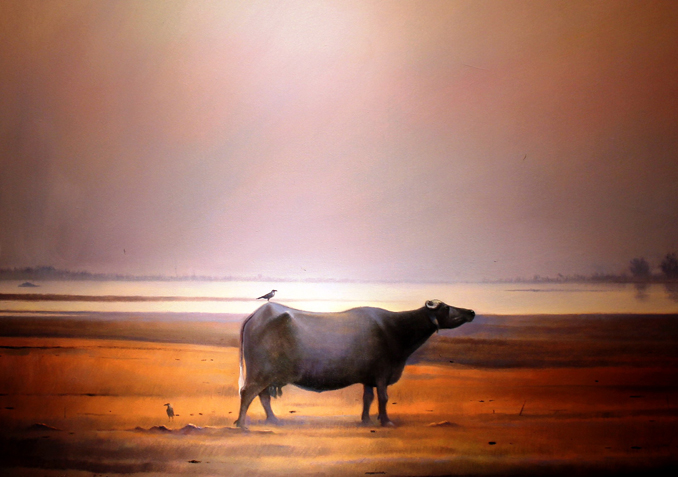 Animals are often the centerpiece of Mughees Riaz's paintings
While Mughees Riaz focuses on landscapes, Ali Azmat specializes in figurative art. He masterfully uses figures and forms to convey his emotions and share his insights on the philosophy of life, which has made him one of most celebrated figurative artists in Pakistan. His current series, titled "ADAptability", is his first venture in Islamabad. It is extremely innovative as it features a collaboration with his 4 year old daughter, Ada, giving his artwork a whole new dimension.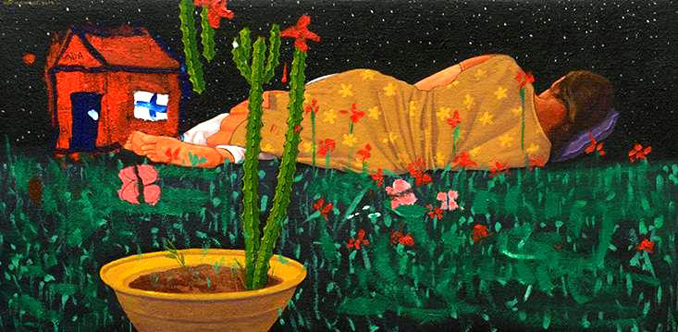 Azmat's meticulous artwork makes a wonderful contrast against Ada's nonchalant brushstrokes
"How sacred is a work of art? Can someone else touch my paintings? Or even paint over them? What if two or more artists work together to produce one work of art? This idea remained inside me, until I thought to take it further. Why not explore it through a series of paintings by myself in collaboration with my 4 year old daughter, Ada?" Azmat explains how the idea of collaborating with his daughter sprang up. "I allowed her to paint on my canvases. I decided that whatever she will draw or paint, I will use as part of my work". Azmat's meticulous and intricate artwork makes a wonderful contrast against Ada's carefree and nonchalant brushstrokes. Together, the father and daughter create magic.
The exhibition will continue at the Tanzara Gallery till 8th December.
You may also like: