Unravelling the mystery of the Infinite - Raazia Chandoo
- Posted on: February 28, 2014 |

Comments
Google Translation: اُردو | 中文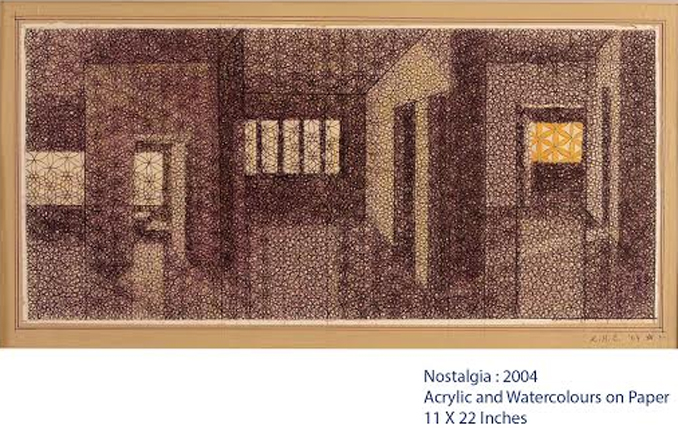 The "mysterious" is the object of contemplation, and also perhaps admiration, in the works of Raazia Chandoo, which are displayed in an exhibition, by "My Art World" at Café Soul, Islamabad.
The repetitive patterns of Islamic geometry on the canvases are, perhaps, an attempt to liberate the thinking of the artist herself and the viewers alike, just as the rituals (repetitive acts) in Islam, or any another religion for that matter, are supposed to. The dance of a dervish springs to mind, who by his whirling dance, in unison with other dancers, forms a pattern – a pattern which disentangles the soul from the material world and transports him to the realm of the "mysterious".
The works create a disturbance - eeriness, where through the maze of repetitive patterns one is able to see doors, stairs and windows. The "openings" are, perhaps, a way out of the current mental constraints – a way out of the current shallow existence. By exploring the depth and by letting the light in through the open space, an individual can identify the infinite energy that permeates everything around us – and which permeates our very existence.
The exhibition will run on till the 13th of March at Café Soul.
You may also like: