24/7: Young talent at Satrang Art Gallery
Written by: Sana Shahid
Posted on: May 19, 2016 |

Comments | 中文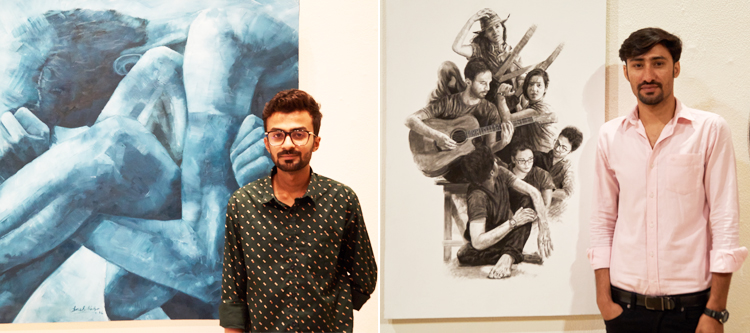 Anas Abro with his painting &nbs
The culture of artist residency programmes is growing in Pakistan. It is an effective support system for emerging artists that has proved to be a huge success in the art world. The promotion of such art activities has been undertaken by Tahir Bin Qalunder, who runs a non-profit organization known as 'Studio BQ'. In addition to providing a platform for the sharing of art and ideas, the organization hosts the annual Studio BQ Artist Residency in Lahore.
This year, seven artists were selected, belonging to different cities and art institutions from all over Pakistan. They included Alina Akbar and Javeria Khan from NCA Rawalpindi; Mirza Zeeshan Hussain from NCA Lahore; Atia Javed and Javaid Iqbal from University College of Arts & Design, Lahore; Anas Abro from Center of Excellence in Arts & Design, Jamshoro; and Noreen Ali from Indus Valley School, Karachi. This year's residency concluded with an exemplary exhibition, curated by Aasim Akhtar at Satrang Art Gallery in Islamabad, on 17th May 2016.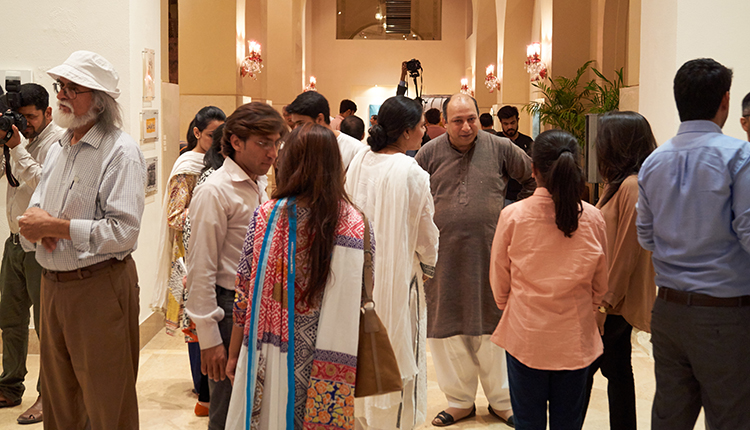 Curator Aasim Akhtar greeting visitors
The director of the gallery, Asma Khan stated, "This is the first residency exhibition taking place at the gallery, and it aims to provide an artistic delight to all art lovers in Islamabad. These artists have worked on new concepts and set an example by creating new synergies".
The exhibition is a blend of diverse mediums and ideas, and is truly a treat to witness. The energy of progression can be seen in all of the artists' works, along with their tremendous skill.
Alina Akbar has introduced a new perspective in her work by portraying the artists who visit the studio for artists' discussions. Her drawings exude exceptional talent and take viewers on a journey through the residency. The contemporary use of calligraphy adds a unique layer to her work.
Anas Abro has also explored new territory in the art world during his stay. His figures appear to be in a great deal of stress, and are trying to break through it. One can almost feel their anxiety through the strokes of paint and the admirable use of the colour palette.
Atia Javaid disengages the usable items of our daily lives and assembles them in unique arrangements, to represent things that are right in front of you but cannot be attained.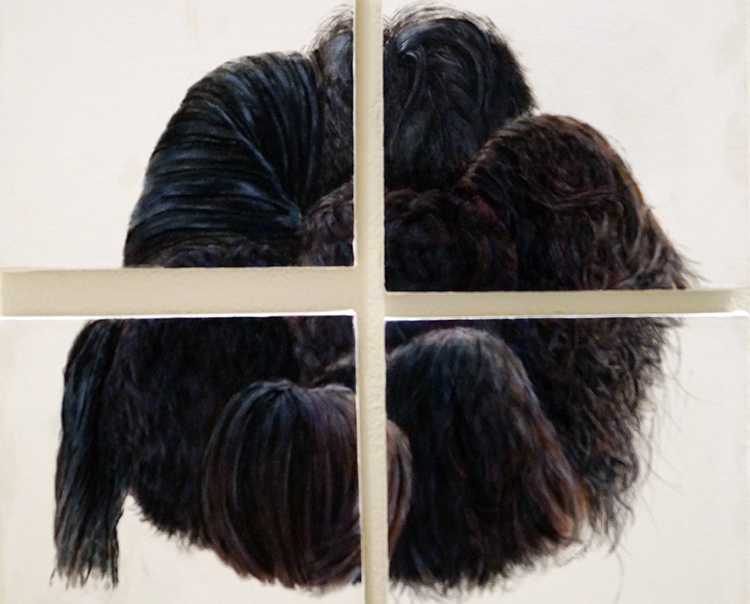 Javaid Iqbal Mughal's work (ink on canvas)
Javaid Iqbal has painted the resident artists in different yoga postures, which was part of the activities during the residency. The overlapping, easily recognizable figures, combined with the playful use of light and dark, lead to captivating compositions.
Javeria Khan's contemporary light boxes full of traditional patterns had a stark presence in the show. These designs were taken from the historic buildings of Lahore and then preserved in interactive boxes, to be explored through peepholes.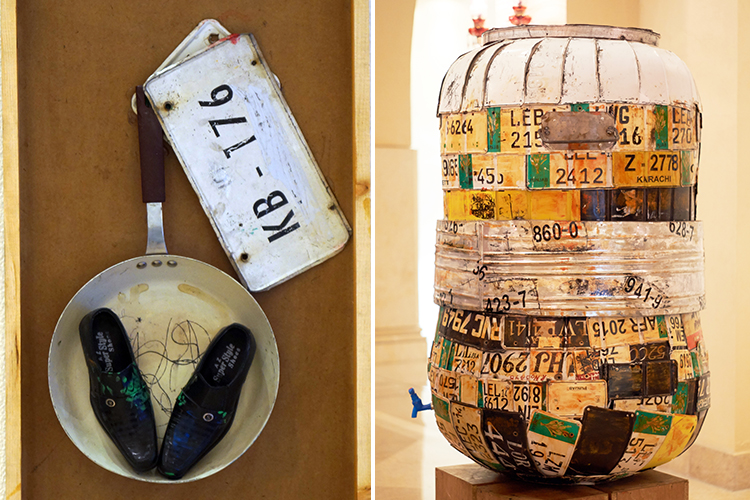 Noreen Ali's unique artworks
Noreen Ali has collected license plates from all over Pakistan, and produced expressive assemblages with them. While searching for these plates, she explored different regions and their history, which has added a great deal of depth to her work.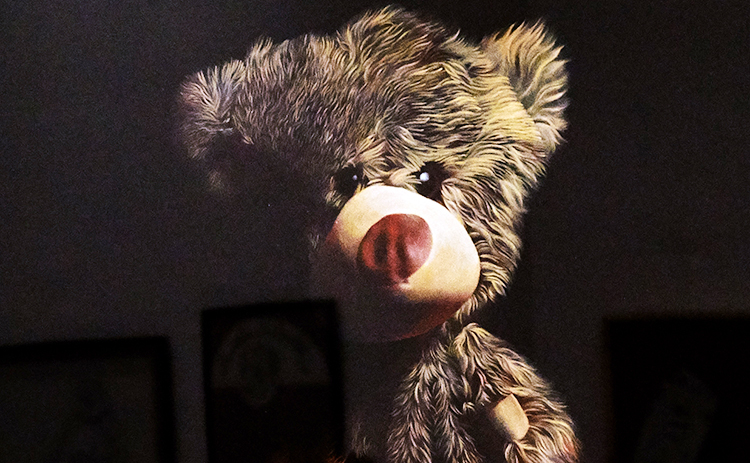 Zeeshan Hussain's artwork (Gouache on wasli)
Zeeshan Hussain decided to work in bold, yet careful strokes. The fur of his painted teddy bears looks incredibly realistic, showcasing exceptional control and attention to detail. The idea was to bring back childhood memories in a world of rapidly growing technology, where kids play with digital toys instead of physical ones.
"The purpose of residencies is to allow people to initiate a dialogue on art, to have an exchange of ideas, and also enable the artists to explore their immediate environment concerning art", said Curator Aasim Akhtar. "Each one of the artists has made the best of this opportunity – and the result is self-evident".
Tahir Bin Qalunder, the Studio Director, expressed his admiration for the young artists' work: "I want to promote all the emerging talent that exists in our country, and will do the best I can to help them show their ability to the world".
Following the three-day preview in Islamabad, 24/7 is traveling to Lahore to display the artists' out-of-the-box techniques and their re-evaluation of conventional artistic practices.
You may also like: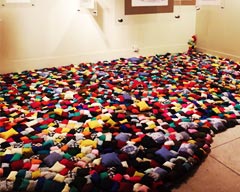 NCA Rawalpindi Degree Show 2017
(January 17, 2018)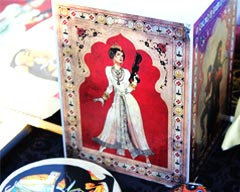 Winter Fete, Islamabad
(January 09, 2018)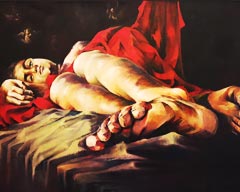 Review: 9th National Exhibition at PNCA
(January 02, 2018)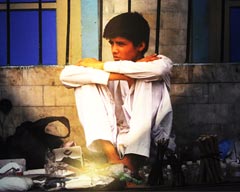 Yeh Hai Karachi 2: Photography and Film Exhibition
(December 20, 2017)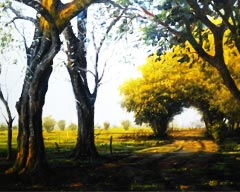 Art Review: Punjab Romanticism by Zulfiqar Ali Zulfi at Tanzara Gallery, Islamabad
(December 18, 2017)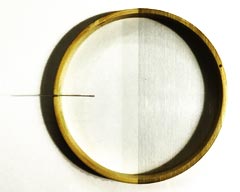 Art Review: Reading Between the Lines at Sanat Initiative, Karachi
(December 05, 2017)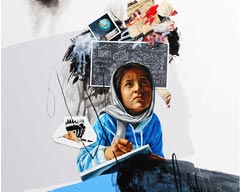 Art Review: The Onrushing 2 at Gallery 6, Islamabad
(December 04, 2017)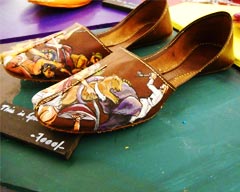 Daachi Arts and Crafts Exhibition 2017
(November 13, 2017)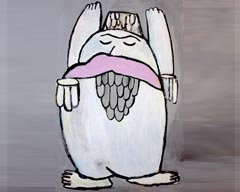 Art Review: 'Loompaland' at Studio Seven, Karachi
(November 09, 2017)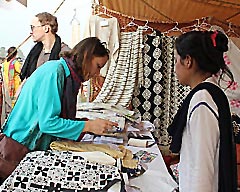 The Behbud Bazaar, Islamabad
(November 07, 2017)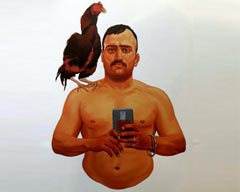 The Karachi Biennale 2017 (KB17)
(October 27, 2017)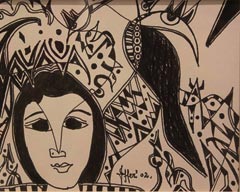 Wahab Jaffer Exhibition Opens at Tanzara Gallery, Islamabad
(October 20, 2017)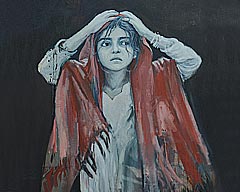 Art Review: Socio-Domestic at O Art Space, Lahore
(October 11, 2017)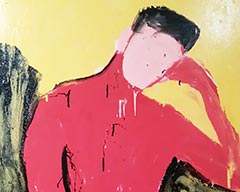 Art Review: 'Insta Loves II,' by Abdullah Qureshi at Satrang Art Gallery
(October 06, 2017)