Heritage Based Urbanism: A Development Model for Lahore?
Written by: Mahnaz Shujrah
Posted on: September 13, 2017 |

Comments | 中文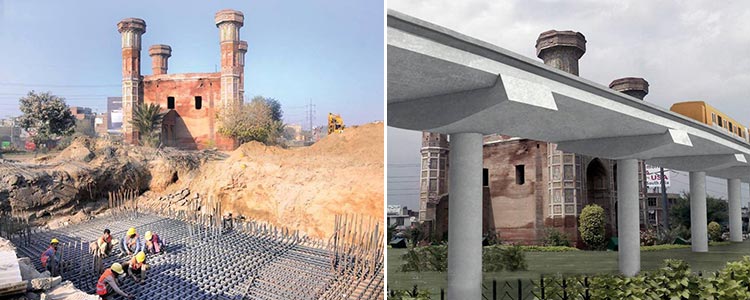 (L) Orange Line under construction next to Chauburji, (R) Projected Image of Orange Line passing near Chauburji (source, OCCO)
Like-minded individuals came together for a panel discussion on the topic 'Heritage Based Urbanism: A Development Model for Lahore?" last Friday at The Last Word, Lahore. The talk focused on Lahore, one of the heritage-rich cities of Pakistan, currently undergoing rapid development; making this a highly relevant issue.
Attiq Ahmed, an architect by profession, who graduated from the National College of Arts (NCA) and is now teaching there as an associate professor, led the discussion. With a Masters in Urban Planning from Columbia University, he is currently the CEO of Architectural Engineering and Design Limited (AEDL) and founder of Office of Conservation and Community Outreach (OCCO). OCCO attempts to bring together individuals from different professions including policy, research, design and construction, with the aim of creating a more holistic Lahore Heritage Plan.
The discussion panel included many renowned personalities who have actively contributed to heritage conservation; the esteemed architect, Nayyar Ali Dada; pioneering female architect and conservation specialist, Yasmin Cheema; the lawyers, Ali Zafar and Huma Ejaz Zaman from Mandviwalla and Zafar; and the urban specialist, Reza Ali.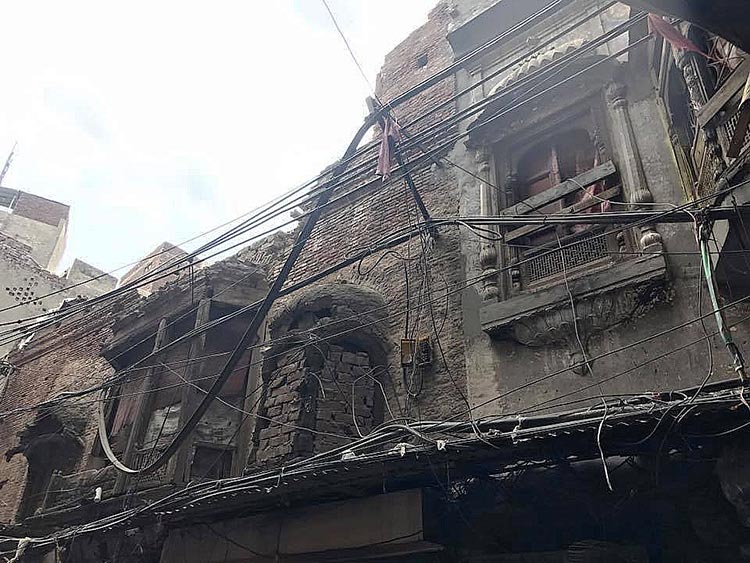 Crumbling Heritage (source: OCCO)
The evening started off with Attiq Ahmed presenting a slideshow of images about the city of Lahore, both before and after development. A montage focusing particularly on the negligence faced by historic places such as increasing encroachments, crumbling neighborhoods and hasty reconstructions, was played next. Places which aren't as widely known, including the historic town homes at the back of the Mall Road, and the shrines within the Cantonment area, have also decayed.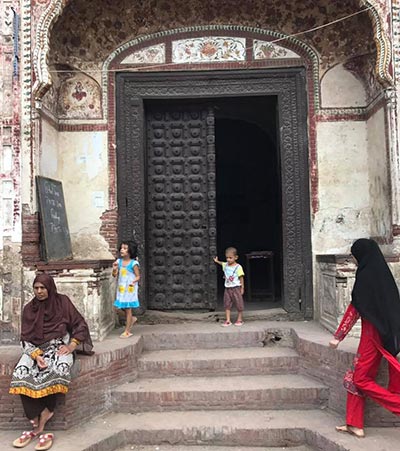 One of the havelis that should be conserved (source: OCCO)
Once the issue was established as a vital one by Ahmed, the first question posed was, "What is Lahore?" Is it just the buildings and sites within a confined boundary or is it also the residents of that area? Ahmad and the panelists were adamant that before we can begin preserving our heritage, we have to understand that the character and essence of a city is not just in its appearance, but also in the communities that inhabit it and bring the cities to life.
Ahmed then handed over the floor to the panelists, and the discussion kicked off with how urban planning within Pakistan suffers from bureaucratic issues. Since power is divided amongst various authorities, such as provincial government, city administration and housing schemes, complications in decision-making arise. As Reza Ali pointed out, financial gain rather than conservation seems to be the priority.
Ali Zafar said laws (Antiquities Act 1975) do exist for the protection of certain historic sites, and forbidding construction within a certain radius of the site is one such law. However, despite these laws, new plazas and towers keep emerging around historic places, overshadowing and crowding out the historic sites.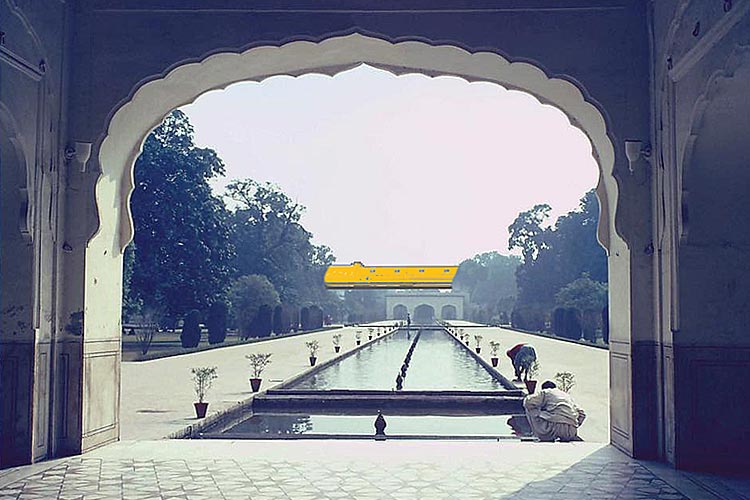 Projected image of the Orange Line marring the aesthetics of Shalimar Gardens (Source: OCCO)
While the first world may boast many successful models of heritage preservation, proper restoration has also been carried out in developing countries. Yasmin Cheema noted that since all buildings cannot be saved, timely identification of those that can be is extremely important. The Green Line Bus in Karachi integrates the 118 historic buildings on both sides, instead of cutting through them; proving that two distinct infrastructures can coexist. The idea of 'adapted re-use,' in which a building is restored to serve a different function, was proposed by Nayyar Ali Dada as another possible solution. An example of this is the restoration of the Mohatta Building in Karachi, which now houses the Head Office of Standard Chartered Bank Ltd. While the exterior of the historic structure has been preserved, modern interior exists within.
Towards the end of the discussion, the role of citizens and youth was strongly emphasized in resisting policies that threaten and diminish the centrality of our heritage sites. Huma Ejaz reminded the audience that with the rise of social media, the public has become a powerful stakeholder in decision making. A member of the audience rightly pointed out that only now, when issues like the Orange Line damaging Chauburji have emerged, do citizens of Lahore realize that their own heritage is threatened.
Various issues were addressed during the discussion, but unfortunately no concrete plan was proposed, as the speakers were simply laying the ground work in this first of a series of conversations. However, it was fully established that preserving our heritage and development aren't mutually exclusive. While some people hunt for replacements, some struggle to save their cities. Which one are you?
All images of the talk provided by photographer Sajjad Agha.
You may also like: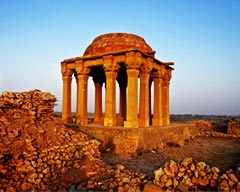 Tales from Thatta: Makli Necropolis
(January 15, 2018)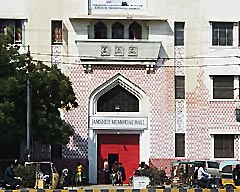 Jamshed Memorial Hall (Karachi Theosophical Society Hall)
(December 14, 2017)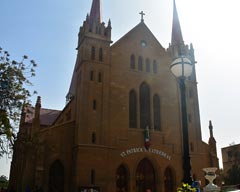 The Architectural Wonder of St. Patrick's Cathedral
(November 29, 2017)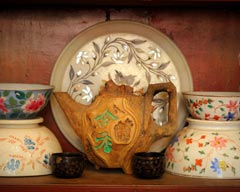 The Treasure of Faqir Khana
(October 23, 2017)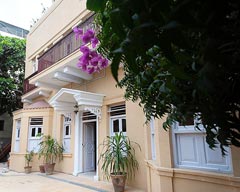 TDF Ghar - Reminiscing Karachi's Cultural History
(October 04, 2017)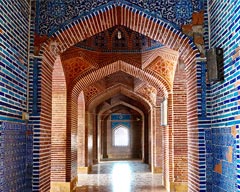 Tales from Thatta: Shah Jahan Mosque
(September 12, 2017)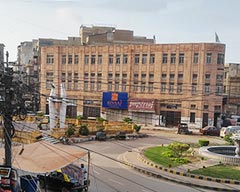 The Pakistan Chowk Initiative
(August 28, 2017)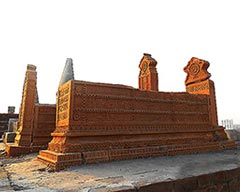 Lost Narratives: 'Sateen Jo Aastan'
(August 24, 2017)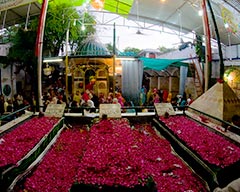 The Shrine of Bibi Pak Daman
(July 20, 2017)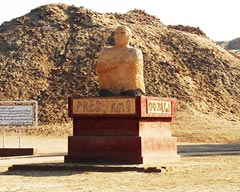 Mohenjo Daro: An Ancient Gem of the Indus Valley Civilization
(June 12, 2017)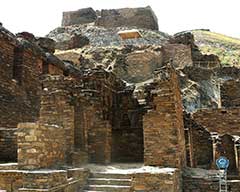 Takht-i-Bahi, an Icon of the Ancient Buddhist Civilization
(March 30, 2017)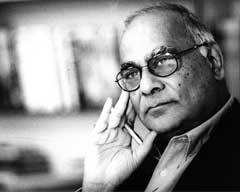 Remembering Habib Fida Ali
(January 09, 2017)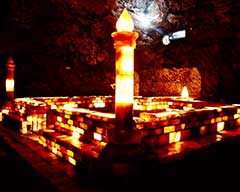 The Salts of Time: Inside the Khewra Mine
(January 06, 2017)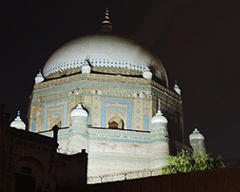 Pulsating Markers of Our Past: Sufi Shrines in South Punjab and Sindh
(December 11, 2016)