Art by Prisoners on Death Row – Alliance française de Karachi
Written by: Tehreem Mahboob Alam
Posted on: July 11, 2017 |

Comments | 中文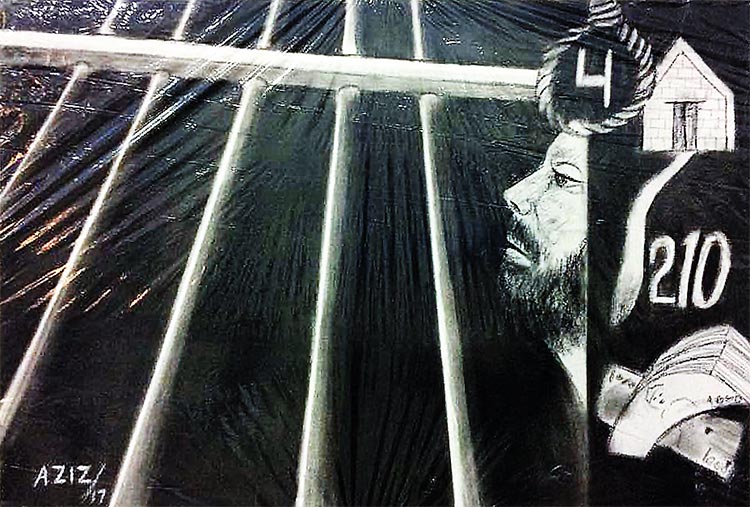 Charcoal Sketch by Aziz - a prisoner on Death Row
A charcoal smeared canvas depicts a man behind bars, with 201 written beside him. A noose encircling the number 4 hangs near the man's head. At the bottom right, bundles of money have been sketched.
This is the canvas created by Aziz, an inmate of Central Jail Karachi, who was imprisoned for murder, kidnapping and bombing. He finds that art has transformed him and according to his jailer, he has repented for his past sins. However, Aziz is fully aware that he should be imprisoned for 210 years, and hanged 4 times, if justice is to be served, and this is the reality his painting depicts. In his own words, "I once used the language of Kalashnikov. Now I use the language of canvas and brush."
Prisoners such as Aziz have their work displayed at a remarkable art exhibition happening at the Alliance française de Karachi Karachi. Inaugurated on Saturday, 8th July 2017, by Monsieur Francois Dall'Orso, the Consul General of France, the exhibition is titled, "Bastille to Karachi Jail." The exhibition will conclude on 14th July, the anniversary of Bastille Day, hence the name. Around 15 prisoners of the Central Jail have produced 60 canvases, to demonstrate their reformation through art.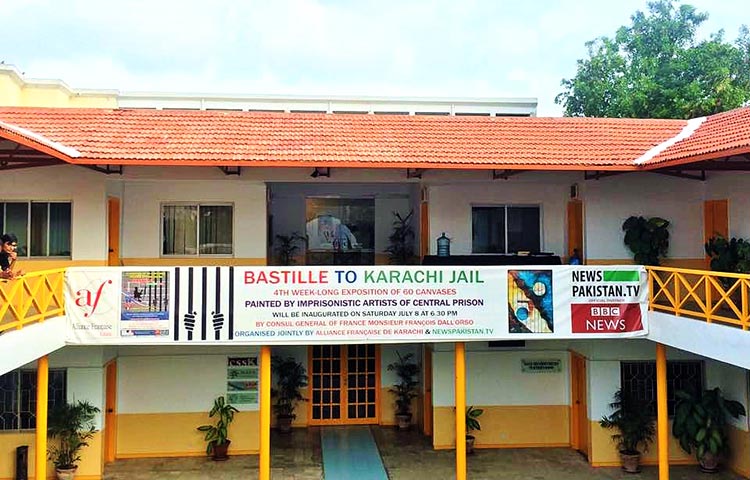 Alliance française de Karachi
From the perspective of someone with no insight on the initiative, prison art may be stereotyped as the work of angry prisoners being forced to paint who have no real respect for art. But in fact, the prisoners of Central Jail Karachi have been honing their artistic abilities for a long time now. Art classes commenced in the prison, back in 2008, with full support of Nusrat Mangan, Prison Superintendent at the time and currently Sindh Inspector General Prison. An artist from Mohenjo Daro, Sikandar Jogi, was hired for the purpose of teaching and now supervises the school. Under his auspices, two prisoners - Hasnain Raza and Ali Bugti - have turned into teachers of art. Not only are the prisoners taught art and painting, but also crafts like pottery and carpet weaving. Languages, such as the English language, are also part of their curriculum.
Painting by Raza (L), 'Insaf' by Fazal (R)
It should be noted that, The Central Jail School of Fine Arts and Music, would not have been possible without the support of French Diplomats. The school plays a significant role in helping prisoners cope with life behind bars. But more importantly, it allows them to obtain degrees and certificates which help reduce their sentences.
The first proper display of the prisoner's paintings was held 4 years ago at the Karachi prison, and generated almost zero revenue. However, the French Consul General of the time bought a single painting and this began a commendable collaboration between the French Consulate and the Prison Fine Arts School. On Saturday, 7 paintings were sold within half an hour of the inaugural ceremony.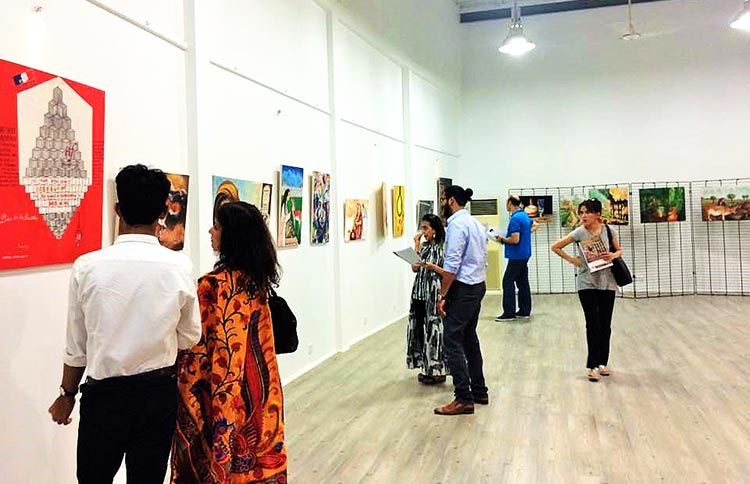 Visitors at the 'Bastille to Karachi Jail' exhibition
The ongoing exhibition, "Bastille to Karachi Jail," is the 4th such exhibition to take place in the Alliance française de Karachi which gives visitors a chance to view the art of prisoners up-close. The exhibit advocates that deadly prisoners can be reformed through artistic initiatives and humanizes them in the eyes of visitors. The artists include prisoners accused of murder, fraud and even bombing, with one prisoner accused of killing 800 people. The exhibition can be especially life-altering for prisoners who have a shot at freedom, since it pushes people to change their perspective and stop reducing the accused to their felonies.
Coming to the art on display, it can be called reformist in content despite its pragmatism. Even though there were no descriptions alongside the paintings, the work left viewers in awe, because of what was up for interpretation. One of the most striking paintings, by Hasnain Raza, depicted a game of snakes and ladders (Canvas #42). His shrewd insight was visible from the title, 'Game of Life,' and the bold alert sign he had painted with the phrase, 'Beware of Snakes.' Not only was there an intellectual depth to this work, it was also aesthetically rich.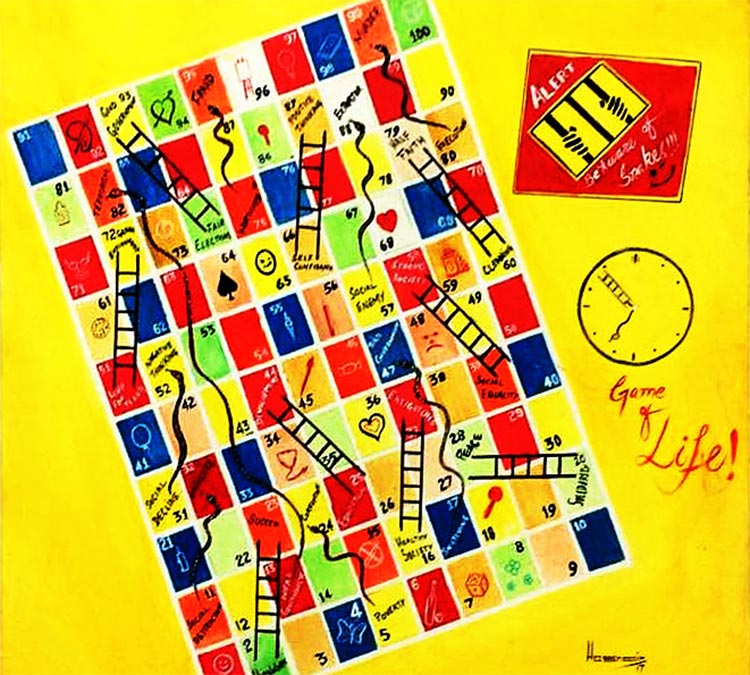 'Game of Life' by Hasnain Raza
The captivating works can be said to directly contrast the mundane prison life. Art has clearly become a means for the prisoners to imagine the world outside. To this end, prisoners Allahbadiyo and Bilal have painted picturesque canvases, showing fields, villages and beautiful meadows. Other paintings show damsels in distress, indicating that prisoners worry about the difficult lives of their wives and families, and yearn to be there for them. Such art demonstrates their conflicted lives.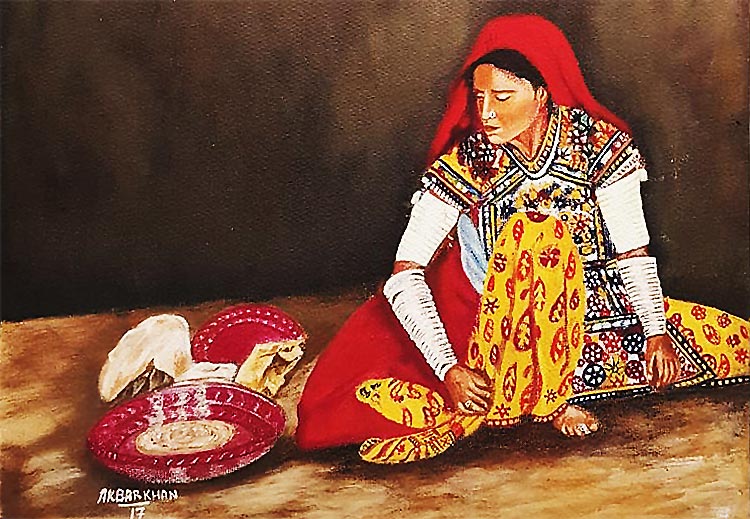 Painting by Akbar Khan
Some captives explicitly narrate the want for escape through their paintings, such as the prisoner, Javed. His painting, 'Limbo,' shows a man behind bars, with a paintbrush separating him from a fire ball. The title indicates the indeterminate state in which he is stuck, with the fire symbolizing his impending doom, and art protecting him. In one painting the word 'insaaf' (justice) is placed behind bars with a huge lock covering the entire canvas while in yet another bloody footprints leading to a noose hanging are being rubbed away by an eraser.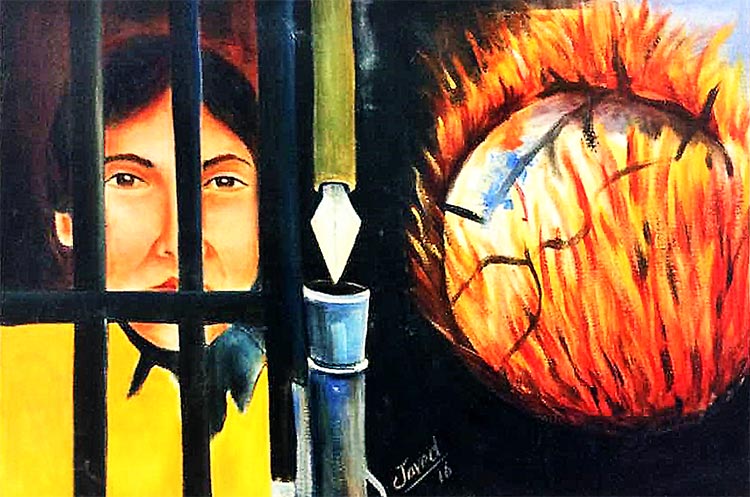 'Limbo' by Javed
Ranging from Rs. 3000 to 40,000; the paintings have been made using oils, charcoals and even embroidery. "Bastille to Karachi Jail," is a wonderful and thought-provoking exhibition, with refreshing clarity and candor being displayed in the paintings. Each viewing reveals a further layer of intricacy and complex sub-text of a subversive nature. The paintings contain stories of bygone days, as well as an extraordinary effort on the part of prisoners to escape the bleakness of their world. All proceeds from the paintings go to the prisoners, who use the money to support their families. The exhibition concludes on 14th July.
You may also like: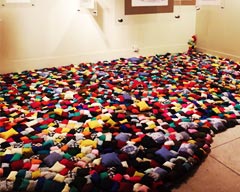 NCA Rawalpindi Degree Show 2017
(January 17, 2018)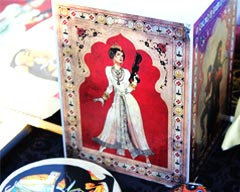 Winter Fete, Islamabad
(January 09, 2018)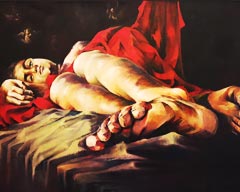 Review: 9th National Exhibition at PNCA
(January 02, 2018)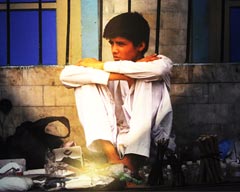 Yeh Hai Karachi 2: Photography and Film Exhibition
(December 20, 2017)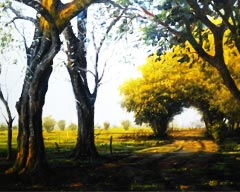 Art Review: Punjab Romanticism by Zulfiqar Ali Zulfi at Tanzara Gallery, Islamabad
(December 18, 2017)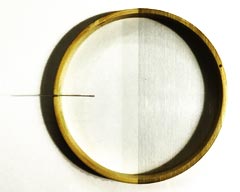 Art Review: Reading Between the Lines at Sanat Initiative, Karachi
(December 05, 2017)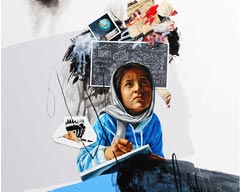 Art Review: The Onrushing 2 at Gallery 6, Islamabad
(December 04, 2017)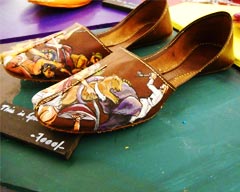 Daachi Arts and Crafts Exhibition 2017
(November 13, 2017)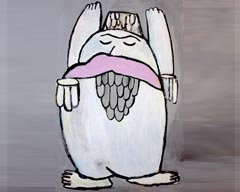 Art Review: 'Loompaland' at Studio Seven, Karachi
(November 09, 2017)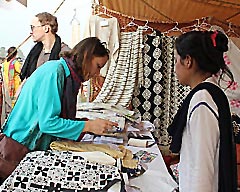 The Behbud Bazaar, Islamabad
(November 07, 2017)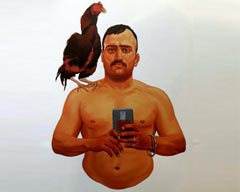 The Karachi Biennale 2017 (KB17)
(October 27, 2017)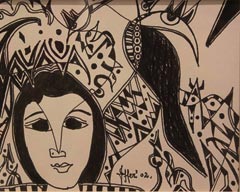 Wahab Jaffer Exhibition Opens at Tanzara Gallery, Islamabad
(October 20, 2017)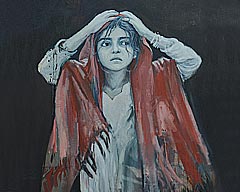 Art Review: Socio-Domestic at O Art Space, Lahore
(October 11, 2017)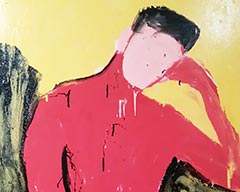 Art Review: 'Insta Loves II,' by Abdullah Qureshi at Satrang Art Gallery
(October 06, 2017)