Group Show 'Illusion of Reality' at Satrang Art Gallery
Written by: Zainab Hasan
Posted on: March 31, 2017 |

Comments | 中文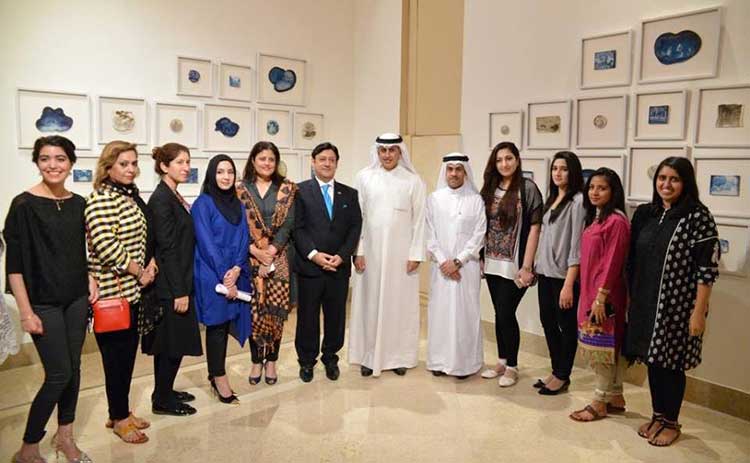 H.E. Zayed Bin Rashid Al Zayani with Director Satrang Gallery Asma Rashid Khan along with artists and guests at the exhibition
An exhibition titled Illusion of Reality opened at the Satrang Art Gallery on Tuesday, featuring diverse artworks by Sana Durrani, Ayesha Rumi and Minaa Haroon. The show was inaugurated by H.E. Zayed Bin Rashid Al Zayani, the Minister of Industry, Commerce and Tourism, Bahrain, and it showcased the talent of graduates of the Beaconhouse National University (BNU) master's programme.
"The works in the gallery resemble small format jewel-like miniature paintings, covering the gallery's walls and inviting the viewer to step closer and gaze at the intimate pieces, ranging from lightboxes to photographic prints and cardboard", comments Zahra Khan, the curator of the show.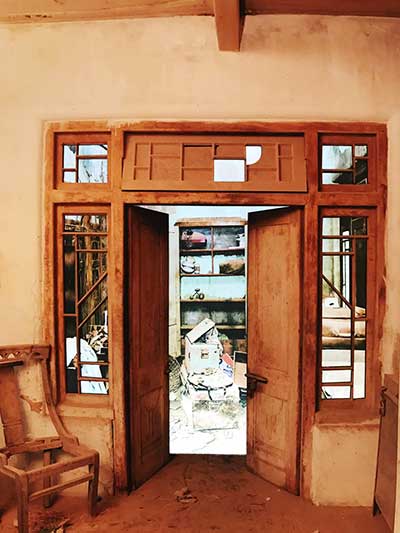 'Windows to the Past - I' - Sana Durrani
The three artists have employed innovative techniques and mixed media to explore the idea of space in unique ways. Sana Durrani's work draws on her experience visiting her own abandoned house, to reflect on how an artist's engagement with a personal space generates multiple transformative experiences. "My intention is to promote an intuitive and spiritual understanding of a reality, which encouraged me to question how spaces respond to humans and how humans respond to spaces," she says.
On the contrary, Ayesha Rumi expresses her belief that the world and everything around us is constantly evolving. "I approach visual arts as a set of experiments that test whether ideas such as authorship, nationality, borders, and democracy adequately describe today's increasingly global and consumerist society. My hybrid works – often a unique mix of sculpture, photography, performance, painting and video – explore the physical and conceptual act of mark-making and its survival through traces."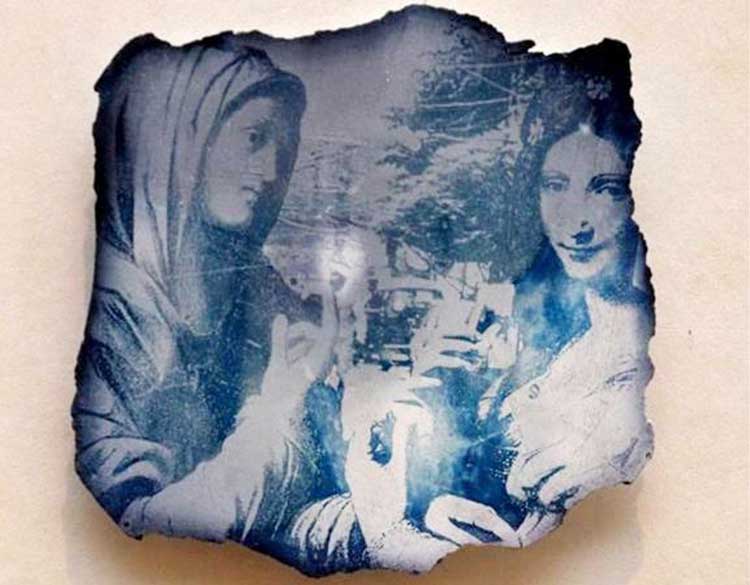 'Realities of Reality' - Ayesha Rumi
According to Minaa Haroon, the relationship between human beings and urban spaces is quite complex, and has an integral role to play in our evolution. "An architectural space holds the tangible and intangible layers of experiences and memories of the humans at various levels", she explains. "This massing of paper in these works creates intricate models of urban landscapes inspired by the architectural density of the different cities that I have visited earlier." Made with handmade paper on paper and tea washes, Minaa's work makes use of boxes to illustrate objects such as windows and doors, resulting in an intriguing arrangement of intricate spaces in an abstract composition.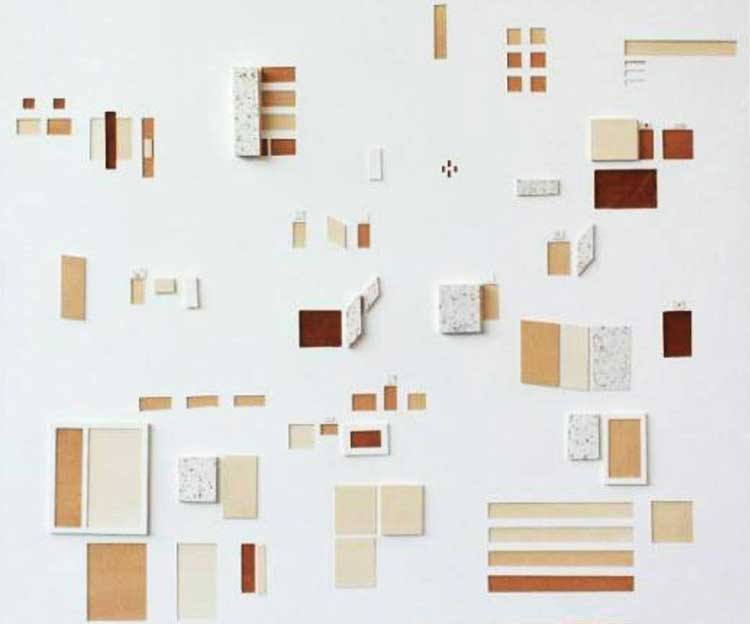 'Out of City - I' - Minaa Haroon
"I am so proud to see this exhibition at Satrang Gallery", exclaimed Asma Rashid Khan, the director of Satrang. "When I saw the work of Sana, Ayesha and Minaa during their thesis exhibitions, I was thoroughly impressed with the delicacy, innovativeness and execution of their artistic processes and designs, which have now culminated in Illusion of Reality".
The exhibition features some truly unique art pieces, and is expected to continue for a month.
You may also like: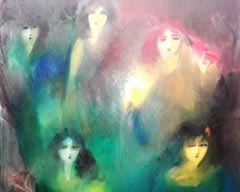 Art Review: Raja Changez Sultan at Tanzara Gallery
(January 19, 2018)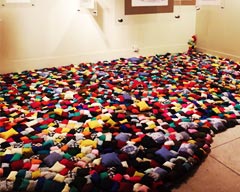 NCA Rawalpindi Degree Show 2017
(January 17, 2018)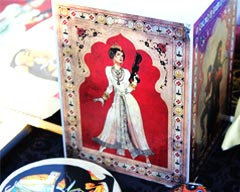 Winter Fete, Islamabad
(January 09, 2018)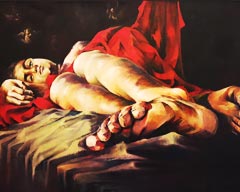 Review: 9th National Exhibition at PNCA
(January 02, 2018)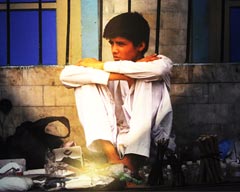 Yeh Hai Karachi 2: Photography and Film Exhibition
(December 20, 2017)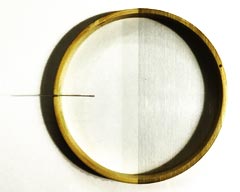 Art Review: Reading Between the Lines at Sanat Initiative, Karachi
(December 05, 2017)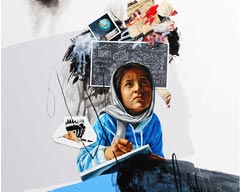 Art Review: The Onrushing 2 at Gallery 6, Islamabad
(December 04, 2017)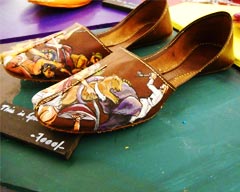 Daachi Arts and Crafts Exhibition 2017
(November 13, 2017)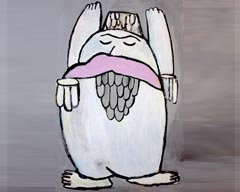 Art Review: 'Loompaland' at Studio Seven, Karachi
(November 09, 2017)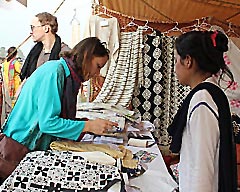 The Behbud Bazaar, Islamabad
(November 07, 2017)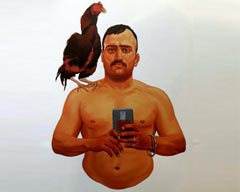 The Karachi Biennale 2017 (KB17)
(October 27, 2017)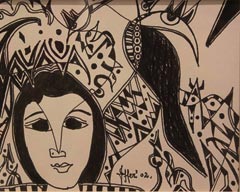 Wahab Jaffer Exhibition Opens at Tanzara Gallery, Islamabad
(October 20, 2017)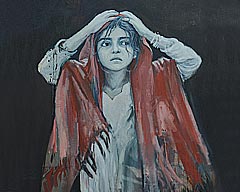 Art Review: Socio-Domestic at O Art Space, Lahore
(October 11, 2017)