Baad-e-Saba: A Grand Exhibition by Artists of Sindh at Art Scene Gallery
Written by: Nageen Shaikh
Posted on: June 20, 2017 |

Comments | 中文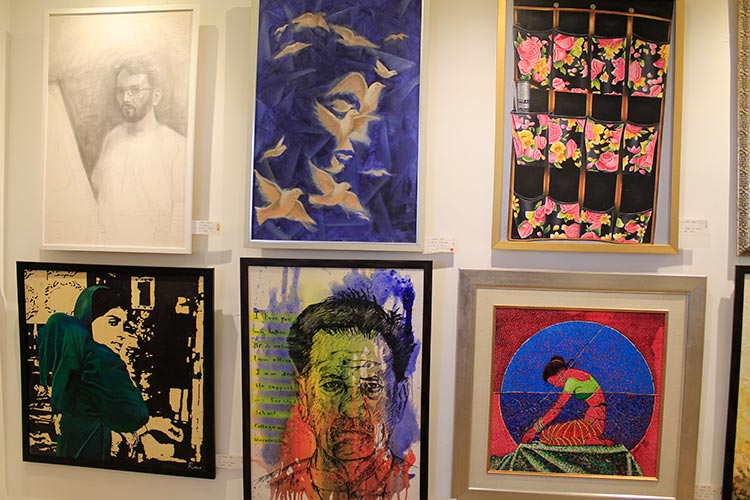 A variety of art on display
Everywhere I look, the walls are adorned and the gallery is resplendent with colours. Baad-e-Saba: A Grand Exhibition by Artists of Sindh opened on Sunday, 18th June, 2017 at Art Scene Gallery, Karachi. The gallery has been decorated to be an art lover's paradise, with the works of nearly one hundred and fifty artists from Sindh on display. The exhibition is a joint venture of the Ministry of Culture and the Centre of Excellence in Art and Design, MUET Jamshoro.
Make no mistake, this is not a show of contemporary art, nor does it follow a specific theme. It should be understood as a purely cultural activity; an endeavour by the provincial government to provide a platform to existing and emerging artists. While the show has its share of weaknesses, the positive aspects for art enthusiasts and collectors of Karachi outweigh them.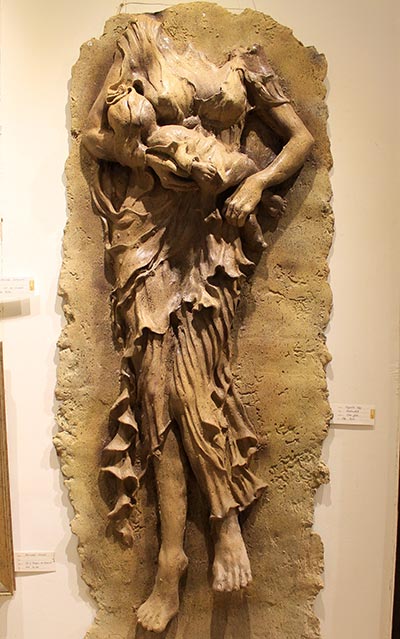 'Relationship' by Tayyab Asif
Imagine a small, double-storey gallery, embellished with more than a hundred frames and sculptures. It can be considered a curatorial feat that each frame has its proper space, without a single work edging another one out. As I made my way to the walls of the gallery through the large crowd of visitors, I was overwhelmed by the amount of work on display. From landscapes to portraits, it was wonderful to see such a wide variety of work, as most events by the provincial government are monotonous in their cultural reflection. While there were quite a few paintings and drawings dealing with the typical imagery of Sindh, its local crafts and indigenous people, I was particularly drawn to the beautiful calligraphy, skilfully painted portraits, impressionistic watercolours of landscapes and cityscapes, as well as patriotic work and drawings of flora and fauna.
Well-known artists such as Meher Afroz, Abdul Jabbar Gul and Mona Naqsh had participated in the exhibition, along with several emerging artists, such as Hureen Akram, Batool Zehra and Ali Morio. The masterful work of Tassaduq Sohail and Rabia Zuberi was also on display. My personal favourite from the entire collection is Faces by Hyder Wasi.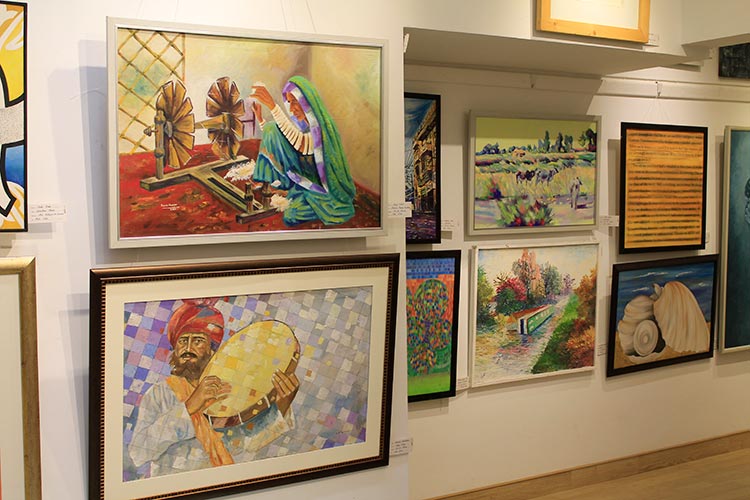 Art covered every nook and cranny of the gallery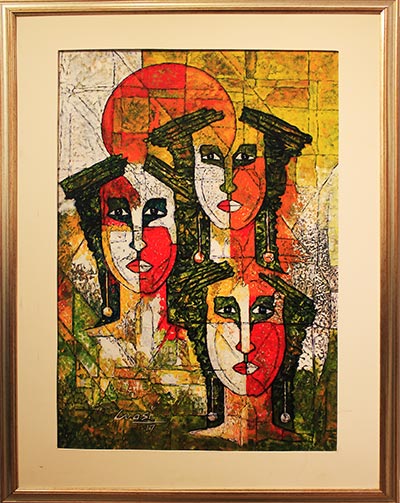 'Faces' by Wasi Hyder
It is a pity that the organizers are keeping these works on display for only three days, as there is much to see and gain from the diverse collection. Since it is meant to attract local people, the exhibition should have continued for at least a week. Cultural activities of this nature are vital for the recreation-deprived people of this city, where means of social engagement are limited to dining out, catching a movie, or occasionally watching live theatre. We are well aware that our local parks and outdoor sports facilities leave much to be desired. Hence, such exhibitions are beneficial not only for artists to help them gain recognition and commercial success, but also for art collectors and enthusiasts, who can enjoy the artworks and choose from the great variety on offer.
Unfortunately, there were no catalogues or pamphlets available at the exhibition. These could have contained a list of the artists, as well as the names, photographs and prices of their artworks. Moreover, there was limited space, and a show of this stature should have been conducted in a larger gallery, where people could move around with ease.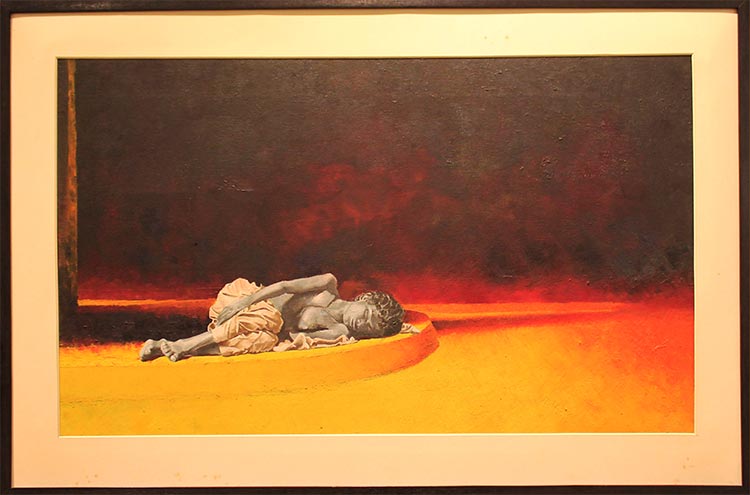 'Dreams Never Sleep' by Hameed Magsi
Regardless of these few problems, if the provincial government has one good endeavour to its name, it is this exhibition. The show ends today (June 20th, 2017), so pay a visit while you can!
You may also like: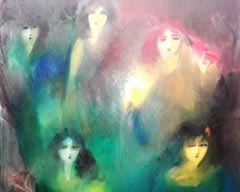 Art Review: Raja Changez Sultan at Tanzara Gallery
(January 19, 2018)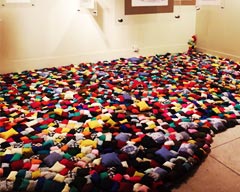 NCA Rawalpindi Degree Show 2017
(January 17, 2018)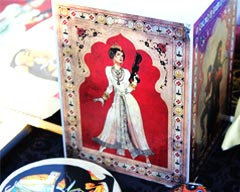 Winter Fete, Islamabad
(January 09, 2018)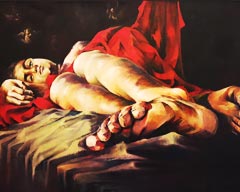 Review: 9th National Exhibition at PNCA
(January 02, 2018)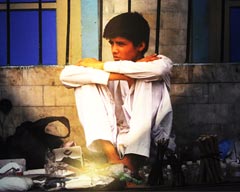 Yeh Hai Karachi 2: Photography and Film Exhibition
(December 20, 2017)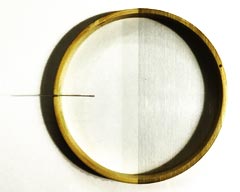 Art Review: Reading Between the Lines at Sanat Initiative, Karachi
(December 05, 2017)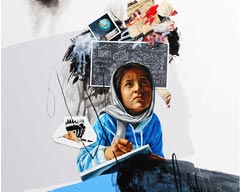 Art Review: The Onrushing 2 at Gallery 6, Islamabad
(December 04, 2017)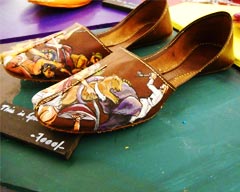 Daachi Arts and Crafts Exhibition 2017
(November 13, 2017)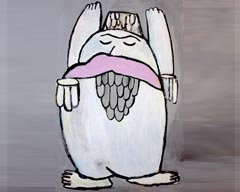 Art Review: 'Loompaland' at Studio Seven, Karachi
(November 09, 2017)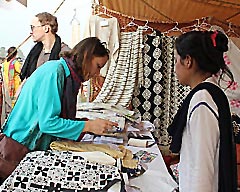 The Behbud Bazaar, Islamabad
(November 07, 2017)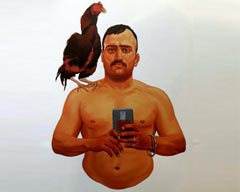 The Karachi Biennale 2017 (KB17)
(October 27, 2017)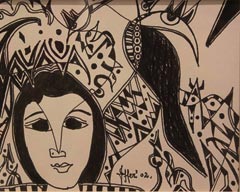 Wahab Jaffer Exhibition Opens at Tanzara Gallery, Islamabad
(October 20, 2017)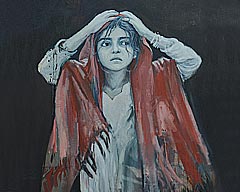 Art Review: Socio-Domestic at O Art Space, Lahore
(October 11, 2017)