'Bari Eid' for the Common Karachiite
Written by: Sadeem Shaikh
Posted on: September 29, 2015 |

Comments | 中文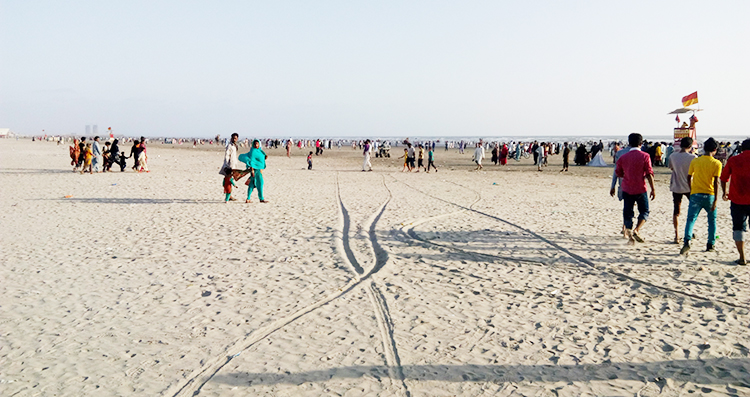 Hundreds of Karachiites celebrating 'Bari Eid' at Clifton Beach
Not many would expect Karachi to be buzzing with rampant celebration on Eid-ul-Azha, often referred to as Bari (sacrificial) Eid. The atmosphere is usually toned down in comparison to Eid-ul-Fitr. Today, most of us prefer to turn in after the morning prayers, spending the day in bed. However, to spice things up this year, I considered taking a casual drive to some of the popular sites of the city in my Suzuki sedan. I was told not to expect much, and so I took off, uncertain about what would come my way. To my surprise, the streets of this age-old, blooming city felt quite different this time around. The metropolis, even with its quainter regions, had refused to sleep, and continued to sound off the all-too-familiar "Karachi feels".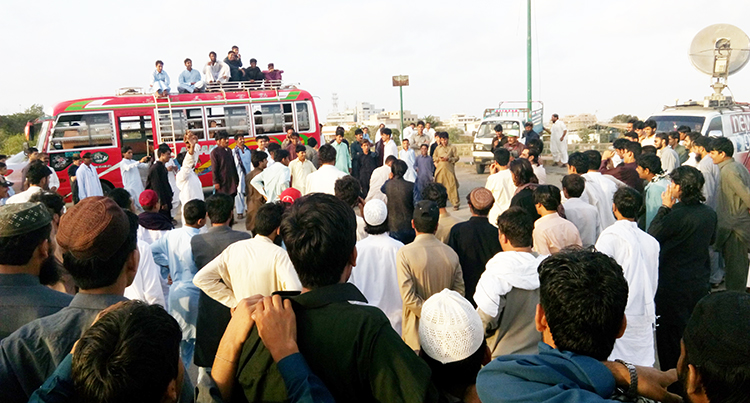 A Pashto dance group at Hill Park, P.E.C.H.S
Hill Park, one of the oldest parks in the city, turned out to be jam-packed with Pathan families and friends alike. I had previously witnessed this kind of rush only on a rare Sunday evening. From the parking lot at the entrance, right till the widely popular circus in the rear of the park, people had set up volleyball courts, picnic camps and barbecue grills. There were scattered groups sitting on the grass, passionately conversing in Pashto and cracking up at each other's jokes. What particularly stood out were the small gatherings of young twenty-somethings unreservedly dancing to their traditional songs in the middle of various public spots around the park.
There was a similar type of frenzy at Quaid-i-Azam's Mazar (mausoleum), where hundreds had gathered along with their loved ones. Small (but apparently very popular) food joints such as Dilpasand on M.A. Jinnah Road and others in neighboring areas such as Kharadar and Aram Bagh also attracted fancily dressed couples, families and friends having fruit chaat, gol gappay and halwa poori.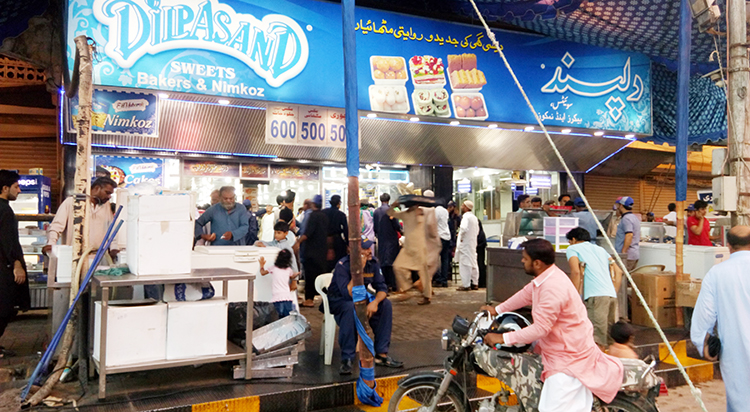 'Dilpasand', M.A. Jinnah Road
As I traversed different parts of the city, I would often come across people hanging onto any and every corner of overflowing buses, advancing towards their respective destinations with freewheeling smiles. I decided to stop at Boat Basin and Khadda Market before heading to Clifton Beach, Devil's Point, and other popular restaurants on Sea View Road. Desi food outlets such as Thaali Inn, Qasr-e-Nakheel, and Hot 'N' Spicy were packed with enthusiastic, dressed-up Balochi and Sindhi groups.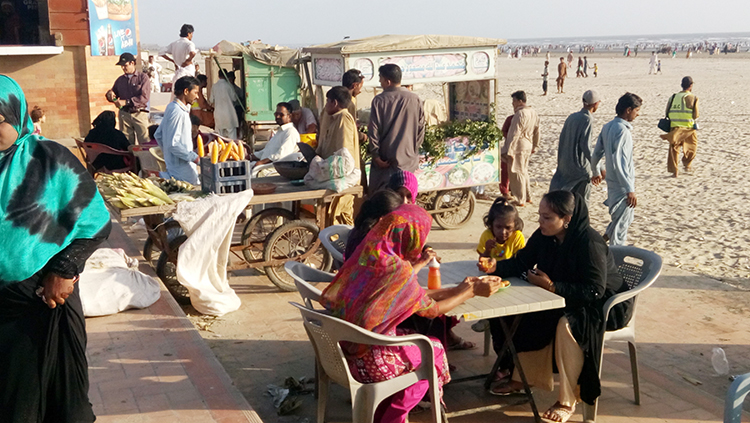 Clifton Beach (Sea View)
My expectations about the turnout at Clifton Beach were surpassed by a mile, as I saw hundreds line up against the gushing waves on the shore. Families, friends and children splashed water at each other, eventually quenching their thirst with strawberry chillers, fizzy drinks and other refreshments being served at thailas (food carts) nearby. To avoid the ensuing traffic on Sea View road, I took off towards Devil's Point, a famous rocky shoreline a few kilometers from Clifton Beach. Serving as a recreational and fishing spot, Devil's Point greeted families and others who had failed to secure a secluded spot on Clifton Beach. Dozens sat on the rocks, enjoying the cool sea breeze while glancing at the distant horizon.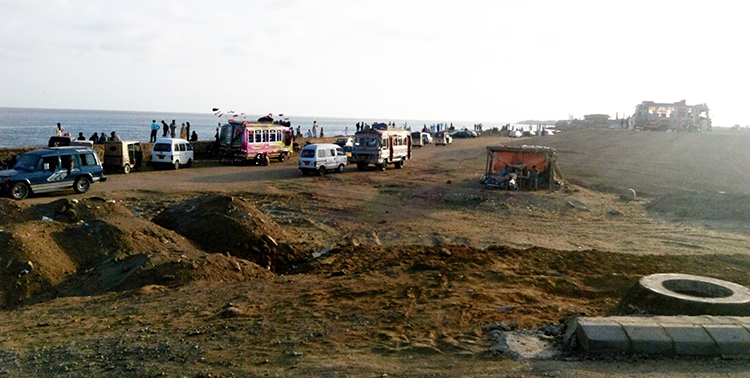 Devil's Point, Clifton
Against the backdrop of increasing disparity, discontentment and insecurity in this city, I realized something profound on this Eid: this occasion meant the world to the people of Karachi. On this day, people refused to be afraid and confine themselves within the walls of their homes. On this day, they felt safe to take to the streets with their friends and families, let their guard down, and dance like there's no tomorrow. On this day, they stood united with their fellow citizens, and for once, did not hesitate to share their true self, which is peaceful, loving and joyous.
You may also like: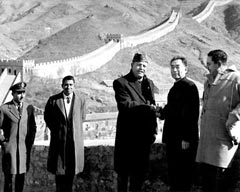 From People to People, Pakistan-China Relations since 1965
(December 12, 2017)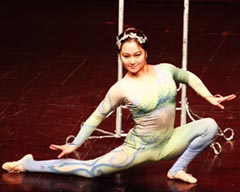 Rhythm of Liaohai Gala at PNCA, Islamabad
(December 08, 2017)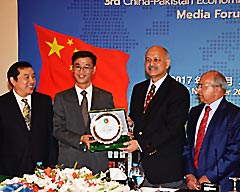 3rd CPEC Media Forum, Islamabad
(November 28, 2017)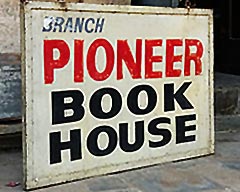 Pioneer Book House, Karachi
(November 24, 2017)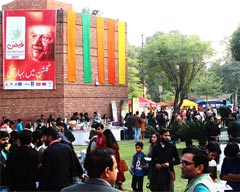 Faiz International Festival 2017
(November 22, 2017)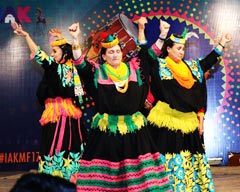 Lok Mela comes to Karachi
(November 17, 2017)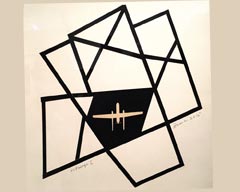 Writing Partition in Urdu
NYU's Urdu Conference
(October 13, 2017)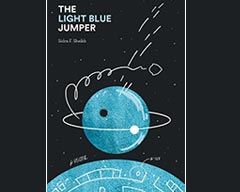 Book Review: The Light Blue Jumper by Sidra F. Sheikh (First Pakistani science fiction novel)
(October 02, 2017)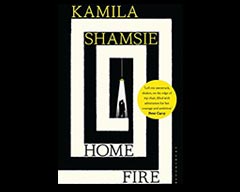 Book Review: Home Fire by Kamila Shamsie
(September 07, 2017)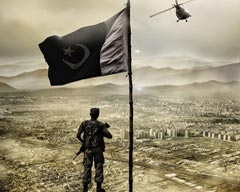 Pakistan's Armed Forces face challenges in 2017 with a New Confidence
(September 05, 2017)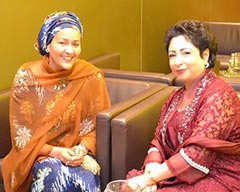 August 14 celebrations at the UN with the Sachal Orchestra
(August 15, 2017)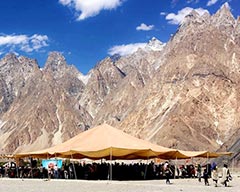 FACE Mela 2017, Passu
(August 10, 2017)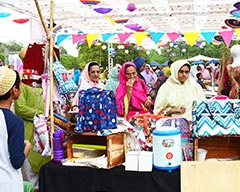 The Bohra Bazaar, Karachi
(August 07, 2017)