The Bohra Bazaar, Karachi
Written by: Sania Ahmed Khan
Posted on: August 07, 2017 |

Comments
Bohri boys at The Bohra Bazaar, Karachi
With a ceiling decked out in colourful umbrellas and balloons, the iconic Frere Hall of Karachi was truly a sight to behold last weekend. The venue was hosting the first of its kind, two-day event, The Bohra Bazaar. The inauguration took place on Saturday 29th July, in the presence of Mayor Wasim Akhtar and senior members of the Bohra community. The open for all festival was intended as a project for the upliftment of women. It was the brain-child of various women's organizations, including Shireen Training Action and Development (STAND), which had been training the Bohri women entrepreneurs for many months.
Of around 50,000 Bohra Muslims residing in Pakistan, the majority live in Karachi. The Dawoodi Bohras are a sub-sect of the Shia Community and are led by a spiritual leader known as the Syedna or Da`i al-Mutlaq. The closely knit community has separate neighborhoods, mosques as well as community centers in Karachi. They even have their own language, derived from Arabic, Gujrati, Urdu and Farsi and called the Lisan-ud-Dawat. Their distinct attire consists of the rida (a two piece outer garment and robe) for women, and the kurta-saya (a shirt and pyjama with an outer coat) and topi (cap) for men. Food holds an important place in the life of the Bohra community, with their traditional dishes as well as etiquettes for meals (such as sitting around a thaal (tray), having a pinch of salt before and after, and having dessert as the first item). As peaceful, hardworking and enterprising people of Pakistan, the community has made great contributions to the economy of Pakistan.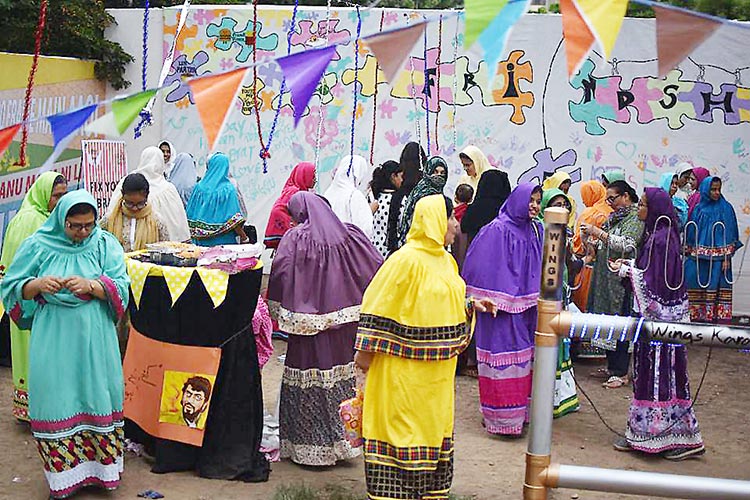 Bohri women (source: Official Facebook page)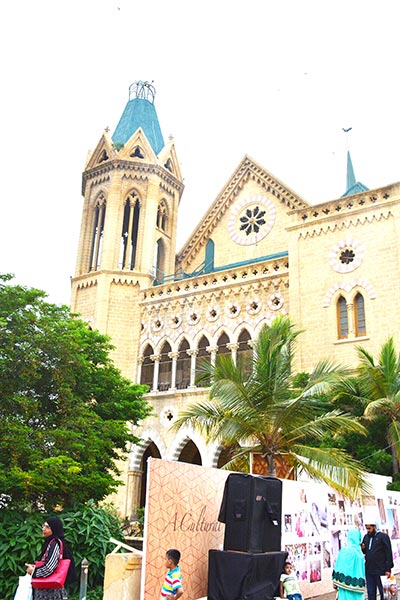 Frere Hall, the venue
At the Bohra Bazaar, 100 stalls displayed the work of Bohri women as well as men. Considering that the word Bohra originates from the Gujrati term for "trade," the variety was hardly surprising. Items included quilts and blankets, embroidered and crocheted cloth, handbags, homemade jewellery, food items, and even organic balms and ointments. An impressively large section was devoted to arts and crafts where the artists were giving their contact details for customized orders. There was also a Youth Corner, set up by Wings – a women's youth organization, where a tree plantation ceremony was the most significant event. A separate Children's Pavilion featured acrobats and magicians.
The Great Toy Exchange by Ms. Alifyah Talib was one unique initiative that caught my attention. Based on the idea, that an old toy for one child is a new toy for another, this venture is for parents who find it difficult to continuously replace their children's toys. By registering themselves, parents can have a new toy delivered to their home every week. To start off, the toys that have been obtained are educational, such as puzzles and mentally challenging games. The venture is easy on the pocket and bound to keep children entertained. "I researched extensively before launching my business, and conducted trial runs with families. Toy exchange is a popular concept in developed countries, and is good for the environment as well," said Alifyah.
Another individual, who caught my eye, was the 55-year-old Mr. Nafees, managing the Nafees Pickle Stall. The stall was selling mixed vegetable pickle, green chilly pickle, sweet lemon pickle, falsa chatni and plum chatni - all for under Rs. 200, and we were spoilt for choice. Visitors could try a spoonful of each before making a decision, but Mr. Nafees recommended the sweet lemon pickle, his personal favorite and the most in demand. When asked about the business he said, "All our pickles are family recipes, which have been passed down over several generations. I have been doing this for 13 years, and deliver a variety of pickles to friends and family. It is the first time, however, that I have a business card and am offering my product to the general public." While orders were previously taken over call or text, Mr. Nafees plans to now take his business online, encouraged by the response at the bazaar.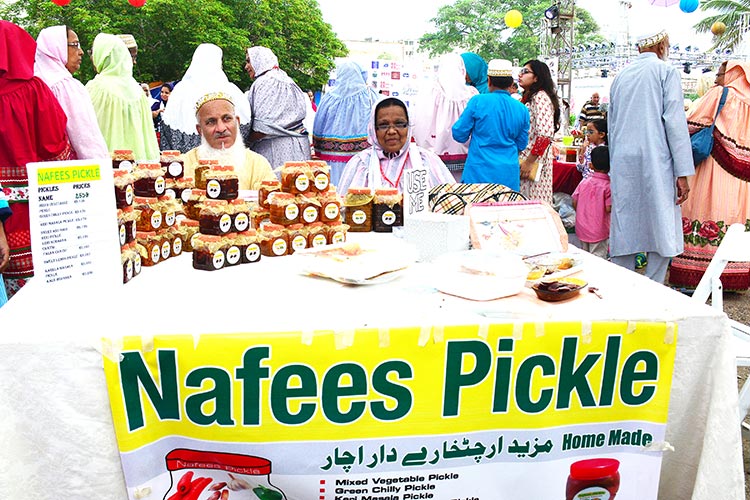 Nafees Pickle Stall
An account of The Bohra Bazaar would be incomplete without mentioning the food. Visitors could choose from a range of snacks which included Paani Puri, Shawarma, Khausey and Pakorey. Each item was prepared fresh, and served in clean plates. Khaman Dhokla, a savoury item, unique to the Bohri kitchens, was described by a visitor as having a light spongy texture. Selling Bohra Kachori, Sakina Nasir explained that the papar (papadum) was fried, while the bhajee (vegetable mix) was placed on top of it to give it flavour. Another attraction was the Bohri Fried Chicken, which had a sharp taste of garlic to it. For those looking for something sweet, a traditional North Indian item, the malpura, which is made from maida (flour) and semolina, was available.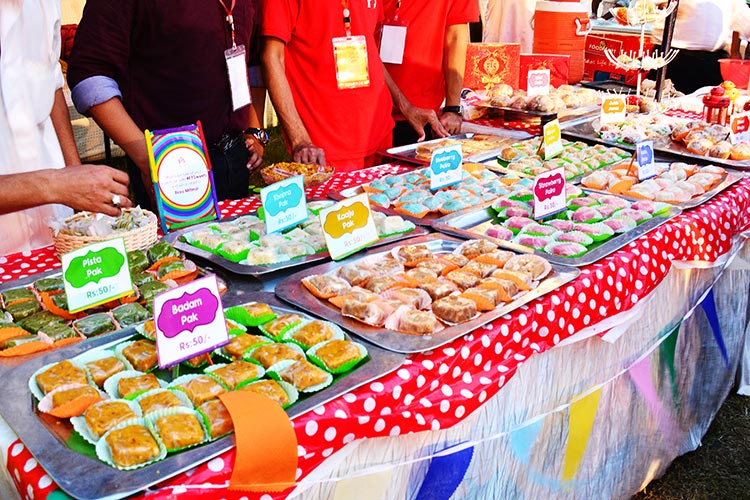 FTS Sweets Stall
With the Bohri men and women dressed in their traditional attires, intermingling with the hundreds of visitors, the popular Frere Hall was an apt choice for such an event. The business acumen, for which the Bohras are famous, was evident when the organizers kept customers engaged afterwards, by announcing giveaways through Facebook. The megalopolis of Karachi is a patchwork of different communities and ethnicities, and The Bohra Bazaar gave us a great opportunity to learn about the culture of the enterprising Bohra community.
You may also like: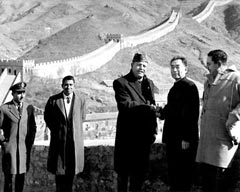 From People to People, Pakistan-China Relations since 1965
(December 12, 2017)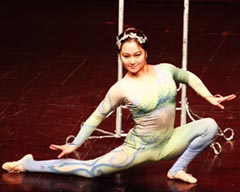 Rhythm of Liaohai Gala at PNCA, Islamabad
(December 08, 2017)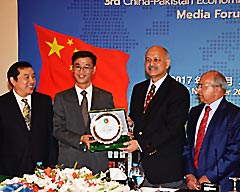 3rd CPEC Media Forum, Islamabad
(November 28, 2017)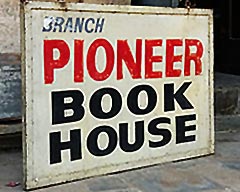 Pioneer Book House, Karachi
(November 24, 2017)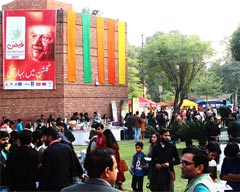 Faiz International Festival 2017
(November 22, 2017)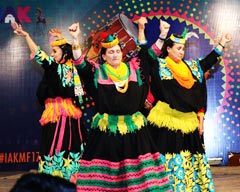 Lok Mela comes to Karachi
(November 17, 2017)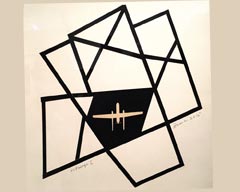 Writing Partition in Urdu
NYU's Urdu Conference
(October 13, 2017)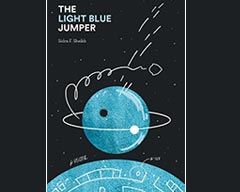 Book Review: The Light Blue Jumper by Sidra F. Sheikh (First Pakistani science fiction novel)
(October 02, 2017)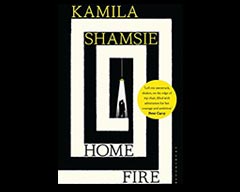 Book Review: Home Fire by Kamila Shamsie
(September 07, 2017)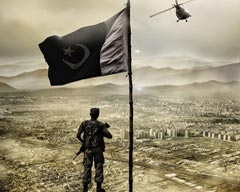 Pakistan's Armed Forces face challenges in 2017 with a New Confidence
(September 05, 2017)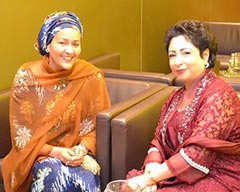 August 14 celebrations at the UN with the Sachal Orchestra
(August 15, 2017)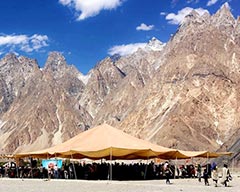 FACE Mela 2017, Passu
(August 10, 2017)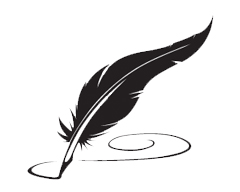 70 Years of Pakistan
(August 02, 2017)