China Xinjiang International Dance Festival: New Attraction along the Belt and Road
Written by: Bai Yun
Posted on: July 04, 2017 |

Comments | 中文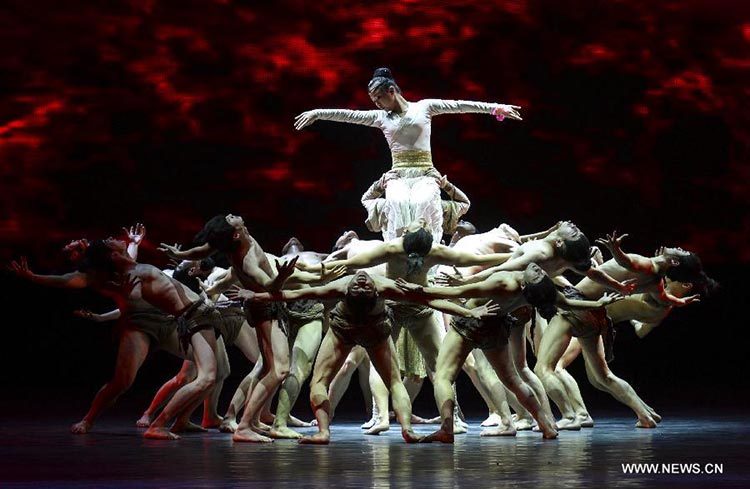 'Guanyin Buddha' dance performed during the 4th China Xinjiang International Dance Festival (source Tianshannet)
Summer is the season of passion and heat, and the heat in Xinjiang, China, is set to rise further due to the 5th China Xinjiang International Dance Festival this summer.
The 5th China Xinjiang International Dance Festival, will be held in Urumqi (capital city of Xinjiang), from July 20th to August 5th 2017. Besides dance, the festival will feature five special social events and promotions, such as on-line interactions and the China Operas Art Week. More than 20 domestic and foreign dancing troupes from Asia, Africa and Europe will be participating, with 60 performances being presented in Urumqi's theaters.
Held once every two years, the Festival keeps improving by becoming more inclusive but remains characterized by Xinjiang features and Chinese style. There is a clear attempt to maintain international quality and each time the audience has been surprised with more diversity on display.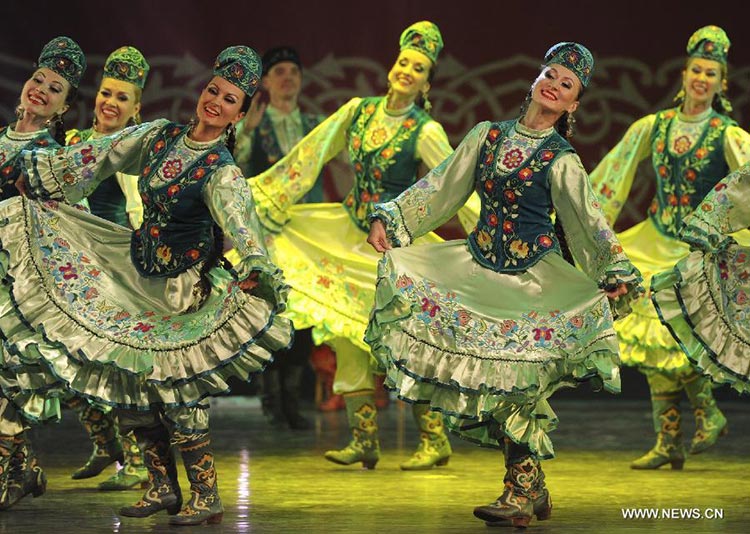 Artists from Russian republic of Tatarstan perform during the 4th China Xinjiang International Dance Festival - (source: Tianshannet)
Based on the vibrant arts and folk dancing of Xinjiang, the first Xinjiang International Dance Festival occurred in June 2008. The festival was intended to promote cultural exchanges by acting as a bridge between China and its foreign friends, especially with regards to dancing arts.
In 2015, during the 4th Festival, the Xinjiang Silk Road Artworks Bid was held for the first time. Based on prior experience, a need was felt for cultural events besides the dancing arts already being displayed. The Bid was all-encompassing in terms of the unique traditional culture, artworks and antiques on display, many of which were a legacy of ancient Silk Road civilizations. It led to the accelerated development of the artworks market in Xinjiang. As one of the major events in the 4th Festival, the Bid was a strategic move, since it combined cultural and commercial exchanges, under the ambit of the Belt and Road construction. The local cultural market was promoted and this led to the overall development of cultural undertakings in the region.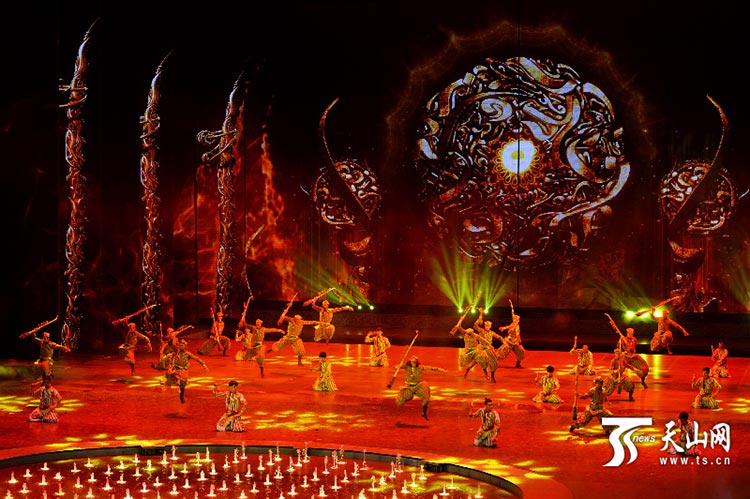 Opening of the 4th China Xinjiang International Dance Festival (Source: Tianshannet)
In Xinjiang, inspired by the Festivals, the art of stage dancing has progressed profoundly, in recent years. A number of innovative and remarkable shows and performances have been created and presented. These are imbibed with local features, but are located within a wide international vision and keep up to date with the present-day atmosphere. For example, the opening ceremonies of shows like "Dancing Souls and the Silk Road" and "Warriors of Karakorum," musicals like "Legend of Alam Khan" and "In His Songs," dancing dramas such as "Youth in the Gobi Desert," "Manas," and "Love in Shule," and super dance shows like "Returning to Western Region" and "The Silk Road Show" all manage to reflect the specialty of Xinjiang culture and confidence. With gorgeous costumes, large cast and crew, and advanced sound and light techniques, the dancing shows combine traditional arts with modern features. This continues to surprise audiences from around the world, and enlightens local performers and professionals at the same time.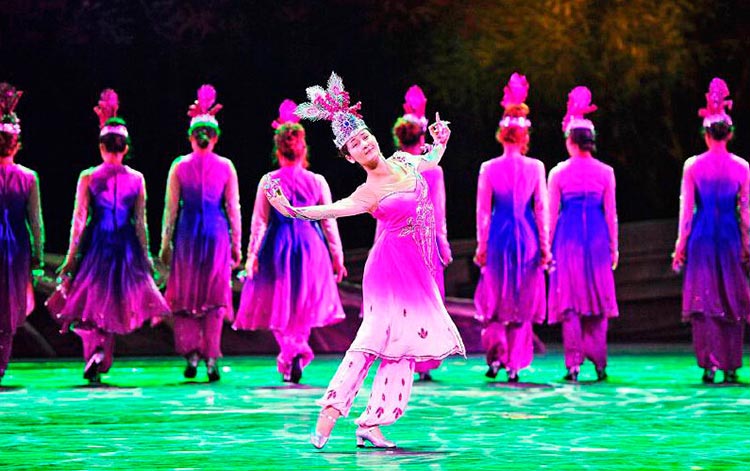 'Love of Shule' being performed (source CCTV News)
Besides domestic performances, many foreign troupes also display their spectacular cultures at the Festival. Traditional or modern, Eastern or Western, high level Chinese and foreign troupes come to Xinjiang to share their diverse cultures with each other, no matter their origins and nationalities. In addition to Chinese folk dances, ballets, pop music, Italian operas, and folk dances from India, Turkey and Arabian countries are frequently performed. Different art forms and nationalities can be witnessed coming together in a beautifully harmonious fashion.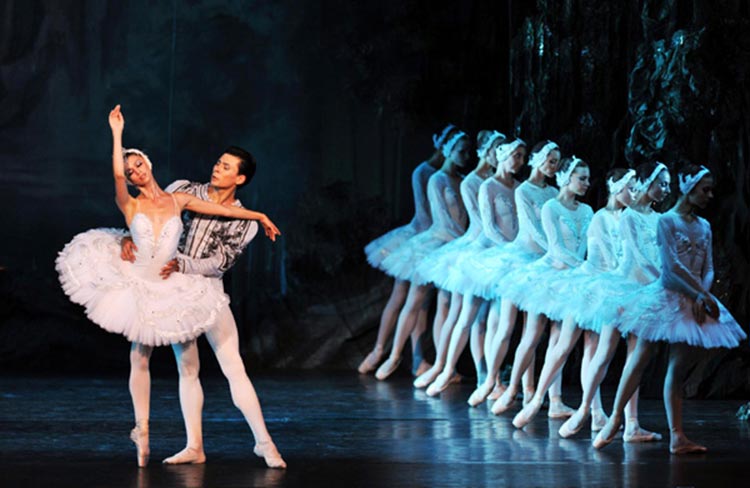 'Swan Lake' Ballet performed at 2nd China Xinjiang International Dance Festival (Source: Chinadaily)
Recognized as an important international cultural exchange platform, as well as an international dancing event, "China Xinjiang International Dancing Festival" is a major attraction at Xinjiang. Xinjiang remains a hub of the ongoing construction of regional, cultural, scientific, technological and educational centers along the Silk Road Economic Belt routes and the Festival plays a vital role in bringing openness, integration and innovation to people of all ethnic groups living here. Even more significantly, as a prominent cultural symbol of Xinjiang, the Festival fulfils the spiritual needs of its people.
Translated by Wu Jinying
You may also like: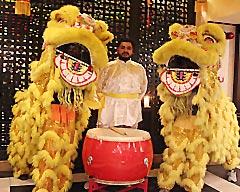 Chinese New Year Celebrated at Marriott, Islamabad
(February 20, 2018)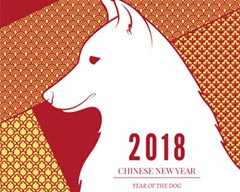 Significance of the Year of the Dog in Chinese Astrology
(February 16, 2018)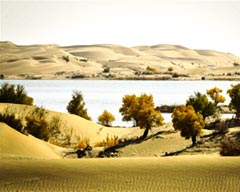 The Restoration of Taitema Lake
(February 13, 2018)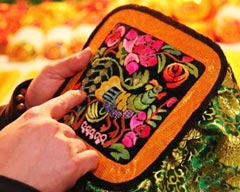 Female Embroiderers of Xinjiang
(February 08, 2018)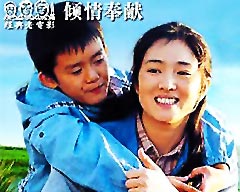 Chinese Film Month begins in Islamabad
(February 08, 2018)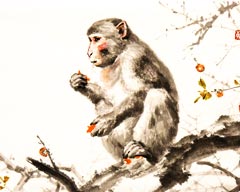 The Monkey in Chinese Culture
(January 31, 2018)
Etles Silk from Tianshan at China Fashion Week
(January 24, 2018)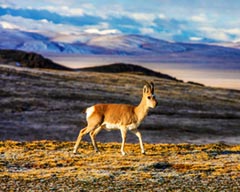 Hoh Xil: Kingdom of Wild Animals
(January 18, 2018)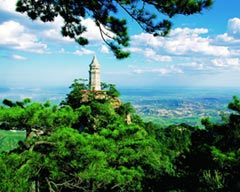 Panshan Mountain of Ji County
(January 11, 2018)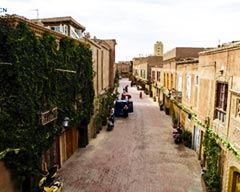 Stories from the Old Town of Kashgar
(January 04, 2018)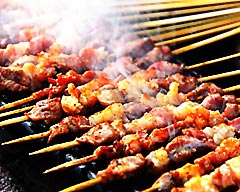 International Cuisine in Urumqi
(December 27, 2017)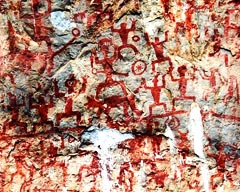 Zuojiang Huashan Rock Paintings, Guangxi
(December 19, 2017)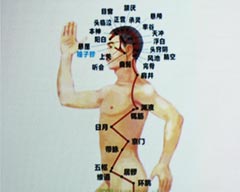 Seminar on Chinese Outlook on Life and Contemporary Value of Chinese Medicine
(December 15, 2017)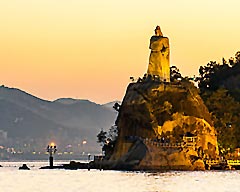 Gulangyu Island: The Island of Music
(December 13, 2017)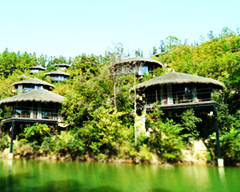 Mogan Mountain Farm Villas
(December 06, 2017)