Food Review: 'Cosmopolitan', a Café with a Message
Written by: Tasarunn Munir
Posted on: April 07, 2017 |

Comments | 中文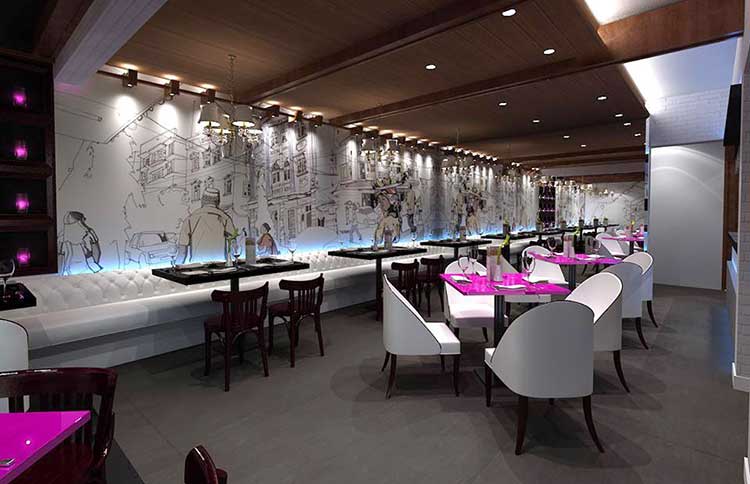 The modern décor and murals add to the café's charm (source: 'Cosmopolitan', Facebook)
As you turn on E-Street in Clifton, Karachi, you will find Cosmopolitan sitting in the middle of a line of cafés. Although this eatery opened relatively recently, it has managed to make quite an impact. As suggested by its name, Cosmopolitan's menu features a variety of cuisines. Thankfully, though, in its attempt at cultural integration, the quality and taste of the food is never compromised.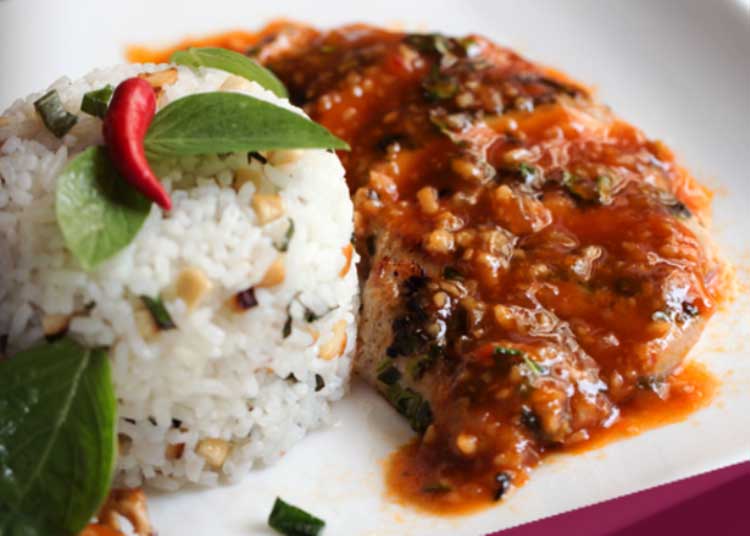 Chicken in Tamarind and Sriracha Sauce (source: 'Cosmopolitan', Facebook)
From the breakfast menu, the 'New Yorker' is a must-try. A large serving of juicy steak and fried eggs served with a side of sausages and potato hash, this dish is more than sufficient for an empty stomach. The steak was cooked to perfection, with great attention to detail, while the potatoes and eggs balanced out the meatiness of the platter. At under Rs. 800, this dish will fill you to the brim without emptying your wallet.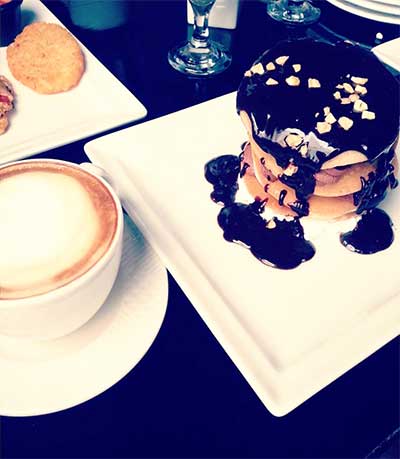 Ferrero Rocher Pancakes and Hazelnut Mocha Coffee – the perfect breakfast combination!
Cosmopolitan is especially renowned for its pastas. Having tried the Fettuccini Alfredo, I can vouch for its tendency to leave one in a state of food-induced bliss. The garlic may seem overpowering to some, but I think that's what gives the dish its essence. From their 'Sweet Notes', I have tried 'The Ferrero Rocher'. A stack of soft, fluffy pancakes, with layers of rich Belgian Chocolate Mousse stuffed in between, this is a rather heavy dose of dessert that you might consider sharing with someone, as finishing it on your own is not an easy task. The pancakes are topped with a thin chocolate sauce and garnished with peanuts, giving them an enticing look and texture.
Offering both indoor and outdoor seating, the café resourcefully accommodates both preferences. It boasts modern décor and a lively, semi-casual atmosphere, with upbeat music and the buzz of conversation in the background. Moreover, the efficient service and friendly staff gave us little room to complain.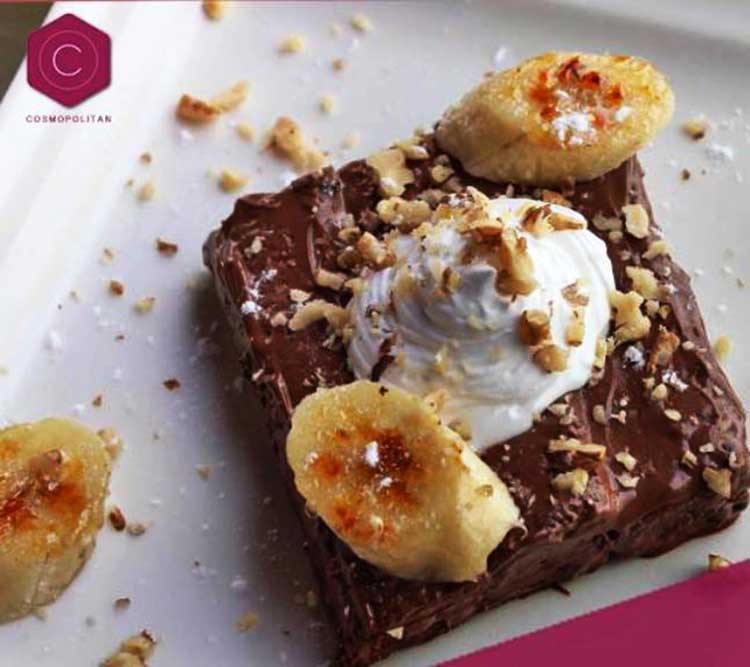 Nutella Rollups (source: 'Cosmopolitan', Facebook)
Cosmopolitan quickly became one of my favourite eateries in Karachi, not simply because of its varied menu and vibrant atmosphere, but also due to the messages that bounce off its walls…literally. The inside of the café has murals painted with messages related to life in Karachi. One of them reads:
"Karachi you are beautiful
in every light,
every instance,
and every circumstance."
The quote seems to have been written not to evoke patriotism, but merely as an expression of someone's romanticism of the city. It highlights the core conflict of a majority of Karachiites, who cannot help but fall in love with the city, no matter how many times it has let them down. As a socially aware and culturally rooted millennial (yes, we exist), I immediately appreciated this attempt to recapture the true spirit of Karachi, which somehow seems to have been buried beneath the rubble. What was once the "City of Lights" is now steeped in darkness, figuratively and literally (K.E. zindabad), as fear and gloom have shrouded the city like a pall.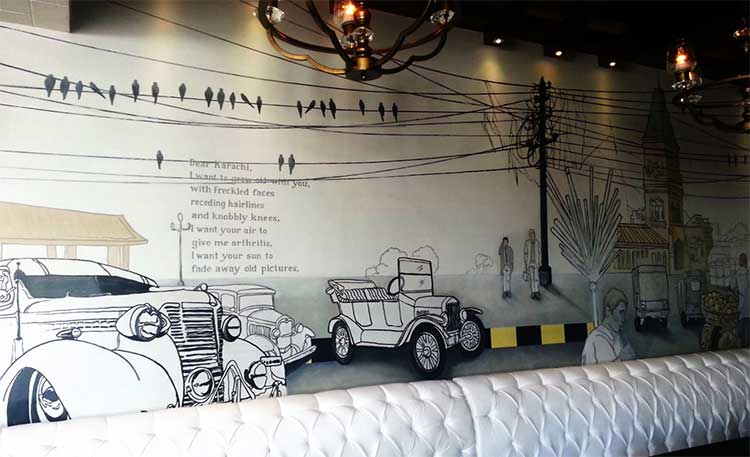 A mural showing the Frere Hall, one of Karachi's greatest landmarks (source: My Frequent Ranting)
There are also various other pieces of poetry and prose on the walls, with each mural representing a different aspect of Karachi. Another one reads:
"Dear Karachi,
We go together like teabags and Every Day."
These quotes not only add to the café's ambience, but also highlight the inspiration behind its theme. I can speak on behalf of all those who have noticed these powerful paintings that Cosmopolitan, in addition to its diverse menu and appetizing dishes, offers a strong reminder to Karachiites that for every corrupt politician, ruthless suicide bomber or thoughtless extremist, this city brings forth artists, writers and thinkers that keep us going. If all else fails, Karachi has Karachi – an unwavering flame of resilience in even the darkest of times.
You may also like: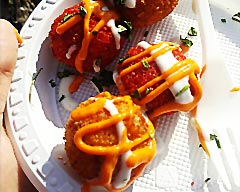 Karachi Eat 2018: The Good & the Bad
(January 16, 2018)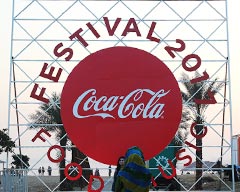 Coke Festival 2017 comes to Islamabad
(December 11, 2017)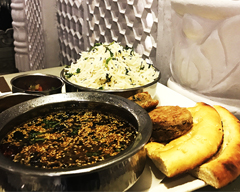 Food Review: Rahdaari
(December 07, 2017)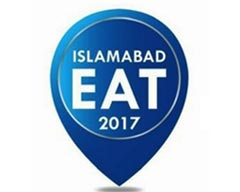 Islamabad Eat 2017: Don't Speak, Just Eat
(November 14, 2017)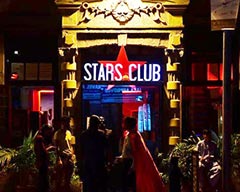 Stars Club: Karachi welcomes its first film-themed café
(November 06, 2017)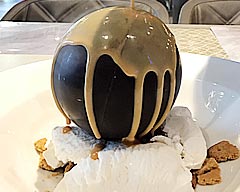 Food Review: Browns, Islamabad
(October 19, 2017)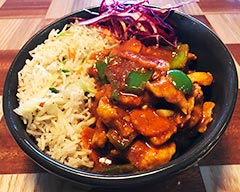 Wok Fusion Café
(October 09, 2017)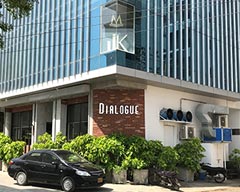 Food Review: Dialogue Restaurant, Karachi
(September 29, 2017)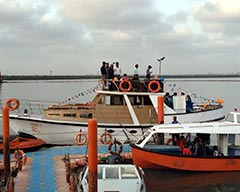 Savor Boating and Restaurant: A Unique Experience
(September 08, 2017)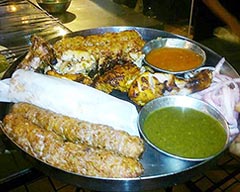 Boat Basin Food Street, Karachi
(August 25, 2017)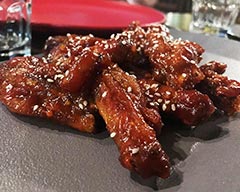 Food Review: #EAT, Islamabad
(August 11, 2017)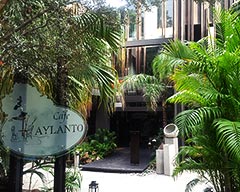 Food Review: Café Aylanto, Islamabad
(August 04, 2017)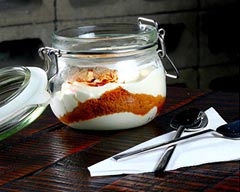 Food Review: Soi Asian Bistro, Karachi
(July 28, 2017)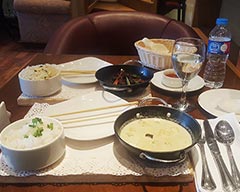 Food Review: The Chinese Café
(July 21, 2017)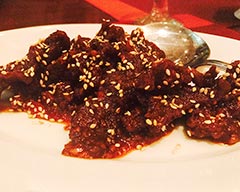 Food Review: Yum Chinese and Thai Restaurant
(July 14, 2017)