Food Review: Dialogue Restaurant, Karachi
Written by: Sundus Sinkler
Posted on: September 29, 2017 |

Comments | 中文 (Chinese)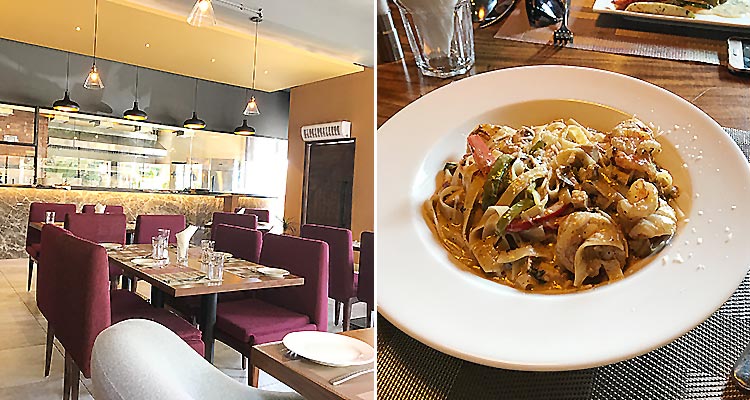 (L) Interior of Dialogue Restaurant, (R) Spicy Shrimp and Chicken Pasta
Located on Khayaban-e-Bukhari, D.H.A., Karachi, Dialogue Restaurant is one of the new eateries to have opened up in the area. Whether it is the uniqueness of its name, the eye-catching display of the silver word 'Dialogue' on a red-brick wall outside, or the beautiful glass windows and potted plants, the foodies of Karachi were instantly attracted to the eatery and so was I. Also a big plus is the parking space, easily available in an empty plot across the restaurant.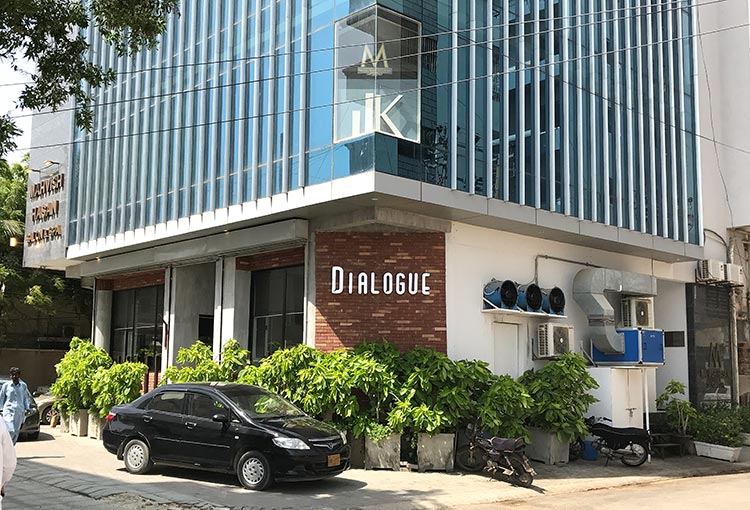 Dialogue Restaurant, Khayaban-e-Bukhari
The restaurant is dimly lit, with comfortable burgundy chairs, which create a cozy ambiance. With only indoor dining available, the space is divided into smoking and non-smoking seating areas. Luckily for us, when my friends and I arrived at lunchtime, the place wasn't crowded and we were easily able to find a nice table by the large windows. Featuring an elegant kitchen, separated by glass windows, the casual atmosphere of the restaurant offers a relaxing space to dine in, with family and friends.
The menu card, to our surprise, turned out to be quite extensive – from all-day breakfast items to soups, seafood, pastas, pizzas and steaks, a good variety was available. The items were reasonably priced, with main course dishes costing around Rs. 1000/- per head (inclusive of taxes).
With our mouths watering and our stomachs growling, we decided to jump straight to the main course, ordering Spicy Shrimp and Chicken Pasta, Chicken Alfredo Pasta, Mustard Chicken with Tarragon Sauce and Stuffed Jalapeno Cheese Burger.
The Spicy Shrimp and Chicken Pasta turned out to be a treat for the taste buds! With a decent serving size, well-cooked shrimps and pasta which wasn't overdone, I would highly recommend this to pasta lovers! With the perfect blend of flavorful spices, the creamy Romano cheese and cayenne pepper sauce was absolutely delicious!
The next dish we tried was Chicken Alfredo Pasta. With a small serving size, this was surely not the best Alfredo Pasta I have had. While the pasta was a little undercooked, the sauce was quite bland. In fact, we added additional black pepper to improve the taste of the dish! I would not recommend it, especially since there is better pasta on the menu, as proven by our experience.
Mustard Chicken with Tarragon Sauce had seemed like a safe option when we were going through the poultry section of the menu. But I have to say that when I tasted the dish, it far exceeded my expectations! Consisting of two pieces of grilled chicken, served with a side of sautéed vegetables, and topped with creamy Tarragon sauce, this dish will delight you with the tenderness of the chicken and the spicy garlic mustard flavor of the sauce. With potato wedges added to the sauce, this was one fulfilling meal which left me thoroughly satisfied!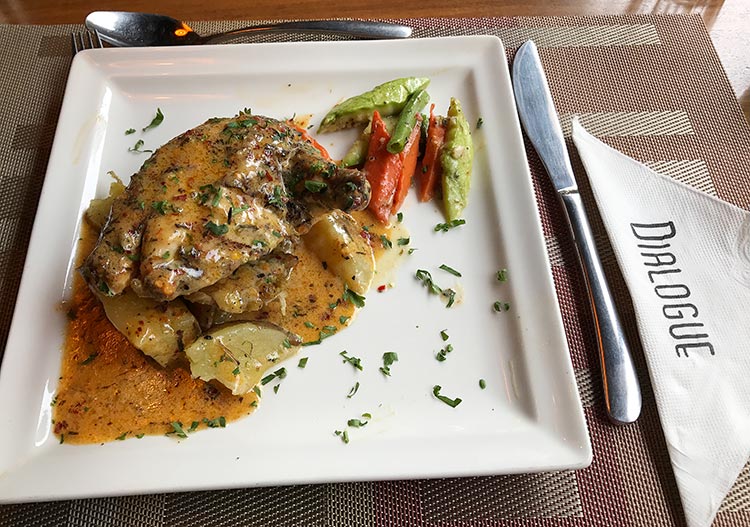 Mustard Chicken with Tarragon Sauce
The last item we tried was the Stuffed Jalapeno Cheese Burger, which proved to be another treat. The jumbo-sized burger had a succulent beef patty, with the cheese and jalapenos perfectly complementing each other. An interesting thing was how the fries with it were served in a small mug-sized sieve! The sieve seemed to have been used to cook, as well as serve the fries, which ensured that they were crispy and hot when they arrived, but without a trace of oil on them. 10/10 for the presentation of the dish, and it was a treat to have the fresh coleslaw along with the delicious burger!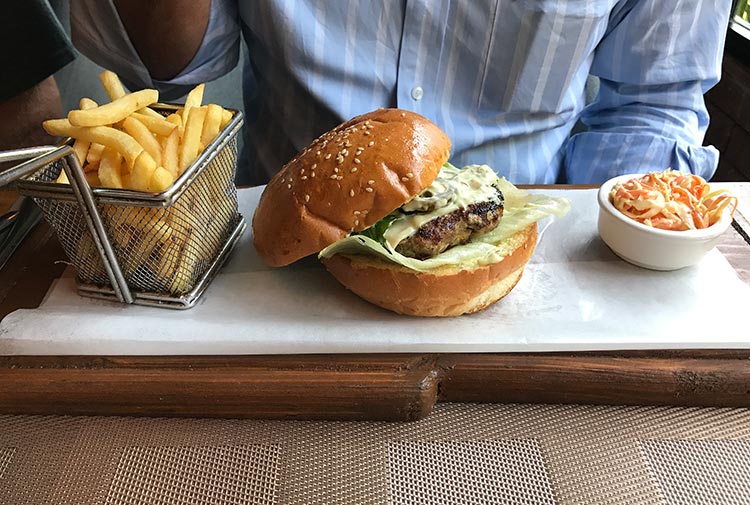 Stuffed Jalapeno Cheese Burger
We had paired our food with Fresh Lime and Mint Lemonade for drinks, which were fairly average, with nothing exceptional about them. As for the service, the staff was well trained, friendly and efficient. Serving time was 20 to 25 minutes and the food was served to us hot.
Overall, our experience was so fulfilling that we didn't have room for dessert. The place caters to a decent crowd and isn't overly noisy, so feel free to visit it for a nice, relaxing meal!
You may also like: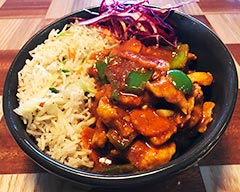 Wok Fusion Café
(October 09, 2017)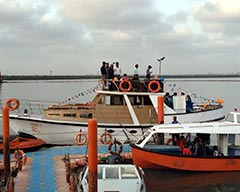 Savor Boating and Restaurant: A Unique Experience
(September 08, 2017)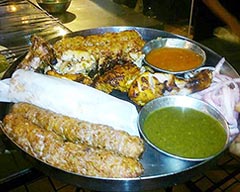 Boat Basin Food Street, Karachi
(August 25, 2017)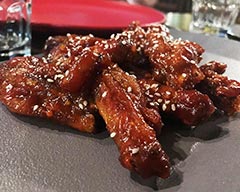 Food Review: #EAT, Islamabad
(August 11, 2017)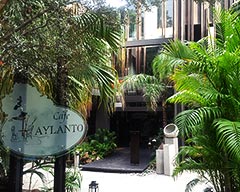 Food Review: Café Aylanto, Islamabad
(August 04, 2017)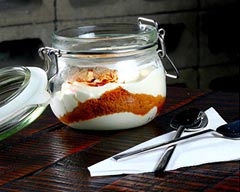 Food Review: Soi Asian Bistro, Karachi
(July 28, 2017)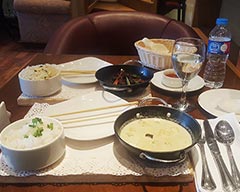 Food Review: The Chinese Café
(July 21, 2017)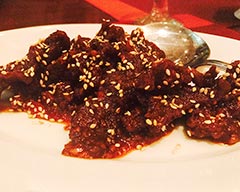 Food Review: Yum Chinese and Thai Restaurant
(July 14, 2017)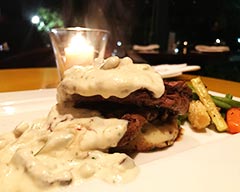 Food Review: English Tea House, Islamabad
(June 23, 2017)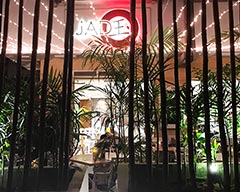 Food Review: Jade Café by ChinaTown, Islamabad
(May 19, 2017)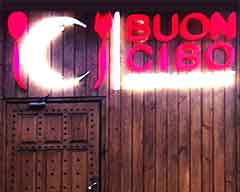 Food Review: 'Buon Cibo' - A Treat for the Taste Buds!
(May 05, 2017)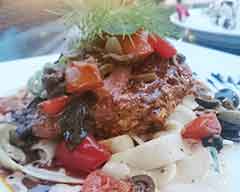 Food Review: Meraki
(April 28, 2017)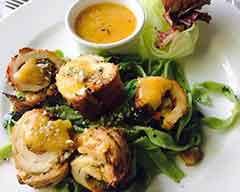 Food Review: Wild Thyme - A Taste of Hunza!
(April 21, 2017)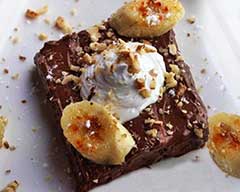 Food Review: 'Cosmopolitan', a Café with a Message
(April 07, 2017)