A Discussion on Dr Mujeeb Afzal's book: Bharatiya Janata Party and the Indian Muslims
Written by: Staff Report
Posted on: October 14, 2014 |

Comments | 中文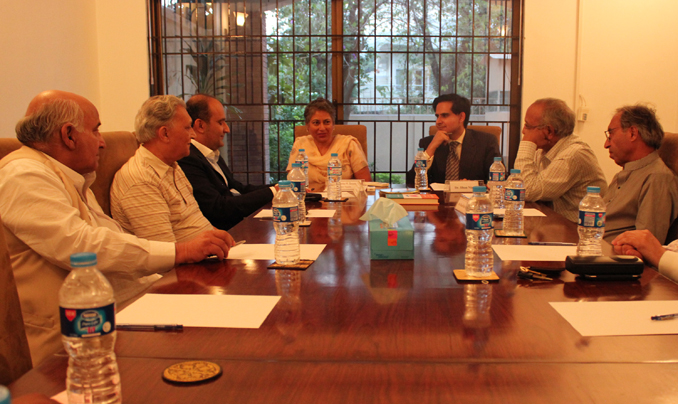 A Discussion on Dr Mujeeb Afzal's book Bharatiya Janata Party and the Indian Muslims
The Pakistan-China Institute recently hosted the launch of the Bharatiya Janata Party and the Indian Muslims, authored by Dr Muhammad Mujeeb Afzal, who was also present on the occasion. Discussants at the event included historian Dr. Ilhan Niaz and Professor Rasul Bakhsh Rais, Director General of the Institute of Strategic Studies, while the moderator of the event was Dr. Dushka Saiyid, Editor Youlin.
Dr. Rasul Bakhsh initiated the discourse and said that he was intrigued by Mujeeb Afzal's discussion of the fact that Muslims are confronted with the challenge of losing their culture, identity and influence and how the rise of Hindu nationalism has contributed to this challenge. He opined that participation by Muslims in Hindu rituals and cultural practices does not necessarily mean that they are being Hinduized, as they may simply be taking part in Hindu cultural practices by choice. He said that he has great faith in India protecting its minorities, and even if there is a strong Hindu nationalist ideology, it is still a pluralist democratic society.

Dr. Mujeeb Afzal & Professor Naeem Qureshi Discussants Professor Rasul Bakhsh Rais & Dr. Ilhan Niaz
Dr. Ilhan Niaz praised the book and urged all Pakistanis to read it, regarding it as an important piece of scholarship on a neglected topic in Pakistan's academia. He said that a number of people in Pakistan claim to be experts on global politics and India, but so far there has been no serious attempt to understand India's history or its evolutionary process by any Pakistani. Mujeeb Afzal, he argued, boldly engages with this topic, providing an insight into Indian history, politics and democracy. Dr. Niaz discussed how the emergence of a dominant Hindu identity in India is problematic for Muslims, and why attempts by the BJP to integrate Muslims into Hindu nationalism have been unsuccessful.
Mujeeb Afzal, the author, also participated in the discussion and talked about identity construction and the misconceptions associated with it. He argued that Indian identity is based on duality, and there is no such thing as a single "Indian" identity. He also distinguished between Indian nationalists and Hindu nationalists, and explained that most people mistakenly tend to use these terms interchangeably.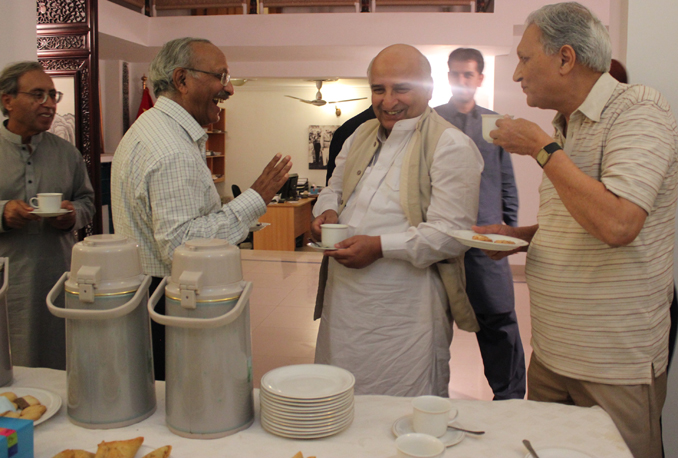 Professors Rasul Bakhsh Rais, Ijaz Hussain, Rafique Afzal and Naeem Qureshi
While discussing the recent elections in India he said that Hindu nationalists were no longer dependent on Muslims to come to power, and had acquired a certain kind of legitimacy. He added that perhaps an important reason for the BJP's recent success is that this time they have placed greater emphasis on populism and less on ideology, and their future power is sure to affect Muslims. Homogenization, he argued, may be successful and Muslims may be integrated as "Hindu Muslims" rather than as Indian Muslims.
Dr. Dushka Saiyid, the moderator, commented that Indian Muslims were the biggest losers of the partition of the Indian sub-continent. She opined that Muslims are responding to what they perceive as a threat to their identity and culture, but have a tendency to be inward looking when faced by the challenges of modernity. She gave the example of Jews in the USA, a minority whose influence was out of all proportion to their numbers.
The event was attended by a number of prominent academics, including Professors Naeem Qureshi, Rafique Afzal and Ijaz Hussain.
Click to view picture gallery
RELATED ARTICLES:
You may also like: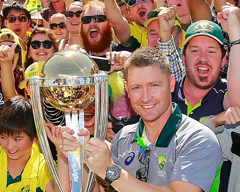 Australia Pulverizes New Zealand to Bag World Cup 2015 Trophy
(March 30, 2015)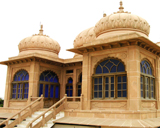 The Undying Grandeur of the Mohatta Palace Museum
(March 29, 2015)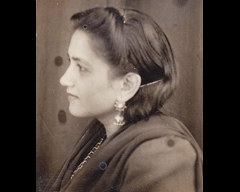 Ada Jafarey: A Tribute
(March 27, 2015)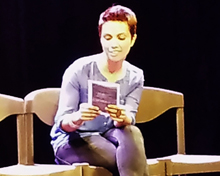 Me, My Mom & Sharmila: Fawzia Mirza and the Brown Woman
(March 26, 2015)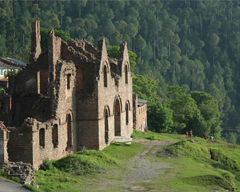 Silk Road: The Picturesque Mansehra and Abbottabad-VI
(March 25, 2015)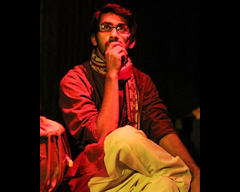 Azeem Hamid and the Independent Theatre Company
(March 25, 2015)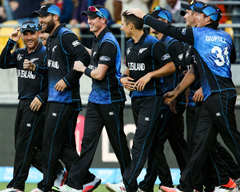 New Zealand to Choke South Africa and India to Overpower Australia?
(March 24, 2015)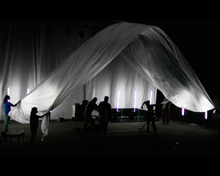 NAPA International Theatre Festival 2015: 'Among Fog'
(March 20, 2015)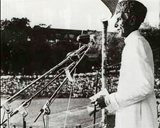 Pakistan Resolution Revisited
(March 20, 2015)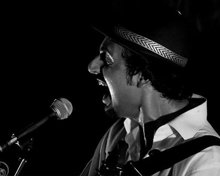 Faizan Tirmizi - The Ideology of an Aspiring Musician
(March 12, 2015)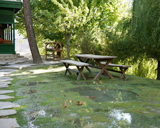 Hunza Valley: A Fine Balance between Tradition and Modernity
(March 10, 2015)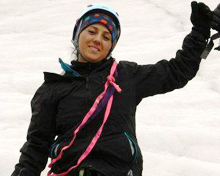 Samina, we are proud of you!
(March 06, 2015)