Calling All Theatre Lovers: LUMS Dramafest '15
Written by: Abeera Akhtar
Posted on: November 20, 2015 |

Comments | 中文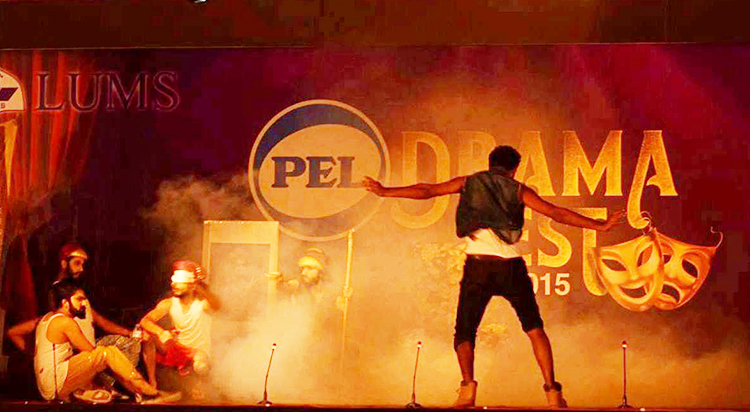 NCA mesmerized the crowd with their brilliant improv performance
Dramaline, the leading theatre society at the Lahore University of Management Sciences (LUMS), held its 8th Annual Dramafest last weekend, from 13th to 15th November. A total of 16 colleges and schools from all over Pakistan competed in this year's Dramafest including NCA, Aitchison, LGS, Beaconhouse, IBA, AKU, NUST, FAST, and many more.
In conversation with Vice President of Dramaline, Najah Zawar, it became quite evident that the Dramafest is more than just a theatre competition. "Yes, teams from all over Pakistan do put up stage plays; however, that is not the sole purpose of this event. Art, as a whole, is greatly neglected in Pakistan, and through Dramafest, we aim to provide a platform for all those engaged in theatre to interact with each other". That is why a variety of social events were held alongside the stage plays, including a Dubsmash competition, DramaQuest, DramaMania (Movie Trivia), a talent show, as well as a special lunch on the last day, intended for the participating teams to network with each other.
Since this was the first Dramaline event of the year, the entire team was ecstatic yet nervous; they wanted the year to start off on a high note. Kinnaird College gave one of the first performances on Friday night, but sadly failed to truly captivate the audience. LUMS, however, managed to bring momentum with their first play, Bijli, Pyaar aur Daadi Jaan. It was set in a situation all Pakistanis know too well: dealing with sudden power outages. The technical team did a brilliant job in depicting this scenario.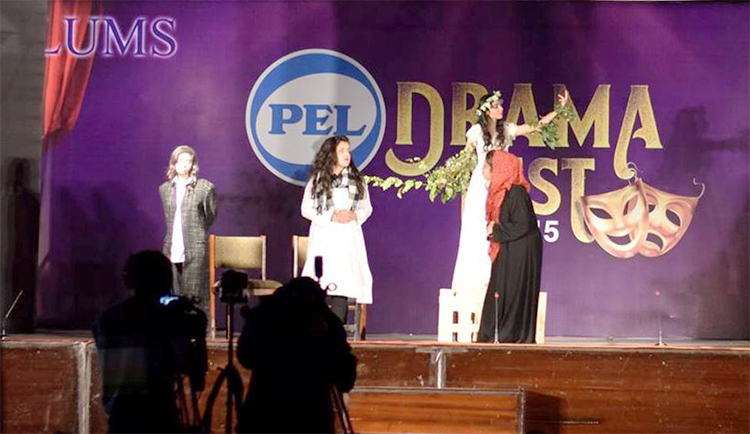 Kinnaird kicked off Dramafest '15
As the night progressed, various schools and colleges took on a variety of genres and topics. Beaconhouse Defence Campus did a fairly decent job, although they did not woo the crowd. However, Shahzaib Ali Baig really stood out and impressed the crowd with his portrayal of a female. LSE from Lahore and IBA from Karachi both failed to live up to expectations, but LSE deserves to be commended for their strong audience support. The real star of the night, however, was Headstart School. While most if not all other teams were Dramaline veterans, it was the first time that Headstart was performing at LUMS. Despite this, they tackled a range of grave social issues very effectively through the use of mime and left the crowd mesmerized.
The second day of the Dramafest was even more invigorating. LUMS kicked off the night with a comedy, although the slapstick humor and sexual references left some members of the audience feeling uncomfortable. Karachi's Aga Khan University (AKU) put up a commendable effort with an English play, but the audience did not seem too receptive to their performance. It was, however, the next play of the night that brought everyone to their feet. University College Lahore (UCL) put together an emotionally rich patriotic play that induced goose bumps in the audience. The entire crowd stood up and sang the National Anthem in the last scene, which depicted a hanging (this scene also won the 'Best Moment of Dramafest Award').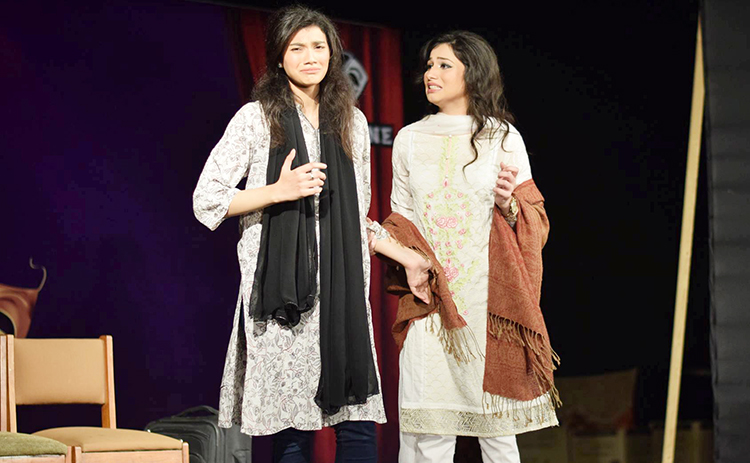 Sophia Ather from LUMS gave a memorable performance
The next play, performed by LUMS, was directed by Khadija Cheema, who deserves praise for her great directing skills. The societal pressures upon man to act in certain ways were very imaginatively portrayed in a dance, where the character swayed as he was held by two ropes that depicted society. Next, LGS Defence and Lyceum School gave laudable performances, while NUST disappointed with their play. On the contrary, NCA left the audience stunned. Their entire performance was impromptu, just as they had promised! Hamza Saeed, External Relations Director and Backstage Executive Council, testified that the NCA students were actually discussing dialogues on stage and making them up as they went along!
The third and final day brought with it some long-awaited performances. LUMS Community Service Society had the children of SOS village set up a play that was not only adorable to watch, but also demonstrated the great effort put up by these children. Szabist then took over with a romantic comedy; however, the public display of affection again left people feeling uneasy.
Audience expectations from Aitchison were quite high, but they failed to live up to their name. However, BNU's performance was well-received by the crowd. The play performed by LUMS for the Dramafest sponsor, PEL, was also very thought-provoking as it dealt with a situation where expectations from males and females were reversed. FAST turned out to be the surprise package of the year. By staging a haunting play about the ego, super ego and the desire to become more than what you are, Haris Ahmad enthralled the audience and deservedly won the best actor award.
Although there were a multitude of excellent performances over the three days, Iqra University emerged as a well-merited winner. What truly deserved appreciation was their superb execution of a scene depicting the effects of a bomb blast: a cloud of smoke covered the stage, and all of a sudden there was debris, people bathed in blood, and objects in shambles; the audience was bewildered at how they managed all of that within seconds. The final narration brought the entire message of the play together, and the standing ovation by the crowd clearly displayed their approval and admiration.
Every member of the Dramaline team had worked day and night to make this event a success and set a high precedent. External Relations Director Alisha Sethi looked thoroughly exhausted by the end of the third day, and yet, she declared, "This was an experience that I would not have given up for anything. Seeing all the teams come together and witnessing the heartening response from the audience made every second worth it!"
You may also like: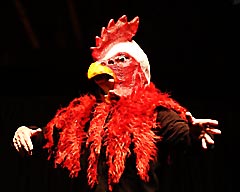 Rafi Peer International Puppet Festival 2018
(January 23, 2018)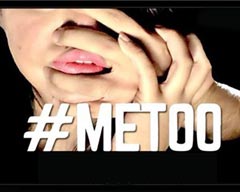 Theatre Review: #MeToo by BlankPage Productions
(January 12, 2018)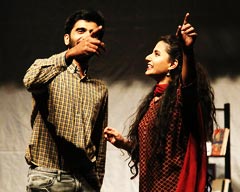 Theatre Review: Bol Kay Lubb Azad Hain Teray
(December 21, 2017)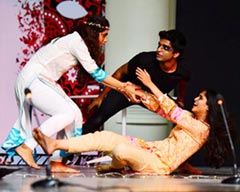 The Fringe 2017 – Intra-IBA Theatre Competition
(December 15, 2017)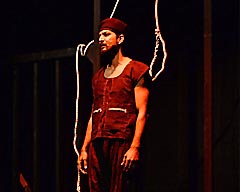 Theatre Review: Ajoka Theatre's 'Intezaar'
(November 30, 2017)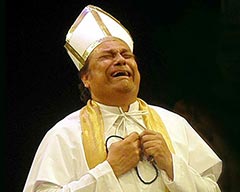 Theatre Review: 'Yahudi ki Larki' by NAPA at National Theatre Festival 2017
(November 02, 2017)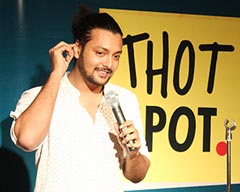 Bachay Panch Hi Achay (5 Kids are Enough) - A Saturday Night Comedy Show
(October 17, 2017)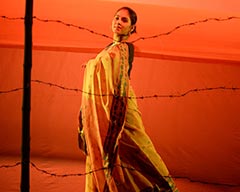 Ajoka Theatre's 'Shehr-e-Afsos - A City of Sorrow'
(October 13, 2017)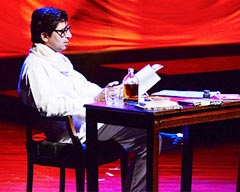 Theatre Review: 'Kaun Hai Yeh Gustakh' - Ajoka's Play about Manto
(October 12, 2017)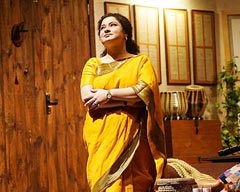 Theatre Review: 'Mushk - Fragrance' in Lahore
(October 10, 2017)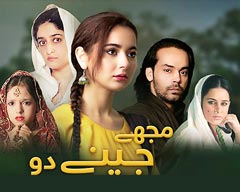 Drama Review: 'Mujhay Jeenay Doh'
(September 22, 2017)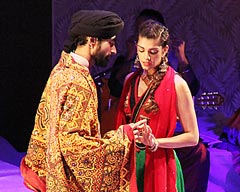 Heer Ranjha – Retelling Kaifi Azmi's Script in an Urdu Musical
(September 11, 2017)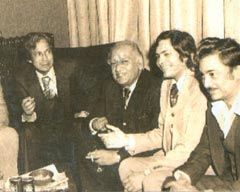 70 Years of Theatre: A Flashback Through the Ages
(August 30, 2017)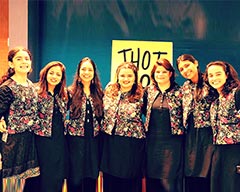 'The Khawatoons' Celebrate their First Anniversary!
(August 02, 2017)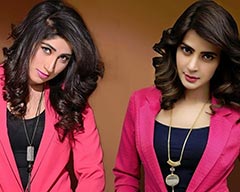 'Baaghi', a serial inspired by Qandeel Baloch
(July 31, 2017)